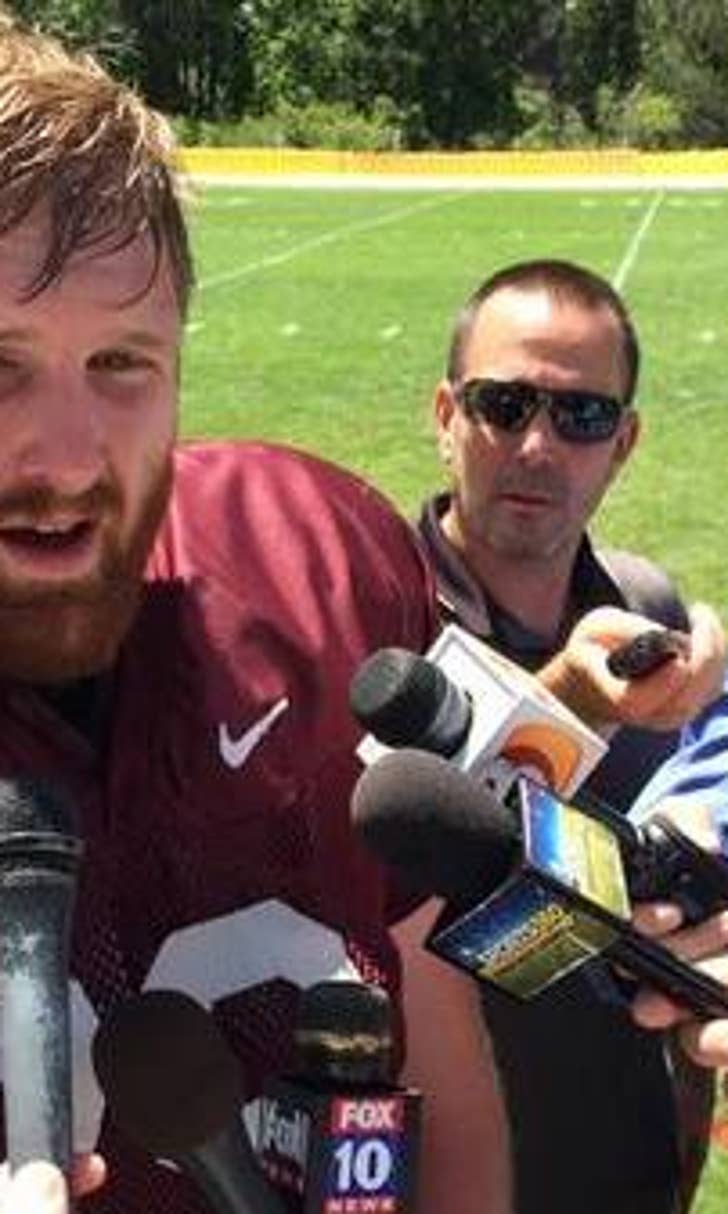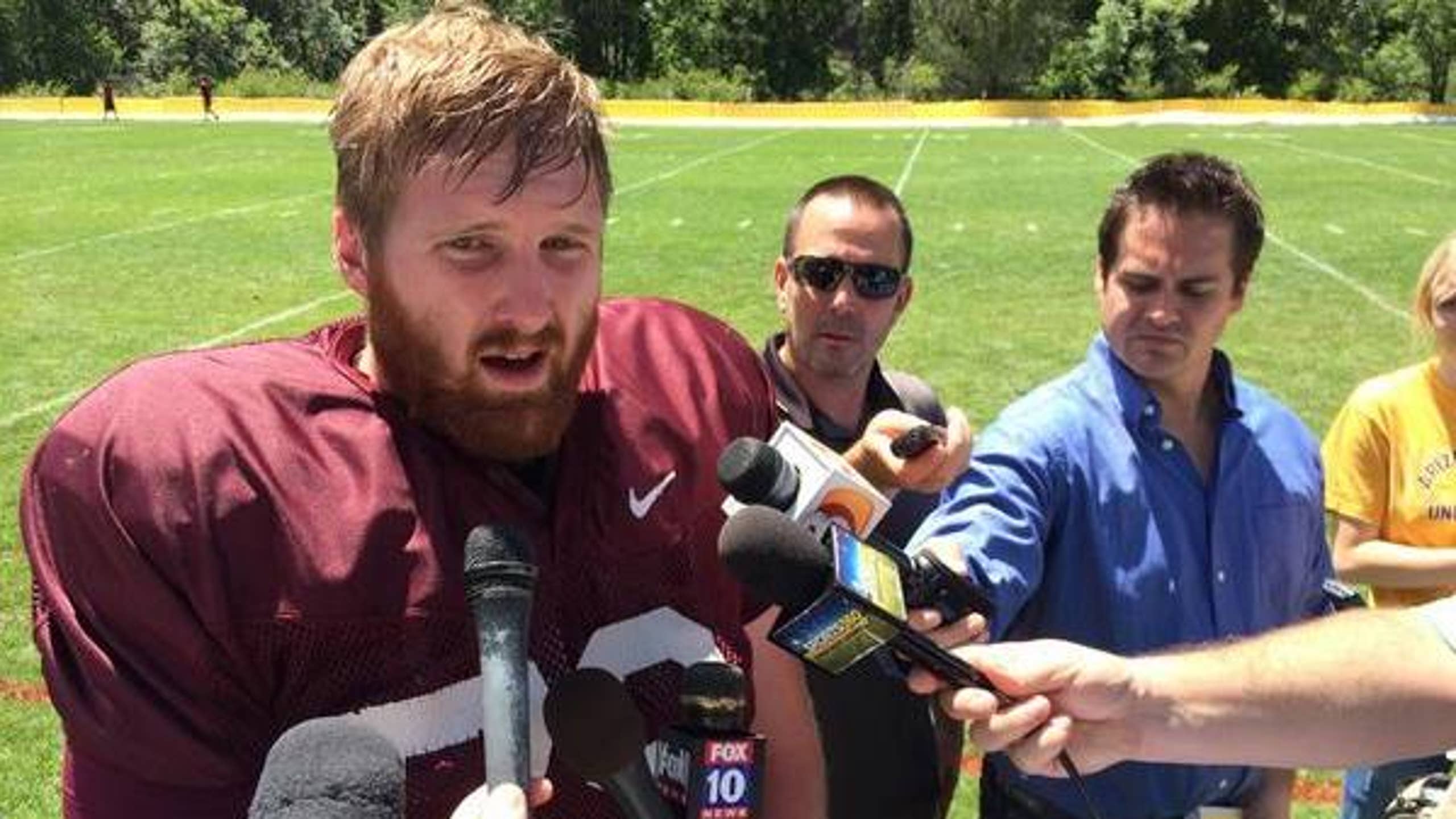 Gay ASU lineman comes out with a message: Be who you are
BY foxsports • August 14, 2014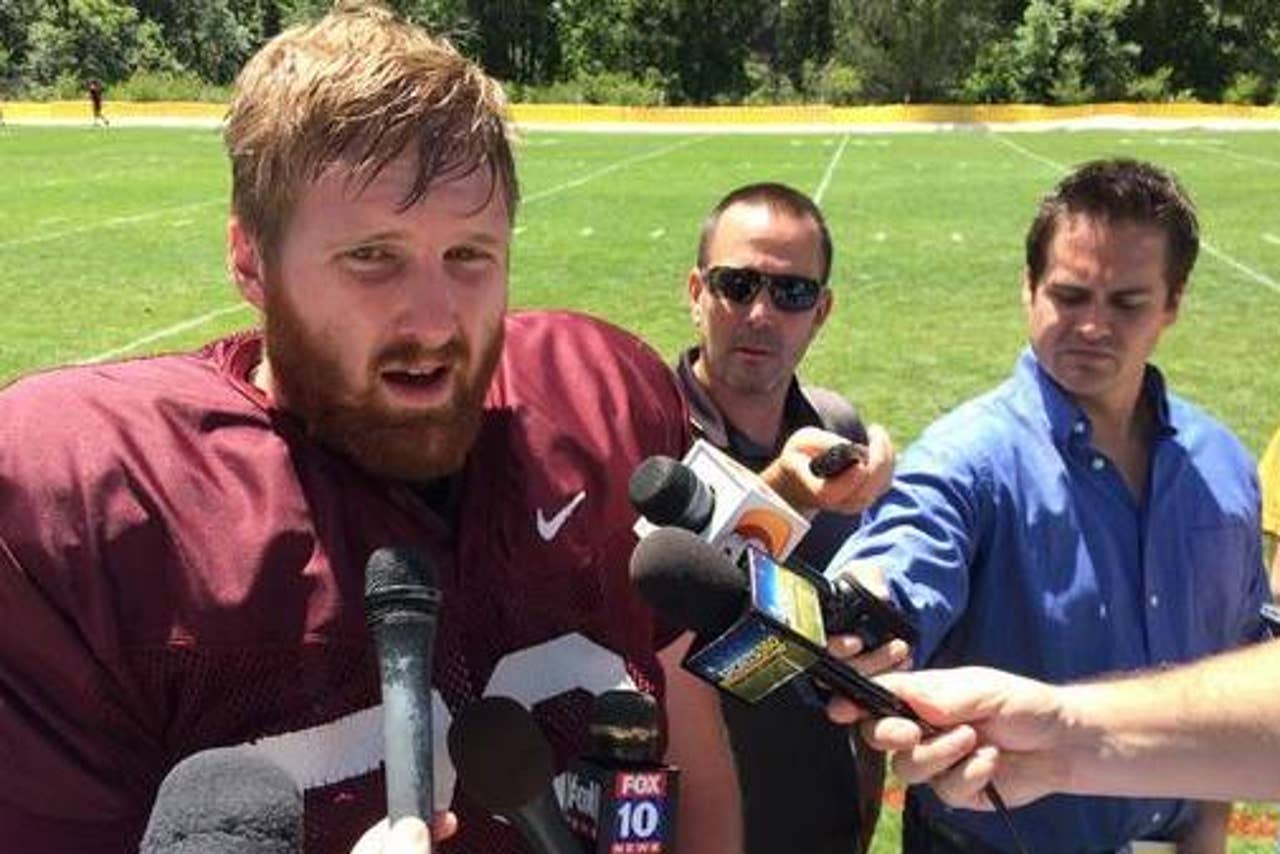 CAMP TONTOZONA, Ariz. -- When Arizona State offensive lineman Chip Sarafin decided to come out as gay publicly in a magazine article, he didn't expect his news would become a national headline, nor did he hope it would.
But with Sarafin becoming major college football's first active openly gay player, the story blew up, and now that it has Sarafin hopes his story sends a message to other gay athletes not yet comfortable being open about their sexuality.
"Athletes should be able to be themselves no matter what they are," Sarafin said Thursday. "Whether it's orientation, race, religion -- anything -- you can be an athlete and be who you are."
Not that coming out publicly was easy for Sarafin -- he admitted Thursday it was "quite the relief." The easy part was coming out to his teammates.
Sarafin says he felt like he could be himself in ASU's locker room even before he told teammates he was gay. That, he said, is because the players have a brotherhood.
"As far as when it comes to how players treat each other, we're all one unit," Sarafin said. "There's no offense or defense, O-line or D-line. We're all together working toward the same goal, which is national champions.
"We have a brotherhood, and that's the only way you can say it. A brother won't let a brother down. A brother won't disrespect another brother, so we're all here to support each other."
Sarafin's ASU coaches and teammates have known the fifth-year senior walk-on is gay for more than a year. Junior running back D.J. Foster said he has discussed the topic with Sarafin on multiple occasions.
"He knows that we have his back no matter what," Foster said. "I'm so happy for him that he had the opportunity to (come out)."
ASU coach Todd Graham expressed full support for Sarafin in a statement Wednesday and reiterated the same Thursday, also dismissing the notion of any distraction as "for everybody else."
"We're all about relationships built on respect, and that's respecting each other's differences whether it be cultural, religious beliefs or whatever," Graham said. "To be real honest with you, (for) our guys it's not an issue."
Sarafin has yet to play in a game for ASU. He's a depth player, though his four years of hard work as a walk-on could be rewarded if the situation is right. But no matter how small his role on the football team, Sarafin now has a big place in sports history.
His revelation to Tempe-based Compete Magazine on Wednesday put him right up next to the likes of Michael Sam, who came out after his career at Missouri and is competing for a roster spot with the St. Louis Rams, and Jason Collins, the veteran NBA player who last season became the league's first openly gay athlete. There's also University of Massachusetts guard Derrick Gordon, who in April became the first openly gay player in Division I men's college basketball.
Sarafin says his decision to come out publicly wasn't directly influenced by Sam, who came out to his teammates before last season and publicly after that, but he hopes to be a role model like Sam for other gay athletes. Though the attention his story has received made him pause, Sarafin said he has embraced being a role model because there is still progress to be made for LGBT athletes.
"I think eventually -- I'm hoping -- stuff like this will not be as big of a news story, that people will hear about the stories and it won't be such a big thing," Sarafin said. "Eventually players will be who they are, and it will just be that, but as of right now there still needs to be role models."
Sarafin said he doesn't see himself as a pioneer. He sees himself as just another Sun Devil working toward a common goal.
Sarafin didn't ask for a team meeting when he told his teammates. He started telling a few of them, answering their questions and letting the word spread. It was apparently met with little more than a shrug.
As for the magazine article, Sarafin wanted to "kind of get some of the stuff I was working on out into the world." That currently includes pursuing a master's degree in biomedical engineering and studying sports-related concussions. He also wanted to help put a stop to bullying over differences, such as sexual orientation.
Sarafin said he hopes gay athletes everywhere receive the same support he has at ASU when they feel the time is right to come out.
"I hope other football players and other types of athletes have that brotherhood that we do with their teammates," Sarafin said. "We definitely have something special here."
Follow Tyler Lockman on Twitter
---