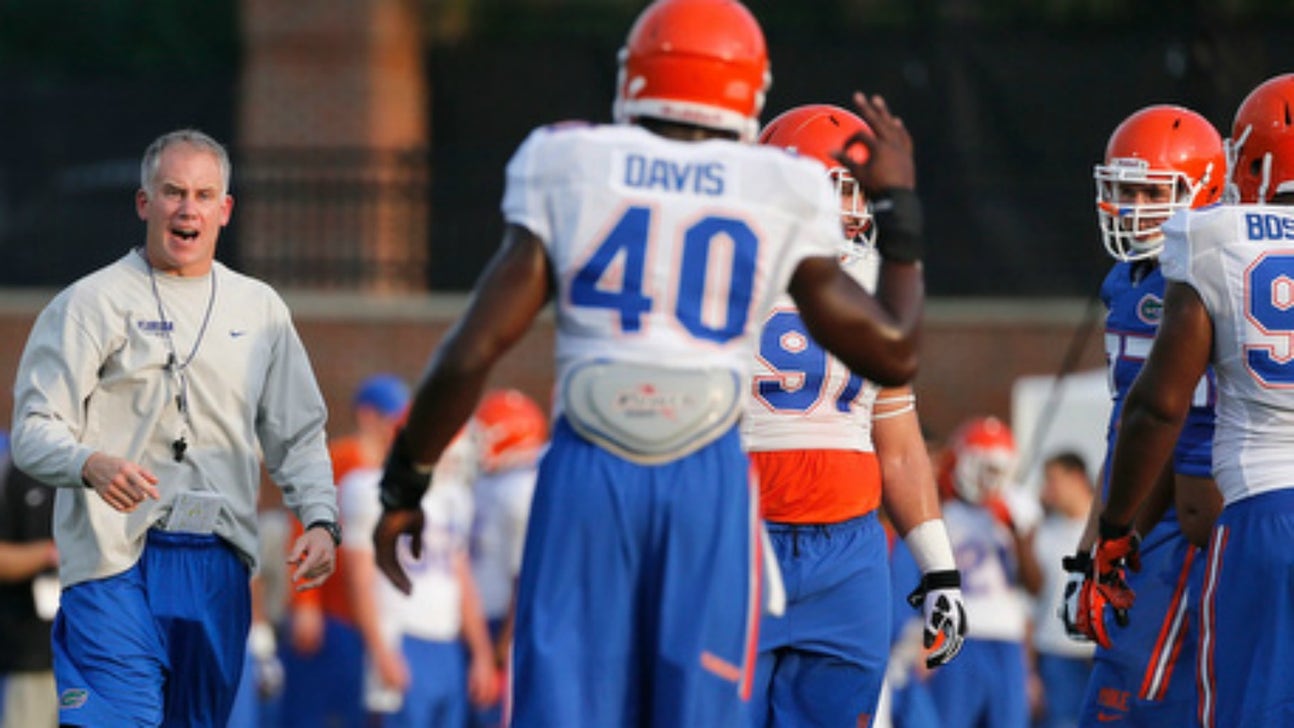 Gators notes: First practice in full pads
Published
Aug. 9, 2014 9:45 a.m. ET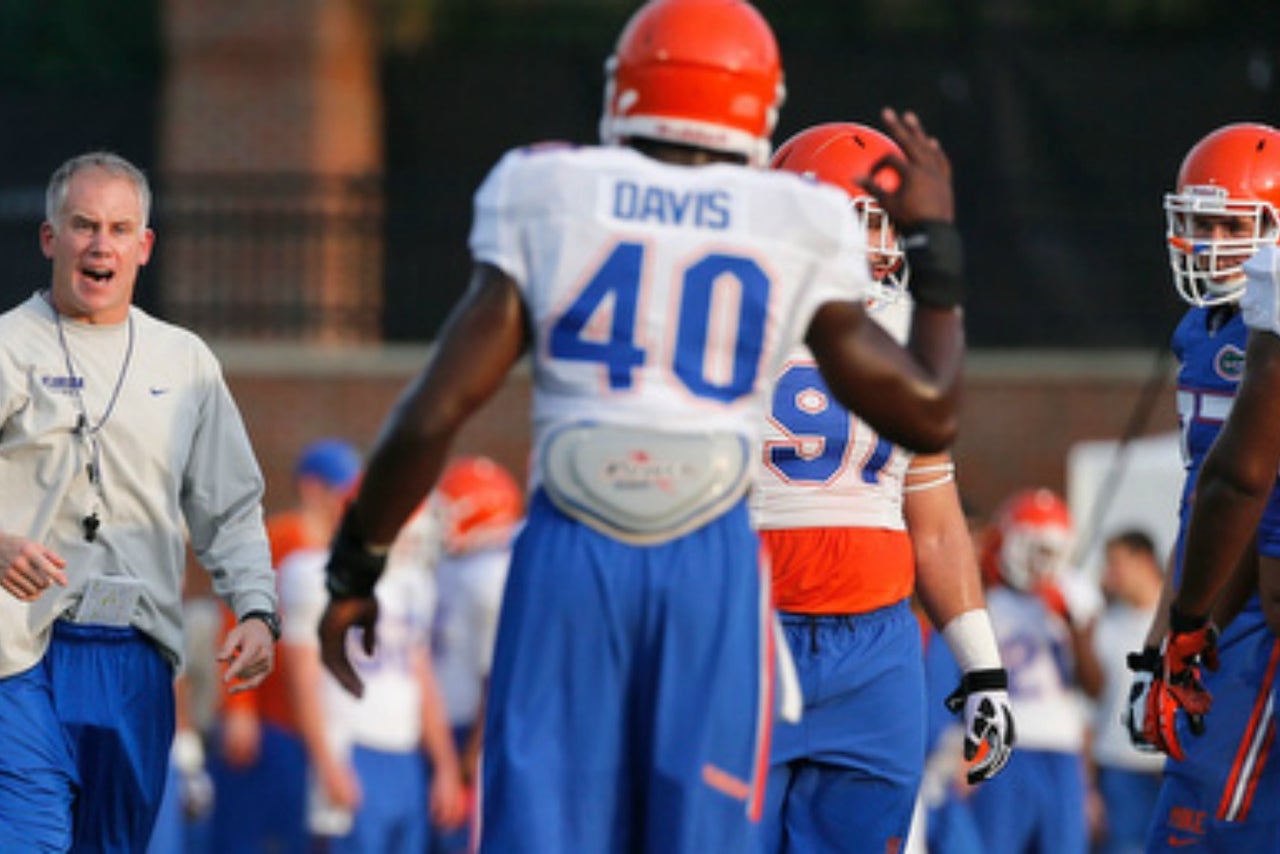 The Gators practiced under the lights Friday night and once again a few hundred fans turned out to watch Florida's second open practice of fall camp.
It was the Gators' first practice in full pads as the physicality continues to increase with each practice.
Following Thursday night's scare when sophomore cornerback Vernon Hargreaves III went down with a bone bruise on his left knee, Friday night was much less dramatic.
You can bet that was perfectly OK with Gators coach Will Muschamp.
To me the most interesting part of the first week of camp is watching the newcomers. For the Gators to improve dramatically in 2013, they will need help from a freshman class that clearly has some talented players.
A few random observations from Friday night:
On Thursday I mentioned freshman defensive back J.C. Jackson as a player that catches your eye immediately. Jackson is a physical specimen who is built more like a senior than a first-year college player. While Jackson must prove to coaches in camp that he is ready to contribute immediately, he has the attention of his teammates. During red-zone drills Friday, sixth-year senior Andre Debose, one of the fastest players on the team, tried to blow past Jackson on a fly pattern down the left sideline. Jackson hung with Debose step-for-step on the incompletion, prompting comments from other players about his speed.
Quincy Wilson is another freshman defensive back who has been a physical presence early in camp. Listed at 6-foot-1, 196 pounds, Wilson held his own in contact drills against the receivers on Thursday and likes to get physical in coverage. Wilson has worked primarily at cornerback the first week of camp.
Sophomore receiver Demarcus Robinson is undoubtedly one of the players fans watch closely during the open practices. Robinson has the talent to be a go-to receiver but failed to live up to expectations his first season. Robinson hauled in a pair of touchdown receptions Friday night, once leaping to catch a ball against Wilson in the corner of the end zone, and later grabbing a score during red-zone drills.
Florida's coaching staff has high hopes for sophomore linebacker Jarrad Davis, who came on strong near the end of the last season to factor prominently into the plans for 2014. Davis blew through the middle of the line on one play Friday to force a whistle as he closed in on quarterback Treon Harris. Davis is listed at 6-2, 225 and looks in really good shape.
Receiver Latroy Pittman and tight end Tevin Westbrook are no strangers to the program. However, they haven't had much impact on offense. They did draw cheers when both made diving catches late in Friday's practice. Both must have strong camps if they want to climb the depth chart and earn significant playing time.
Freshman defensive tackle Gerald Willis (6-3, 255) was a big get for the Gators when he signed in February out of New Orleans. Willis looks the part. He played the part when he burst through the line to stop running back Brandon Powell for a loss. Sophomore Joey Ivie IV, another young defensive tackle looking to crack the rotation, was active Friday. Ivie is listed at 271 pounds and looks significantly stronger than his freshman season.
LEFTOVER NUGGETS
Sophomore running back Kelvin Taylor drew applause for a nice run that came near the end of practice. Taylor burst through a hole and then made a couple of nice cuts to get into the secondary ... Junior defensive end Dante Fowler Jr. has been impressive in the two open practices. Fowler spoke recently of wanting to set a good example in camp and appears off to a good start ... First-year offensive coordinator Kurt Roper likes to keep it loose at practice and drew some razzing when he went out for a pass to show the receivers how to properly run a route he was trying to teach. Roper made the catch and then spiked the ball ... Saturday morning's practice is open to season-ticket holders only.
---