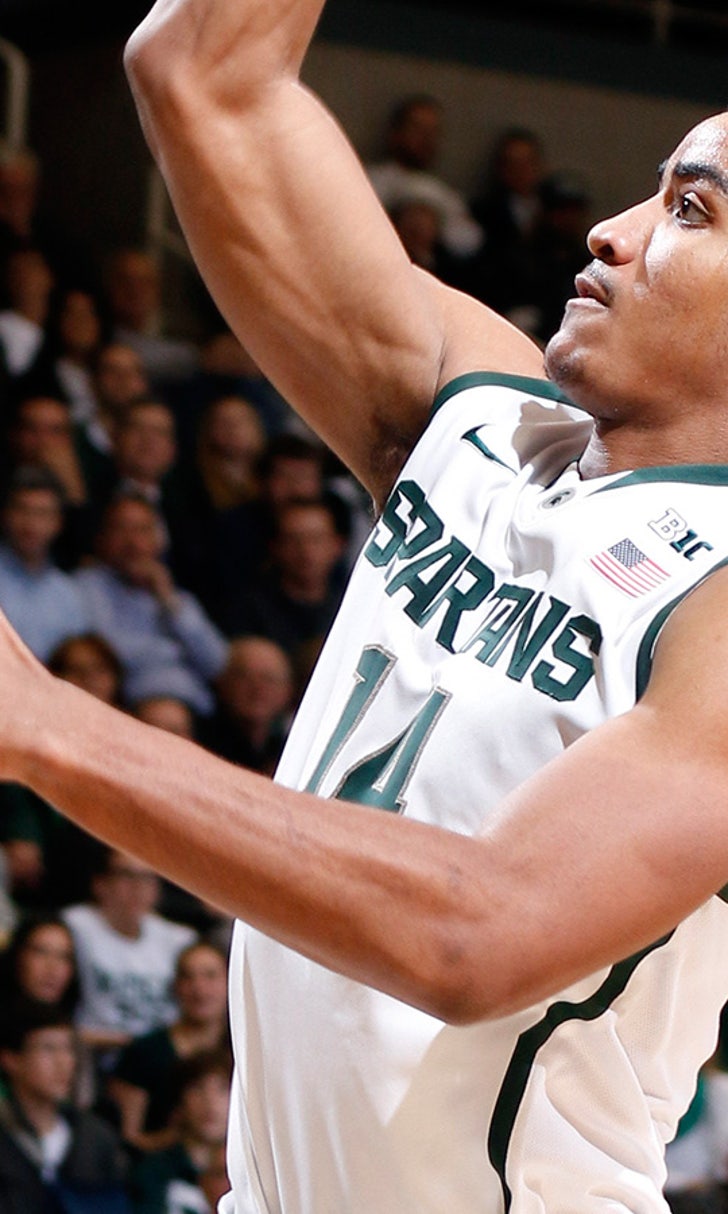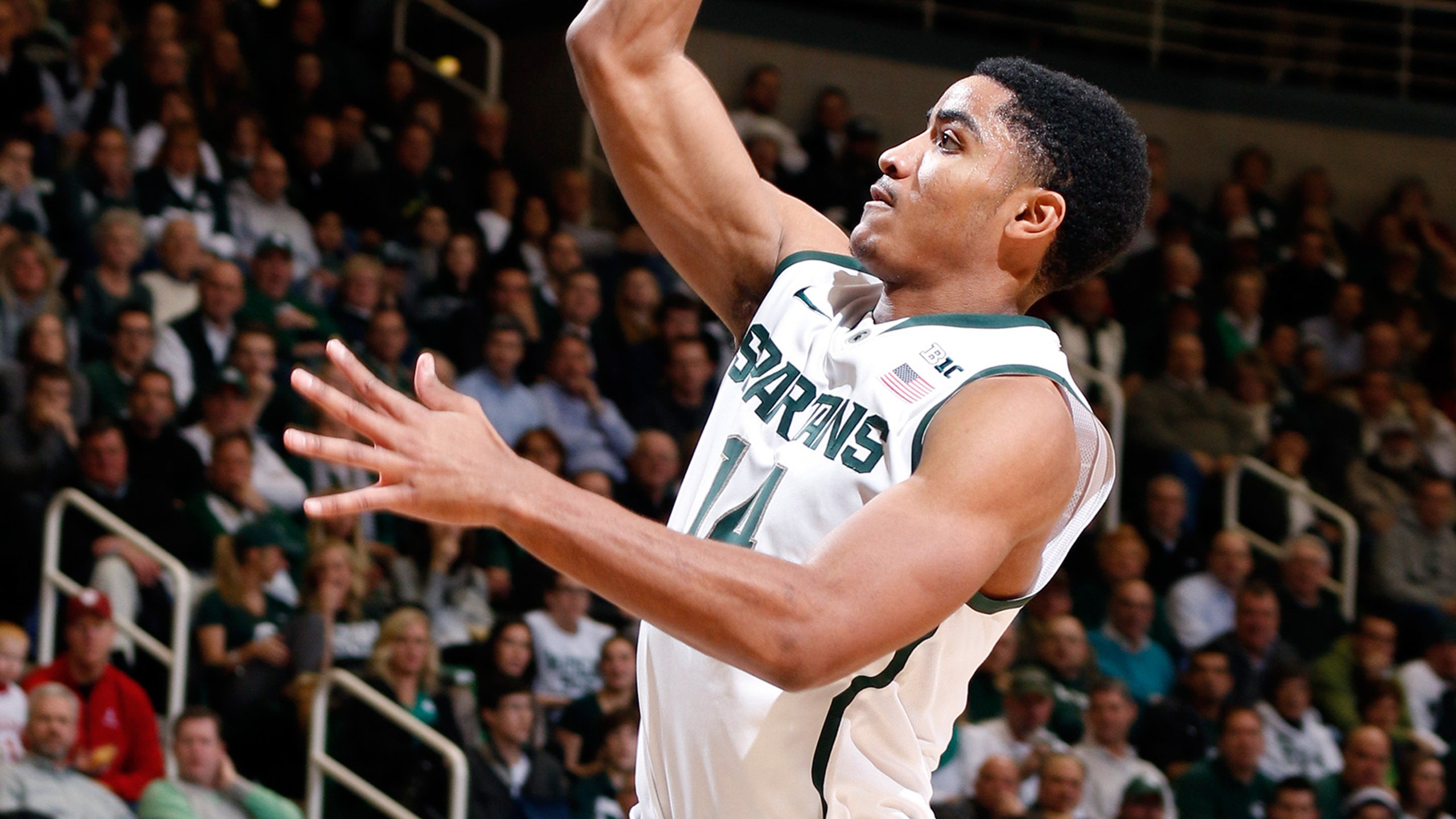 Gary Harris draws high praise from Izzo
BY foxsports • January 21, 2014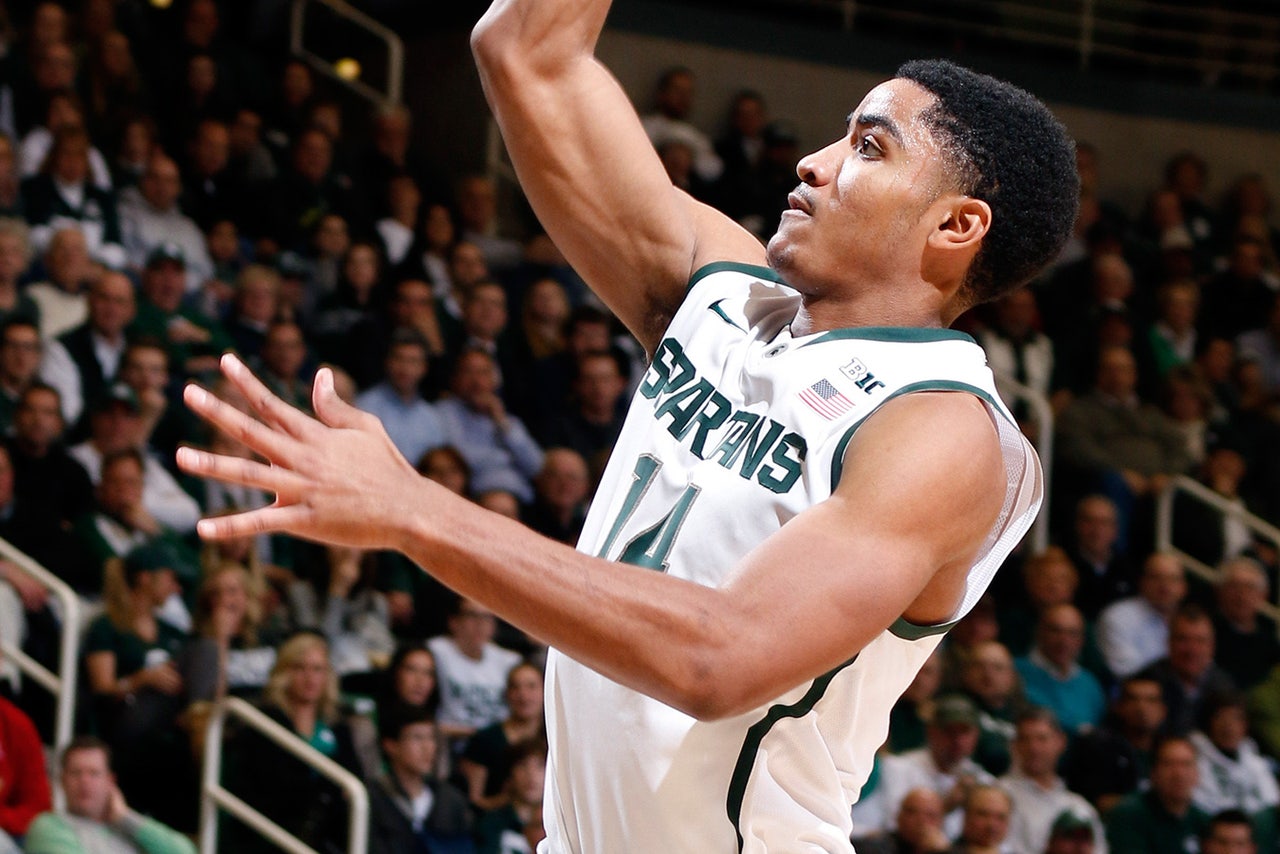 EAST LANSING, Mich. -- Michigan State coach Tom Izzo issued a challenge to sophomore guard Gary Harris in the locker room that was also an ultimatum to his team.
Izzo said: "I said at halftime, 'We're going to Gary Harris. You got that?' "
The No. 3 Spartans (18-1, 7-0 Big Ten) had been lethargic up to that point Tuesday night, trailing an unranked Indiana team by one point at intermission. But then Harris answered the call, scoring 20 of his game-high 24 points and sparking a 71-66 win. He made four 3-pointers, and collected four of his five steals in the final 20 minutes.
"He could be the best guard I've ever had," said Izzo.
Izzo has coached some pretty high-quality guards -- game-changers like Mateen Cleaves, Charlie Bell and Drew Neitzel. Each of them played in Final Fours and made a difference. But Cleaves, the leader of the 2000 NCAA champions, is Izzo's only consensus first-team All-America at the position.
Cleaves, who was a first-round pick of the Detroit Pistons and now serves as an analyst for FOX Sports Detroit, attended the win over the Hoosiers at the Breslin Center. He had Harris pose for a photo in the locker room afterward with his young nephew and son, Mateen Izzy, whose middle name is for his college coach.
I relayed Izzo's comment about Harris, adding that most consider Cleaves the best guard Izzo has had to this point.
"I can see that," said Cleaves, nodding his head. "Gary is for me, a basketball junkie, fun to watch. ... He can go get his points, but he can stop you while getting his."
Harris is among the Big Ten's leaders with 18.3 points and 2.1 steals per game. And while Izzo believes he might not only be his best guard ever but the conference's top player, the coach still had to get him going.
"I spent half of my time yelling at him, too," Izzo said. "He's just got to take over games. He's that good -- to be very blunt and honest about it. He hid back a little bit and we didn't do a very good job of getting him the ball. What an incredible performance by him."
Izzo pointed out that Harris made eight of the 13 shots he took.
"He's the most efficient player right now maybe in college basketball," Izzo said. "It's a shame he was injured for that period of time. When you look at him offensively and defensively, he is deserving of every accolade there is.
"He put us on his back during that stretch and made some big plays and big shots ... He was good defensively, too."
Harris was asked about his coach putting the game on his shoulders at the half.
"I thought, 'Let's make something happen,' " he said. "I was just trying to impact the game any way I can."
Izzo isn't the only one high on Harris. He could've been a one-and-done and probably a NBA lottery pick. But Harris decided to stay along with power forward Adreian Payne, who also could've gone in the first round.
Harris, who visited Indiana while being recruited as a McDonald's All-American out of Hamilton Southeastern High in Fishers, Ind., put on another show against the Hoosiers.
His parents both graduated from Purdue, and had to be thrilled. His mother, Joy, ranks seventh in career scoring for the Boilermakers women's team with 1,747 points.
Harris scored a career-high 26 points in a convincing MSU win earlier this month at Indiana. Add in the 19 and 21 he scored against the Hoosiers as a freshman, and the versatile guard's averaging 22.5 points against them. Harris is averaging 13.96 points against everyone else.
"I don't know if it's giving anything extra," Harris said of his Hoosier point totals. "It's just a coincidence. Coach tells me to be aggressive; he's got my back."
The Spartans led by as many as 10 points once Harris got going.
"I felt it going our way the whole second half," Harris said. "We had the right energy."
Harris lost twice to the Hoosiers last year, and now has beaten them twice this season with the top two scoring efforts of his career.
Indiana was ranked No. 1 last year, when it beat MSU, 72-68, in a thriller at Breslin. Harris missed a layup with 16 seconds left that could've given the Spartans the lead, and he later missed the first of three free throws to allow the Hoosiers to escape with a win.
This time, he was the difference in victory.
"We have a lot more experience coming down the stretch now," Harris said. "We know the possessions at the end mean more. We've been there, done that -- experienced that."
And when Harris hears the bell ring down the stretch, he knows it's for him.
---