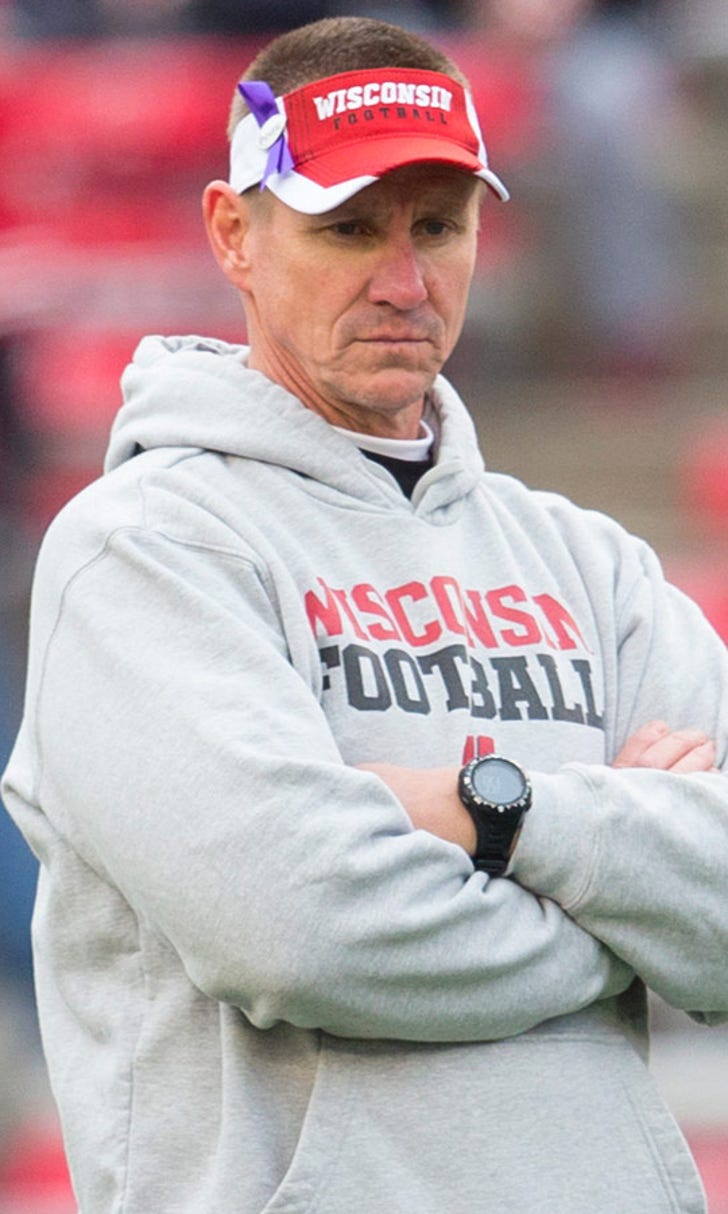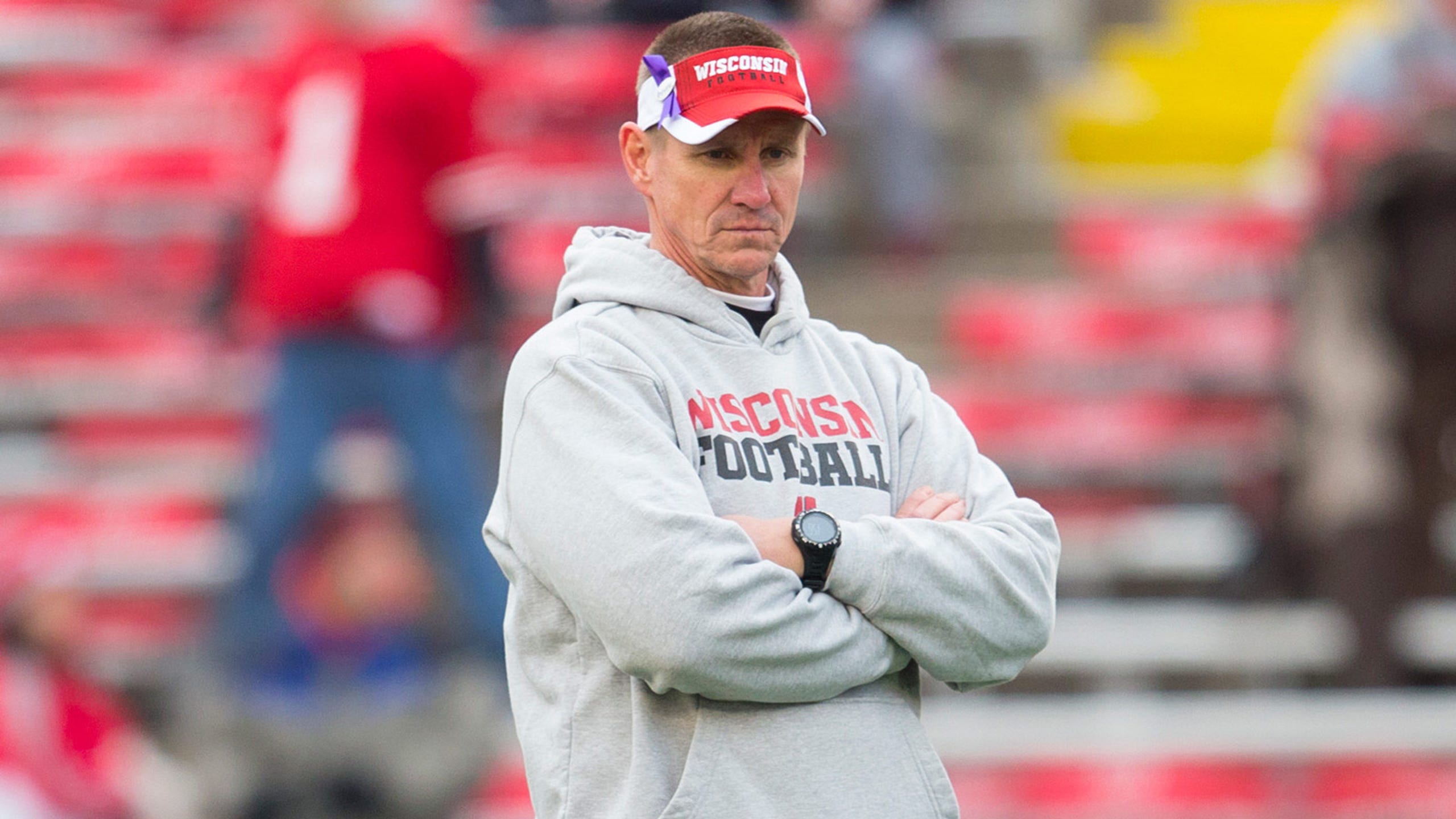 Gary Andersen: Badgers linebackers have played beyond expectations
BY foxsports • November 18, 2014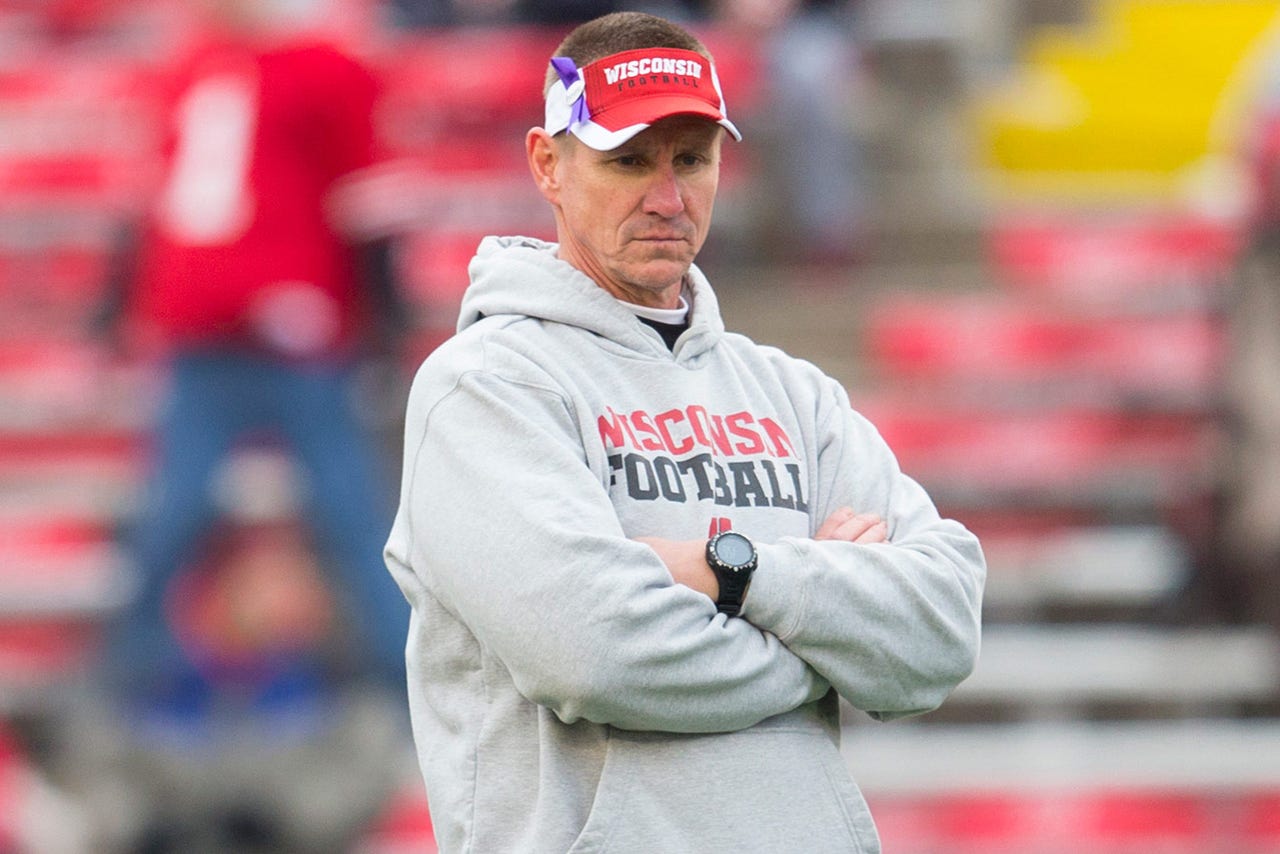 Wisconsin football coach Gary Andersen spoke with the media Tuesday morning on the Big Ten's weekly coaches teleconference ahead of the Badgers' game against Iowa.
Andersen discussed running back Melvin Gordon's record-setting day against Nebraska, the personalities on Wisconsin's linebacker group, the Big Ten West race and stopping Iowa's two defensive tackles, among other topics.
Here is a full transcript of Andersen's conference call:
Andersen: Melvin was outstanding. We all have talked about him, very well deserved to be talked about for Melvin. A highlight to that is the play of the offensive line against what I consider to be a very talented front and a very talented defense we played against last week in Nebraska. So those kids need mention in my mind.
And Joe Schobert played his best game. Overall was involved in some big plays, some big-time moments for us. We're proud of him.
Moving forward, Iowa is a very strong, physical, powerful football team. Both front sevens. On defense, we're going to be challenged mightily, obviously. But if you look at their offensive line, I know there's a lot of experience. There's a lot of games underneath many of those kids' belts.
They're physical. They're powerful. Running game is very difficult to deal with for a lot of reasons because of the physicality, because of the scheming and because of the young men that are participating in it. Play-action pass is a huge part of their game and has rendered them big plays this season, and I'm sure it's going to be a focal point as we prepare.
If you sit back and look at them on defense, they're a very stout, physical, tough-mined crew. They play on offense, defensive and special teams just like you would expect Iowa to play. Big, physical, tough kids, love the game of football and very technical, fundamentally sound and well coached.
Question: With all the experience you lost at linebacker, did you expect this kind of performance from these new starters?
Andersen: They were very youthful when we started the season. My biggest concern was their ability to handle it mentally throughout the season in a fairly complicated defense. Being able to take it from the meeting room and apply it to the practice field and into the game field.
They've been over the top as far as my expectation level for those kids in that area, especially. They had the athleticism. That's been great. But to take it out there on the field, they've done just a tremendous job. That's a credit to them as young men and their preparation and also a credit to their coaches.
They've played at a high level. I always have high expectations for them, but they've definitely met the expectations and then some.
Question: What are the personalities of the linebacker group like?
Andersen: They all have their different personalities. Derek Landsich, a very quiet young man. Vince Biegel is just the opposite. He's going to wear his emotions on his sleeve and be very vocal.
Joe Schobert is much like Derek Landisch, keeps to himself. Very quiet young man and kind of got to squeeze words out of him. If you look at Marcus Trotter, Marcus Trotter is more like Biegel. He's very aggressive. Likes to talk. Likes to show his emotions, so it's definitely a big mix among those four kids.
Question: With the Big Ten West race having four teams still alive mathematically and a round-robin at the end of the season, what do you think about the drama aspect of it? Is there a temptation to scoreboard watch?
Andersen: I would hope not. There's a lot that goes on with those big Jumbotrons in those stadiums that we play. It's hard to not see a lot of things that are going on during the game, I would suppose.
Kids know exactly what the situation is and what the positions are. I think it's a fantastic spot to be in. As a league, you couldn't ask for a better position to be in as far as everybody is playing everybody that has a chance to really win it right now.
It's a great spot to be in for the young men. These games that they get to play in late in the year, they're going to prepare as good as they have. I'm sure every team is in the exact same spot.
They're going to prepare very well. They're still excited about football and can't wait to get out there and play, and it brings tremendous attention to the Big Ten, which is great for all of us.
Question: When you talk about your defense, the defensive line seems to get overlooked statistically. Do they have a selfless nature? What is it about those guys and getting nose guard Warren Herring back that has allowed you to elevate your defense?
Andersen: Well, getting Warren back was big from an experience standpoint and also from a talent standpoint. When he walked in here, it took him a couple weeks to completely feel great on that knee, but I think he's back. He made some great plays last week and continues to grow and develop.
It was big in the rotation. But all those kids overall have a little personality amongst themselves. They want to make more plays, I can tell you that. They talk about it. It's exciting for them to see the other guys make the plays.
As I always tell the kids, there's a little bit of a selfish nature to this game at some point. You've got to be the guy that wants to sack the quarterback, cause a fumble, tackle the running back, get TFLs [tackles for loss]. Whatever it may be. Those kids are hungry for that. They're working for it. It's mildly irritating to them that they're not making more plays than they are. And I like that. I think it's good. But selfless is a very good word for this defense overall.
They don't sit there and pay attention to their individual numbers to the point where it's irritating or it's a distraction at all. I want them to go make plays and I want them to look at themselves as playmakers, so they're working hard at it.
Question: Did the LSU game help the defense gel faster defensively than it would against a lesser-caliber team?
Andersen: They should've gained confidence. Anytime you play against an SEC team and a team that has the records year in and year out that LSU does, tremendous on offense and physical and big, strong kids and elite players and you play pretty well against them. You definitely hold your own. Obviously we didn't win the game. But the end result was that we did some good things.
We dealt with some injuries on the defensive line in that game and found a way to get some young kids reps. They were able to hang in there and battle through the game. It was a tough, highly contested game.
I would agree with you. We definitely gained some experience in that game and some confidence in that game that I'm sure carried us a little bit through the season.
Question: Melvin is 200 yards away from setting Wisconsin's single-season rushing record. We could see two other single-season rushing records from Minnesota and Indiana. What does it say about this crop of Big Ten running backs, and does Gordon remind you of any other tailback?
Andersen: First of all, in the Big Ten, there's tremendous running backs. We always look at those kids. They're all very well deserving of all recognition that they get.
I have a chance now to see them all on film throughout the season. Have not played against all of them but have been able to see them. They're very good. They live up to their billing, without question. That's great for the league again. But I think you can't go mentioning those kids without saying the offensive line play, the physicality that this league has week in and week out is as good as there is in the country, if not the best in the country.
You have running backs that run the way they do and put up the big numbers that they do. You can look at the offense as a whole that are giving those young men the opportunity to make tremendously big plays.
As far as somebody else like Melvin that I have personally coached or really seen, I've been asked that question a couple times and no one comes to mind. He's a special, special young man. And the things he does on the football field, I've never seen in person live, really anything like it many, many times when he gets the ball. It's pretty amazing.
Question: How do you game plan for Iowa's two big defensive tackles?
Andersen: It's not hard to see them, that's for sure. You know where they're going to be. You've got to run your offense, No. 1. And you're going to have to try to block them at times. I think our kids are excited about the opportunity to compete against some of the best. They definitely are. I'm sure that those young men are excited to compete against Wisconsin's offensive line.
Our opportunities are going to be there to have to block them. But you're also going to have to be aware of where they are every single snap, which is a credit to those young men as individuals and kind of as a whole.
The defense plays right to their strength. And the way they're coached plays right to their strength. The way they fight pressure. Hands on. They know where they're going. They get knockbacks, they create confusion because of the fact that they're able to get within the line of scrimmage at times and hold a point on double teams and let linebackers flow.
You've got to know where they're at every single snap. They're two of the best in this conference, that's for sure.
Follow Jesse Temple on Twitter
---