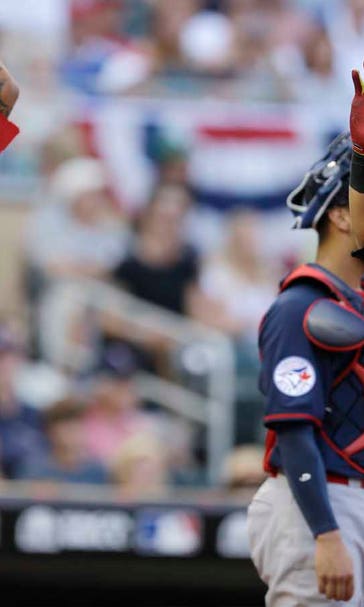 Gallo's Mammoth HR Nets Him Futures Game MVP Honors
BY foxsports • July 13, 2014
For the 32nd time this season, Joey Gallo went yard. But this time, the Texas Rangers' No. 2 prospect did so in the 2014 Sirius XM Futures Game and earned MVP honors for his two-run bomb in the bottom of the sixth inning as the U.S. Team edged the World Team, 3-2 on Sunday afternoon at Target Field in Minneapolis, Minnesota.
Gallo, who is hitting .307 with 31 HR and 73 RBI between High Single-A Myrtle Beach and his current club Double-A Frisco, had struck out in his first two at-bats. However, the 20-year-old Las Vegas native connected in the home half of the sixth, drilling a 2-0 four-seam fastball from Astros farmhand Michael Feliz that was right down the middle of the plate well over the high wall in right field.
His blast was so prodigious that it damaged the windshield of a red truck parked in the right-field concourse. The Frisco third baseman had taken two balls to open his third at-bat of the game, but then went yard, delivering the eventual game-winning blast for the U.S.
Gallo, who was hitting fifth for the U.S. Team as their Designated Hitter, had one final at-bat in the eighth inning but he flied out to center field to finish the day at 1-for-4 with a home run and two RBI to net game MVP honors.
However, Gallo wasn't the only Rangers prospect to appear in the game. Catcher Jorge Alfaro, currently listed as Texas' top prospect and a former teammate of Gallo's in the Carolina League with Myrtle Beach earlier this year, was on the World Team.
Alfaro, 21, started behind the plate and hit ninth for the World Team. He finished 0-for-2 after popping out to second base in the top of the third and then grounding into an inning-ending 4-6-3 double play in the top of the fifth.
He left the game after the fifth inning and was replaced behind the plate by A.J. Jimenez, who currently plays in the Blue Jays organization.
Rockwall native Jake Thompson, who is currently at High-A Lakeland and considered the Detroit Tigers' No. 3 prospect, was the winning pitcher for the U.S. Team.
---