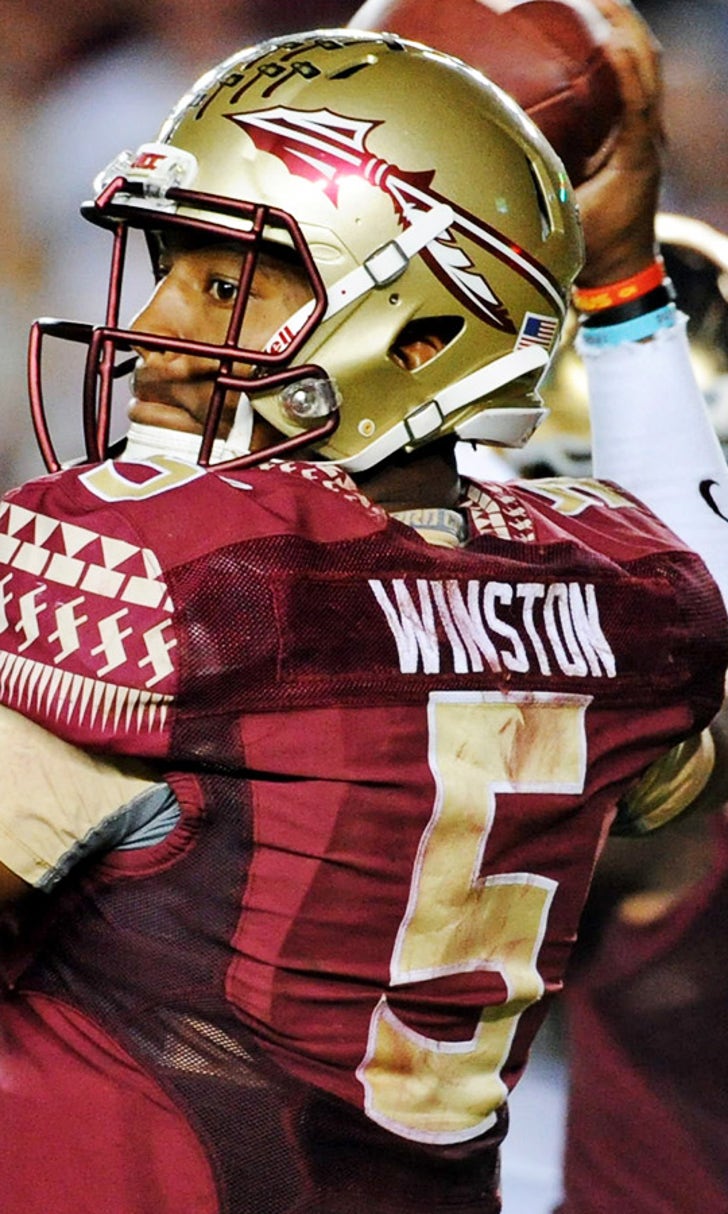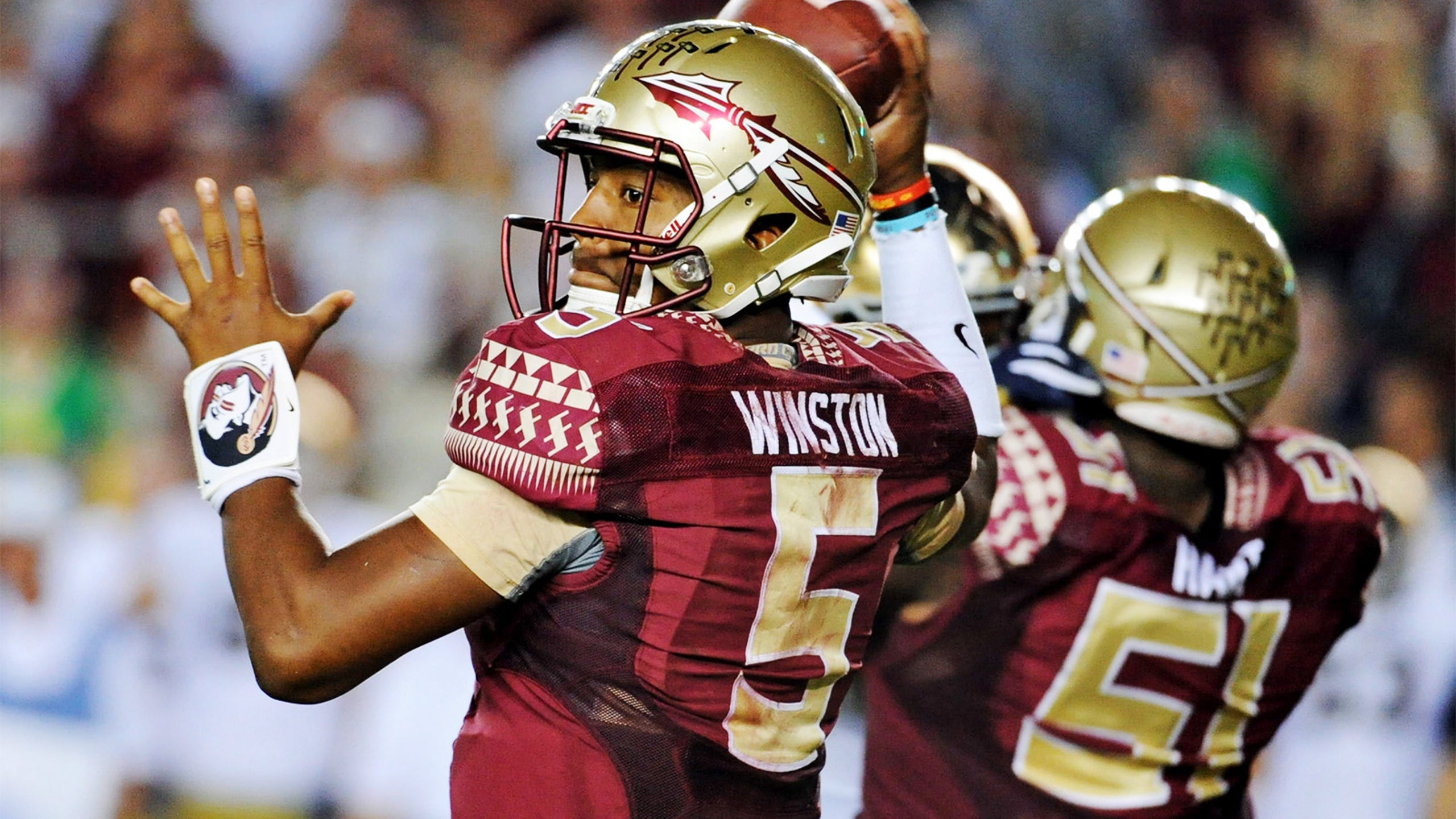 FSU tries to maintain focus for Thursday night battle vs. Louisville
BY foxsports • October 29, 2014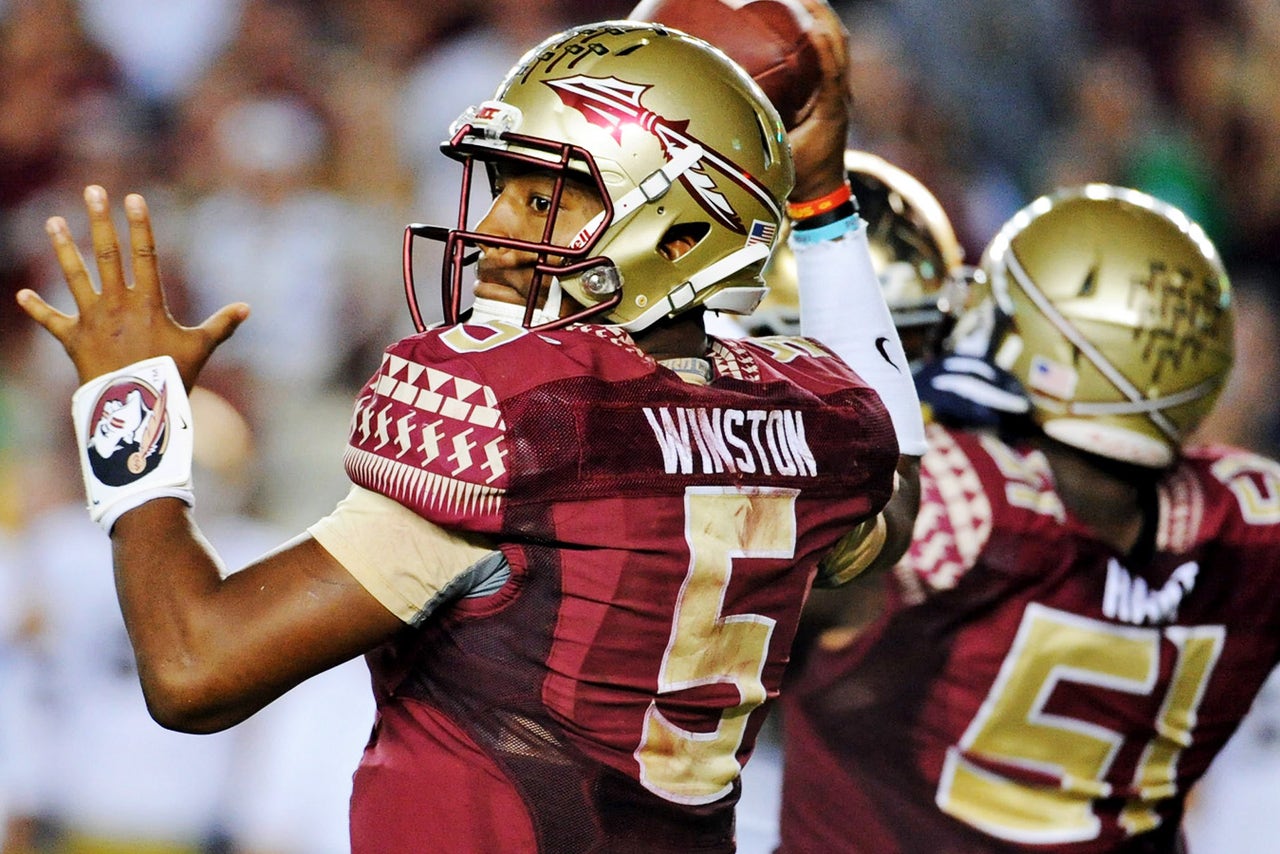 The second-ranked Florida State Seminoles can't seem to escape controversy as they travel to the Bluegrass State on Thursday to take on the No. 25 Louisville Cardinals.
The latest entanglement involves running back Karlos Williams, who is under investigation by the Tallahassee Police Department for alleged domestic battery. The school said in a statement Monday that Williams status with the team will be "under review" until they receive further information. On Tuesday, Fisher said Williams would play against Louisville.
Williams leads the Seminoles in rushing with 378 yards and seven touchdowns. His presence could prove important against a Louisville team looking to make a statement in its first season in the ACC.
"They have a very, very good football team," Florida State head coach Jimbo Fisher said. "They've had two losses by less than a touchdown. They'll be ready to play, and hopefully we'll be ready to play. It'll be another great matchup for the ACC."
The undefeated Seminoles bring one of the nation's top offenses averaging 37.9 points per game into Papa John's Cardinals Stadium to square off against a Louisville defense that leads the nation in total yards allowed and ranks fourth in scoring defense -- giving up just 14.6 points per game.
"They have done a good job of pressuring the quarterback, mixing things up and mixing coverages," Fisher said. "They play the run. Their inside guys are very physical on the run. They are long on the outside and they create a good pass rush with length and get in the passing lanes. They cover well and they create turnovers."
Louisville is 4-2 in conference games (6-2 overall), with the two losses coming by a combined eight points.
"They are a definite force in our league. They are a great addition," Fisher said of the Cardinals.
Florida State will look to continue their winning ways on Thursday night games, as they are 9-5 all-time, including 8-4 in Thursday ACC matchups. Riding a 23-game win streak, the Seminoles are coming off a thrilling 31-27 victory over the Notre Dame Fighting Irish that showcased Heisman winning quarterback Jameis Winston's incredible talent and leadership -- 15 for 16 passing in the second, overcoming a seven point halftime deficit -- and the Seminoles ability to rush for tough yards when needed.
"They're very balanced," Louisville head coach Bobby Petrino said of Florida State. "They can run the ball, throw it, throw it deep. So obviously you first have to stop the run. The most important part of the defense is to stop the run and try to make them get behind the sticks. And then we're going to have to be able to tight coverage and rush the quarterback. He's (Winston) a different guy to tackle and bring down, so we have to have discipline in our lanes [and] mix things up. That's our thing. We've been good at doing that."
At a Friday press conference Fisher said that he believes the toughest part of the Seminoles' schedule is in front of them, which makes Thursday's matchup at Louisville -- a team that is 26-1 at home under Petrino -- the first obstacle on their trek to the national championship game.
"They are getting healthy, getting their team back together," Fisher explained. "It should be a great game on Thursday."
MATCHUP TO WATCH
Florida State QB Jameis Winston against Louisville safeties Gerod Holliman and James Sample
Louisville's No. 1 ranked defense is allowing a stingy 68.8 yards rushing per game this season. Florida State's rushing offense has struggled at times this year, forcing the Seminoles to abandon the run in favor of an aerial attack.
Petrino said they will attempt to stifle the run and make the Seminoles one-dimensional. That's normally not a good plan when you're playing the reigning Heisman Trophy winner, but Louisville boasts a defensive backfield unlike any Winston has seen this year.
Louisville leads the nation with 15 interceptions and their safeties, Gerod Holliman (8) and James Sample (3), have combined for 11 of them. Holliman's eight picks are tops in the country and average out to one interception a game.
At times this season, Winston has been careless with the ball -- throwing into double and triple coverages, blindly tossing it over the middle in the face of pressure -- but still plays at such an elite level that he can overcome mistakes and torch a defense.
"[Winston] has a real quick release," Petrino said. "He makes good decisions. He's very decisive with his decision making. So it's going to be important for us to really be good with the coverage and be tight on the coverage. Put pressure on him. Not let him have the good passing lanes."
If the Louisville defensive backs can put pressure on Rashad Greene and the rest of Florida State's wide receivers, then it will force Winston to throw passes into small windows which raises the chance for tipped passes and turnovers -- a situation in which Holliman, Sample and the Cardinals thrive.
TRENDING UP
Florida State: The Seminoles have won eight straight games versus Top 25 opponents.
Louisville: The Cardinals are a perfect 4-0 in games played at Papa John's Cardinal Stadium in 2014.
TRENDING DOWN
Florida State: The Seminoles have committed at least two turnovers in four out of their last five games.
Louisville: The Cardinals are 2-12 all-time versus Florida State.
INJURY REPORT
Florida State: Out for Game -- OL Austin Barron (arm), LB Ukeme Eligwe (foot), LB EJ Levenberry (concussion), RB Mario Pender (ankle), LB Jacob Pugh (concussion); Out For Season -- DB Colin Blake (shoulder), DT Nile Lawrence-Stample (pectoral muscle), LB Delvin Purifoy (ankle)
Louisville: Out for Game -- RB Corvin Lamb (knee), S Jermaine Reve (knee)
QUOTE BOARD
"These are the games we want to play in and compete in. We'd like to be in the top rankings and have the No. 1 team come in here and play us. That's where we're aspiring to go. So we'll look at our program and get one step closer to where we want to get to." -- Louisville head coach Bobby Petrino
"I think all of them. I think they are a very good offensive and defensive team, and they do great on special teams. Their whole team gives us problems. I mean that sincerely. They do a good job, they have a good team, they're a talented team. It's going to be a great game." -- Florida State head coach Jimbo Fisher on the biggest problem Louisville presents
"When you're a player, the main focus is doing what you can do to lead your team to a victory, especially being a quarterback. ...And that's one thing we've been doing. We had our ups and downs this season but one thing we continue to do is win." -- Florida State quarterback Jameis Winston on the Seminoles' season
"We're playing the defending national champions, so there's really not much you need to do to get pumped up for a game like that. I know everybody is ready to play, everybody is coming hard. We've been going hard in practice and I think everybody is going to come out there and leave it all out on the field." -- Louisville tight end Gerald Christian on playing Florida State
DID YOU KNOW?
Fisher's .839 career winning percentage (52-10) is the second-best in the nation for an FBS head coach (minimum two years).
LOOKING AHEAD
The Seminoles will host the Virginia Cavaliers on Sat., Nov. 8.
---