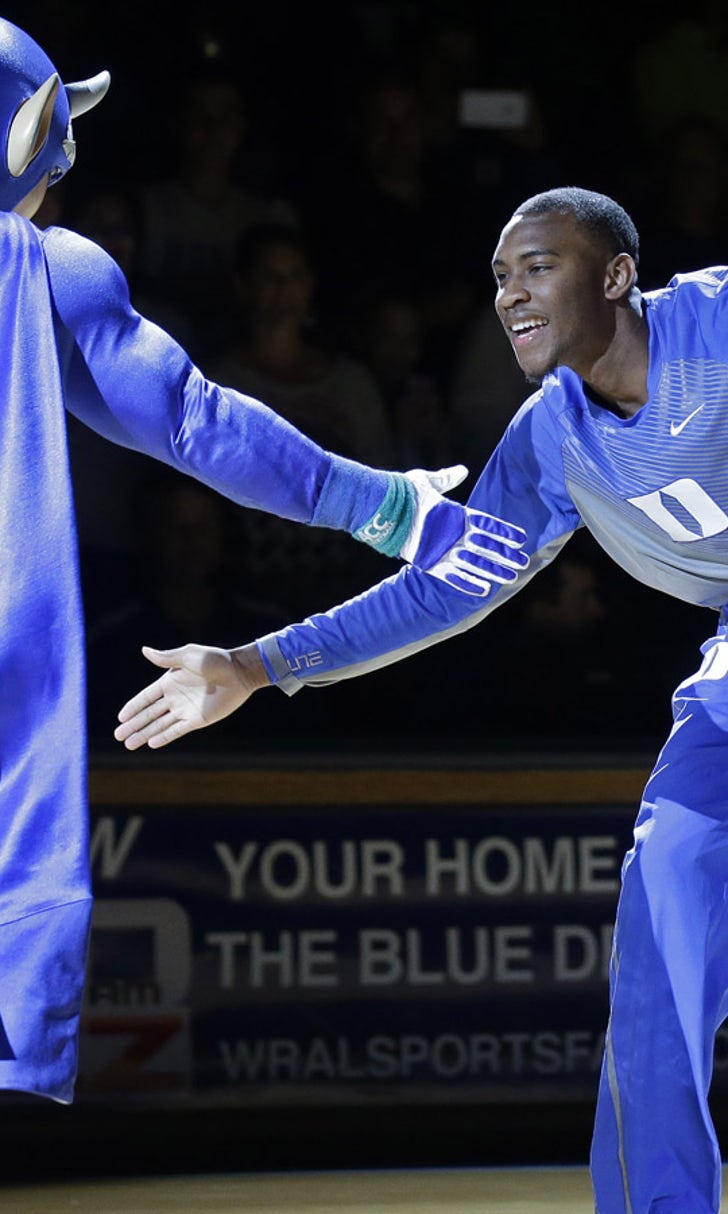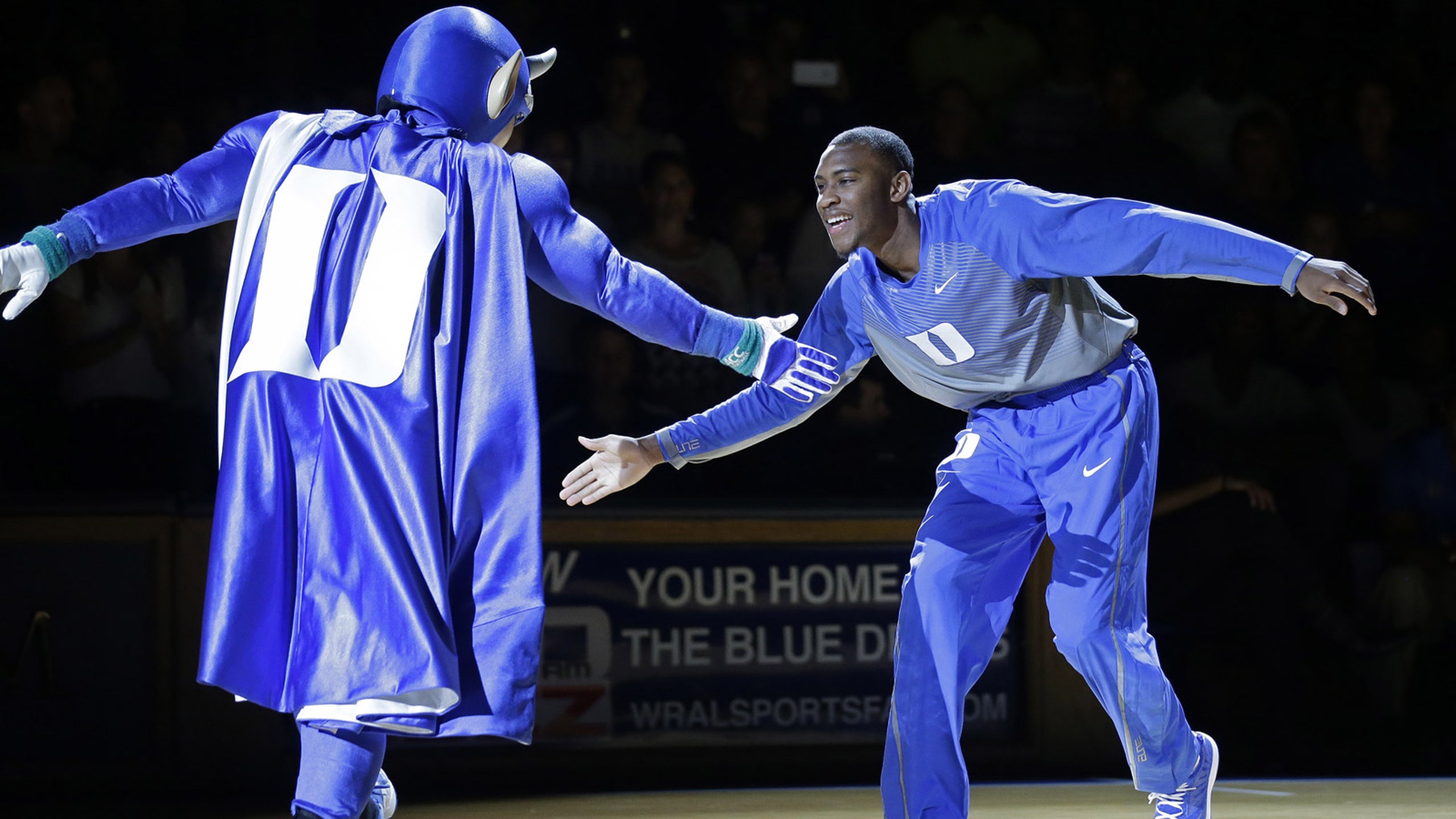 Freshman Jahlil Okafor wows crowd at Duke's Countdown to Craziness
BY foxsports • October 25, 2014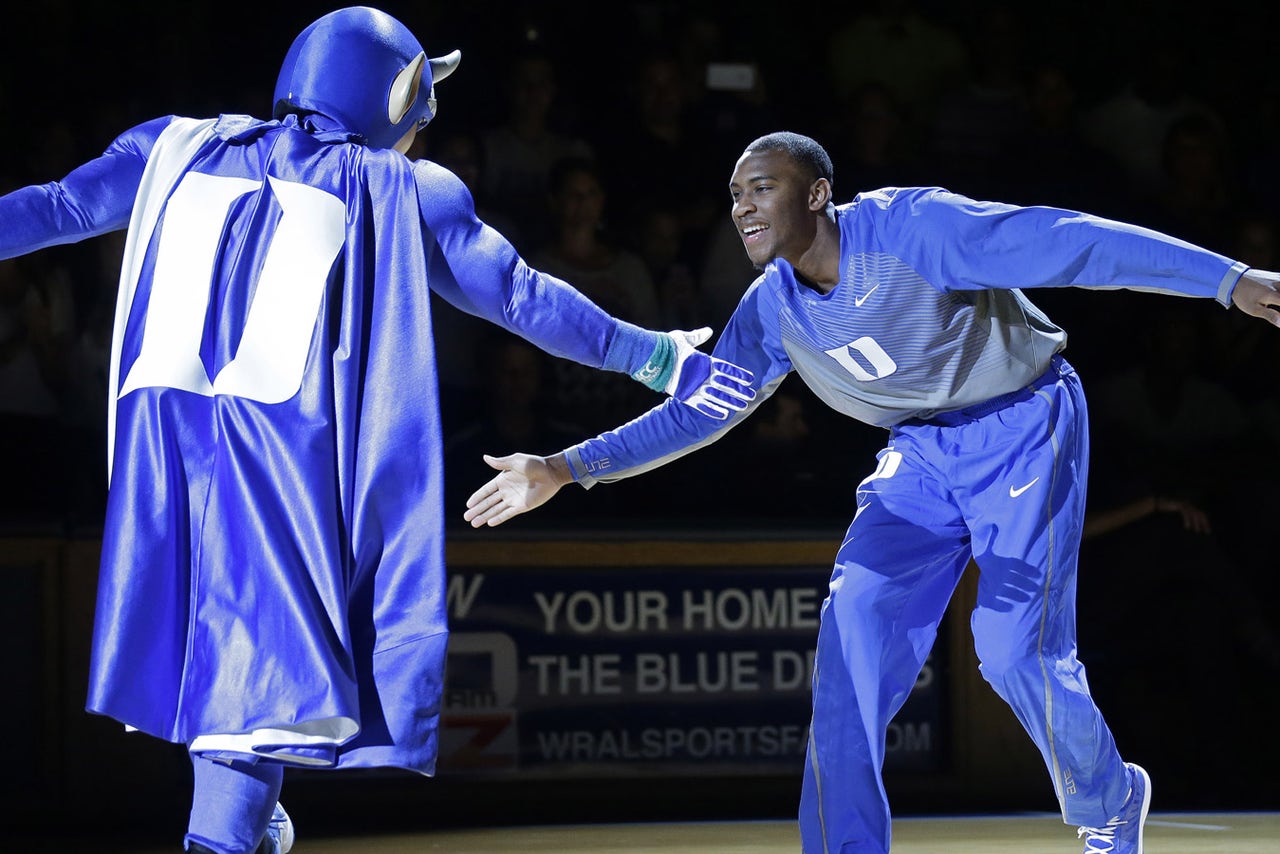 DURHAM, N.C. -- In spite of losing its top two scorers from last season off of a team that lost in the first round of the NCAA Tournament to Mercer, when the coaches' poll came out last week, it had Duke at No. 3.
That might sound odd, even if you follow high school recruiting. Duke brings in a highly-touted group of freshmen, all four of whom are McDonald's All-Americans. But who knows how freshmen will pan out nowadays? 
Well, it would seem that the No. 1 overall player in his recruiting class, 6-foot-11 center Jahlil Okafor, will pan out just fine.
Duke's annual Countdown to Craziness event, intended to introduce and showcase the team to the Cameron Crazies on Saturday night, featured two intrasquad scrimmages, each 12 minutes long. Okafor finished with 27 points on 12-of-14 shooting, adding a team-high eight rebounds, an assists and a block. In 2 minutes.
Marshall Plumlee, Duke's junior 7-footer, has been tasked -- rather unenviably, I should add -- with guarding Okafor, both in practice every day and during both scrimmages for all the world to see. 
Plumlee, the third in a line of successive brothers (the older two of whom are in the NBA), is not quite as polished as his brothers were by the time they left Duke yet. But he's big and athletic, just like they were, and is capable of at least getting in the way on defense. "It's always a really good battle between me and Marshall," Okafor said after the game. "He's 7-foot, I'm 6-11 so we're just a perfect matchup for each other."
It looked more like a mismatch. Okafor toyed with Plumlee like a yo-yo at times. Head fakes, pump fakes, spin moves, pull-up jumpers -- you name it. 
But Plumlee didn't hang his head. If he was able to force Okafor off the block and able to make him pull up for a jumper, Okafor often knocked it in. Plumlee will certainly take that.
"You do the best basketball you can do and you can only beat yourself up too much. He's a very talented player. There are definitely a lot of areas where I could have done better, but that being said, you've got to give him credit for the talent he has," Plumlee said.
In practice, he said, it's not always as lopsided.
"When I'm doing my best basketball, the best chance to slow him down is to not let him get position or get him in a position he's not quite comfortable with, but hat's obviously easier said than done, given his size," Plumlee said.
Plumlee's head coach Mike Krzyzewski thought that Plumlee did a fine job defending Okafor. That is certainly a terrifying thought for the rest of the country.
"He's a dominant player," Krzyzewski said. "I thought Marshall actually played pretty well against him -- it's just Jah, he makes shots."
If Duke is going to be good, though, its veterans are going to have to carry the load too. And so it was big for junior Rasheed Sulaimon to be the second-leading scorer with 22.
But the most impressive thing Sulaimon did won't even show up in the stat sheet.
Okafor was rolling and had not missed yet, and he had a breakaway in the open court for a dunk. But Sulaimon came out of nowhere, sprinting as hard as he could and managed to get a piece of the dunk -- not enough to block it, but enough so that it missed. Sulaimon then dove into the crowd by the visitor's bench to save the ball to his teammates, who went on to hit a three-point on the other end.
When asked if Sulaimon chases him down from behind in practice, Okafor could only shake his head and smile.
"(Sulaimon) never does that, actually," he said, grinning. "I talked to him about it after. I praised him on it during the game. I was like 'That was a hell of a play'. It ended up being a 3 right after that. That was a great play by Rasheed."
And Sulaimon might be one of the many Duke veterans who has to come off the bench. Krzyzewski said right now, the group that's playing together the best is three of the freshmen (Okafor, plus point guard Tyus Jones and wing Justise Winslow) alongside sophomore Matt Jones and forward Amile Jefferson.
"I think there's good chemistry on our team. Amile (Jefferson) really helps in that regard because he connects dots a little bit. Matt Jones does a really good job of that because he doesn't need the ball long," Krzyzewski said. 
"When somebody doesn't need the ball long and they're efficient and they play hard, that helps because Jah needs to get the ball and then Tyus is dribbling the ball. So there's not that much time to have the ball. The guys have to figure that out. I was pleased with all of them, to be quite frank with you."
But yes, as Krzyzewski said, Okafor needs to have the ball. A lot. 
Nothing looked clumsy or unplanned with Okafor, as he moved with a smoothness of a smaller player and the strength of a bigger one. That's what's going to make him a matchup nightmare for opponents this year, Plumlee said.
"With a guy like Jahlil, if they're as big as him, they're not as fast as him. If they're as fast as him, they're not as big as him. If they maybe have those things on him, chances are, they're not as skilled as him," Plumlee said. 
"He has such good touch around the basket. Even if he does do a move that he might not practice, he still has the touch to face the basket and put it on the rim softly so he almost doesn't need moves. But he does have moves and he's very confident."
Duke hasn't had a dominant big man, arguably, since Plumlee's older brother Mason. And even then, the middle Plumlee always seemed a bit more raw than Okafor, particularly at this stage of their respective careers. 
Duke still has its typical array of three-point shooters -- Grayson Allen is yet another freshman that Duke has at its disposal, the McDonald's All-American who won both the team and the McDonald's dunk contests and can also shoot -- so double-teaming Okafor will come at a price.
"We've got to be careful that we don't throw it in there and watch, because then there's going to be double teams. There are going to be double teams, but we feel we can surround him with guys that can shoot the ball. He's a special player, and a great teammate, so the guys like him a lot," Krzyzewski said. 
"We have a really good group. They really like one another a lot."
---