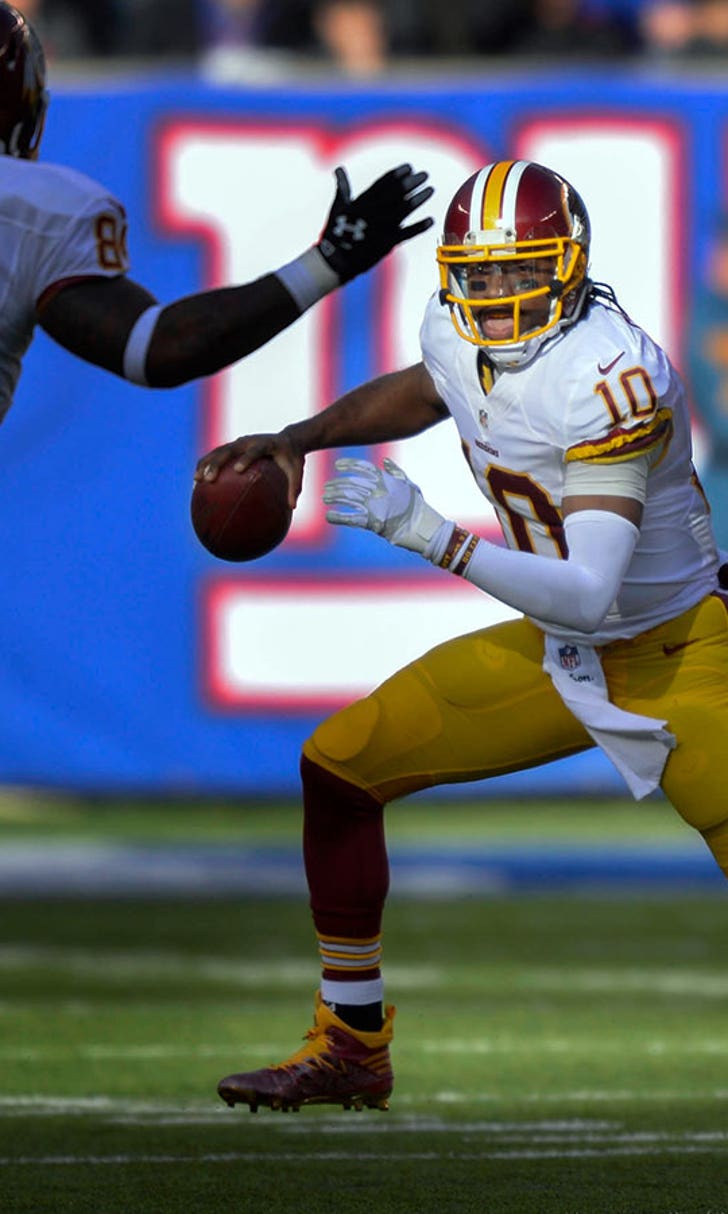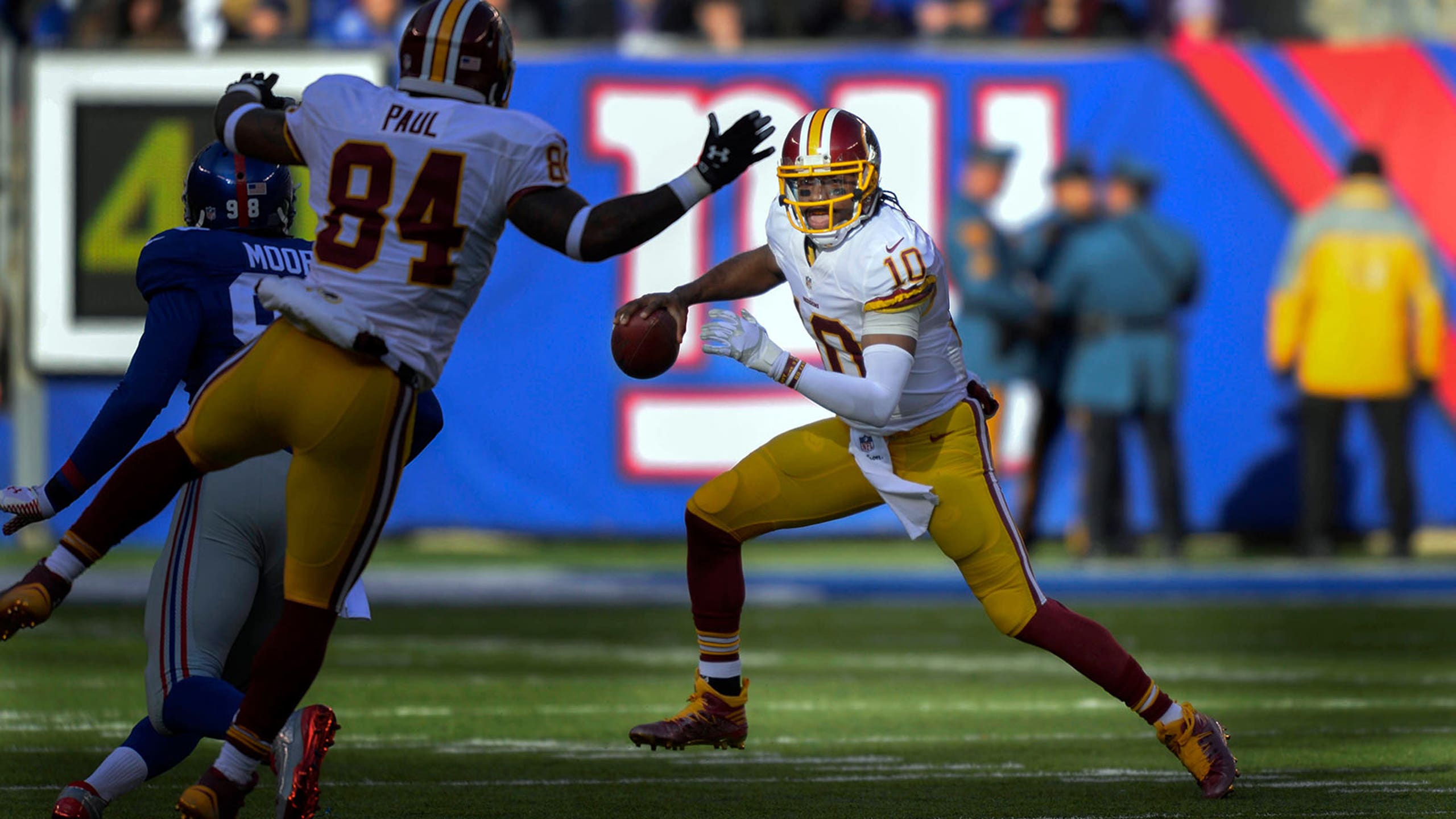 FPPG: Look to RGIII, Saints' WRs
BY John Halpin • December 18, 2014
Through 15 weeks, our Position vs. Fantasy Defensive Points Allowed tool has been a tool to help you find good matchups.
As always, please remember that the players listed are mostly meant to be borderline guys, who need reasons for you to play or bench them. You won't see recommendations to start Odell Beckham Jr. and Le'Veon Bell, because you should always start Beckham and Bell. Make sense? Good.
Note: The fantasy points per game (FPPG) referenced below are from FOXSports.com standard leagues.
Thursday game: Titans at Jaguars
Saturday games: Eagles at Redskins, Chargers at 49ers
Quarterbacks
Stay away: Philip Rivers, Chargers (at 49ers)
The Niners might be disappointing, but their fantasy defense ranks sixth with 16.8 FPPG allowed to opposing quarterbacks, and in real life they're third in pass defense with 206 yards per game allowed. Rivers and his reportedly bad back aren't a recommended start.
Also:
The Cardinals rank ninth against opposing fantasy quarterbacks with 17.4 FPPG allowed. Seahawks QB Russell Wilson isn't the best fantasy option in what figures to be a defensive battle.
Jay Cutler was going to be in this spot, but Marc Trestman took the decision out of the FPPG tool's hands by benching him. Thanks, coach!
Play, play, play: Robert Griffin III, Redskins (vs. Eagles)
Griffin was solid in relief duty against the Giants, throwing for 236 yards and a touchdown, and adding five carries for 46 yards. RG3 gets to face an Eagles' defense that ranks 30th against opposing fantasy quarterbacks, allowing 23.9 FPPG. Griffin is owned in just 34.1 percent of FOXSports.com leagues. If you need/want to stream a quarterback this week, here he is.
Also:
Mark Sanchez will oppose RG3, facing a Redskins' D that ranks 31st with 25.1 FPPG allowed to opposing quarterbacks. The inconsistent Sanchize is a decent option this week.
Running Backs
Stay away: Andre Williams, Giants (at Rams)
Rashad Jennings is unlikely to play after reinjuring his ankle (and killing two of my fantasy playoff teams) in Week 15. Williams has six touchdowns on 176 carries, but he's averaging just 3.2 ypc, and visits a Rams' defense that ranks fifth with 14.3 FPPG allowed to opposing running backs.
Also:
Jonas Gray carried 11 times for 62 yards against the Dolphins, but most of his work came with the Patriots had a big lead. Against a Jets' D that ranks ninth with 14.3 FPPG allowed to opposing backs, even a 12-carry Gray wouldn't be a good idea.
Play, play, play: Toby Gerhart, Jaguars (vs. Titans)
The Titans are allowing a league-worst 139.6 rushing yards per game, and they rank 29th with 22.2 FPPG allowed to opposing running backs. Gerhart reclaimed the Jags' lead back role last week, with 13 carries for 54 yards and a couple of receptions. As my friend Tim Heaney said recently, tonight we spell redemption "T-O-B-Y."
Also:
Steven Jackson has a nice matchup with the Saints' 30th-ranked fantasy defense (22.7 FPPG allowed to opposing RBs). Jackson is a plodder at this point, but in a game with an over/under of 55.5, there's room for fantasy production for everyone.
Wide Receivers
Stay away: Sammy Watkins, Raiders (vs. Bills)
Over his last six games, Watkins caught seven passes for 127 yards in Week 14, and totaled 14 receptions for 118 yards in the other five outings. Watkins is about to visit a Raider defense that has been stingy against opposing fantasy wide receivers, allowing 18.6 FPPG. Nah.
Also:
Don't consider a single Cardinals' receiver against a Seahawks' defense that has been getting better by the week. The Seahawks' average of 14.2 FPPG allowed to opposing wideouts is 19 percent better than the next-best team. Sorry to those of you who drafted Michael Floyd in Round 4 ... if you're still alive in your league, that is.
Play, play, play: Marques Colston, Saints (vs. Falcons)
Colston has gone 17-235-3 over his last four games, and seems likely to draw the Falcons' worse DBs from a defense that has allowed 26 FPPG to opposing wideouts. Kenny Stills can probably start for fantasy squads as well considering this matchup.
Also:
Will Torrey Smith bounce back this week? If it's going to happen at all, it'll be against the Texans' 31st-ranked fantasy defense (27.1 FPPG allowed to opposing WRs). Smith is in WR3 territory.
Tight Ends
Stay away: Larry Donnell, Giants (at Rams)
Remember when Donnell was catching six or seven passes every week? He has just 16 receptions over his last five games, and faces a Rams' defense that ranks second with 5.0 FPPG allowed to opposing tight ends. Pass.
Also:
Charles Clay caught six passes for 59 yards in Week 15, but squares off against a Vikings' fantasy defense that ranks third with 5.1 FPPG allowed to opposing tight ends.
Play, play, play: Coby Fleener and Dwayne Allen, Colts (at Cowboys)
With the Cowboys ranking 29th against opposing fantasy tight ends (10.2 FPPG allowed), Reggie Wayne hurting and a shootout likely in Dallas, both Colts' tight ends are top-12 options this week.
---