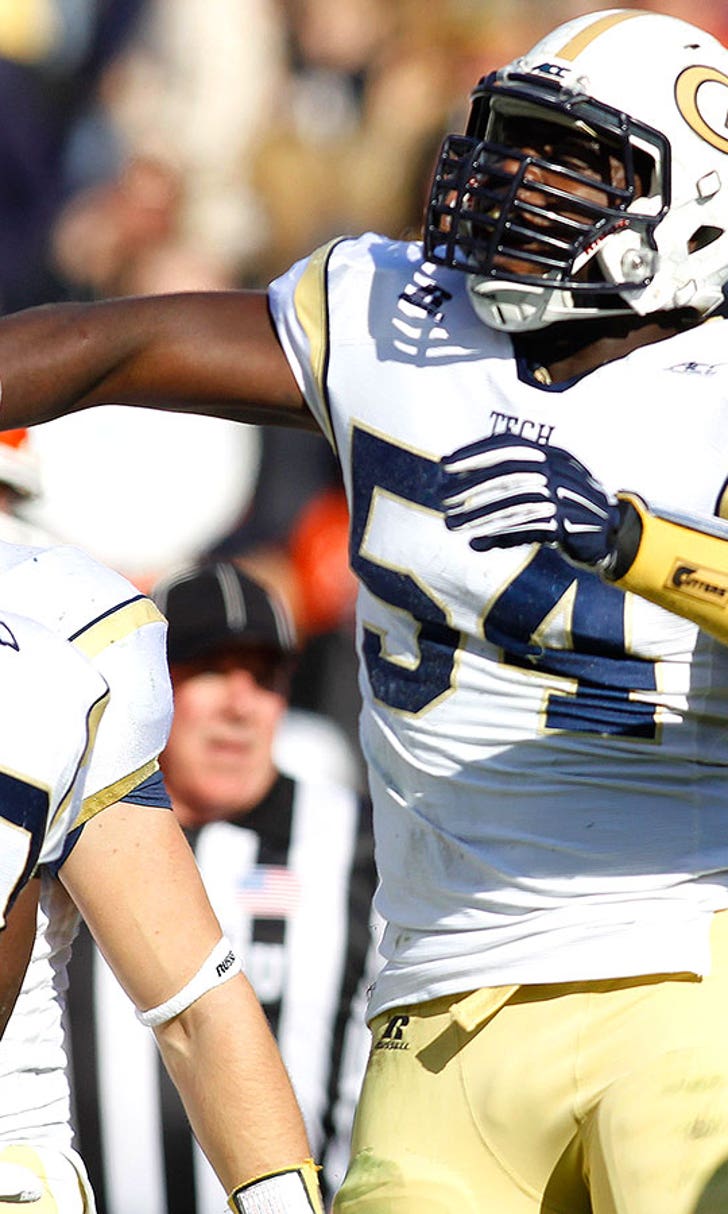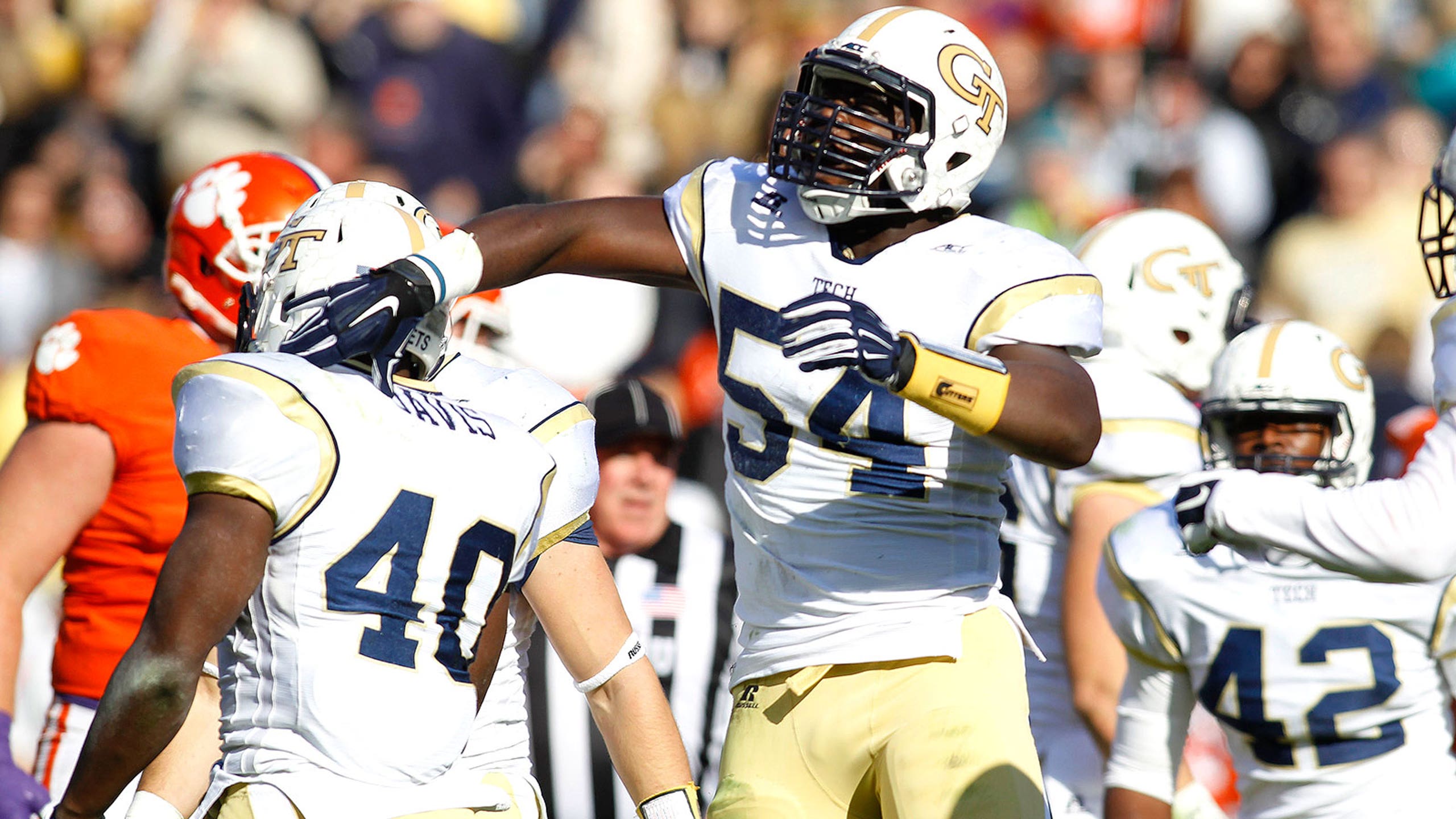 Four Downs: Ga. Tech 'D' breaks the mold in rout of Clemson
BY foxsports • November 15, 2014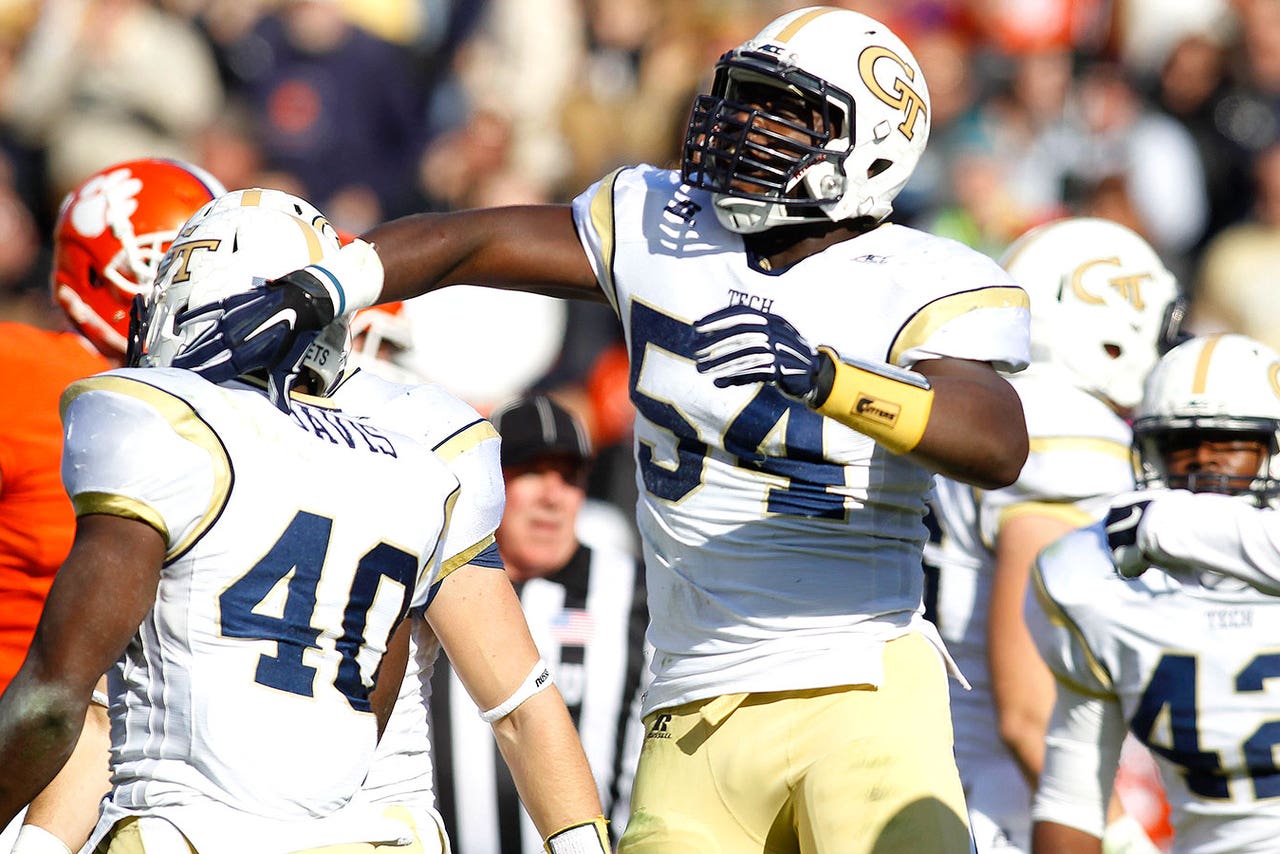 Some college coaches are hesitant to dole out glowing words to players or positional groups, at least in a public forum (read: press conferences), as if such acknowledgments would spawn a series of negative events moving forward (the coaching equivalent to "jinxing" a team).
But Georgia Tech's Johnson, for one day at least, had no problems sending out precedent-setting praise to his defense, which held Clemson to six points (a season low), 10 first downs, 65 yards passing, 190 total yards and just three successful third-down conversions.
"Today was the best we've played defensively. Bar none," said Johnson (57 Georgia Tech victories, 102 overall), who has guided the Yellow Jackets to six (and soon-to-be seven) consecutive bowls.
Let that statement sink in for a moment.
On Oct. 4, Georgia Tech dutifully prevented Heisman candidate Duke Johnson from running wild at Bobby Dodd Stadium, limiting the potentially lethal Miami Hurricanes to 17 points.
On Nov. 1, Georgia Tech suffocated Virginia's heralded rushing attack, surrendering just 22 ground yards for the day.
And last week, the Yellow Jackets produced two defensive touchdowns in a 2-minute, 14-second span against N.C. State, the driving force behind Georgia Tech's 56-23 road rout.
Of course, Saturday's defensive effort also included two touchdowns ... so maybe Johnson was correct. Perhaps this performance had everything a coaching staff could want when crafting a midweek game plan.
"(Scoring defensive touchdowns) is very contagious," said junior defensive back D.J. White, who tallied an interception against Clemson and one pick-six against N.C. State last week. "When you see guys making plays, you want to join in all the fun."
That's assuming one can get past Georgia Tech's ugly turnover on its first possession -- a bungled option pitch, resulting in a Clemson fumble recovery (in Tigers territory).
But it's funny how certain tent-pole victories can put that stuff on the back-burner.
In his postgame address, Clemson head coach Dabo Swinney stopped short of detailing the extent of Watson's knee injury, but he wasn't necessarily upbeat about the immediate prospects, either.
"I really hate it for (Watson)," said Swinney. "He's had such great practices the last couple of weeks. He was so excited about playing. It was off to the races; he had a great start today ... it's just a shame. That's life."
Can you blame Swinney for being so glum? With Watson holding court at quarterback, the Tigers offense averaged 37 points against the likes of Florida State, North Carolina and North Carolina State in late September/early October -- citing a three-game stretch when the dynamic freshman finished each outing. (Clemson went 2-1 in that span.)
The rest of the Tigers' campaign has been one of notable offensive struggles, where nothing seems in sync.
On Saturday, backup quarterback Cole Stoudt registered as many completions (three) as interceptions -- with two resulting in pick-sixes for Georgia Tech's Jamal Golden and Chris Milton.
In Clemson's defense, it's hard to cultivate and maintain offensive symmetry when there's an injury-prompted revolving door at quarterback, just about every week.
To wit, in the span of five weeks, Watson has twice suffered a significant injury in the first quarter of a game.
On Oct. 11, Watson incurred a hand injury against Louisville that kept him out for three games.
On Saturday, marking his return to the Tigers lineup, Watson's knee injury occurred just milliseconds after scrambling for a first down deep in Georgia Tech territory. (At the time, Clemson led 3-0.)
TV replays indicate the injury incident might have transpired after Watson planted his left foot before making contact with a Georgia Tech would-be tackler ... or possibly Watson's own offensive linemen.
On Stoudt's inaugural snap, the Clemson coaches curiously called for a Wildcat-esque run to the left side. Yes, his jaunt produced five yards, but it had the look of a scripted call -- as if Watson was still in the game -- as opposed to something more tailored to Stoudt's skill set.
On second down, Stoudt ran for one yard, setting the table for the ultimate game-changing play:
While initially sprinting right on third down, Stoudt stopped on a dime and tossed a screen to the far left side -- an ill-advised pass that was intercepted by defensive back Jamal Golden ... and easily returned for an 85-yard touchdown.
Which brings us to this: Considering that Watson has only finished three games this season, how is that expectations (national/regional) were sky-high ... every time the kid went under center?
(A good friend of mine, who's a rabid Clemson fan, figured Watson as an easy "redshirt" candidate during the summer.)
Well, that rapid rise to collegiate fame can be rationalized in this way:
Against Florida State, North Carolina and N.C. State, Watson accounted for 76 percent of Clemson's offense -- including a 435-yard, six-TD effort against UNC (Sept. 27).
Fast forward two weeks: On the morning of Oct. 11, Watson's electric performance against the Tar Heels prompted Kirk Herbstreit of ESPN's College Gameday to hail the Tigers QB as "face of college football, starting next year" -- a Heisman-worthy, but also pressure-filled compliment that had a new level of importance about five hours later ... when Watson suffered the hand injury against Louisville.
Picture a golf tournament, if you will (cue Rod Serling voice) ... something like The Masters.
At 6-2 in ACC play and with only a rivalry clash with Georgia (next week in Athens) left on the regular- season docket, Georgia Tech can only sit, watch and hope that Duke (which fell to Virginia Tech on Saturday) falters one more time in conference play.
Otherwise, the Blue Devils (4-2 in the ACC -- remaining home outings with North Carolina and Wake Forest) would claim a simple two-way tiebreaker with the Yellow Jackets, based on the club's head-to-head victory in Atlanta (Oct. 11).
However, if three or more Coastal teams were deadlocked at 6-2 by season's end ... that would probably bode well for Georgia Tech -- in a major tiebreaker situation -- since the overall winning percentage of its two Atlantic crossover opponents (Louisville, Clemson) remains strong.
(Within that rationale, Miami could potentially boast victories over Florida State -- Saturday's opponents -- and Louisville by season's end.)
Either way, the Yellow Jackets are in that comfortable position of signing their proverbial scorecard at six ACC wins -- hence, the golf references above -- and then waiting to find out who has the best Coastal record on Nov. 29.
In that dream scenario, Coastal champ Georgia Tech would draw Atlantic champion Florida State in the Dec. 6 ACC title game, which would have College Football Playoff-invite implications for Jameis Winston (undefeated as a starting QB) and the No. 3 Seminoles.
(Top four teams advance to the national semis -- Rose and Sugar bowls on Jan. 1.)
"We're finished with the ACC schedule," says Johnson, while noting that Tech has the third-most conference victories in his seven-year tenure. "There's nothing else we can do (conference-wise). We can sit around, I guess, and see what happens to Duke."
It's amazing to see how far the Jackets have come since mid-April -- specifically the spring game -- when Georgia Tech's offense didn't have a lot of pizzazz or versatility or even depth that night (QB Justin Thomas was a precautionary holdout).
Of course, for that Friday evening, it was raining so hard at Bobby Dodd Stadium ... a few plays had to be delayed, so officials could allow a five-deep line of baby ducks to cross the waterlogged field, without incident.
OK, so that last part never occurred. The larger point: While solely watching Georgia Tech traverse around the soggy pitch that April night, it would have been reasonable to assume the Jackets were closer to rebuilding than competing for a division/conference title.
But here we are: Flanked by red-letter victories over Tulane, Virginia Tech, Miami, Pittsburgh, Virginia and now Clemson, among others, Georgia Tech (9-2 overall) has somehow managed to doubly thrill its fan base -- in terms of satisfying them on Saturdays ... while also leaving 'em wanting more in the process.
As if better days still lie ahead in 2014/15.
"I think we've got a lot of confidence," says Tech defensive back Chris Milton, who notched the day's second pick-six. "We know that we can go out there and win every single game we play. We just go out there and the coaches give us a great scheme to run. We just have to go out there and execute."
Bottom line: As Notre Dame or Ole Miss ... would you want to play an eminently balanced or dare-we-say prodigious Georgia Tech squad in the Orange Bowl? You think Oklahoma's angling for a shot at Tech in the Russell Athletic Bowl?
And would Penn State really benefit from drawing the run-heavy, defensively sound Yellow Jackets at the Pinstripe Bowl ... amidst blustery winter conditions at famed Yankee Stadium?
Of course, with Saturday's shakedown of Clemson ... Georgia Tech might have officially waved bye-bye to any bowl played in a northern locale -- or one that takes place before Dec. 29.
---