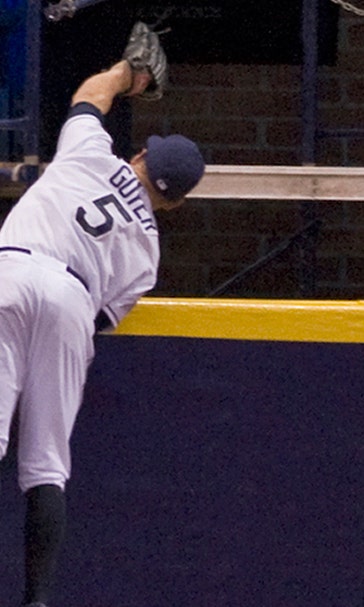 For one night, intuition leads Rays astray against Royals
July 10, 2014

ST. PETERSBURG, Fla. -- Salvador Perez jogged to home plate in mostly silence. In an alternate ending, a gong would have rang beyond right field at the end of this half inning, an electric guitar would have sounded over Tropicana Field's loudspeakers and the Tampa Bay Rays would have celebrated another series victory in their more-real-by-the-minute renaissance.
Instead, there was mostly quiet in the top of the ninth inning Wednesday after Perez launched a three-run home run to left field off a 91-mph fastball from right-hander Kirby Yates with one out. The hit was an absolute haymaker to the Rays' growing momentum, and it became the difference in the Kansas City Royals' 5-4 victory.
The ball's sound off Perez's bat wasn't impressive. The ball's carry didn't seem majestic. The ball's flight pattern, picture more pigeon than laser, made it appear that it didn't have enough juice to land out of play.
But it happened. Because the ball carried 330 feet and not 310, because the Royals rallied and didn't retreat in what seemed like a soon-to-be Tampa Bay triumph, the Rays' by-committee approach to their closer role was left open to questions.
"I've talked about it extensively about 25 people being responsible for us winning," Rays manager Joe Maddon said, "because we're not going to get back into it by overloading somebody."
This night became about Maddon's intuition leading him astray. It happens in baseball. Unfortunately for the Rays, this was a winnable game that became another stomach-twisting turn of events that denied them their fourth consecutive series victory.
The unraveling happened quickly, the sequence unforgiving. Joel Peralta allowed Jarrod Dyson to single to left field, Lorenzo Cain struck out and Eric Hosmer walked. Then Yates, a former closer at Triple-A Durham, replaced Peralta and zipped a 92-mph fastball past Perez before the second pitch found a resting place just feet to the right of the foul pole.
"This one is bad, especially against those guys," Peralta said. "We don't play good against them. Losing this one, it really hurts."
"It stings a little bit," Yates said. "It's a game we should have won, and we needed to win. Every win is crucial right now."
The Rays almost stole a victory. Aside from Kevin Kiermaier, who rocked the Royals by going 4 for 4 with his first career grand slam in the fourth, they didn't overwhelm. Their 11 men left on base and their 1-for-9 hitting with runners in scoring position were the most glaring signs of missed chances that extend beyond the by-committee closer discussion.
Still, the pitching failure should spark debate.
Maddon said he didn't want to use Jake McGee too much a day after the left-hander threw 26 pitches. McGee threw 14 in the eighth Wednesday.
Maddon said he didn't want to push Brad Boxberger too much a day after the right-hander threw 20 pitches. Boxberger threw 10 in the eighth Wednesday.
Maddon said Juan Carlos Oviedo wasn't available because the right-hander felt minor arm discomfort. Perhaps the outcome would have been different with Oviedo on the mound.
So Maddon's trust, with the Rays three outs from their 12th victory in 15 games since June 25, was placed in Peralta and Yates. Sometimes, baseball is a game of timing and circumstance. Sometimes, baseball is a game where gut feelings lead to gut punches, the bruises deep.
Perez made all involved pay.
"From home plate, it looked like it might go foul," Perez said. "That's why I stood at home, to see where the ball (would go)."
Just as fast, the Rays were left to pick up the pieces. After the game, a small group of Royals fans in blue T-shirts chanted Perez's name near Kansas City's dugout. Rays players trudged toward their clubhouse, their sounds of victory silent.
"Just trying to keep the lead," Maddon said later.
It wasn't enough.
You can follow Andrew Astleford on Twitter @aastleford or email him at aastleford@gmail.com.
---