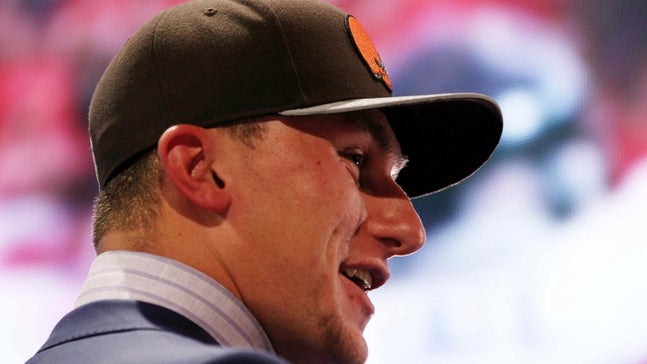 For loyal Browns fans, Manziel represents hope
Published
May. 9, 2014 1:12 a.m. EDT

BEREA, Ohio - Johnny Flash. Johnny Hollywood. Johnny Worldwide.
It fits in blue-collar Cleveland.
Because he's Johnny Football, first and foremost, and in Cleveland football is the boss.
The Cleveland Browns made three trades in the first round of the NFL Draft Thursday night, and after the third at No. 22 they landed former Texas A&M quarterback Johnny Manziel, the draft's most popular player, the draft's most polarizing player and arguably the most fascinating draft evaluation in a decade.
With Manziel and the pre-draft argument about his NFL future, there was seemingly no middle ground. There was a side that loves the bold, brash, free-wheeling style and the energy he brings. There was a side that panned his immaturity, his public missteps and his lack of prototypical NFL size.
Johnny's heard it all, and he's flashed those money signs in response.
Now, all he has to do is live up to all of it.
"Talk is cheap," Browns coach Mike Pettine said about 90 minutes after Manziel was picked and shortly after a landmark Thursday had become Friday morning. "Hype is exactly that. We're thrilled that the city of Cleveland is abuzz about football."
The work awaits, and awaiting Manziel in Cleveland is a franchise that hasn't had a successful quarterback in more than 20 years -- and a fan base that once had its team taken away, and for 15 years since the team returned has had two winning seasons and gone through 20 quarterbacks. Call Browns fans what you want, but always include loyal.
And hopeful.
And Manziel represents hope.
"What accompanies him isn't really him," Pettine said. "He's competitive. He's a great teammate. He loves to get in (and work). He's passionate about football."
So are those diehard, battle-tested, running-out-of-patience (but not really) Browns fans who might be late for work Friday morning.
There haven't been many nationally notable Browns players over the last 15 years in part because there haven't been enough really good Browns players. There haven't been enough wins for the Browns to play at any time besides Sundays at 1 p.m. The team hasn't competed for a playoff spot since 2007, and seven NFL years might as well be 70.
Manziel's won a bunch of nothing for the Browns yet. But his selection -- on a night the Browns and their new GM also selected a top cornerback and added a 2015 first-round pick -- represents the possibility that there's light at the end of the tunnel.
If with that light comes with stage smoke and sound effects and famous friends and a guy famous outside of football, that's fine, too. The Johnny Football persona doesn't have to fit Cleveland as long as he fits the Browns.
"I think he'll be received well," Pettine said. "I think (his new teammates) will see a guy that will come in and go to work. I don't think he's walking in the building with an entourage. He's walking as a teammate."
Pettine said the Browns asked everyone they could at Texas A&M about the real Johnny, the guy who became the first freshman to ever win the Heisman and then lived with his every move being scrutinized -- much of it brought on by himself -- as he played his sophomore season after a summer of jet-setting and signing autographs and bailing on the Manning Passing Academy.
"Once he's inside a locker room, he's one of the most well-liked guys on the team," Pettine said.
New Browns general manager Ray Farmer talked of watching Manziel in person last fall, watching him between plays and between possessions interact with teammates and coaches. In the end, Farmer said, the Browns picked him not for sizzle or what he's been but because he's "fearless" and "competitive."
It can work in Cleveland. It's far from a sure thing, but it can.
Above all, Manziel fits because football is king in Cleveland. Even when that LeBron guy who fancied himself as king was playing basketball here and taking the Cavaliers to the 2007 NBA Finals, people talked about what it would be like if the Browns ever got it together.
The impossible dream.
Or, maybe not.
"Does it feel right? Johnny Manziel in Cleveland with the Browns? There's a lot of excitement," Manziel said, mixing in a little third person. "Obviously, the team really wants to win and win now. I've been a winner everywhere that I've been. I'm going to work hard to put myself in the best position for that to continue."
If Manziel wins, he'll own Cleveland. After the draft's first round he might have to beat out Farmer if he wants to run for mayor, but he'll be busy. Farmer and Pettine hope he'll be busy in the playbook. To an extent, they're betting their jobs on it.
Manziel will have to be more than exciting -- for the team, for the city, for himself. He's got to polish his skills, adjust to the speed and ferocity of the NFL game, successfully balance work and the aforementioned hype, expectations and celebrity.
Johnny Football is the best nickname ever as long as Johnny is playing winning football.
"I truly believe leaving here tonight that the situation did work out for me," Manziel said. "I'm in a great place."
There's probably no truth to the rumor that Browns fans are already camped out for the first day of training camp, but don't totally rule it out. Thursday brought buzz and a spotlight.
When NFL Network draft savant Mike Mayock was asked for his highlight of the night, he said, "The Browns."
Cleveland will drink to that.
---