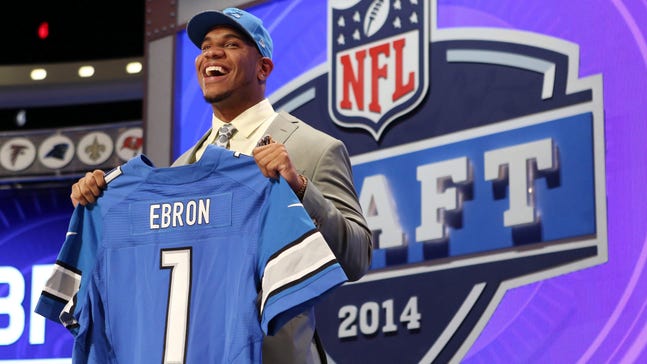 Football, family put a smile back on Ebron's face
Published
May. 9, 2014 5:58 p.m. ET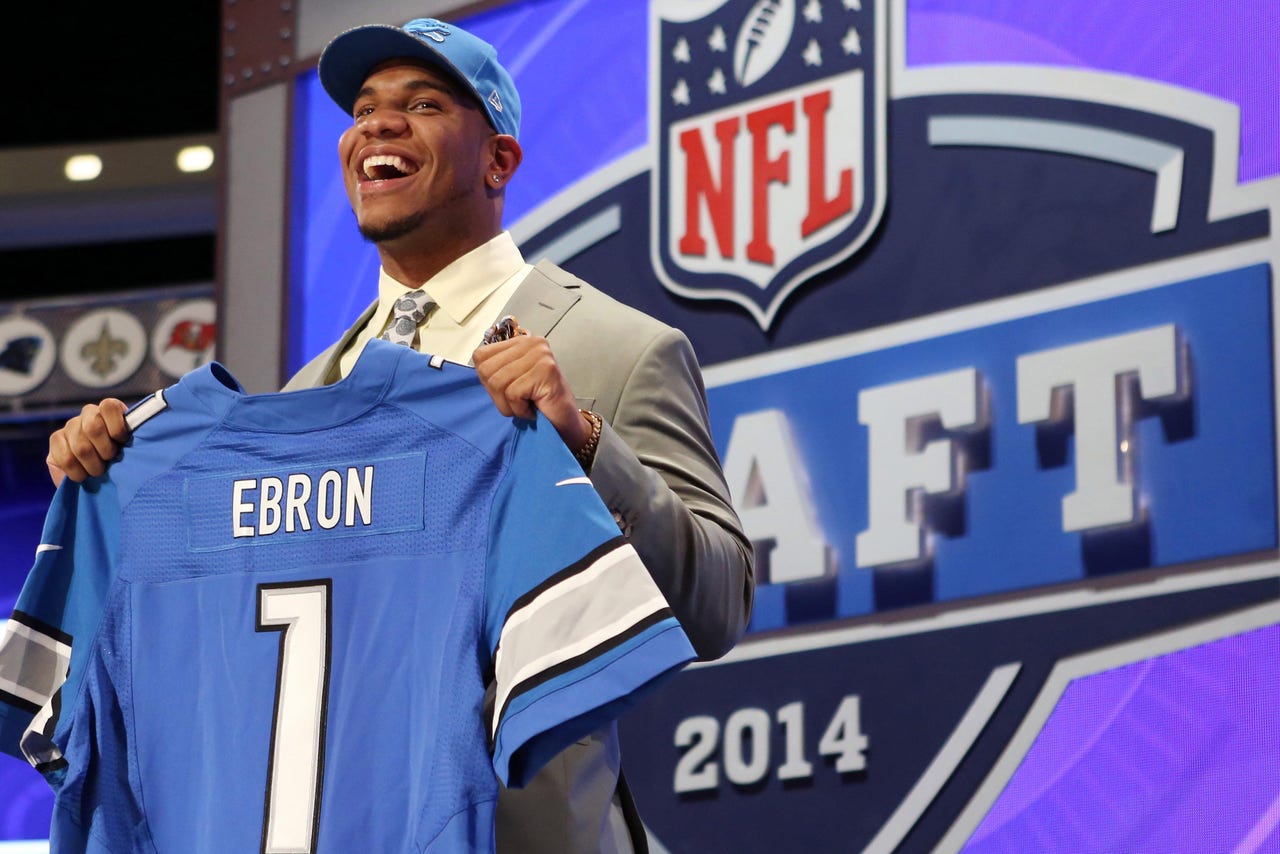 ALLEN PARK, Mich. -- Eric Ebron, the Detroit Lions' first-round draft pick, was entering his junior year of high school and hadn't played football since he was around 10 years old.
He'd given it up after his grandfather died, sending him into a state of depression for a few years.
It took his mother, Gina Jackson, and the football coach, Rodney Brewington, at his new high school in Greensboro, N.C. to push him back on the field.
Brewington took Ebron to a summer camp at the University of North Carolina. What happened there is almost unthinkable. Without having played a single down in high school, Ebron said he was offered a scholarship by then-Tar Heels coach Butch Davis.
"I hadn't played a lick," Ebron, a 6-foot-4, 250-pound hybrid tight end/receiver, said Friday during an introductory news conference at the Lions' facilities.
"It was pouring down raining. I was out there, no gloves, no swag, looking like I'd never played football before. But I ran nice routes and caught everything in the rain. They were just like 'Man, look, that dude there, we want him.' I was like 'Thanks.'
"I didn't know what a scholarship was. My story pretty much took off from there. My journey was fun."
Ebron's grandfather, Oling Jackson, was an important role model to him. Jackson died after a battle with Parkinson's disease.
Ebron, a fun-loving kid who was known for inviting his friends over for dinner all the time, wasn't the same.
"I played Pop Warner football, kind of lost touch when my grandfather passed away," he said. "Pretty much lost touch of life.
"My mom told me I wasn't going to sit on the couch my whole life so I had to do something. Now I'm here, doing something."
Ebron said his grandfather was "the only guy that never missed anyone's birthday, the only guy to wake you up every morning just to put a smile on your face."
"My grandfather was everything," he said.
Gina Jackson said her son was "a comedian since I brought him home from the hospital."
But the death of her dad changed everything about Eric.
"No friends were coming home," she said.
After moving from Rhode Island, where they had been taking care of her ailing father, back to North Carolina, she realized there was one thing that could help snap Eric out of it.
He had to start playing football again.
"I needed something to get him out of that rut, something for him to get back to that bubbly personality that he had," Gina Jackson said. "I'd seen the passion when he plays football.
"I said, 'I cannot allow him to sit around and not do what he loves.' That's his life right there. You just see that love and that passion."
It all turned out for the best. Ebron returned to the football field, eventually accepted that scholarship offer and spent three years at North Carolina before becoming the No. 10 pick overall in the NFL Draft.
Not only did Ebron get drafted Thursday night, but he also "shocked" his girlfriend, Brittany Rountree, by proposing at the top of the Empire State Building a few hours earlier.
"This is all amazing," Ebron said. "This all seems fake right now, like I'm not even here. I didn't even want to go to sleep last night, but I had to come here and talk to y'all and I couldn't be looking like a mess.
"I had to do something. I went to bed for about an hour and a half, woke up, took a little plane ride (from New York to Detroit), got another little 30 minutes in.
"It still seems fake."
QUOTING EBRON
--- On why he caught only three touchdown passes last season despite being able to create such mismatches with his size and speed: "We wasn't really a pass-threat offensive team in the red zone. We maybe did it once or twice and that was when I got my one or two or three touchdowns. Other than that, we ran the ball."
--- On his happy-to-lucky personality off the field:  "There's never a bad day with me."
--- On making the transition to the NFL: "I hope I 'wow' you guys."
--- On playing Pop Warner football against older kids growing up: "That talent's been there since I was a young buck."
--- On whether negative reaction to the Lions taking him, instead of a defensive player, will be motivation: "I've got other motivations in life. My mom. My mom motivates me. She struggled when we were younger. My dad (Eric Ebron Sr.) motivates me. He struggled when we were younger. I have other motivations than to listen to somebody else talk about what they think they know."
--- On his favorite player to watch on tape: "Now that I'm in the NFL, once I get some film, I'll probably be my favorite guy."
--- On joining an offense that includes the likes of Calvin Johnson, Reggie Bush, Golden Tate and Matthew Stafford: "It's only something you can dream of and for them to actually put something together like this, it's mind-blowing."
--- On Hall of Famer Barry Sanders introducing him as the Lions' pick Thursday night at Radio City Music Hall in New York: "Man, I didn't want to stop hugging the man, but I had to let him go. We was on television. I didn't want no one else to miss their pick."
---