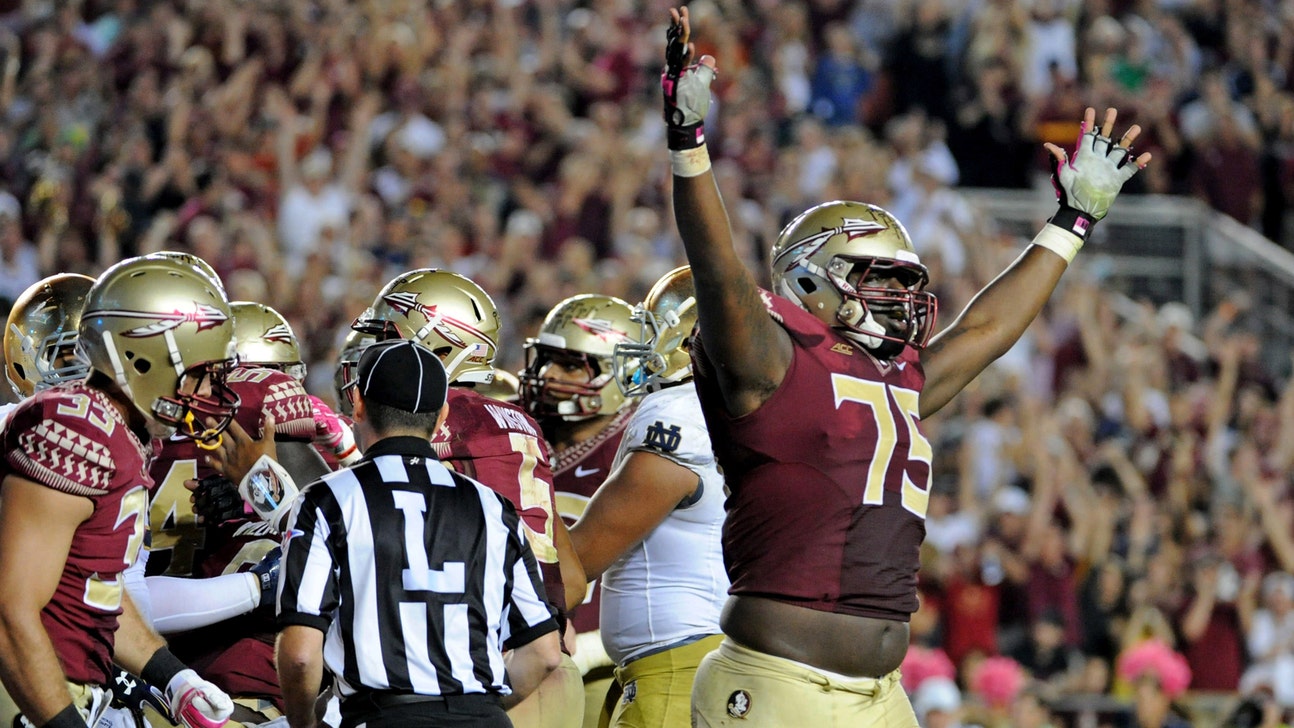 Florida State mixing rest, practice in unusual bye week
Published
Oct. 21, 2014 10:07 p.m. ET

After their thrilling 31-27 defeat of the Notre Dame Fighting Irish, the Florida State Seminoles entered what can only be phrased as an unusual bye week Tuesday.
Their next game isn't going to be played on a Saturday, like all of theirs have been to date, but instead it is a Thursday matchup Oct. 30 at Louisville. Meaning the Seminoles coaching staff and players have to adjust the normal routine and condense two weeks into a week and a half.
"These [kinds of bye weeks] are weird," Florida State head coach Jimbo Fisher said Tuesday. "This was kind of a Tuesday and a Monday practice. We will go really hard tomorrow. We will probably go pretty hard on Thursday and give them Friday off. Saturday will be a Monday. ... We have to keep them in shape."
Although some of Fisher's veteran players, like seniors wide receiver Rashad Greene and running back Karlos Williams, need rest more than anything else.
"A couple of the older guys I am resting right now down the stretch that have had a lot of reps," Fisher said.
He referred to Williams' effort in the Notre Dame game as "strong" and "exceptional," and cracked a smile when asked about Greene.
Greene -- the ACC leader in receptions (52), receiving yards (791) and receptions per game (7.4) -- has yet to miss a start this season and has played more snaps than any other receiver on Florida State's roster.
"I know how many routes he runs and what he does," Fisher said of record-breaking wideout. "You've gotta find guys like him a day or two to really pep them up."
The time off for the veterans this bye week serves another purpose: it allows the Seminoles' younger of group of players to improve and take more snaps with quarterback Jameis Winston.
One of those younger players is freshmen wide receiver Travis Rudolph who will continue to see extended time with the first-team offense.
"I feel very good about him," Fisher said of Rudolph. "He has the ability to run the whole route tree. He's got route-running skills, which a lot of guys don't have running skills, and the guys who have running skills don't always have route skills. He's got a combination of both."
At the end of Tuesday's practice, after a few vets rested and the youngsters continued to improve, Jimbo Fisher steered away from bye week chatter and made one final declaration to the media in attendance.
"I love our team, I really do," Fisher said. "I like to coach it. It competes hard. It plays well. It gets better every week and there are a lot of young guys that are emerging that are really going to help us down the stretch. I think some older guys are really developing some other roles as far as leadership .... I still think that we can continue to grow, but I like where we are at."
---