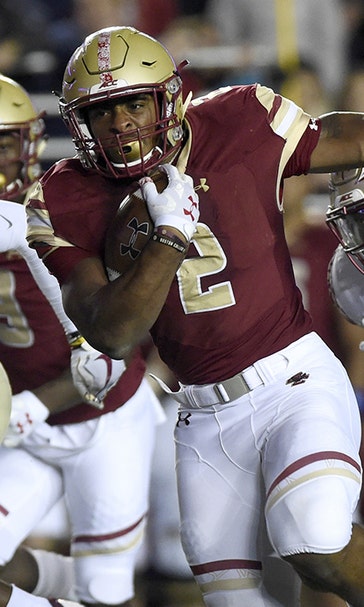 Florida State held out of end zone, routed by Boston College
October 28, 2017
BOSTON (AP) -- AJ Dillon watched the first Red Bandanna Game on television, a 16-year-old Boston-area high schooler imagining what it would be like to celebrate on the field with his teammates and the crowd pouring over the railings to join them.

"I got a chance to be a part of that today," Dillon said after Boston College beat Florida State 35-3 on Friday night. "As a team, as a university, this was a really big win for us."

Dillon ran for 149 yards and a touchdown to help BC snap a seven-game losing streak against the Seminoles. Just two years removed from a winless Atlantic Coast Conference season, the Eagles (5-4, 3-3) have now won three straight ACC games for the first time since 2013.

BC students stormed the field after the victory -- the first home conference win the senior class was able to see. The Eagles had won just one home ACC game since 2013, and it was during Thanksgiving break.

"It was an awesome atmosphere to play in," said BC linebacker Ty Schwab, who had 12 tackles, an interception, a sack and 2 1/2 tackles for a loss. "It was exciting, and I'll definitely remember this game probably the rest of my life."

The game was dedicated to the memory of Welles Crowther, a BC lacrosse player who was killed in the South Tower of the World Trade Center on Sept. 11, 2011. Crowther, who was known for wearing a red bandanna, was remembered by survivors for helping at least a dozen people escape to safety.

The Eagles uniforms featured bandanna-style trim, and fans were given red kerchiefs when entering the stadium. Coach Steve Addazio said he gave Crowther's parents a game ball -- just as he did after BC beat ninth-ranked Southern California in the first Red Bandanna Game in 2014, the last time the Alumni Stadium crowd stormed the field.

Dillon, a freshman, had to ask teammate Jon Hilliman on Thursday night what that was like. "He said it's one of those things you're never going to forget," Dillon said.

Anthony Brown threw for one touchdown and ran for another, and Jeff Smith threw for a TD on a flanker option for BC. It was the most points the Eagles have ever scored against Florida State.

The Seminoles (2-5, 2-4), who opened the season ranked No. 3 in The Associated Press Top 25, fell three games below .500 for the first time since Bobby Bowden's first season in 1976.

"I think (players are thinking), 'Wow! Did that really happen?' and worrying about that instead of what they can do to change it," coach Jimbo Fisher said. "Like I said, 'Can this really happen?' Yeah. It can. To anybody. At any time."

Nyqwan Murray caught three passes for 102 yards for Florida State, which failed to score a touchdown for the first time since 2008 -- 124 games ago. James Blackman completed 11 of 26 passes for 102 yards.

THE TAKEAWAY

Florida State: With games left against Clemson and Florida, the Seminoles are in danger of missing a bowl game for the first time since the 1981 season. The four conference losses are their most since 2009.

"I just feel like we're scared to lose now," kicker Ricky Aguayo said. "It shouldn't be that way. We have to come out fired up, focused on the game and not focused on the season and on whether we can make a bowl game or not."

Boston College: Two weeks ago, BC headed to Louisville in danger of going winless in the ACC for the second time in three seasons. Now the Eagles are in position to go to a bowl, and Addazio's job seems safe.

STALLED

Florida State had converted 16 straight red-zone opportunities coming into the game. On its first possession inside the BC 20, already down 7-0, Cam Akers fumbled on second-and-goal from the 10.

Will Harris recovered two fumbles for BC.

PICKS

Blackman threw one interception in the first half, and came close on a couple of others but BC defenders dropped the ball. After not throwing an interception in his first 71 attempts, Blackman threw seven in the next 73.

QUICK KICKS

It was the first time in Fisher's career after that Florida State lost after a short week of practice. The Seminoles had been 4-0 -- with three of the wins against the Eagles. ... The Seminoles had won six straight true road games. ... BC defensive lineman Harold Landry missed the game with ankle injury. ... Since winning 28 straight ACC games from 2012-15, FSU is now 9-9.

UP NEXT

Florida State: Hosts Syracuse Nov. 4.

Boston College: Off Nov. 4; hosts North Carolina State on Nov. 11.
---
---