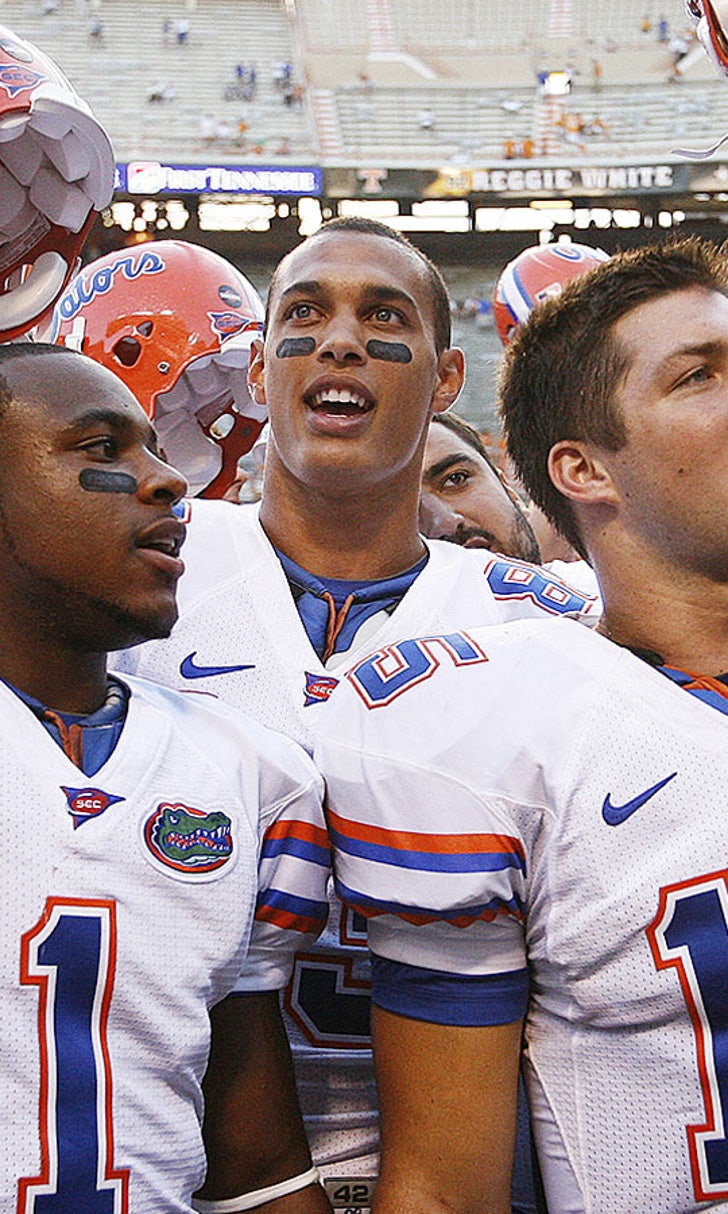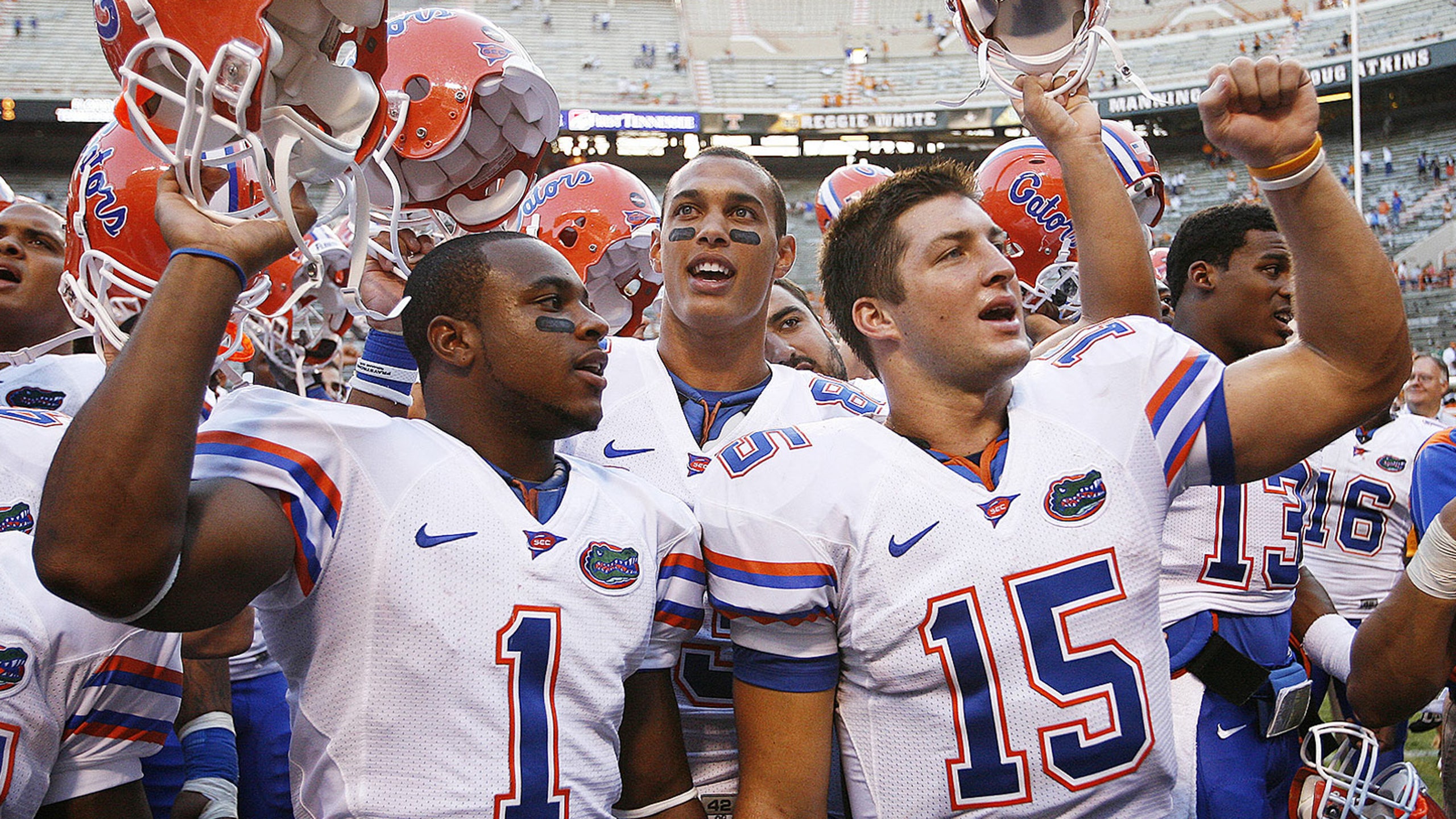 Florida has struggled to land 5-star recruits under Muschamp
BY foxsports • February 3, 2014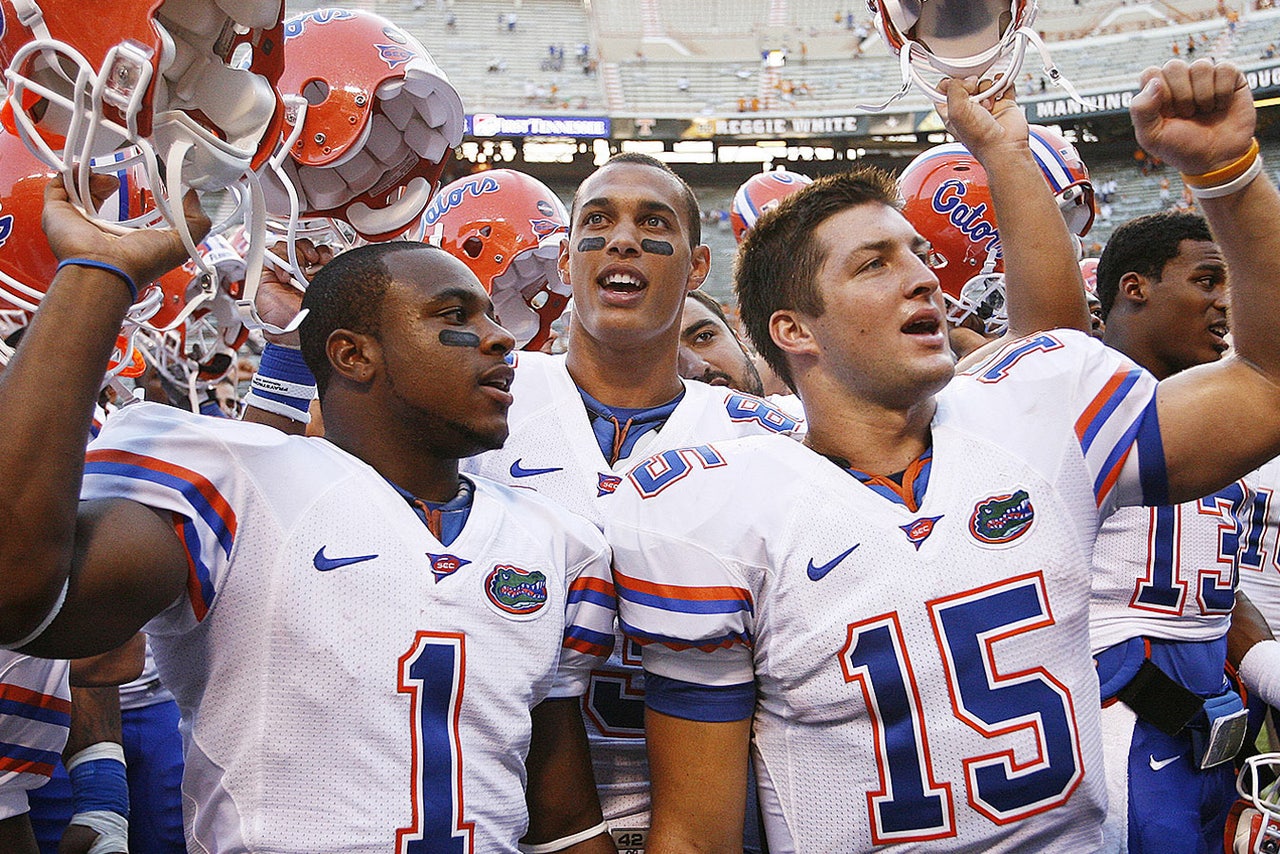 Florida won national championships in 2006 and '08 largely on the strength of recruiting classes assembled first by Ron Zook and then by Urban Meyer.
The Gators put together two stellar signing classes in 2006 and '€™07. In 2006, Florida landed six Scouto.com five-stars -- including quarterback Tim Tebow, receiver Percy Harvin and linebacker Brandon Spikes. A year later, the Gators inked 10 five-star prospects.
Here's a look back at Florida'€™s 38 five-star athletes that signed with the school over a 10-year period from 2004-2013:
2004
DE Derrick Harvey: An elite pass rusher, Harvey had 20.5 career sacks and 17 tackles for loss in a standout junior season. Harvey started 18 of his 36 games at Florida, finishing with 90 tackles. He was drafted in the first round by the Jacksonville Jaguars, where he played from 2008-10 (he'€™s no longer in the NFL).
2005
CB Avery Atkins: After playing just his true freshman season at Florida and recording nine tackles and an interception, Atkins left school after domestic battery charges in 2006. He transferred to Bethune-Cookman, played a few games and tried to return to Florida but left after a few weeks in 2007. He was found dead of a drug overdose in July 2007.
S Reggie Nelson: A junior-college transfer from Coffeyville, Kan., Nelson made an immediate impact with 46 tackles in 2005. He then had 51 tackles and six interceptions as a senior, when he was named an All-American and earned the Jack Tatum Award as the nation'€™s top defensive back. Nelson was drafted in the first round by Jacksonville and now plays for Cincinnati.
2006
WR Percy Harvin: One of the most electric players in Florida history, Harvin was a threat to score as a receiver, running back or returner. Harvin had 1,929 receiving yards and 13 TDs, but also 1,852 rushing yards and 19 TDs in three seasons in Gainesville. He left school early for the NFL after the 2008 season and was drafted by the Minnesota Vikings in the first round but signed with Seattle before the 2013 season. On Sunday, Harvin returned a kickoff 87 yards to open the second half as the Seahawks routed Denver in the Super Bowl.
QB Tim Tebow: One of the best dual-threat college quarterbacks ever, Tebow was nearly impossible for defenses to stop. He threw for 9,285 yards and 88 touchdowns but also ran for 2,947 yards and 57 touchdowns. Tebow was a backup in helping the Gators win the 2006 national title, and he started for the 2008 championship team. A first-round pick by Denver in 2010, Tebow led the Broncos to the playoffs but then was traded to the New York Jets and later was cut by the New England Patriots.
WR Jarred Fayson: Opportunities never followed Fayson to Gainesville, where he had just one catch in two seasons. He then transferred to Illinois, following former Gators coach Ron Zook. He had 16 catches as a junior and then 38 catches as a senior for the Illini. He has bounced around the NFL and is trying to catch on in the CFL.
S Jamar Hornsby: Multiple arrests first at Florida and then Mississippi stalled out Hornsby'€™s career, although he finished playing at Tuskegee. He appeared in just seven games in 2007 at Florida, then was kicked off the team for using a stolen credit card. He was later charged with felony assault after signing with Mississippi in 2009.
OL Carl Johnson: A 33-game starter, the versatile Johnson made starts at center, guard and tackle. He made eight starts in 2008 at left guard, helping the Gators win the 2008 national title.
LB Brandon Spikes: One of the defensive leaders in his career at Florida, Spikes started 39 of 47 games and had 307 tackles and 31.5 tackles for loss. He was an All-American as a senior in 2009, making 68 tackles. Spikes has played the last four seasons for the New England Patriots.
2007
TE Aaron Hernandez: An All-American at Florida, Hernandez was a matchup problem for defenses. He caught more passes than any Florida tight end in a season (68 in 2009) and in a career (111). He was a fourth-round pick by New England, and Hernandez caught 175 passes for 1,956 yards and 18 touchdowns from 2010-12. Hernandez has been indicted on murder charges (he pled not guilty) and is being investigated in other cases in Massachusetts.
LB Lorenzo Edwards: He never cracked the starting lineup at Florida, but Edwards appeared in 32 games and had 43 tackles from 2007-09.
G James Wilson: Wilson was a durable lineman, playing in 50 games (starting 16) at Florida. He played through a number of knee injuries and battled weight issues, often playing at 330 pounds.
DT Torrey Davis: He only made 15 tackles in two seasons for Florida, but Davis made them count. He had two goal-line stops in the national championship game win over Oklahoma, helping the Gators win the 2008 title. He struggled acamdically, left the team in 2009 and landed at FCS program Jacksonville State. Davis went undrafted in 2010, played briefly with the Tampa Bay Bucs and has spent the past few years in the CFL.
WR Deonte Thompson: A 34-game starter, Thompson had sprinter speed and caught 101 passes but had just nine touchdowns in his four seasons. He had a career year as a junior in 2010, grabbing 38 passes for 570 yards and a touchdown. Thompson has been a reserve for the Baltimore Ravens the past two seasons.
DE Justin Trattou: An effective pass rusher, Trattou had 121 tackles and 8.5 sacks in four seasons. He had a breakout senior season in 2010, recording 57 tackles. He was undrafted but has played for both the New York Giants and Minnesota Vikings.
S Major Wright: Excellent in pass coverage, Wright had 165 tackles in 41 career games (33 starts). He also had eight interceptions and forced four fumbles. He was drafted in the third round by the Chicago Bears and has started 42 games the past three seasons.
RB Chris Rainey: A fast tailback who could also catch passes out of the backfield, Rainey had 2,464 rushing yards and 13 touchdowns from 2008-11. He also grabbed 69 passes for 795 yards and six TDs. Rainey has played for both the Pittsburgh Steelers and Indianapolis Colts.
DT John Brown: He never played at Florida due to academics, enrolling at Northeast Mississippi Community College and then wanted to sign at Tennessee but never played after being involved in a fight at a bar.
DE Carlos Dunlap: A tall (6-6) and athletic pass rusher, he played in 40 games, starting 13. Dunlap had 84 tackles but also had 19.5 sacks. He was a first-team all-SEC pick in 2009, but he missed the SEC championship game after a DUI arrest. He left early for the NFL after the 2009 season, was drafted by Cincinnati in the second round and became a starter for the Bengals in 2013.
2008
S Will Hill: An SEC All-freshman pick with 48 tackles, Hill was a steady defensive back in his three years in Gainesville. He had 144 total tackles and was one of the top tacklers on special teams. He left early for the NFL, went undrafted in 2011, but had 115 tackles the past two seasons for the New York Giants.
DT Omar Hunter: While Hunter didn'€™t have a high number of tackles, he was able to play in 56 games (including three during 2008, which eventually became his redshirt season). He had just 72 career tackles, but 40 came as a senior in 2012.
OT Matt Patchan: After trying to make the switch to defensive line, Patchan returned to offense in 2010 -- only to take a medical redshirt. He started seven games in 2011 at right tackle, then lost the 2012 season to injury. Patchan transferred to Boston College in 2013, and he was an injury fill-in at the Senior Bowl as he attempts to make an NFL roster.
WR Carl Moore: A junior-college standout, Moore never really developed in Gainesville. He caught 41 passes and had two touchdowns in 2008 and '10 (Moore missed 2009 with an injury).
2009
OT Xavier Nixon: A durable lineman, Nixon started 33 of the 46 games in his career. He became the first true freshman to start at left tackle since 1992. He graded out at 80 percent or higher in all but one game in 2012, his senior season. Nixon went undrafted but has played for both the Redskins and Colts in 2013.
LB Jelani Jenkins: Despite a few injuries, Jenkins still started 31 games from 2010-12. He made 182 tackles, had six sacks and intercepted three passes for the Gators. He was a fourth-round pick by the Miami Dolphins in 2013.
WR Andre Debose: A playmaker at both wide receiver and returner, Debose owns the Florida record with four career kickoff returns for TDs. He was expected to be a big part of Florida's offense in 2013 but tore his ACL during preseason camp. He has 29 career catches for 543 yards and four TDs and plans to return for a sixth season in Gainesville in 2014.
2010
DT Sharrif Floyd: A physical, tough lineman, Floyd started in 26 of his 37 games at Florida. he had 115 career tackles and was a special-teams star (three career blocks of punts or field-goal attempts). He was a first-round pick by the Minnesota Vikings.
DE Ronald Powell: After missing 2012 with a torn ACL, Powell bounced back and played in 11 games (eight starts) last season and led the team with four sacks and eight quarterback hurries. He has 84 career tackles going into his senior season.
OLB Chris Martin: After playing a reserve role in 2010, Martin was cited for marijuana possession in January 2011 and left the Gators over the summer. He played at a junior college, then landed at Kansas and was dismissed from the team in 2013 after he was arrested due to suspicion of aggravated robbery, conspiracy to commit aggravated robbery and kidnapping.
DT Dominique Easley: After tearing the ACL in his left knee in 2011 and the meniscus in his right knee in 2013, Easley opted to leave early for the NFL. He had 72 tackles and 5.5 sacks in his career.
S Matt Elam: A dependable, consistent player, Elam played in 39 games and made 26 starts for the Gators. He had 176 career tackles, including 76 in 2012. He opted to leave after that year, and Elam was a first-round pick by the Baltimore Ravens.
WR Chris Dunkley: After signing with Florida, Dunkley did not play due to academics and transferred to South Florida in 2011. He has combined for 11 catches in 2012 and '13 for the Bulls.
2011
QB Jeff Driskel: The nation's top quarterback has had an up-and-down career so far in Gainesville. In 2012, he threw for 1,646 yards and 12 touchdowns. But he struggled to open 2013, and was lost for the season with a broken fibula in September.
2012
CB Brian Poole: Considered one of the top corners in the class, Poole saw some playing time his freshman season but had just three tackles. He made six starts as a nickel defensive back in 2013, and he finished the season with 32 tackles and two interceptions.
OT D.J. Humphries: A knee injury cut short Humphries' 2013 season in the seventh game. But Humphries has started 10 games and should return strong in 2014.
DE Jonathan Bullard: After seeing playing time as a freshman, Bullard had eight starts in 2013. He was second among the Gators' defensive linemen with 33 tackles.
2013
CB Vernon Hargreaves: A consensus first-team freshman All-American, Hargreaves started the Gators' final 10 games. Hargreaves had 38 tackles and his 11 pass breakups tied the record by a Florida true freshman.
You can follow Bob Ferrante on Twitter @bobferrante or email him at bobferrante17@gmail.com.
---