Five Burning Questions: Virginia Tech Hokies
Published
Jul. 8, 2015 12:25 p.m. ET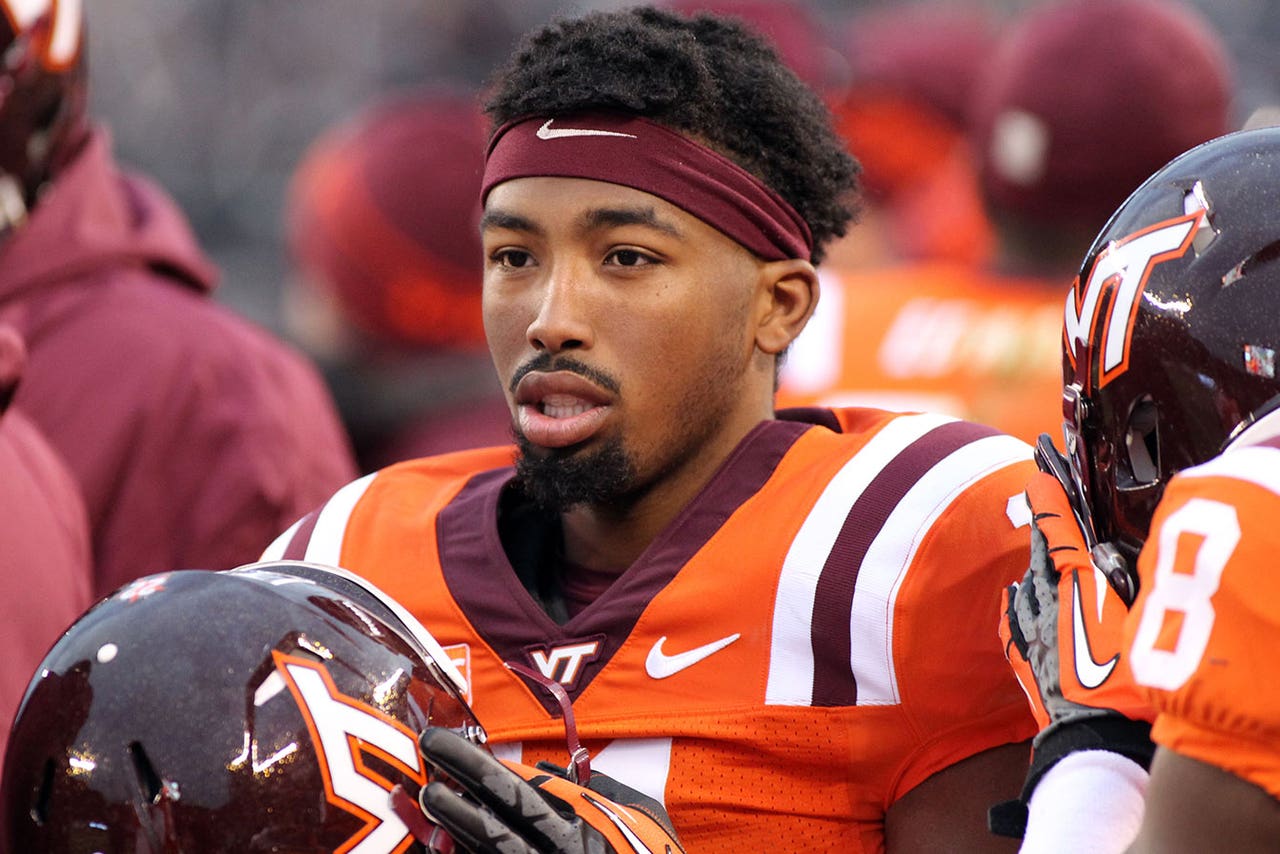 Frank Beamer is entering his 29th season at Virginia Tech, meaning he's been in Blacksburg as long as Megan Fox and Lindsay Lohan have been alive.
He's also had about as long of a drought as those actresses when it comes to a hit, with Beamer's Hokies having not won double-digit games or claiming a division crown since 2011.
Will that change in 2015? The answers to these questions will weigh heavily.
1. Do the Hokies have the ACC's best defense?
Prompt any college football fan about what defines the Hokies and, somewhere between running through Beamer, Thursday night dominance at Lane Stadium and 'Enter Sandman' will be Bud Foster and that lunch pail.
The defensive coordinator has produced 12 defenses that have ranked in the two of whatever conference the Hokies are playing in (Big East first, and now, ACC) over the past 16 years, including units that led the ACC in 2005-2007.
He's going to put another unit out there capable of following suit in 2015.
Behind preseason first-team All-American cornerback Kendall Fuller, the Hokies return nine starters on defense, including its entire line.
That strength up front, which led to Virginia Tech racking up 48 sacks a year ago, is anchored by ends Dadi Nicolas (8 1/2), an All-ACC pick, and Ken Ekanem (10 1/2). It will also be helped by the return of tackle Luther Maddy, who is back after a medical redshirt.
The secondary, despite Fuller, has a question mark with Brandon Facyson, who was missed last season with a stress fracture in his leg. If he's back at full health, he should team with Fuller to make an intimidating tandem at corner.
Foster will have a first-time starter at linebacker in Andrew Motuapuaka, but with Fuller leading the back end and the pressure that Nicolas, Ekanem and the line can provide, one piece of inexperience shouldn't matter.
It's been eight years since the Hokies produced a D that led the nation. That could change this season.
2. Can Brewer discover the consistency he lacked his first season with Virginia Tech
Michael Brewer had his big moments in his debut season as a Hokiea after transferring from Texas Tech. He threw for two touchdowns at Ohio State, including a 10-yarder to Cody Hodges in the fourth quarter after the Buckeyes had pulled even, and had games of 345 (Boston College), 298 (East Carolina) and 297 (Georgia Tech) yards.
But he was plagued by inefficient play, chasing those 18 touchdowns with 15 interceptions, 11 of which came in the first six games. He threw for 2,692 yards with a 59.4 completion rate.
Those troubles could at least be chalked up to his becoming acclimated to a new system, something that will no longer be an excuse now that he's had a full offseason to digest coordinator Scott Loeffler's playbook.
Brewer will be operating behind an offensive line that includes two new starters at center and right tackle, along with Wyatt Teller (left guard), Augie Conte (right guard) and left tackle Jonathan McLaughlin, who is coming off ankle surgery. Two of the options to fill those open spots are sophomore Eric Gallo and Wade Hansen, but Gallos, a sophomore, is inexperienced (14 plays in his career) and Hansen used to be a defensive tackle.
But he's at least become used to pressure, with Loeffler often giving him and the other QBs tests to take home with an emphasis on perfection. Handwriting is to be neat and any lines drawn with a ruler.
If that translates into more consistent play, it could go a long way into deciding whether the Hokies put together and offense to back up that D.
3. Is there a 1,000-yard rusher in Blacksburg?
The running game used to be the basis of the Hokies offense, which from 2006-11 produced four 1,000-yard seasons from the likes of Branden Ore, Darren Evans, Ryan Williams and David Wilson.
But since Wilson racked up 1,705 yards in 2011, Virginia Tech has seen Logan Thomas -- a quarterback -- lead with 524 yards ('12), Trey Edmunds (675 in '13) and J.C. Coleman (533 last year) come nowhere near flirting with that benchmark number of 1,000.
Could this year be any different?
Edmunds is healthy again after his '14 was knocked off course as he dealt with the aftermath of a broken tibia suffered in the final regular-season game of '13 vs. Virginia and a broken clavicle against North Carolina last October. He had just 21 carries in four games for 97 yards and zero touchdowns.
The redshirt junior shared the No. 1 RB duties this spring with Coleman, a senior had a strong finish to '14, with an average of 117 yards over the last four games, including 118 vs. the Cavaliers and hanging 157 and a TD on Cincinnati in the Military Bowl.
Those two runners along with the specter of Shai McKenzie -- who many believe will be eventually reinstated following his arrest and suspension -- and Marshawn Williams in his return from an ACL injury give the Hokies plenty of depth. The talent may be there for a 1,000-yard rusher, but with that many options, logic says it isn't likely.
4. Is there any way the Hokies don't start out 0-1?
The 2014 Virginia Tech squad can always say it was the only team to beat national champion Ohio State, though that victory had its feel of the Hokies taking advantage of the moment. The Buckeyes were coming off playing Navy and its triple-option and starting an inexperienced QB in J.T. Barrett.
This time around, Ohio State is an early 19-point favorite (it got 11-points a year ago), but even with the Buckeyes returning so many stars, including passers Barrett, Cardale Jones Braxton Miller, RB Ezekiel Elliott and wide receiver Michael Thomas, the Virginia Tech defense is good enough to keep it in the game.
The game will be played on Monday, Sept. 7, worth noting because the Buckeyes are 1-2 all-time vs. power conference teams outside of Saturdays, most recently falling to Miami on Sunday, Aug. 29, 1999. But weighing against the Hokies, no opponent has beaten the Buckeyes in back-to-back meetings since USC in 2008 and '09 and no defending national champ has dropped its season opener since Michigan fell to Notre Dame in 1998.
Even if Virginia Tech does start out 0-1 it won't be the end of the season, though, which brings us to ...
5. Will the bowl streak reach 23 straight?
Virginia Tech needed a major lift, in the form of a 9-yard Brewer-to-Hodges touchdown with 1:48 remaining vs. rival Virginia, to make it to bowl eligibility. That was the result of having dropped four of five going into that game after a 4-2 start.
The Hokies took advantage, steamrolling Cincinnati 33-17 in their bowl game, but this remains a team that is 22-17 since 2012 and in that span has gone 12-12 in ACC play. Last season's 3-5 finish in the conference was the first for Beamer and Co. since '02.
All that being said, Virginia Tech has 16 starters returning, and while that first game is daunting, the rest is manageable. The Hokies have Furman, Purdue and East Carolina (sans the stars of a last season) out of conference and they'll get James Conner and Pitt at home on Oct. 3. A road game at Miami (Oct. 17) could be dangerous, but everything points to the Nov. 12 date with Georgia Tech as the defining game of the season in the Coastal Division.
With a schedule that's ranked the nation's 46th-most difficult (per the NCAA's method of weighing winning percentage of opponents), which is helped immensely by the Buckeyes, eight wins seem a given and it's not out of the realm of possibility for Beamer's crew to flirt with a 10-win season.
Follow Cory McCartney on Twitter @coryjmccartney
---
---