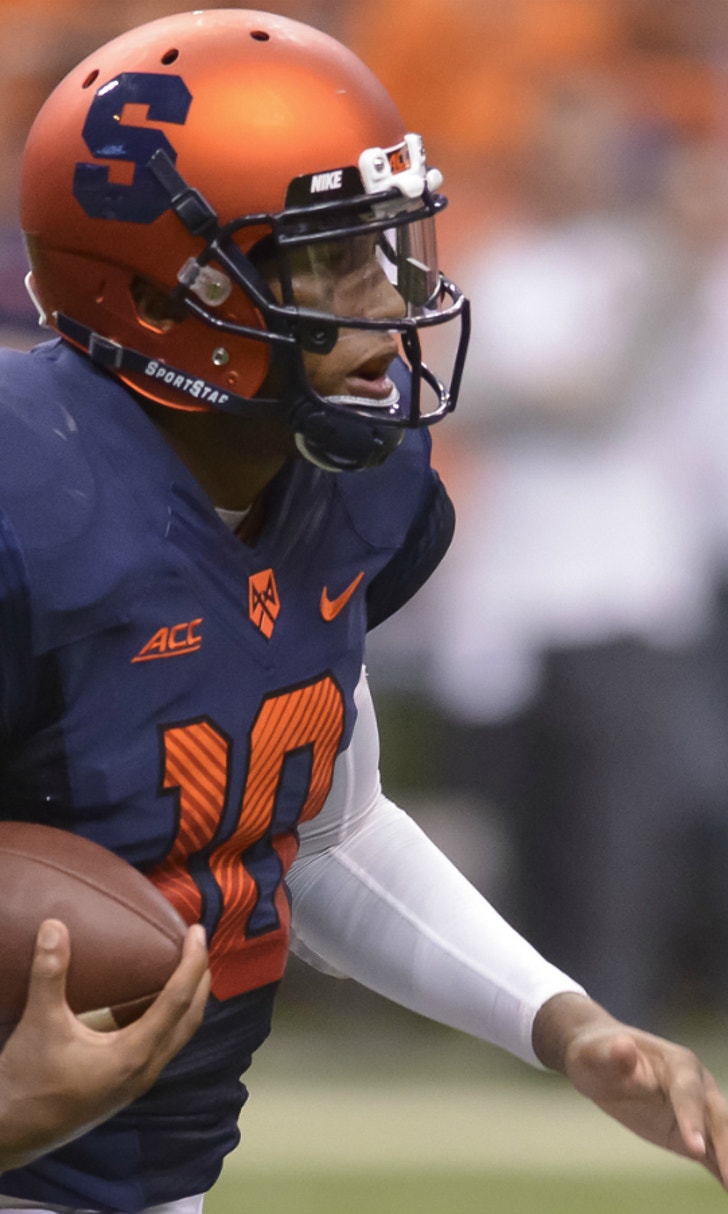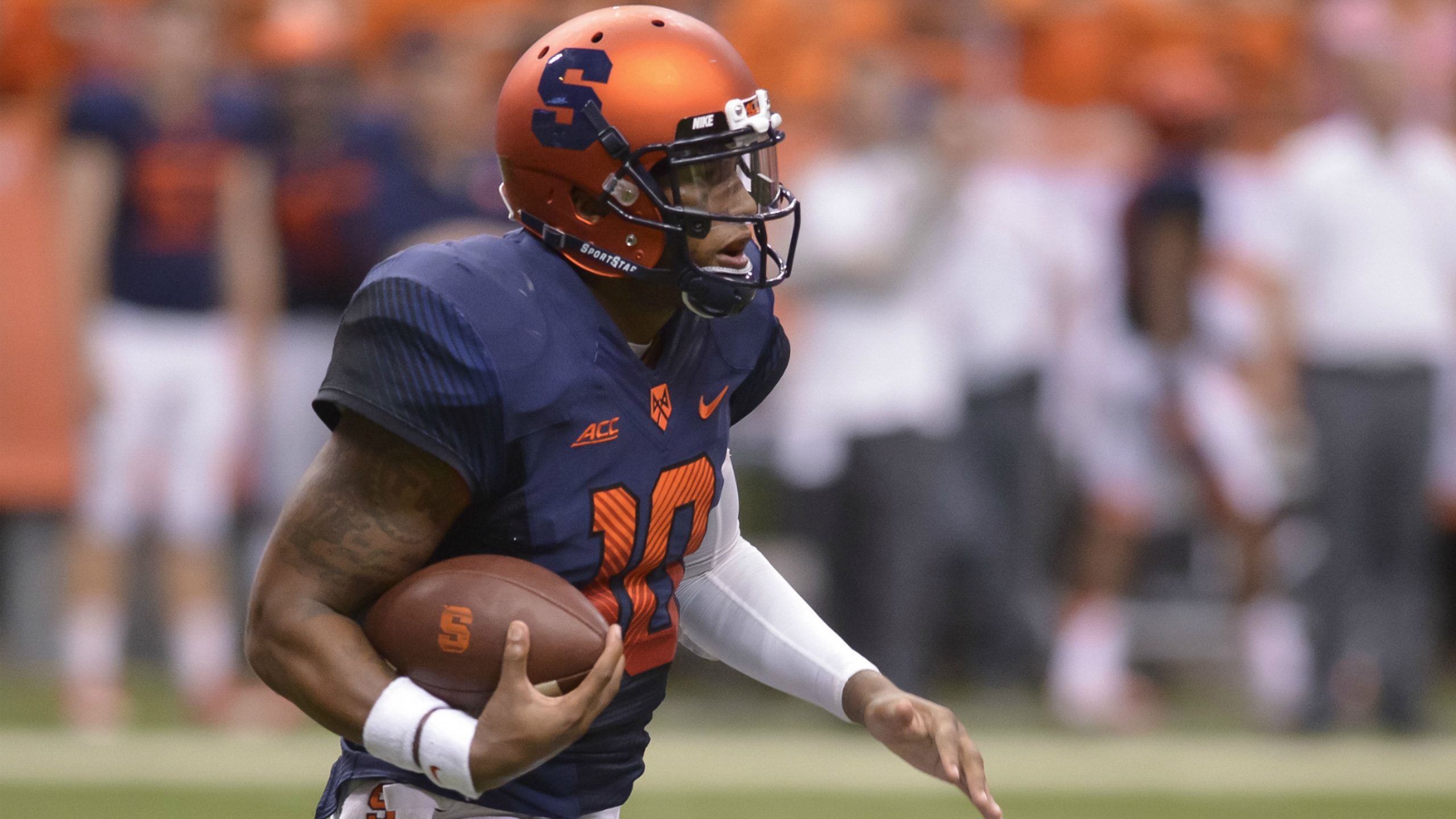 Five Burning Questions: Syracuse
BY foxsports • June 17, 2015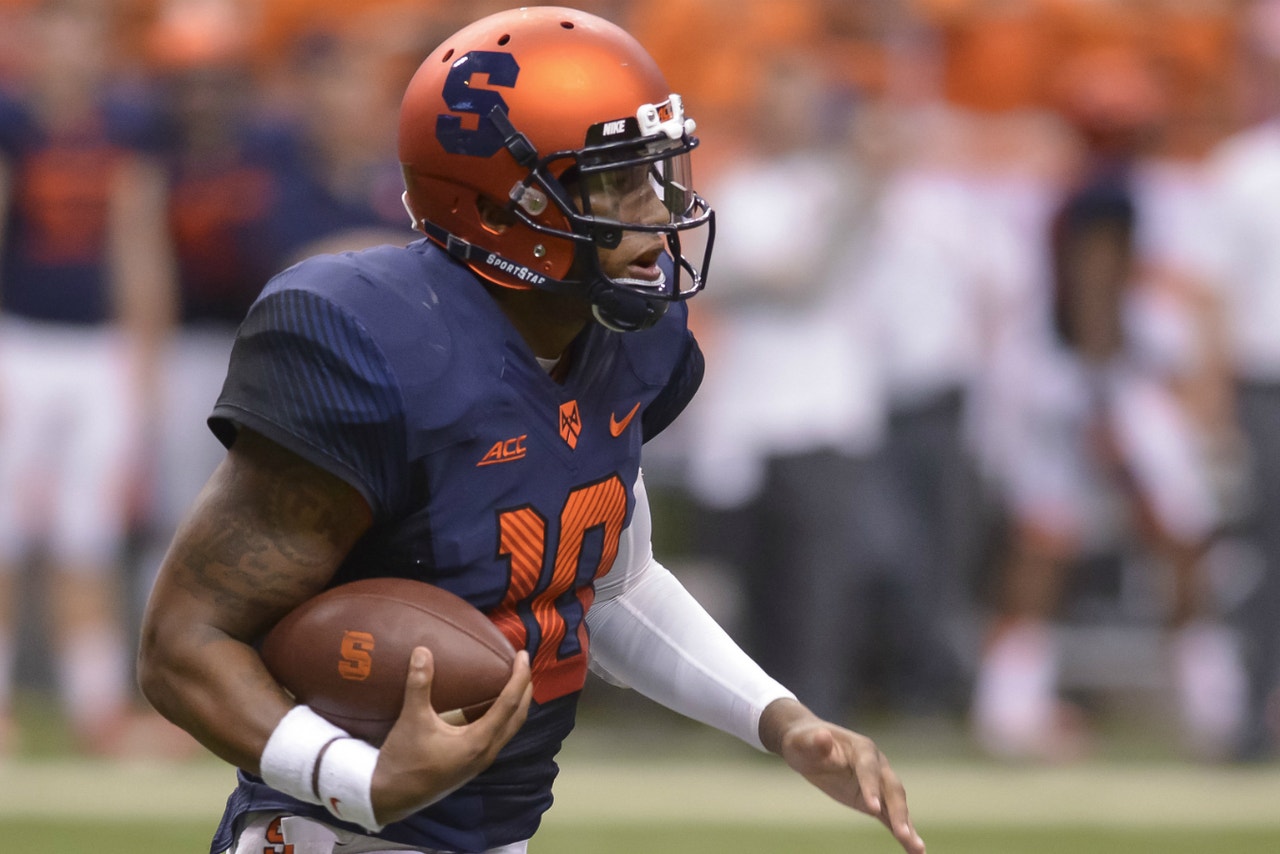 The college football season is less than 100 days away now, and with spring football well in the books, we have a good enough idea of what every team will look like. It's time to start looking ahead to the 2015 season in the ACC -- this week, it's Syracuse, which went 3-9 last year.
1. Can Tim Lester improve the Syracuse offense enough?
Head coach Scott Shafer is a defensive guy. And so who he hired as offensive coordinator was going to be a key decision. George McDonald, as it turned out, just didn't work. It had all the buzz words that are trendy like "up tempo" and "no huddle". But it didn't produce results, and McDonald was fired in October. Quarterbacks coach Tim Lester was promoted into that spot, and he kept the job going into this season.
Lester's offense, he says, doesn't really have a name or a style. He didn't implement his offense midseason last year for obvious reasons, but he's spent the spring doing that. He wants the team to be able to go no-huddle at times, but also go at a normal tempo as well. He'll likely stretch the field a bit more than McDonald did as well.
Terrel Hunt is an experienced quarterback, and he will be throwing to receivers that developed down the stretch, and even some backs that can make plays. Lester is going to be have to be creative, but it shouldn't take much to improve the Orange from 116th nationally in total offense.
2. Who will step up at running back?
Syracuse returns an experienced offensive line and quarterback. The question mark will be at running back, where the Orange lose Adonis Ameen-Moore and Prince Tyson-Gulley (the two combined for 951 yards). Hunt was the team's third-leading rusher and, in spite of playing in half the games of many of his teammates, had the third-most carries. Utilizing Hunt's mobility is good, but ideally, a back (or backs) need to emerge as well.
It will likely be some combination of junior Devante McFarlane (28 carries, 169 yards), senior George Morris II (35 carries, 101 yards) and sophomore Ervin Philips (45 carries, 194 yards). Morris didn't catch a pass last year, but the other two combined for 24 catches.
Whoever it is, someone is going to have to step up and take some of the load off of Hunt.
3. Is Terrel Hunt ready to take the next step?
The senior quarterback has been a starter for the better part of the last two years now -- when healthy. He broke his leg against Louisville and missed the final seven games. And in spite of that, he still carried the ball 52 times in five games for 292 yards (5.6 per rush). His legs will be a weapon yet again, although Syracuse will likely seek to limit his touches some just to keep him out of harm's way.
But as a passer, he's struggled with accuracy issues at times (he completed 57.2 percent of his passes last year for one touchdown and four picks). If there's reason for optimism, it's that Lester's system is designed to simplify things a bit and that should help eliminate some confusion. It's also good news that Hunt went 36-of-66 passing for 495 yards in losses to Maryland and Notre Dame after a somewhat more pedestrian start to last season. His numbers against Louisville weren't good, but Louisville had one of the best defenses in the country last year.
If Hunt can pick up where he left off, he might be able to take some of the pressure off of a young defense as it develops and could turn the offense from a liability into a positive.
4. Will the defense be good enough after losing so much to keep the Orange competitive?
The Orange managed to stay in some games last year in spite of their anemic offense in large part due to an underrated defense that made life nightmarish for even opponents like Clemson. But Syracuse lost most of its production on the defensive line and two of its three linebackers. There are experienced players to fill in there -- juniors and seniors abound in the two-deep on the defensive line, and there's experience at linebacker too -- but that's not true in the secondary.
Syracuse lost its top four tacklers in the secondary a year ago, a group that combined for four interceptions and 11 pass breakups. There are some upperclassmen left on that two-deep, but there are a lot more question marks with them. Durrell Eskridge at free safety especially will be difficult to replace.
If Syracuse can get the kind of pass rush it got last year even without its main playmakers, then the secondary should be fine. But put them on an island or struggle to get to the quarterback, and the defense could find itself in for some very long afternoons.
5. With a slightly more friendly non-conference schedule, can Syracuse make a bowl this year?
The non-conference schedule is friendly enough to give Syracuse three wins (LSU is obviously a loss). And so that would mean Syracuse is halfway there. Give the Orange one more win over, say, Wake Forest -- not to mention some toss-up type games against Virginia and Boston College -- and six wins seems attainable.
But that gives Syracuse no margin for error in those so-called toss-up games. This defense likely isn't going to be what it was a year ago, and it's what often kept Syracuse competitive.
The good news is that it's manageable. Last year, nine of Syracuse's final 10 opponents would go on to make a bowl game and five of the 10 spent time in the top 25. Syracuse wasn't good enough to contend with those teams, and their results reflected that. Even the teams that didn't get into the top 25 like N.C. State, Pittsburgh and Boston College were still formidable opponents. There were no breaks.
If the offense can make positive changes, Syracuse might be able to at least sneak up on someone this year. But they're going to have to win all three of Wake, at Virginia and Boston College. That's a lot to ask.
---