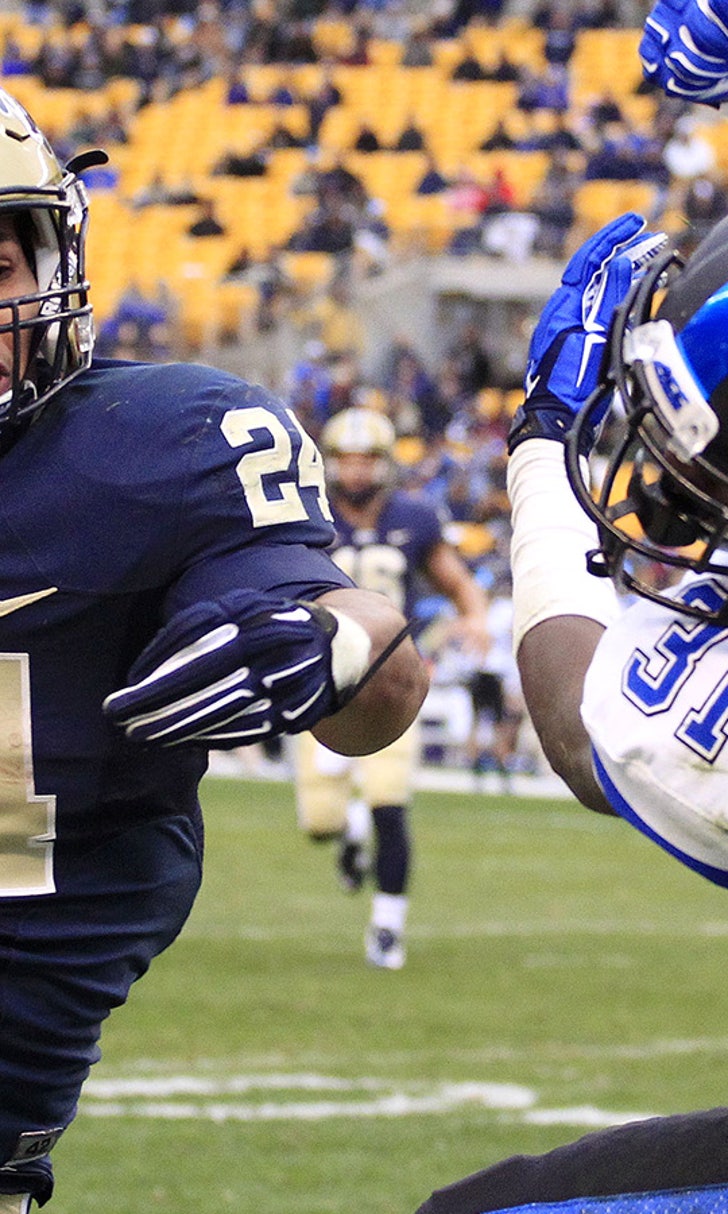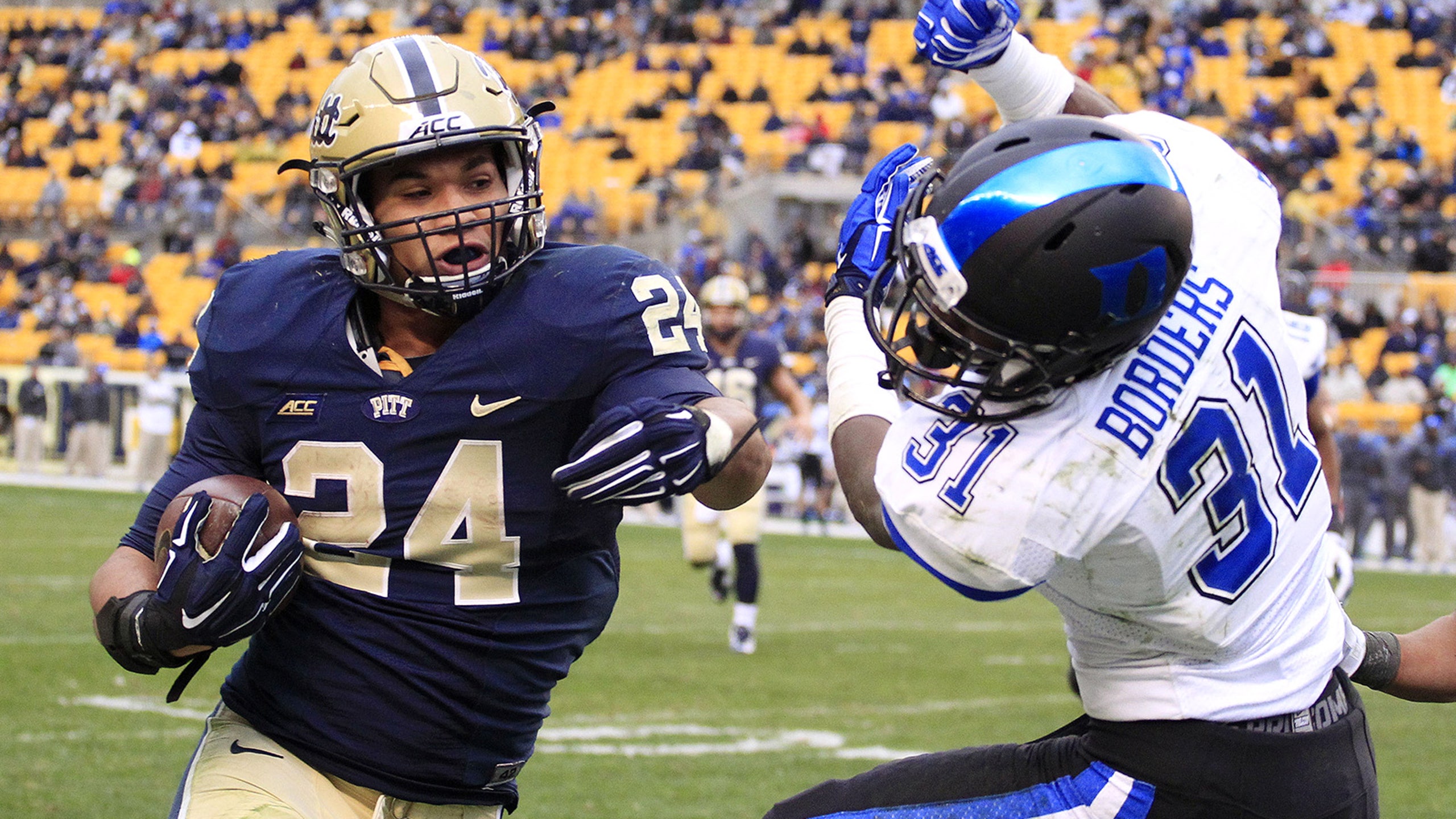 Five Burning Questions: Pittsburgh Panthers
BY Zach Dillard • July 29, 2015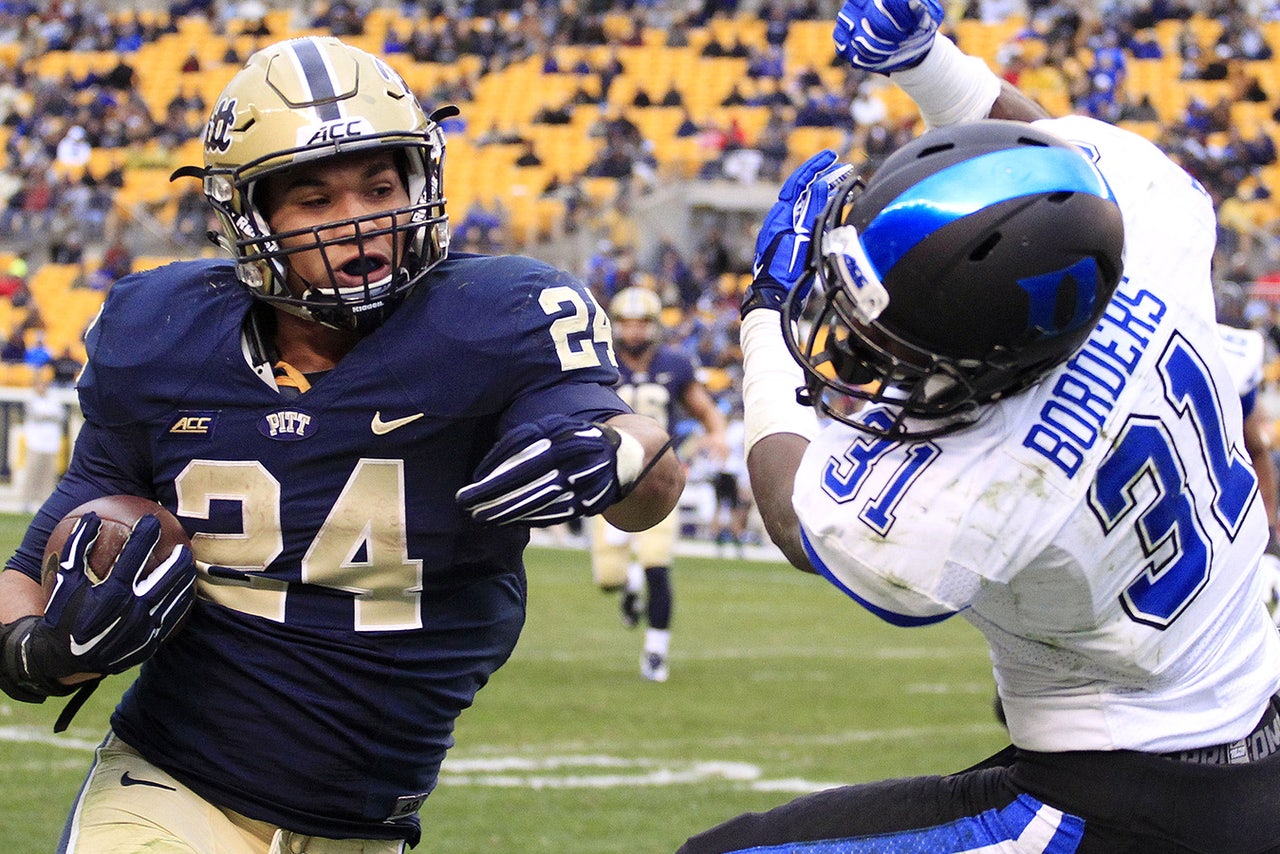 New season, new coach. For the Pittsburgh Panthers, it's a semi-annual tradition.
Following a 6-7 season in 2014, culminating in a 35-34 implosion against a struggling Houston team in the Armed Forces Bowl, the Panthers once again hit the reset button -- though not by choice.
The Panthers' coach, Paul Chryst, returned to Wisconsin, his alma mater where he worked as an assistant prior to taking the Pitt job, when Gary Anderson left the Badgers' program to take over at Oregon State. Pittsburgh was once again left in limbo. That was followed by the all-too-familiar offseason routine: The coaching search. Including interim tags, the Panthers have employed seven different head coaches since 2010.
Michigan State defensive coordinator Pat Narduzzi became lucky No. 7 in December.
"You got to go through some tough times," Narduzzi said at the ACC Kickoff. "You got to go through a tough loss so (your players) know you're with them, win or lose. That's something that we'll build at the University of Pittsburgh."
Narduzzi inherits some quality talent, particularly on the offensive side of the ball, but just where Pittsburgh stands after its third coaching change this decade remains to be seen.
This is a nationally recognized program stuck in a 30-year rut of mediocrity. Pittsburgh has posted just one 10-win season since 1981 -- Jackie Sherill's teams lost just three games from 1979 to 1981, culminating in three consecutive top-10 finishes in the national polls -- and even then the coach of that lone season, Dave Wannstedt, resigned before the following season ended. Stability has not been the school's calling card.
While the program was slowly heading in the right direction under Chryst, Narduzzi still inherits a team that has posted three losing seasons in four years. Expectations vary for such a program: Recent history (conference standings, recruiting rankings, etc.) suggests that Pitt is nothing more than a middle-of-the-pack ACC program, but past glory will always influence fan and administrative patience.
It's worth noting that Narduzzi has already helped orchestrate a program resurrection.
Under coach Mark Dantonio, Michigan State returned to the nation's short list of top programs, winning at least 11 games in four of the past five seasons after years of finishing in the middle of the Big Ten standings. It's a familiar storyline: Before Dantonio and Narduzzi arrived in East Lansing, the Spartans had posted one 10-win season -- the 1999 Nick Saban-led campaign -- since its 1965 Rose Bowl appearance. And while Narduzzi was not the prevailing presence pushing Michigan State's phenomenal run, he was a key cog in the machine and he watched the transformation firsthand.
"One game at a time. You don't do it overnight. No quick fixes," Narduzzi said when asked about turning around a program. "Everywhere I've ever been, my players are going to play their tails off for me. There's a love between the players and the coach. If you treat them the way you treat your son or daughter -- it's getting everything out of those kids. If you expect everything from them, you give them nothing, what do you have? So I think that's where it really starts. It's a relationship and the trust that the players and the coaches are going to have together.
"That takes time to build."
At least he has a blueprint.
With Melvin Gordon and Tevin Coleman now playing on Sundays, James Conner is the top returning rusher in a Power Five conference. To no surprise, Chryst replicated the Wisconsin way of doing business on offense by carving out one of the nation's top rushing attacks, but the Panthers' ground game reached new heights with Conner taking on the majority of the workload. Here's a look at Pittsburgh's year-to-year rushing averages under Chryst:
As a sophomore Conner rushed for 1,765 yards and set an ACC single-season record with 26 rushing touchdowns -- he broke the mark by five scores. A bruising runner at 6-foot-2, 250 pounds, only five other players averaged more yards per game on the ground last season which, in turn, helped the Pitt star supplant reigning Heisman winner Jameis Winston as the ACC Player of the Year.
Expectations will be higher in 2015, despite the coaching and personnel turnover. As the top returning rusher in a major conference, he's making Heisman watch lists alongside the likes of top running backs Ezekiel Elliot (Ohio State), Leonard Fournette (LSU), Nick Chubb (Georgia), Samaje Perine (Oklahoma), Paul Perkins (UCLA) and Nick Wilson (Arizona), among others. The good news for Conner's chances? Michigan State certainly subscribed to the workhorse back mentality during Narduzzi's time there -- Jeremy Langford and Le'Veon Bell come to mind -- and new offensive coordinator Jim Chaney has been orchestrating Arkansas' physical run-first approach for two seasons.
"We're going to give (Conner) the rock," Narduzzi said. "Le'Veon Bell had I think 390 carries one year, his junior year before he got drafted by the Steelers. So if you have a guy that can carry the rock and he's hot, you're going to keep giving it to him."
Two starters along the offensive line, including an All-America candidate at right tackle in T.J. Clemmings (Vikings fourth-round pick), are gone. Even with productive junior receiver Tyler Boyd on the outside, teams are bound to load the box against Pitt and force someone other than Conner beat them. Chasing his own 2014 numbers could prove difficult.
The Panthers' defense has rarely been worth mentioning since All-Everything defensive tackle Aaron Donald left for the NFL. Chryst inherited Donald and a top-40 defense when he arrived at Pittsburgh, and in 2012 the defense allowed just 21.1 points per game (23rd nationally). Things have gone downhill from there, though.
The Panthers' offense slowly developed into Wisconsin East, but the defense's struggles hindered that progress. After a decent start against a lackluster schedule, Pitt's defensive unit fell apart: ACC opponents Georgia Tech, Duke and North Carolina combined to score 147 points in a three-week span, all losses. By the time Houston scored 29 fourth-quarter points in the bowl game, it was apparent that the Panthers were turning to a defensive mind.
"We all look back at those games, it really hurts us. Leaves a big chip on our shoulder, we should have won those games," defensive tacle Darryl Render said. "We don't want to say should have, we want to say we did win those games this year."
Enter Narduzzi, considered one of the top defensive minds in college football.
Michigan State's defense developed into a national terror under Narduzzi's guidance. The Spartans are the only team to finish top-10 in total defense and rushing defense every season since 2011. Michigan State held opponents to a combined 18.3 points per game over the past five seasons. Pittsburgh's defenses over that stretch: 23.3 points per game and heading in the wrong direction.
Pitt's defense returns seven starters, though three of its four top tacklers are gone. The secondary and defensive line return largely intact, led by longtime starter Lafeyette Pitts at safety.
The Panthers' main concerns lie in the trenches. Teams were able to run effectively against Pittsburgh last season and it failed to put pressure on opposing quarterbacks. The defense ranked 103rd nationally in sacks -- led by freshman Rori Blair -- which, given Narduzzi's penchant for pressure, will likely be addressed immediately.
Last season, Tyler Boyd became the ACC's first player to post at least 1,000 receiving yards in his freshman and sophomore seasons. (Former Pittsburgh star Larry Fitzgerald accomplished the feat back when the Panthers were in the Big East.)
The rising junior is now on the brink of breaking the school's records for career receptions and receiving yards: He needs just 39 catches to catch former teammate Devin Street's record (202) and 626 yards to catch former Panther and NFL wideout Antonio Bryant (3,061).
It's been a remarkably consistent start to Boyd's career, and while it's unlikely he'll ever reach Fitzgerald-esque heights he's a proven commodity that Pittsburgh will need to perform in 2015.
"He's smooth, fast, got soft hands," Narduzzi said of Boyd. "We're going to try to get the ball to him as much as we can, whether it's handing it off to him in the backfield trying to get somebody else a carry, or throwing it to him down the field."
For the second straight offseason, the Panthers will be looking to find Boyd's receiving complement. After Street left following the 2013 season, there were no answers on the roster. The team's second-leading receiver last season, Manasseh Garner, exhausted his eligibility, but he posted just 201 yards and two touchdowns. Complicating matters, former four-star recruit Adonis Jennings, a rising sophomore, left the program following Chryst's departure.
Pitt will be searching for more balance in the passing game, but that never held back Boyd before. As long as he remains junior quarterback Chad Voytik's favorite target, expect another productive season ... only this time, career records are falling with it.
The road gets tougher in 2015.
Pittsburgh followed up a light non-conference slate by avoiding the Atlantic Division powers in its ACC crossover games last season, but that will not be the case in Narduzzi's first season. The Panthers replace Delaware and Florida International with Youngstown State and Notre Dame outside of conference play, and instead of Boston College they'll take on Louisville.
To make matters interesting, five of the first seven games of the Narduzzi Era will be held on the road, including pivotal Coastal clashes against Virginia Tech and Georgia Tech and a nonconference rematch against Iowa. So while the early portion of the schedule is not incredibly daunting, Pitt will have to take care of business away from Heinz Field. 
The back half of the season is loaded with home games, but the average quality of opponent ramps up. Pittsburgh caps off the 2015 slate with a five-game stretch against North Carolina, Notre Dame, Duke, Louisville and Miami. Only one of those games comes on the road, but that's a tough run for a program looking to gain some traction.
If Pitt can escape the first half of its schedule with a 5-2 record -- taking at least one game from Iowa, Virginia Tech and Georgia Tech -- it should be able to approach that closing stretch with confidence.
Another five- to seven-win season once again looks like the range here.
---
---