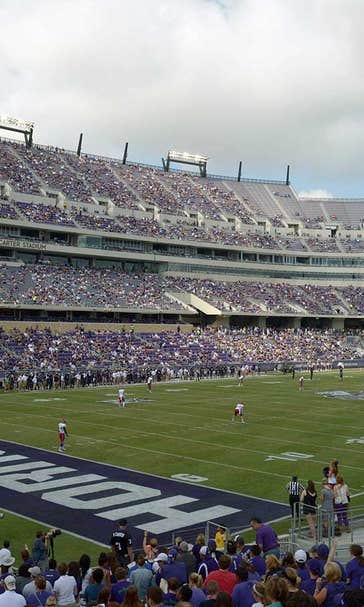 Firefighter accused of punching 78-year-old at TCU spring game
April 16, 2015

A Fort Worth firefighter is accused of punching a 78-year-old man in the stands at TCU's spring game last Friday and now faces a felony charge of injury to the elderly. 
The man alleges that Shea O'Neill, 42, assaulted him and broke or chipped seven teeth after a brief verbal altercation about O'Neill's children playing on a railing at TCU's Amon G. Carter Stadium, according to the Fort Worth Star-Telegram. 
O'Neill was arrested on Tuesday and released from Mansfield Jail on $100,000 bail. He was also placed on detached duty with pay while the Fort Worth Fire Department begins an investigation of the incident. 
"He hit me square in the face," the man said Wednesday. "I saw a flash. Then my whole front face from my eyes on down to my chin went numb," the man said. "... I could't get up because I had cobwebs in my head. He smacked me really good." 
The paper agreed not to identify the man, who requested anonymity because he feared retaliation. 
O'Neill declined comment to the paper and referred comment to his lawyer, Jim Shaw, who expressed surprise at the amount of O'Neill's bail but declined further comment because he had not seen the investigators' affidavit. 
"He assaulted me. I never even laid a hand on him," the alleged victim said. "First of all, he's a coward. When you hit someone when they're sitting down, you're a coward," he said. 
"He was 36 years younger than me. That makes him a coward with a capital C."
The Arlington man said he and his 71-year-old wife were seated in the handicapped section of TCU's stadium and O'Neill's children, who were playing on the rail, were obstructing their view of the game. 
The man's wife said she politely asked the children to get off the rail repeatedly and was a "nervous wreck" about their safety. 
After about 30 minutes, the man got involved and "in a pretty stern voice" told them to get off the rail. They initially got off the rail but returned shortly after. The man claimed O'Neill then yelled at him not to discipline his kids. 
"I told him he wasn't doing a very good job to control his kids," the man said. 
The man said he sat down and had a heated exchange with O'Neill and looked over his right shoulder before O'Neill punched him when he wasn't looking. In additon to chipped teeth, the man said he had bruising and a bloody nose from the punch. 
"I did not see it coming. If I had ... I would have tried to deflect it or duck," the man said. "Once I got up and stabilized myself, then I started after the guy. [Another] guy restrained me and said, 'Let the police do it.' It it hadn't been for him, I would have been on it." 
Fort Worth police confirmed to the paper that she had been alerted to an elderly man who had been assaulted and needed medical attention. 
Fort Worth police officer Tammi Robinson, who was working security at the event, said when she made her way toward the incident, O'Neill approached her and complained that an old man had cussed at him. 
Robinson told TCU police a witness then pointed at O'Neill and said "Why did you hit that old man?" 
According to the affidavit, O'Neill attempted to flee, but Robinson grabbed his shirt and summoned backup officers and medical personnel. 
The man was taken to the hospital for treatment. 
MORE FROM FOX SPORTS SOUTHWEST: 
- Ranking NFL quarterback salaries
- Oldest player on every NBA team
- College football's highest paid coaches in 2014
- Highest paid player on every MLB roster
---