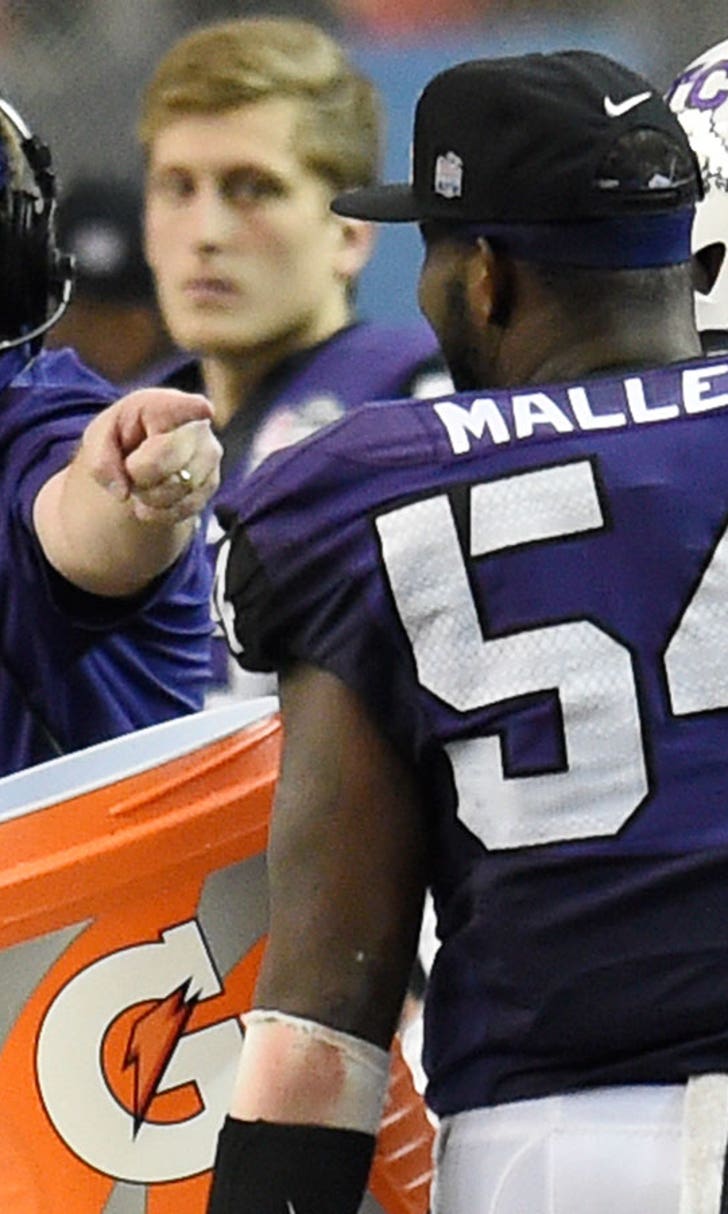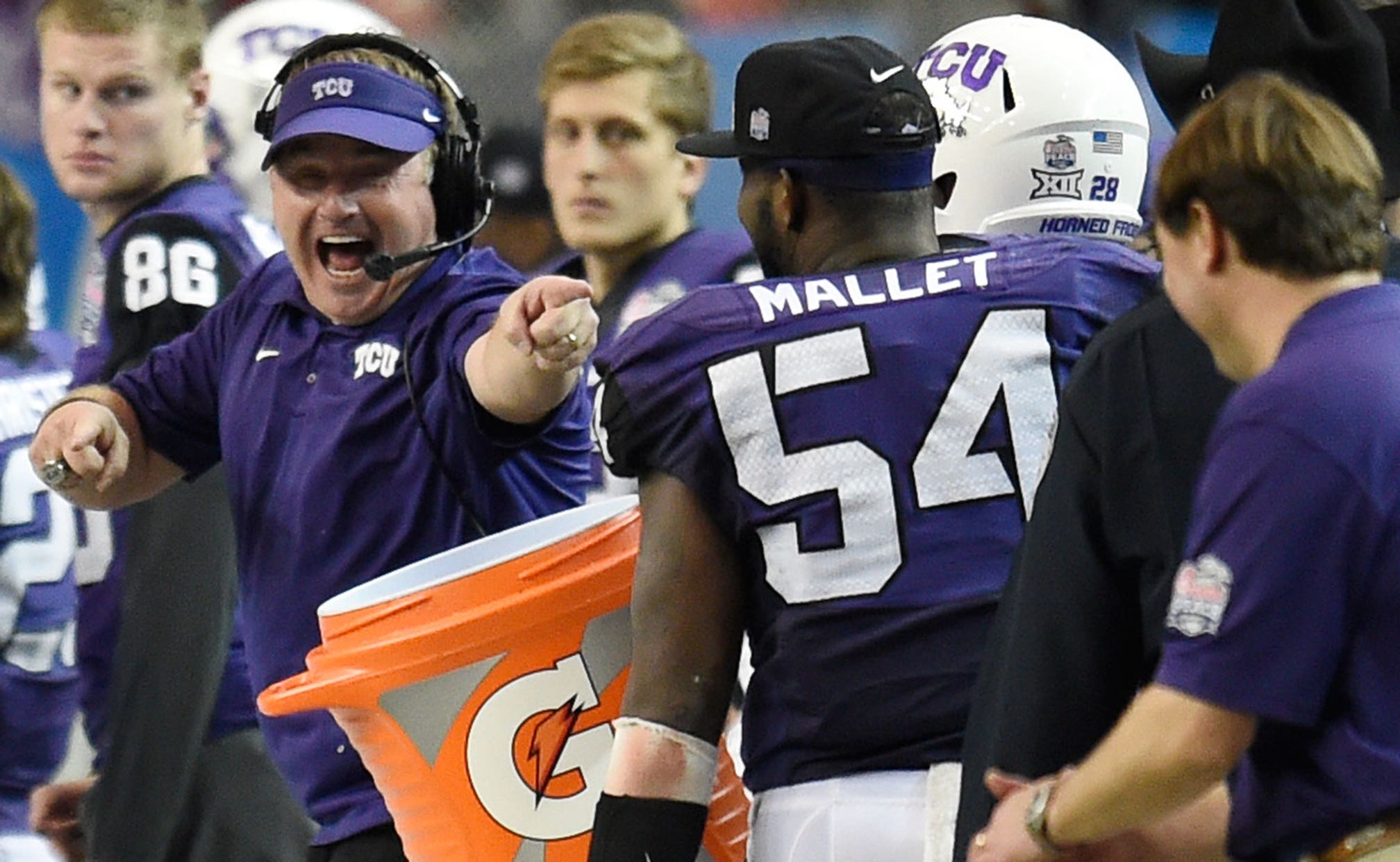 Final Big 12 Power Rankings
BY foxsports • January 5, 2015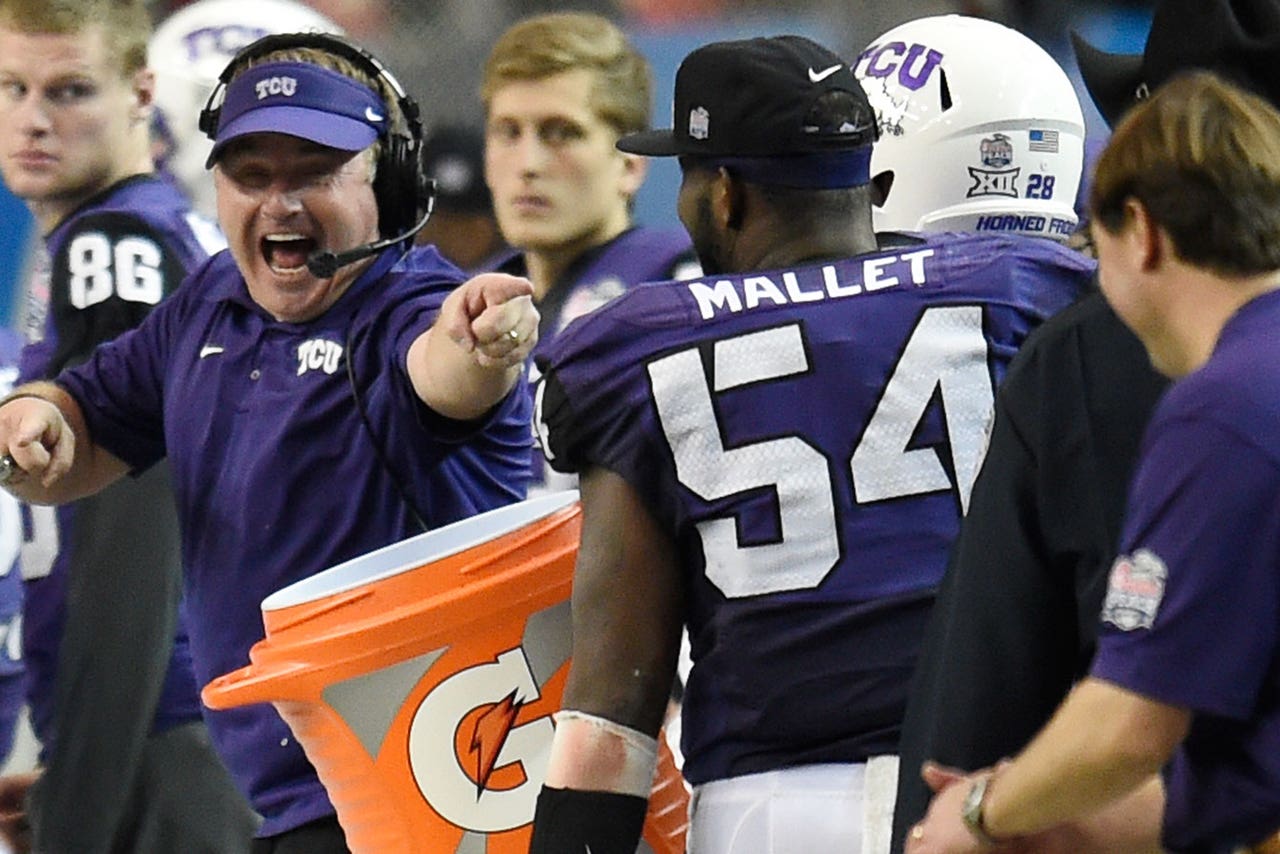 If not for the SEC West, the Big 12's bowl performance would be garnering more criticism than any collection of teams in college football for its postseason performance. 
The Big 12 and SEC West both went 2-5, and for the Big 12, that means a serious shakeup in the top seven for the two teams who won their bowl games and a new team atop the power rankings. 
Just when Baylor finally captured the No. 1 ranking heading into bowl season, the Bears lost it by blowing a 20-point, fourth-quarter lead to Michigan State. Color me very surprised. I expected Baylor to win with relative ease, and until that fourth quarter, that's what appeared to be happening. 
Without further ado, let's help put the 2014 season to bed with the final Power Rankings of the year. 
1. TCU 12-1, 8-1 Big 12. Previously: 2. The Frogs lost the top spot for only one edition of the Big 12 Power Rankings. Their 42-3 thrashing of Ole Miss, combined with Baylor's loss in the Cotton Bowl means the Frogs will close the season as the clear choice for the Big 12's best team in 2014, despite the head-to-head loss to Baylor back in October. They'll be back in 2015, too. Trevone Boykin returns and don't be surprised if TCU shows up atop a preseason poll or two this summer. It's likely going to come down to the Frogs or Ohio State. 
2. Baylor 11-2, 8-1. Previously: 1. The Bears dropped a heartbreaker to Michigan State, but should still finish the year within the top 10. K-State's loss confirmed what I've suspected all season long: The Big 12 is as top heavy as it's been since the days of Texas and Oklahoma's rule. TCU and Baylor are both elite teams, but behind them, the dropoff is extreme.
3. Kansas State 9-4, 7-2. Previously: 3. K-State finished the season 0-4 against teams in the final top 25 of the regular season but there's something to be said for going 9-0 against the rest of its schedule. The Wildcats were a cut below the Big 12's Tier I teams, but were still a quality, consistent team. And, as UCLA found out, a team willing to play to the last snap. The Bill Snyder-Jim Mora handshake kerfuffle was quite a finish to the year. K-State might have gone a little overboard in trying to force a turnover with UCLA in the victory formation, but if Jim Mora did indeed drop an F bomb on Bill Snyder as has been reported, that's completely out of line and a gross overreaction to a play in which no one got hurt, nobody did anything illegal and nobody did anything that could be construed as a legitimate attempt to injure a UCLA player.
4. West Virginia 7-6, 5-6. Previously: 4. West Virginia's defense has seen better days and Skyler Howard looked unimpressive in the Mountaineers' Liberty Bowl loss to Texas A&M. The spring quarterback competition between him and William Crest should be fun to watch. WVU struggled down the stretch this season, but I suspect if I told 'Eers fans back in August they'd finish with seven wins, they'd take it. 
5. Oklahoma State 7-6, 4-5. Previously: 7. The Pokes would be two spots lower if Bob Stoops doesn't elect to punt a second time late in Bedlam, but he did, and alas, here we are. Mike Gundy called the three weeks leading up to the Cactus Bowl the best bowl practices he's ever had at OSU, and it showed. Though Washington crept back late, OSU was dominant for most of the game and Mason Rudolph looks ready to take on his first season as the Pokes' starter in 2015. Six weeks ago, the Cowboys had almost no chance to qualify for a bowl. They sprung the Bedlam upset and finished in style at the Cactus Bowl thanks to James Castleman. Next fall, I'm betting this team, one of the youngest in college football, shows the value of what basically amounted to an additional set of spring practices. 
6. Oklahoma 8-5, 5-4. Previously: 5. What a difference a year makes, huh? This time last year, Bob Stoops was the SEC slayer and the Sooners had realistic dreams of a playoff with a dominant defense returning to Norman. Instead of pulling a Bedlam upset on the road, Stoops and the Sooners got upset at home and were embarrassed in the Russell Athletic Bowl. Co-OC Jay Norvell is already out, and more changes are coming. Trevor Knight's uninspiring 2014 probably means a heated offseason quarterback derby between himself and Baker Mayfield who drew strong reviews on the scout team this year. Linebacker Eric Striker's return helps out a lot and the Sooners do have a Heisman contender in running back Samaje Perine, but the question marks and holes are plentiful in Norman heading into 2015. 
7. Texas 6-7, 5-4. Previously: 6. The national narrative surrounding Texas seems to be Charlie Strong's team will improve in 2015, but without the team's top two receivers (John Harris and Jaxon Shipley), best defensive back (Quandre Diggs) and two of its best defensive linemen (Malcom Brown and Tank Jackson), that seems like wishful thinking and a lack of attention to detail. The offense needs some serious tweaking after amassing just 59 yards against Arkansas, the lowest of any FBS team in a game this year. Where was the imagination, creativity and explosiveness? The blowout loss to TCU on Thanksgiving showed just how far the gap is between Texas and a Big 12 title. The Longhorns have lost 10 games in the past two years by at least 19 points. Strong will succeed in Austin eventually, but it's going to take some patience. 
8. Texas Tech 4-8, 2-7. Previously: 8. Discovering Patrick Mahomes' ability was the biggest development of Texas Tech's final few games of 2014 and offered some hope moving into 2015. I doubt he's officially won the job, but his mobility and ability to take care of the ball gave him an edge over Davis Webb late in the year. Tech still needs consistency and stability defensively to get anywhere close to competing for a Big 12 title, but the offense will still be a force and nearly helped Tech upset Baylor. 
9. Kansas 3-9, 1-8. Previously: 9. David Beaty's work is cut out for him. He knows Kansas well, but the Jayhawks just didn't do much to inspire any confidence that they'll be improved next year, and they lose their two best players: Running back Tony Pierson and linebacker Ben Heeney. The simplest way to sum up Kansas' struggles is a lack of talent. If Beaty is going to fix KU's numerous ailments, he has to do so through recruiting. Quarterback Michael Cummings showed flashes late, but will that carry over into a new system and can you rely on him for a full season? We won't know until 2015. 
MORE FROM FOX SPORTS SOUTHWEST: 
- Highest paid coaches in college football
- Ranking NFL quarterback salaries
- Oldest player on every NBA team
---