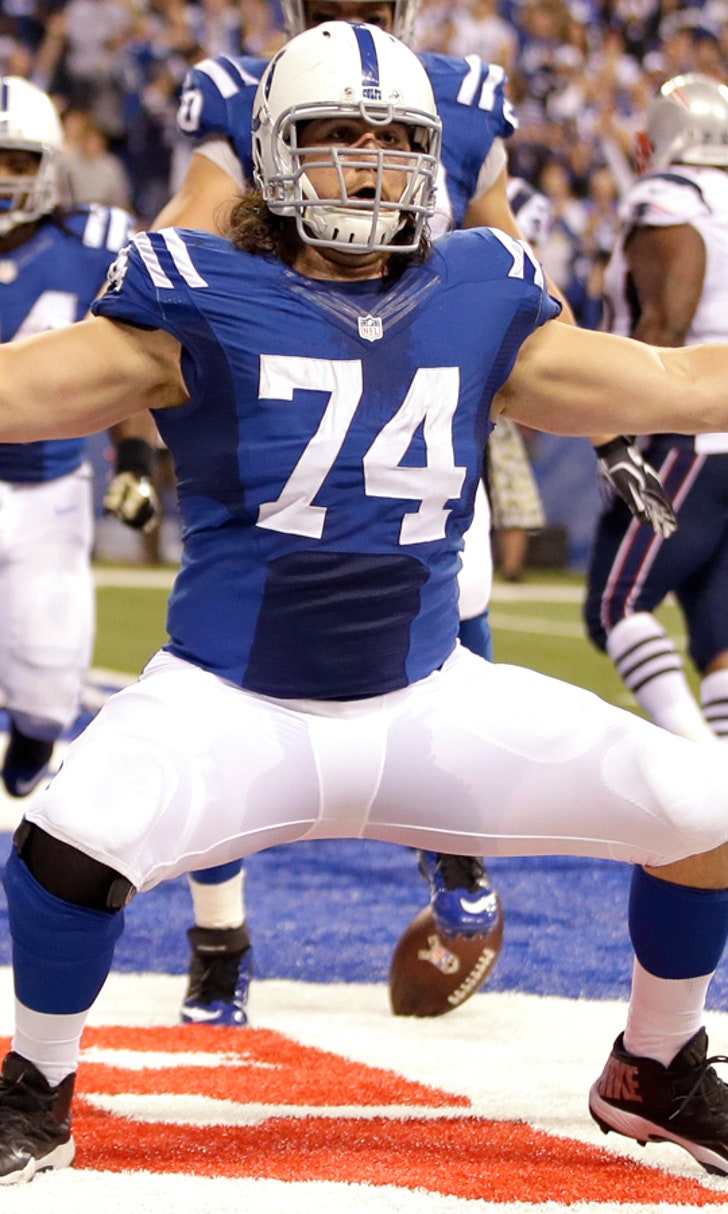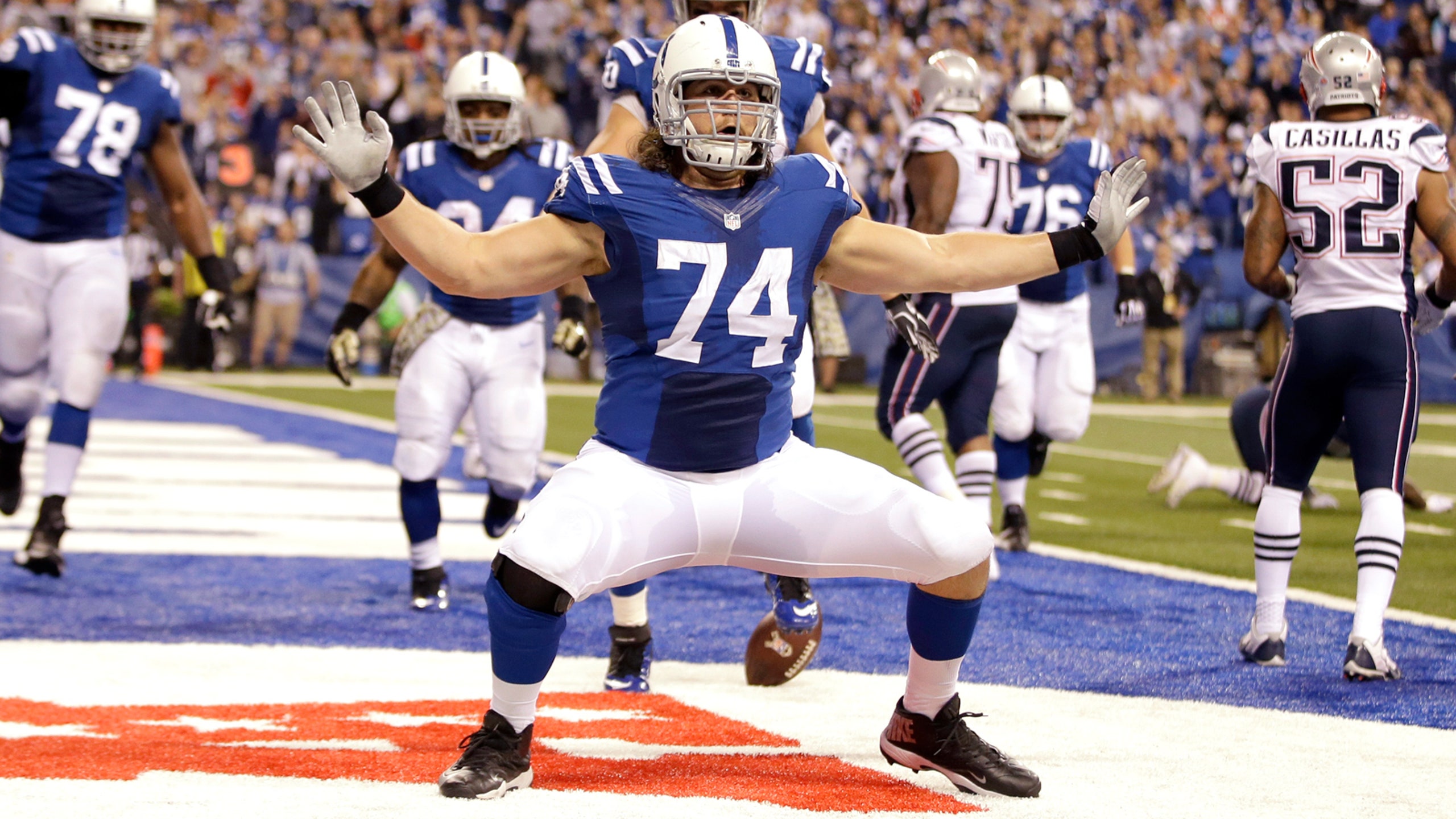 Fat guy glory: Watch 11 offensive linemen scoring touchdowns
BY Brett Smiley • November 18, 2014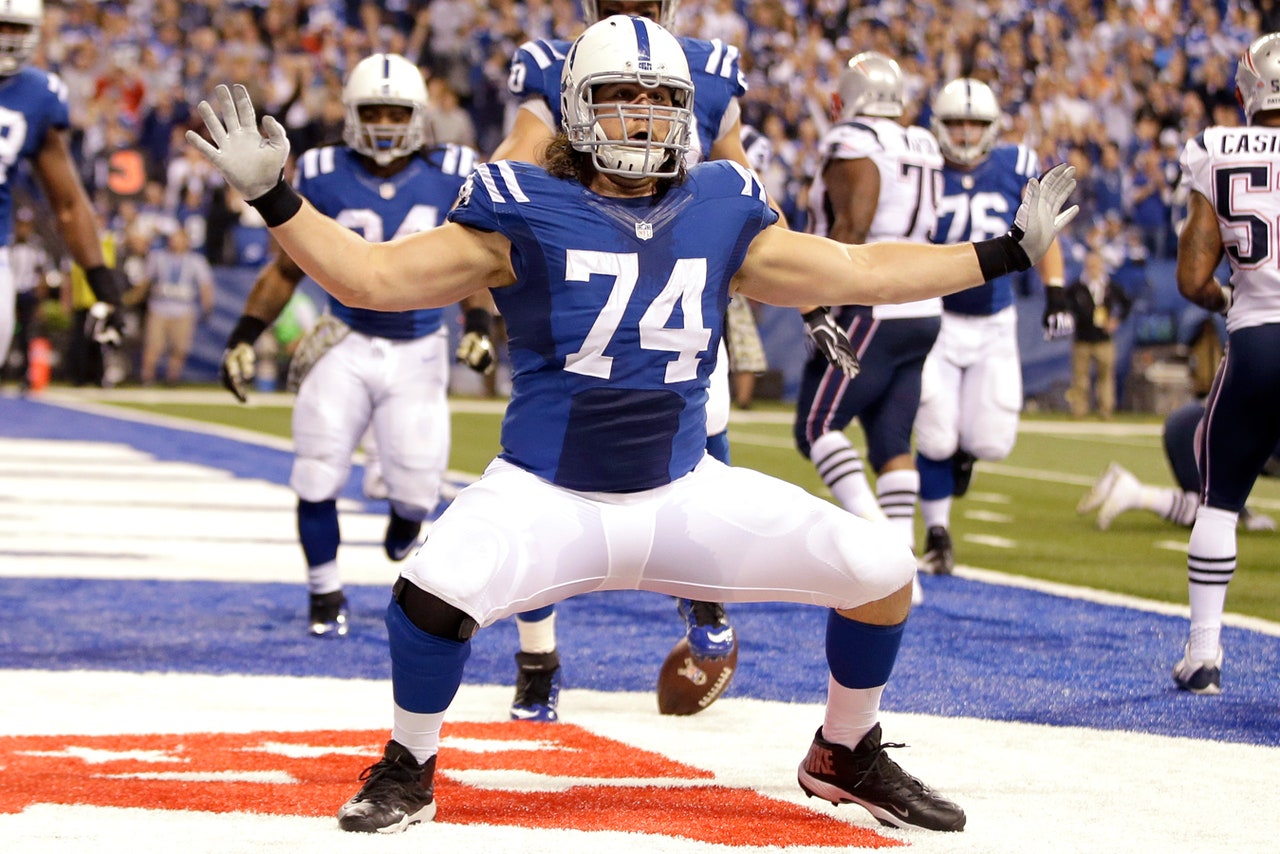 Normally when an offensive lineman (minus the center) gets his mitts on the football, something disastrous has happened for the offense -- a botched snap, a fumble, a deflected pass. Our series "Get to Know an Offensive Lineman" uncovered some of those comical and horrifying moments.
Asked about the last time that he touched the ball in a game, Colts offensive tackle Anthony Castonzo told us in September, "I don't remember the last one, but I've recovered a few fumbles in my career." He continued, "As far as what I did with it, I just layed on it and squeezed as tightly as possible."
Obviously that has changed. Here is Castonzo's first career receiving touchdown on Sunday night, on a play where he lined up as a tackle-eligible and helped the Colts pull within one score of the Patriots in the fourth quarter.
That spectacular dance is just gravy.
In no particular order, here we go with 10 more offensive lineman TDs -- receiving, rushing and, incredibly, even passing.
CHIEFS LINEMAN JOE VALERIO: HALL-OF-FAME LINEMAN PASS CATCHER
Valerio played five years in the NFL for the Kansas City Chiefs and caught four career touchdowns. For one of the magical Valerio specials, a 3-yard touchdown catch, skip to the 0:56 mark in this video. If you also want to see Valerio turn on the jets as a lead blocker on a Steve Bono touchdown run (you do), watch the whole thing.
CFL'S DAN CLARK HAS SUCH SOFT HANDS
The 310-pound Clark plays guard for the Saskatchewan Roughriders. Clark had to use every inch of his estimated 18-inch vertical to get this one.
FRESNO STATE'S AUSTIN WENTWORTH FINDS THE EDGE
In a 2013 play resembling the great Billy Bob's famous touchdown, Wentworth, now a Minnesota Viking, released from the line then took a pitch on a hook-and-lateral play all the way for a score.
THE MOTHER OF ALL FUMBLEROOSKIS
In the 1984 Orange Bowl, the National Championship game between Nebraska and Miami, Cornhuskers head coach Tom Osborne called for it in the second quarter. The Fumblerooski. And it worked. All-American guard Dean Steinkuhler took the intentional fumble and rushed 19 yards in the opposite direction, fooling everyone including the announcers.
TROY LINEMAN JUNIOR LOUISSAINT RUMBLES 63 YARDS AFTER RECOVERING A FUMBLE
ARKANSAS TACKLE SEBASTIAN TRETOLA'S TOUCHDOWN PASS
Fourth and goal. Up 21-0. Why not? The 6-foot-5, 350-pounder delivered in this October 2014 gem.
ALEX MACK SHINES DURING PRO BOWL GARBAGE TIME
Granted no one really plays defense in the Pro Bowl, but the Browns center still found paydirt, and accidentally showed everyone his crack in the process.
LEFT TACKLE DONALD PENN, SUCH SOFT HANDS
Josh Freeman didn't do Penn any favors with the low toss after Penn released, but the lineman found a way to reel it in for his first career touchdown in 2010. Penn notched his second in 2013.
GET OUT OF ALABAMA TACKLE ANDRE SMITH'S WAY
Similar play here in 2011, but Smith actually moves to the flats for the reception and storms in. He had to wait a minute for confirmation but indeed the score counted.
This one happened this past weekend and like Castonzo, Marchman added lots of flair with a cartwheel and teammate bowling.
Elliott's bobbled grab in 2000 tied the game at 37-37 in a furious 23-point fourth-quarter comeback by the Jets, who won 40-37 in overtime. This version of the video is enhanced with some special animation.  
Offensive coordinators, you know what to do.  
HONORABLE MENTION
Also, check out Buzzer's series on offensive linemen:
Chance Warmack l Kyle Long l Evan Mathis l Geoff Schwartz l Josh Sitton l Anthony Castonzo ] Justin Pugh  | David Bakhtiari l Joe Barksdale
---