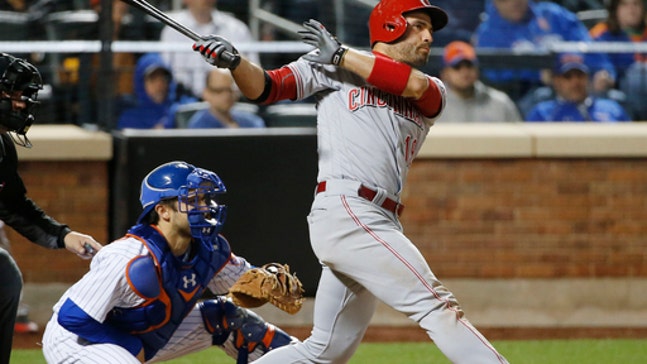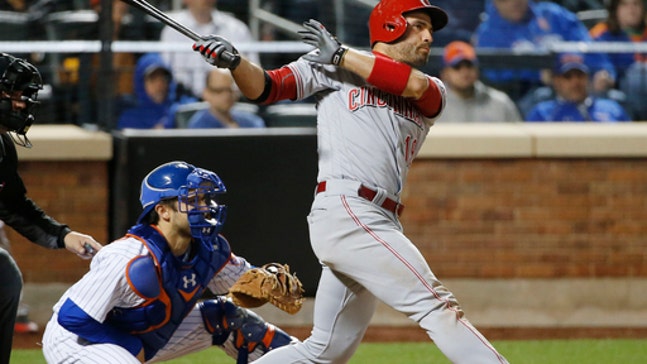 Fantasy Baseball Advice: Will Votto, Dozier rebound?
Published
May. 18, 2016 11:51 a.m. ET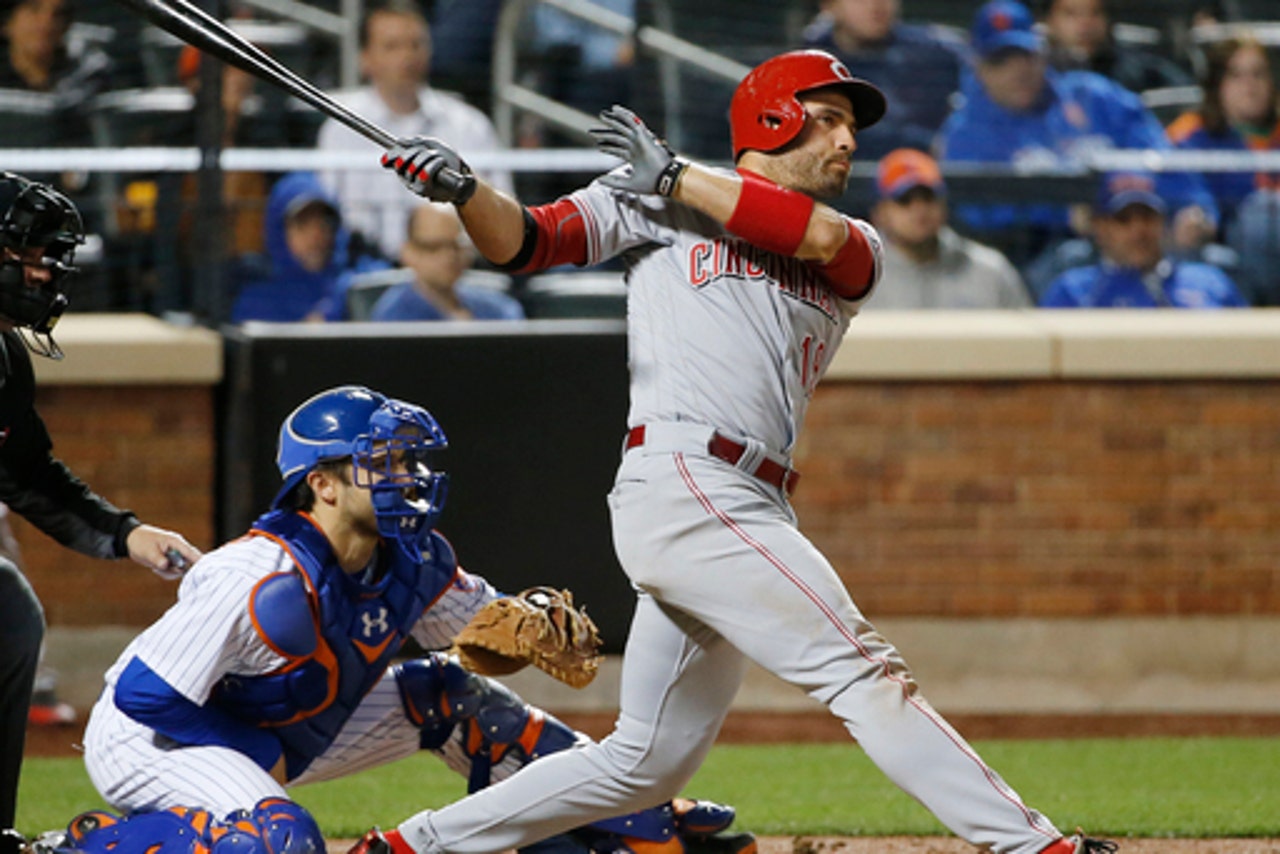 Every baseball season, we see hot starts from unexpected sources, and cold ones from their more accomplished counterparts. By mid-May, we've probably got enough data to reasonably assess if the performances are sustainable, or likely to regress to the mean. We also don't have many candidates left, because many have seen their numbers normalize already.
Below are eight players whose first-quarter results seem headed for some changes ... some good, some bad. If our prognostications are correct, you might be able to sell high on the first four players, or buy low on the second group. For specific questions on how trades involving those players might work, send me a tweet (@jhalpin37).
David Price and his 6.00 ERA could have been the poster children for this article, but following a recent consultation with noted pitching guru Dustin Pedroia, Price whiffed 12 Astros while allowing one run in six-and-two-thirds innings of a May 12 start. Price's rebound has already begun, and your window to buy him is probably closed. Damn that pesky Pedroia for not waiting on us.
(Note: Much of the sabermetric-type data below comes from FanGraphs.)
DUE TO DECLINE
Travis Shaw, 1B/3B, Red Sox - Shaw is continuing where he left off from his surprising 2015 finish. He's batting .329 with six homers, 29 RBI, 24 runs and a .973 OPS, all of which make him fantasy's eighth-best third baseman. Shaw's decline won't be dramatic, but it's still likely to come.
Shaw was a .261 hitter in 2,211 minor-league plate appearances, and his current BA can be attributed largely to a sky-high .406 BABIP. He's been below average in hard-hit ball percentage (30.8 percent), and didn't have a history of high BABIPs in the minors. As the BABIP drops, the RBI and runs are likely to decline along with the BA. Fenway Park might help Shaw maintain much of his home-run power, but as he never went deep more than 21 times in the minors, his keeping up his current pace (25) is asking a lot. Shaw is a useful player, but his best 2016 days are probably behind him.
Ben Zobrist, 2B/OF, Cubs - It's possible that all the Cubs' players have sold their souls to the devil en route to a 130-win season. Even if that's the case, Satan seems to be making an extra push for Zobrist, who is tracking toward career bests in batting average, runs, RBI and line-drive rate. Zobrist will turn 35 later this month, and keeping pace as fantasy's No. 4 second baseman seems like a lot to ask.
Why? Zobrist's .324 BABIP is his highest since 2009. His HR/FB rate is up to 12.5 after three seasons below 10 percent. His walk rate has never been this high, his strikeout rate never so low. He's a really nice player, but c'mon.
Jackie Bradley Jr., OF, Red Sox. - Bradley's 2015/16 performance is a nice story. He was Jacoby Ellsbury's heir apparent in 2014, flopped in his first trial as a big-league regular, and has rebounded after many wrote him off as a bust. Sometimes, patience is needed.
However, Bradley hits the ball on the ground too often to continue a 25-homer pace, and doesn't have much in his history to suggest the sustainability of a .333 BA or .392 BABIP. He'll be useful all season, but I'd try to sell him high to a Sox fan if I needed help at another position.
Rich Hill, SP, A's - Hill's stellar K rate (53 K in 43 2/3 IP), 2.68 ERA and 1.19 WHIP have him among fantasy's top 15 starters. However, he's walking more than four batters per nine, and hasn't pitched more than 100 innings since 2007. Hill's stuff and effectiveness are worthy of believing in, but we can't possibly trust him to be around in August and September. Call me a wet blanket, but I'm out.
THEY'LL BOUNCE BACK
Joey Votto, 1B, Reds - Votto's miserable first quarter contains some causes for worry, as he's whiffing a lot more often than normal, and hitting fewer line drives). Will he ascend from a ranking as fantasy's No. 29 first baseman? Yes, and not just because "He's Joey Votto, for crying out loud!"
Votto's hard-hit percentage of 44.4 ranks sixth in the majors. Paired with his .265 BABIP - a rate way down from his .355 career mark - we can surmise that Votto will soon do a much better job of hitting 'em where they ain't. If he does that, more runs and RBI should follow. His home-run power isn't too far off career norms, and with three homers already this month, we should figure on 25 or so longballs, just like always.
(OK, maybe there was a little bit of "He's Joey Votto, for crying out loud!" up there. He's hitting the ball hard, not chasing pitches ... if he can fix his decline in contact, he'll probably be OK).
Brian Dozier, 2B, Twins - Dozier is fantasy's No. 23 second baseman after being drafted among the top five, but the underlying numbers don't look so bad. A .240 BABIP has his BA down to .220, but he's never been a good BA guy anyway, and it'll only take a handful of balls dropping in for hits to fix things (his LD and hard-hit rates are close to normal). Dozier is walking more than he usually does, striking out less, and hitting the ball in the air, which will lead to home runs. No big problems here, and he doesn't have too far to go to be back to normal. Be patient.
Anthony Rendon, 2B/3B, Nationals - Rendon is an uninspiring 23rd among fantasy third basemen. On the bright side, his basestealing acumen has returned after an injury-plagued 2015. Rendon is on pace for just about the 17 steals he notched in 2014.
As for hitting, .229 with no power won't help anyone. The data suggests that Rendon is swinging at more pitches out of the zone, but his K, BB, LD, FB and hard-hit rates tell us that his 2014 performance isn't as far off as you might think. Maybe he'll only hit a dozen homers instead of 21, but if you thought 2014 was going to be repeated, you'd have drafted Rendon a lot higher than the fifth or sixth round. If you're tempted to cut him in a 12-team mixed league, hold on for a little bit longer. Dusty Baker thinks Rendon will start getting the bat out in front of the ball soon, and I'm inclined to agree.
J.D. Martinez, OF, Tigers - After his breakout, 38-homer campaign in 2015, Martinez ranks as fantasy's No. 31 outfielder. What's wrong? Not much – he's hit homers in five of his last nine games, and would have been more relevant if this article had been written last week. Carry on with confidence, Martinez owners.
---
---