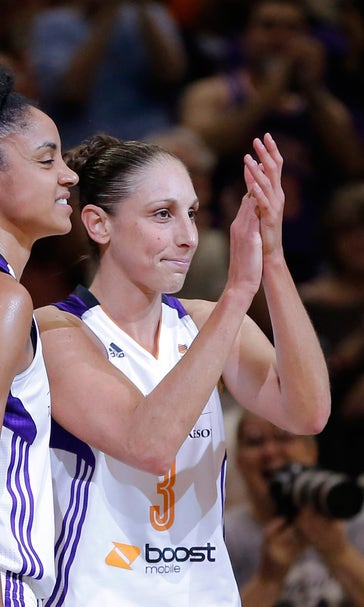 Dupree sparks Mercury to 6th win in a row
BY foxsports • July 3, 2014
PHOENIX -- Candice Dupree had 26 points and 14 rebounds to lead the Phoenix Mercury to their sixth straight win, 87-69 over the Chicago Sky on Wednesday night.
Diana Taurasi added 15 points, hitting a 3-pointer with 6:46 left in the third quarter to pass Katie Smith (6,452 points) for second place on the WNBA's career scoring list.
Taurasi, who now has 6,457 points, reached that total in her 316th game -- 166 fewer than Smith played. Tina Thompson tops the career scoring list with 7,488 points.
Allie Quigley scored 16 points to lead the Sky (8-9), who have lost four of six. Epiphanny Prince and Jamierra Faulkner added 11 each.
Britney Griner, who set a league mark with 11 blocked shots on Sunday against Tulsa, was held to four points but grabbed 11 rebounds and had three blocks for Phoenix (12-3).
The league-best Mercury, winners of eight of their last nine, scored 13 consecutive points in the third quarter to stretch their lead to 19.
Faulkner was coming off a 27-point effort in a win against the Sparks on Tuesday but shot just 4 for 16 from the field against Phoenix.
The Sky again played without leading scorer Elena Delle Donne, who is out indefinitely with Lyme disease, and Courtney Vandersloot, who led the league in assists before spraining her knee. Vandersloot is expected to be out at least six weeks.
Penny Taylor added 14 points for Phoenix, which has set a franchise mark for its best record after 15 games.
Dupree had 10 points and nine rebounds in the first half as Phoenix took a 13-point lead. However, Prince hit three 3-pointers in the second quarter to keep Chicago close, pulling to 44-38 at the break.
Phoenix hit 20 of 24 free throws while Chicago was 5 for 8.
Dupree, after two free throws in the first quarter, topped 4,000 career points and is 22nd on the career scoring list.
---