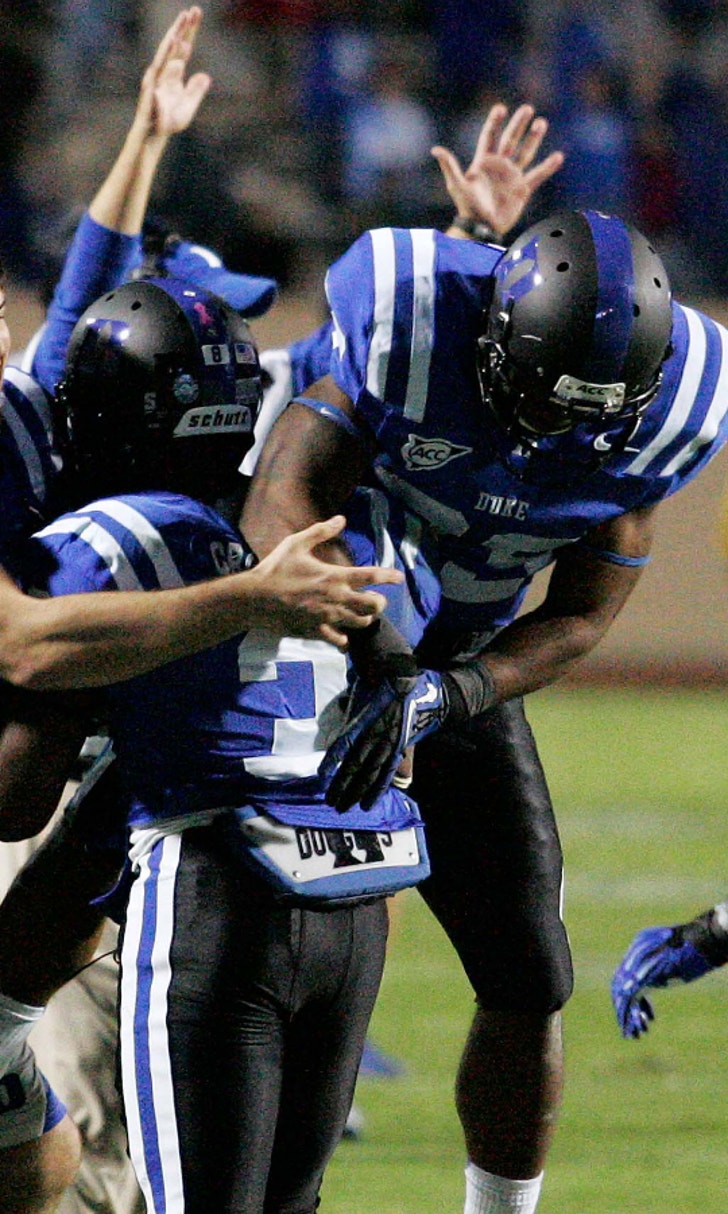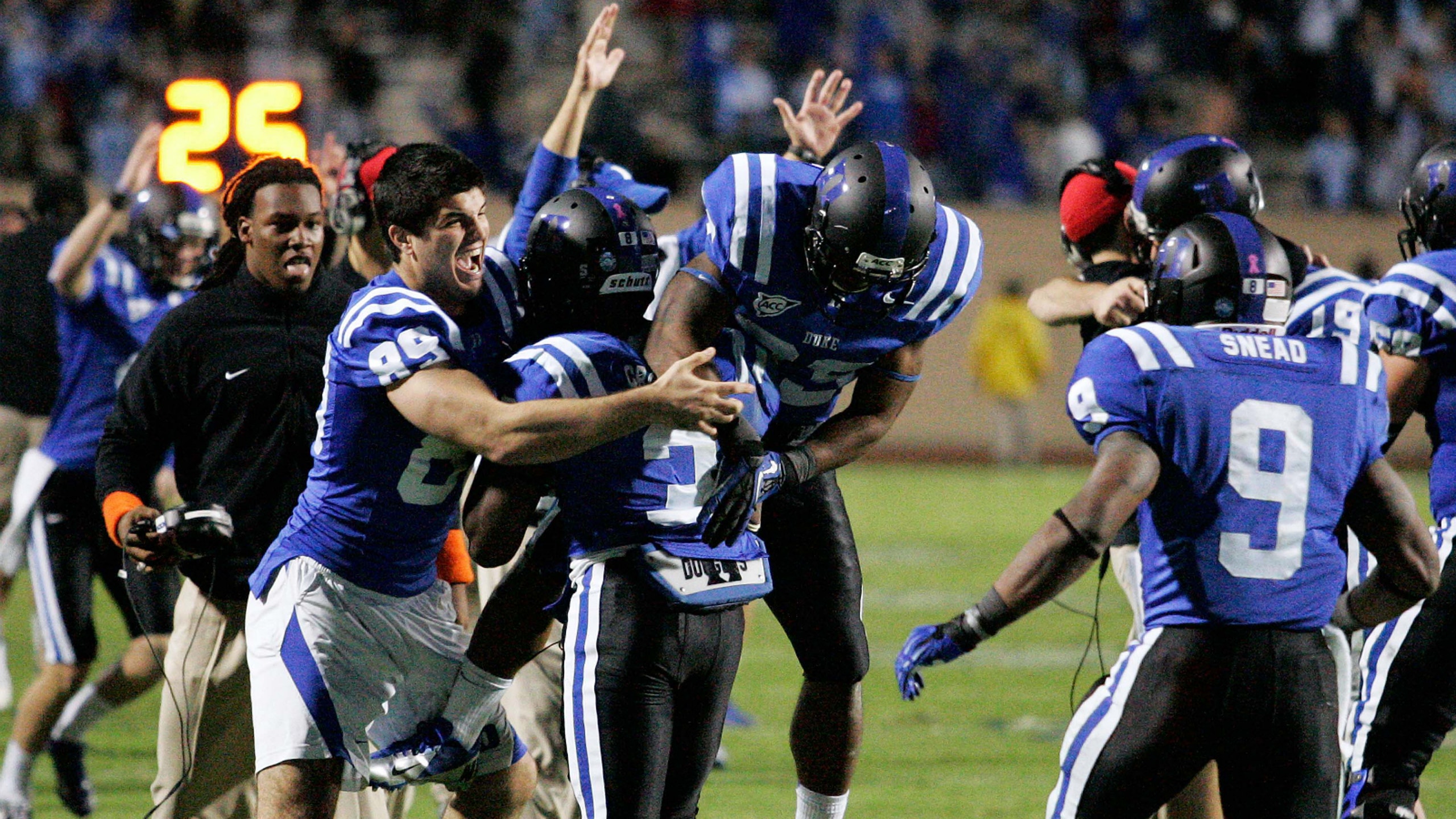 Duke, Tar Heels set for another high-stakes showdown
BY foxsports • November 19, 2014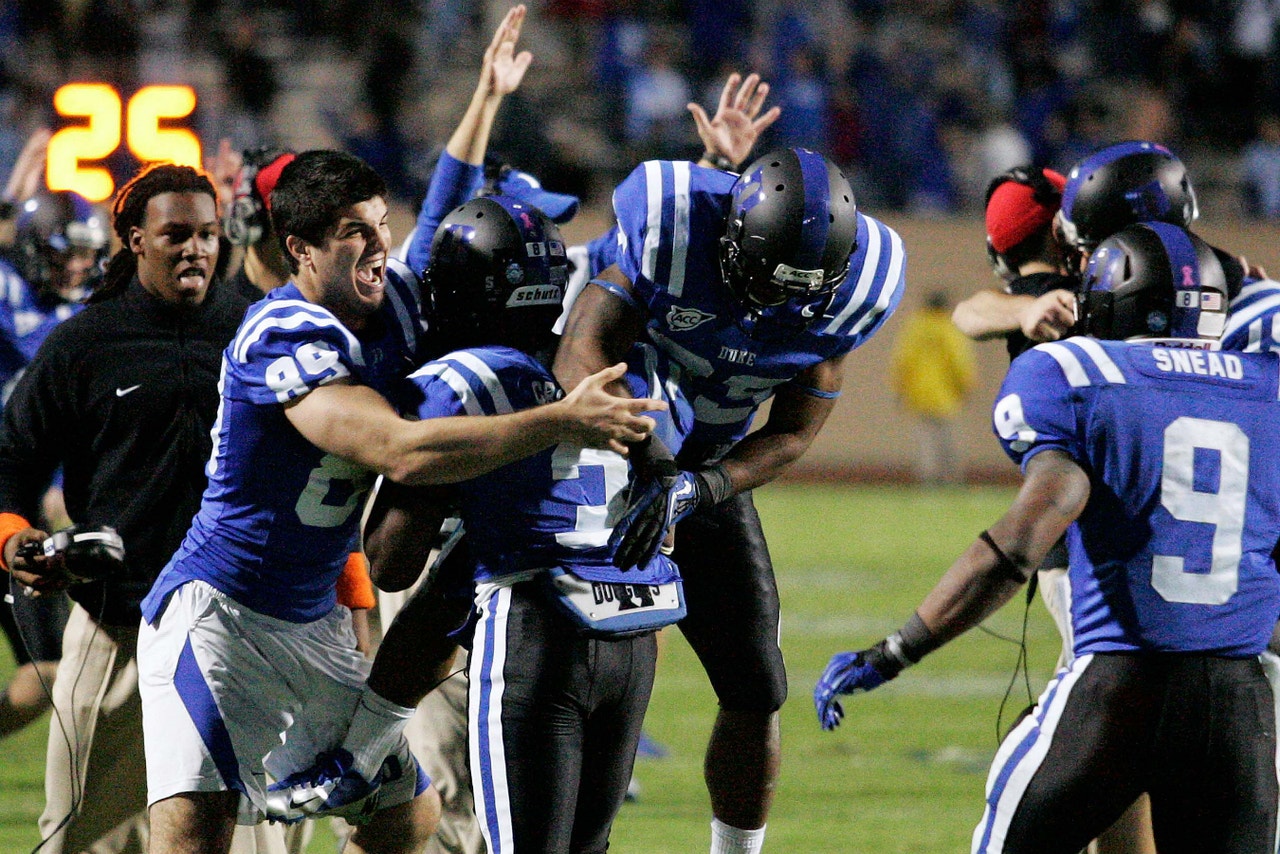 When you hear "Carolina-Duke," the first thought always involves basketball.
That's just reality.
The same held true when Duke head coach David Cutcliffe first arrived to Durham in 2007. He had been an SEC lifer, used to football rivalries like Alabama-Tennessee, Ole Miss-Mississippi State, Florida-Tennessee.
His only exposure to North Carolina-Duke had been the same as others around the country.
"I'm a basketball fan, so I tuned in when North Carolina and Duke were playing. I'd see that, wherever I was, because I'm traveling or recruiting and you see that game, good gosh. Dick Vitale, I can hear him right now," recalls Cutcliffe.

"It's pretty cool."
As with most things, the facts of a good story are often exaggerated or slightly embellished. Like with the Carolina-Duke rivalry, you often hear the Tobacco Road schools are "just eight miles apart!"
The campuses are about nine miles apart in a straight-line distance. In fact, Google Maps says the drive from Cameron Indoor Stadium to the Dean E. Smith Center (the iconic basketball arenas) is equidistant from Wade Stadium to Kenan Stadium (the football stadiums) -- 10.7 miles.
Slight exaggeration or not, the campuses are, for all intents and purposes, part of the same larger community.
UNC students often find themselves in Durham and vice versa, and fans of both teams live and work in the same area.
Back in 2007, Cutcliffe didn't know quite what to expect from the football side. He learned pretty quickly.
"What immediately became apparent to me was we're all over each other. We're behind enemy territory all the time. There's nothing like it in sports. Nothing like it. That created an intensity," Cutcliffe said.
"I was reminded of it every time I went to the grocery store. Somebody was going to have something to say. They'd show their colors or whatever (Cutcliffe mimed popping his shirt), and it's great.
"It really doesn't matter what sport it is when you're this close and the two institutions have as much pride in what we do as we do, it doesn't get much better than this. It's fun for the nation to see it from a football perspective because quite frankly, they haven't in quite some time."
And on Thursday night, they will.
No. 25 Duke (8-2, 4-2 ACC) has to win its final two games to repeat as Coastal Division champions. Lose once and Georgia Tech -- 6-2 in ACC play with no more league games left -- gets the crown.
North Carolina's defense has been equal parts "bent" and "broken" this season, with Tar Heels QB Marquise Williams generating the lion's share of offensive production.

Williams ranks 3rd nationally in scoring, among QBs, with 11 touchdowns (10 rushing, one receiving) and has passed for 18 TDs (with just eight INTs). He's also averaging 312.5 yards of total offense, behind only Jameis Winston in the ACC (323 yards).
But the stats only tell half the tale with Williams. He has led four go-ahead drives in he fourth quarter, with three coming in the last four games -- all UNC victories. 
Williams accomplished this with an offensive line that's constantly reshuffling, often enduring hit after hit in the name of making a play.

Duke defensive end Dez Johnson is 6-4, 260 pounds. Williams is 6-2, 220.
So when a reporter says Williams was "about as big as (Johnson is)," that's a slight exaggeration.
But Williams is thick, compact and strong.
Even so, Johnson was almost in awe of Williams, after seeing him respond to each brutal hit ... by simply getting up and running another play.

"Tough guy," says Johnson, shaking his head. "Not a lot of quarterbacks can take the hits that he does and stay in the game. He might get blasted one play and he's back up the next one, making a great play after that.
"If you watch any of the games in these past few games, he's been their playmaker. Even when they were down, they had a guy like him to come in and say 'I got you'. He's proven that. He's been the one who picked the team up when they were down and brought them back and kept them right on track.
"There have been a couple games where they've been down and you think 'oh man, they're not coming back'. You come back later and they're up by a touchdown and it's all on his arm and his legs," said Johnson. "Not giving all credit to him, but I would say a large part of the offense is centered around a great guy like him, which, any coach that's smart would do that."
Duke's defense was better than it had been all season in the 17-16 loss to Virginia Tech last week, sacking quarterback Michael Brewer six times (the most sacks by Duke since 2003).
But Brewer wasn't as mobile as Williams, and on a short week, it's certainly something that has Duke's staff concerned.
"(UNC's has) a different offensive line; it's a totally different offense. You always hope you can rush the passer with four in circumstances," Cutcliffe said. "Their quarterback is unique. He can do it all. He's a true epitome of a what a double threat is. He's got a strong arm, a great arm. He's one of the best runners in college football from the quarterback position. ...
"When you try to tackle him, you'd better have your feet under you and you'd better be in good position."
UNC isn't a one-man team, and Duke doesn't think that. Johnson even cautioned against putting too much attention on Williams, freeing up someone else for a big play.
Cutcliffe echoed that sentiment when asked whether Duke would have a defender "spy" Williams, saying that would give up something somewhere else.
The Tar Heels, of course, are coming off of a win over Pittsburgh, yet another comeback effort led by Williams in the fourth quarter.
While they're playing considerably better since the schedule eased up (early trips to East Carolina, Clemson and Notre Dame), the Tar Heels have split their last two road outings, needing mistakes from Virginia to win ... and then getting dominated at Miami (47-20).
With a short week, though, neither team has had time to focus on anything but themselves.
Duke gave up three sacks to Virginia Tech after surrendering four all season before that, and turned it over three times (six turnovers all season entering the game).
In fact, Duke has six of its nine seasonal turnovers in two losses -- compared to two in the eight wins.
The Blue Devils also made uncharacteristic mistakes in other areas -- kicker Ross Martin hadn't missed a field goal all year, but he missed two last week, including one that would have put Duke ahead late -- that cost them.
Cutcliffe said his team has had to put that behind them as quickly as possible, though, because this week presents brand-new challenges.
Duke would have been in complete control of the Coastal with a win; instead, they needed Florida State to beat Miami on Saturday night (check) to control their own destiny.
"There's part of this game that teaches you how to fail. People sometimes struggle with their lives because they don't know how to go about failing. It's a matter of how quickly you pick yourself back up, how you view yourself, not the circumstance," Cutcliffe said.
"We're not going to bury ourselves. We're playing a really good football team Thursday night, so the answer is not going to be available until the game is done. That's the bottom line. We have to go do it. Theoretically, yes. But that's all it is at this point."
And they'll have to do it against a North Carolina team that is eager to get to bowl eligibility themselves, just a win away now with two games against in-state rivals to close out the year.
In just two years, it's crazy to think how much different both programs are. Back in October 2012, Duke beat North Carolina for the first time since 2004, and it was a come-from-behind win that gave Duke bowl eligibility for the first time since 1994.
The atmosphere in Wallace Wade stadium, which has improved since Cutcliffe has been there but is still inconsistent at best, was by far the best that it's ever been that night. Carolina fans often make the short drive over to Durham and pack in to Wallace Wade, and the same was true then. Only then, there were a lot more Duke fans.
"I think the biggest part was we had a crowd that was absolutely a part of that victory. We had a crowd that we hadn't seen here prior to that. That was significant to our players and significant to our staff, to feel that emotion and intensity of that stadium," Cutcliffe said.
"So I thought two years ago, that was a significant part of it. I'm not talking about the victory -- I'm just talking about the atmosphere. It made something feel like a football rivalry."
That streak of something being at stake -- something of significance -- continued last year, as Duke needed to beat North Carolina to secure the Coastal Division crown. Yet again, the Blue Devils came from behind to win a close one.
The last two games have been close, as Duke has won both by a total of five points. And even as Duke floundered as one of the nation's worst programs for decades, the games were closer than they had any business being. From 1992-2013, Duke and UNC met 22 times and 13 have been one-score games.
UNC won convincingly from 1996-2001, but after that, the Tar Heels have scored 64 more points than Duke over a 12-game stretch (nine one-score games).
No one paid attention until recently, though, because why would they? This year marks the third straight year the teams will meet when both are above .500, but it hadn't happened before that since 1994.
Now, there's plenty on the line.
Even though Duke kept it close with UNC for so long, even before Cutcliffe got to Durham, the 2012 win over UNC was a breakthrough not only because of getting to a bowl, but it was one that washed away all past disappointment.
But now, there are juniors on Duke's roster who don't know what it's like to lose to North Carolina. And senior quarterback Anthony Boone, who actually played in the last loss to the Tar Heels back in 2011, doesn't want them to find out.
"I think they have the mentality of they're not going to lose to Carolina. For me to remind them and tell them what it was like to lose is something that I don't want to bring up. I want those guys to keep that taste in their mouth of never losing to Carolina," Boone said.
"That's kind of the mentality they've had so far. There are guys that have been here for three years saying I've never lost to Carolina, and I would like for them to keep that mindset. That way it becomes a thing of habit for us."
---