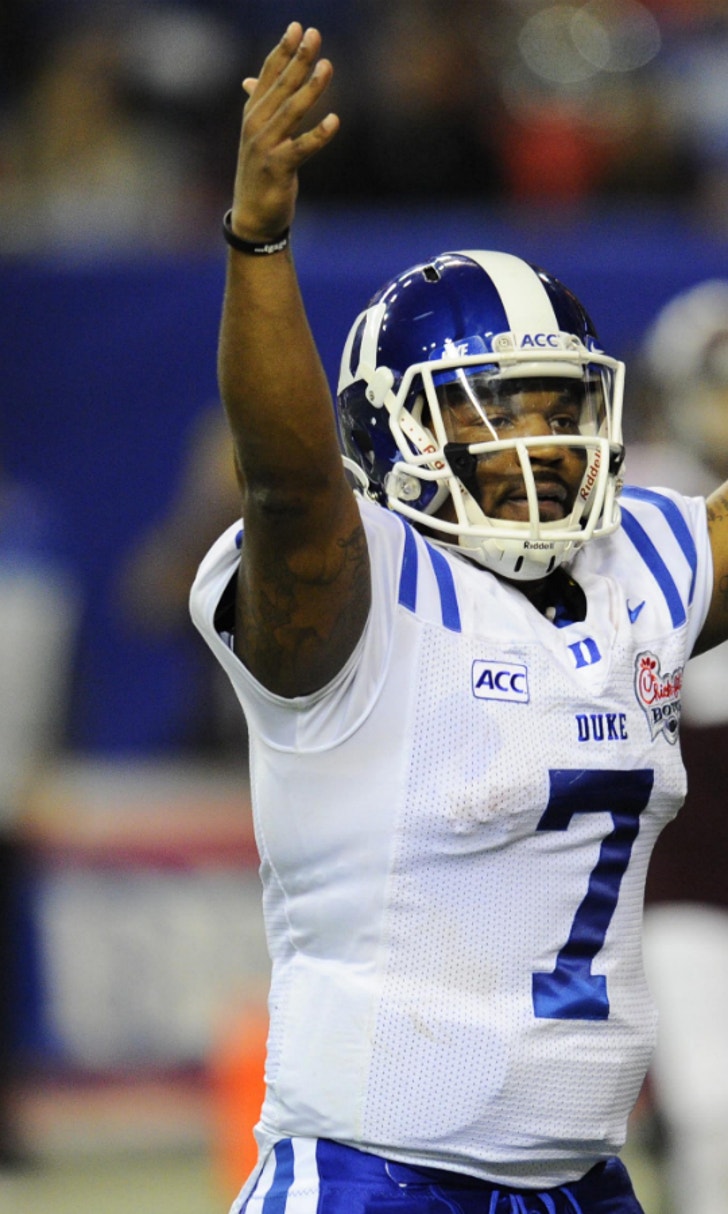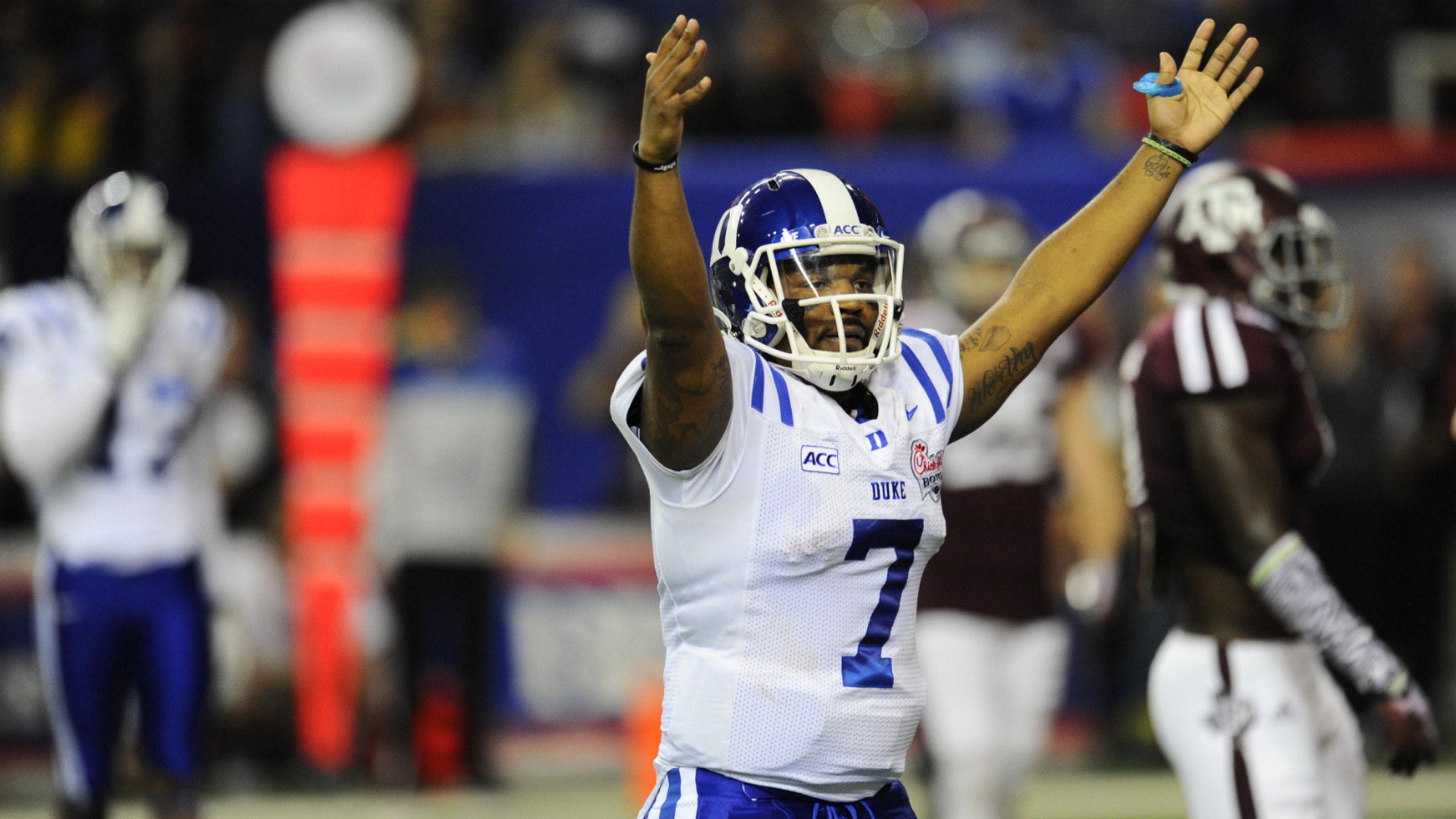 Duke looks to top unprecedented 2013 season by aiming higher
BY foxsports • August 4, 2014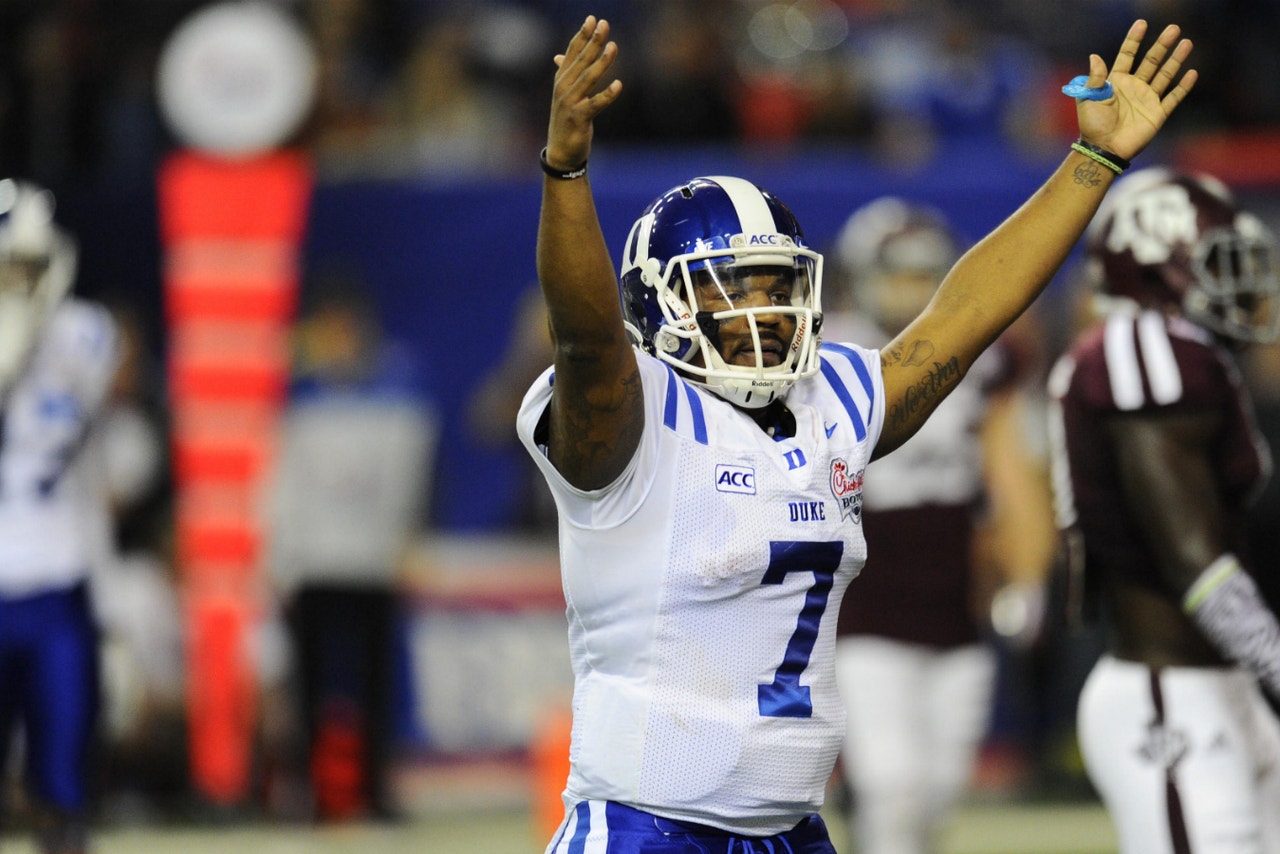 DURHAM, N.C. -- As Duke head coach David Cutcliffe enters Year 7 at the helm of an up-and-coming football program, he's not likely to soon forget where it came from. And the lessons he's learned along the way have helped make the program into what it is today -- reigning Coastal Division champions.
From 1994 to 2007 -- 14 seasons -- the Blue Devils' football program won fewer games (30) than Cutcliffe has already won in his first six years in Durham (31). That even includes an 8-4 season in 1994, Duke's only winning season between then and last year's 10-4 mark.
Duke was just 3-33 in the three seasons prior to Cutcliffe's arrival. He knew he was going to have his hands full, and he did. He was 4-8 in 2008, and then in 2009 -- a season he thought would be the real breakthrough -- a bout of swine flu hit his team in training camp. As if Duke didn't have enough problems.
But when he was telling the team that story on the eve of camp on Sunday night, how at one point 43 players were out with the illness that kept infecting the team and how he wished in hindsight he'd sent everyone home for a few weeks, he just got blank faces. Duke quarterback Anthony Boone spoke up and said, "Coach, none of us were here."
"Well, there were some of us here, " Cutcliffe said. "Me."
Now, Duke's junior class knows nothing but bowl games. They don't remember the back-to-back 3-9 seasons in 2010 and 2011, the times when outsiders were starting to doubt whether Cutcliffe was the man to lead the program. All Duke's juniors know is success.
But sophomore cornerback Bryon Fields said that the older players -- whether it was Ross Cockrell last year, currently with the Buffalo Bills, or any of the remaining seniors on this roster -- don't let them forget about the past.
"They still remind us what they went through. The guys that are still here, some of the seniors, it's a constant reminder for them. They're always talking about how much tougher it was and how terrible it was to come to the Yoh (Football Center) when they hadn't won a game yet and things like that," Fields said. "So we get annoyed hearing it sometimes, because we weren't here for it and we don't want to hear that whining.
"But it's good to hear it sometimes. We need to hear that, just to be reminded of the fact that we're not to where we want to be yet and it's going to take a lot of work to get there."
Fields was kidding about the whining, of course, but a dose of perspective is important. Where Duke football came from has helped shape what it is now. It's why it's not a program fueled by slights, perceived or otherwise, like not making the preseason top 25 or not being voted to repeat as Coastal Division champs.
As Boone, who is entering his fifth preseason camp, just a year removed from that swine flu epidemic, pointed out, the players who chose to come to Duke understood what they were getting into.
"(Cutcliffe) is a firm believer that motivation should be pretty intrinsic. Everybody has their own way of motivating themselves. Outside sources shouldn't really motivate us," Boone said. "Coming here, we obviously know that Duke football wasn't always looked at as a football school. So that was our motivation coming here as a unit, trying to change the culture and trying to change the mentality of the way people look at Duke football."
Well, mission accomplished ... or is it?
Duke did go 10-4 last year, setting a program record for wins in a season while winning the ACC's Coastal Division. It lost its final two games of the season, and though both were to Heisman-winning quarterbacks (Jameis Winston in the ACC title game and Johnny Manziel in the Chick-Fil-A Bowl), it's not enough for them.
In fact, the Chick-Fil-A Bowl loss coupled with the loss to Cincinnati in the 2012 Belk Bowl -- both close losses, both games Duke arguably could (and should) have won -- means that Duke has yet to, as Cutcliffe put it, "hoist a trophy" after its final game.
They don't want to lose the glory of reaching a bowl game, because they don't know anything but that. But they also want to do more.
"I think these guys that are going into their third year, I like their mentality. They don't intend to do anything but. I kind of like that positive approach rather than thinking back about when it wasn't so good," Cutcliffe said. "The thing none of us have dealt with yet here is learning how it feels to hold a trophy above your head in your last game. That's a big deal. That is a big, big deal. So I do remind them of that. Those are long-lasting moments, big-time."
To be fair to preseason prognosticators, there are questions about Duke, just as there are about every Coastal Division team -- picking a team to win said division is just a coin flip. And Duke was still slotted in second place (and garnered the most first-place votes), so it's far from a slight.
Cutcliffe has even admitted a lot of games in 2013 could have gone either way, and it came down to a combination of luck and the grittiness of his own team's leaders that made the difference. A lot of those seniors are gone, and it will be up to the young (but talented) players to carry that torch.
So while 10-4 was great, it's time to leave that behind for Duke.
"This team hasn't played a down of college football in 2014. It's a brand-new team. It's a brand-new season," Cutcliffe said. "It kind of hit me, I went home last night and thought, 'We really are 0-0 now.' Until you report, you're nothing. We were kind of 10-4 up until we just reported. Not anymore. Reality sets in that August 30, we're kicking off."
Cutcliffe was encouraged by the earlier-than-normal spring practice sessions, which he said led to more vigorous offseason work.
"That old saying, the first thing I told them is that an old farming term is plant well in the spring or learn to beg well come fall. So we went right to hopefully planting good seed. I thought we accomplished that," Cutcliffe said. "I think our weight room work has been highly successful. Their work in the summer on their own has been really good from what i can tell and hear, the comments from veteran players.
"That's something about handling success is how well you work. Now, here's the kicker -- we'll find out. Camp is going to be the hardest thing they've done. I can promise you for us, it won't happen -- we won't be successful if we're not successful in camp."
Boone might have just missed 2009's swine flu epidemic, but he is heading into his fifth camp at Duke. He's seen as much or more than anyone on the roster, and he's had a good feel of the room as a quarterback.
This is the first time Duke has gone into a season with outsiders believing in their capabilities as much as they do. Instead of resisting the hype, they want to embrace the positive energy as the program continues to grow. They've heard the questions, too, and they want to answer them.
"I think this is the most anticipated team, I would say, as far as since I've been here, just coming off a big season like it was last year," Boone said. "It's one of those things where everybody's looking to see if we're going to sink or swim, whether it was just a one-hit wonder."
"It's a good feeling to try to go out there and attempt to prove to people that it wasn't a one-hit wonder and that Duke football is here to stay."
---