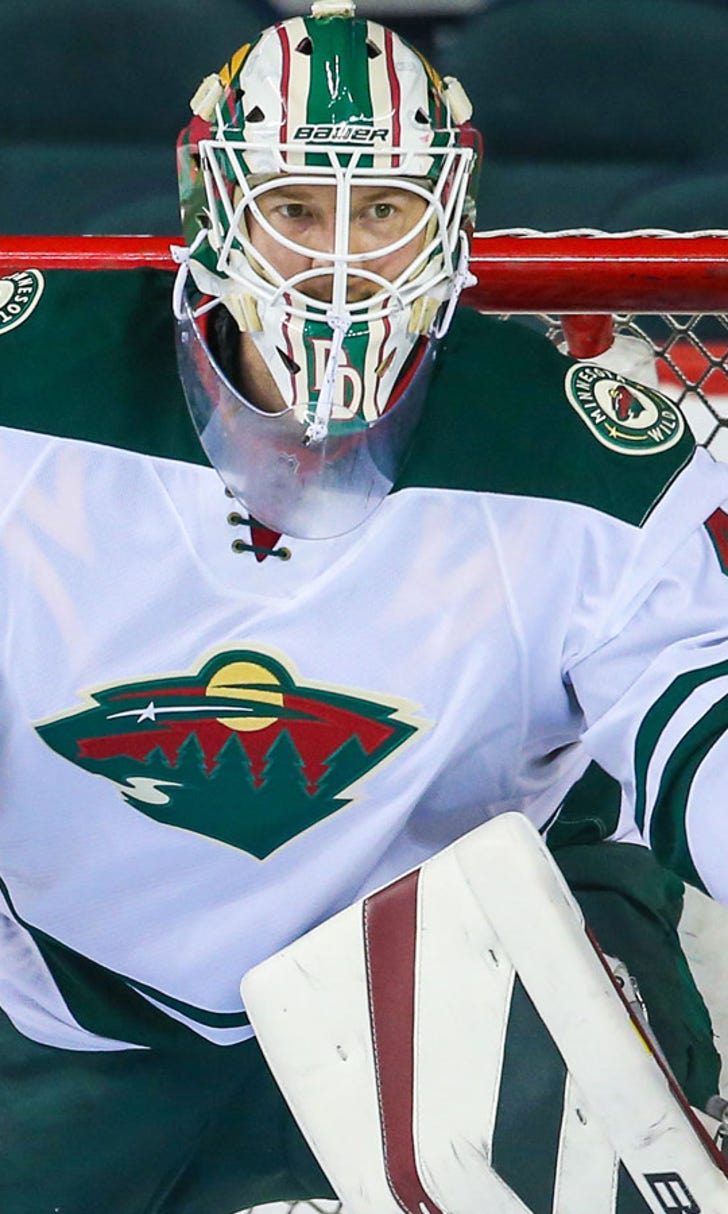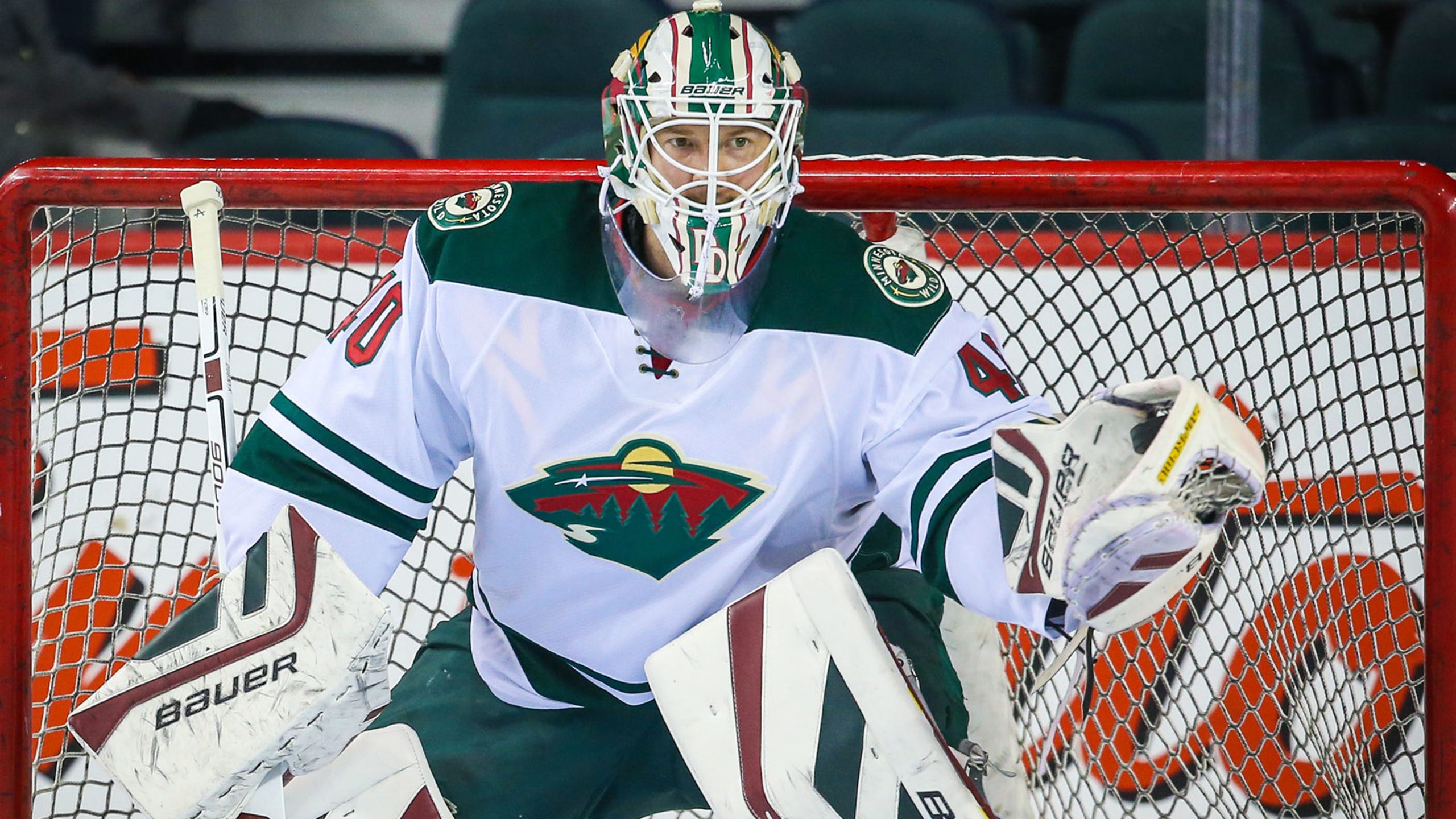 Dubnyk's little mental pictures helping Wild's big playoff picture
BY foxsports • February 2, 2015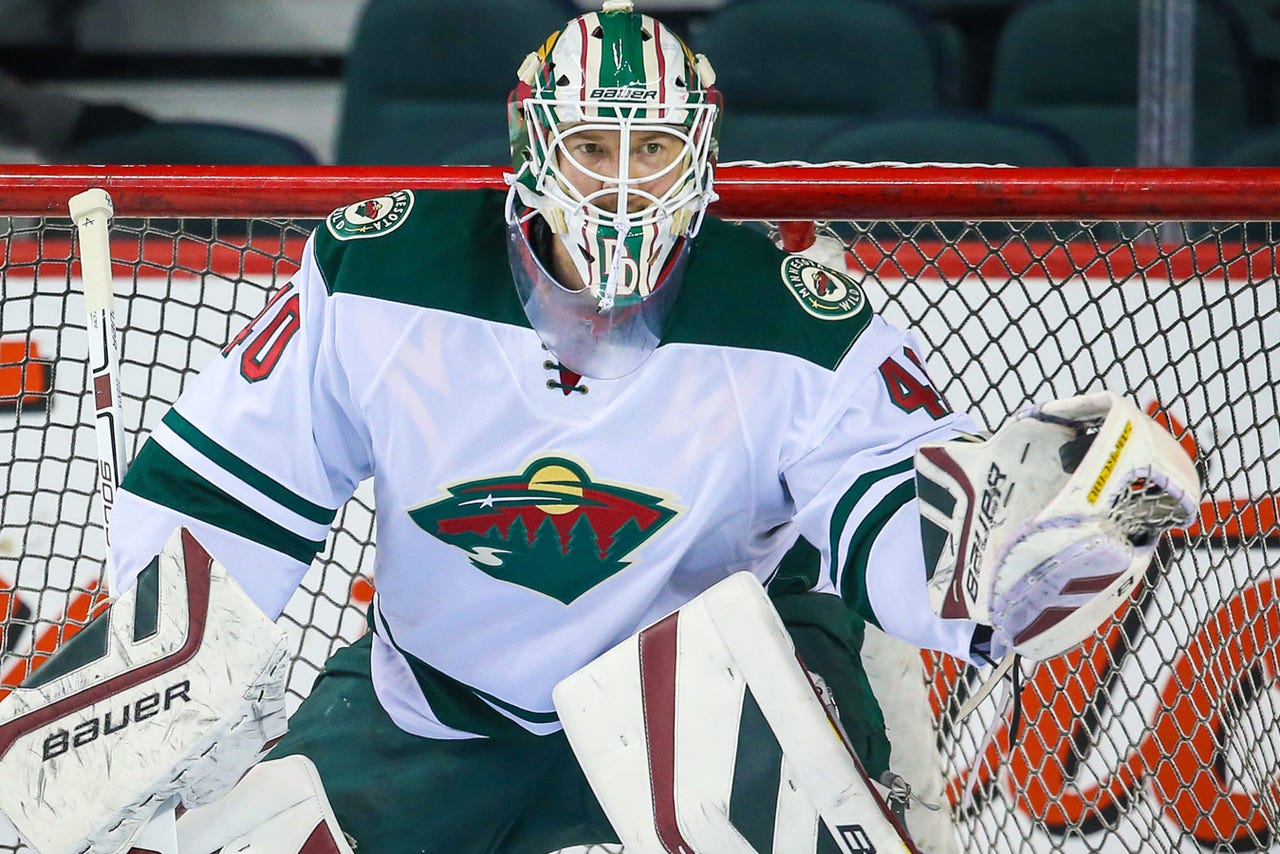 ST. PAUL, Minn. -- Devan Dubnyk has learned to survive the ebbs and flows of an NHL season by visualizing a game or situation as a picture.
The Wild goaltender who's suddenly in the thick of Minnesota's playoff push, speaks about the philosophy often. Dubnyk creates the smallest picture he can in his mind, reducing his focusing to manage moments, no matter how big.
Dubnyk's little pictures have helped Minnesota's playoff picture.
"The smaller you can make it, the easier it is to not really think," Dubnyk said Monday as the Wild returned home following a three-game sweep on the road. "You look at the standings. Now, obviously, we need every win that we can get, especially the Calgary, Vancouver games, those were big games. But if you approach the game and think, 'Oh my god, we have to beat these guys in regulation.' It's just not a good way to be successful. It's not a good approach. So if you can knock it right down to a push and a stop, and beating a play, then it helps."
Winning three straight road games following the all-star break has helped Minnesota see the playoff picture a little more clearly. The Wild earned wins at Edmonton, Calgary and Vancouver behind Dubnyk's play in net and the team trails Calgary by five games for eighth place in the Western Conference heading into Monday night's contest.
Dubnyk, who was named the NHL's third star of the week for his work, was 3-0-0 with a 1.00 goals-against average, a .967 save percentage and a shutout in the three road games. He's started all seven games for Minnesota since being acquired in a trade from the Arizona Coyotes, going 5-1-0 with a 1.71 goals-against average and .935 save percentage.
Not coincidentally, the Wild are 5-1-1 in the seven games with Dubnyk after losing 12 of 14 games previously.
"It's a huge boost confidence-wise," head coach Mike Yeo said of Dubnyk's play. "You look back at all three games and both teams are getting opportunities to start the game and obviously him making critical saves and giving us the opportunity to grab the lead. I think that we've done a decent job this year a lot of times battling back. But it does get difficult when you do it over and over again. I think him giving an opportunity to get that first goal in those games, especially on the road, was very important for us."
Dubnyk had his second shutout with his new team in beating Calgary, which helped narrow Minnesota's deficit behind the eighth-place Flames. On Sunday the Wild were outshot 37-20 by Vancouver, but pulled out a 4-2 victory, marking just the second time in franchise history Minnesota swept a three-game trip through Edmonton, Calgary and Vancouver in 12 attempts.
In no small way have Dubnyk's mental pictures played a role.
He was in the middle of a comeback season as a backup in Arizona when the Wild sent a third-round pick to the Coyotes for him on Jan. 14. Dubnyk was 9-5-2 with a 2.72 goals-against average and .916 save percentage in his first season for Arizona.
Dubnyk had a trying 2013-14 season. Originally a first-round draft pick by the Edmonton Oilers, Dubnyk struggled to a 3.36 goals-against average and .894 save percentage, his lowest marks since a 19-game debut as a rookie in 2009-10. He was traded to Nashville and played in just two games for the Predators.
A few months in Arizona helped restore his game and confidence. Focusing on the small pictures, Dubnyk is enjoying his renewed approach and, hopefully, a playoff run.
"Not that you ever want to have to go through that in order to make you feel good, but it certainly adds . . . after going through last year, every win this year right from the start of the year has been that much sweeter," Dubnyk said. "It's just motivation. I've said before, it's always something that I can go back to when maybe things aren't going so well or I'm not feeling good. It's easy to go back to that and say, 'Hey, look where you were before and you got out of it.'"
Dubnyk had a shutout in his first game and Minnesota started to find itself in front of him.
"You try not to change the way you play, but I think we did," forward Zach Parise said of the team before Dubnyk arrived. "Whether we knew it or whether we didn't, all of a sudden I thought we were playing very passive. We weren't attacking offensively. However you describe it, at the same time we were giving up a lot of quality chances. I don't know what. We couldn't find the balance. Hopefully we can get back into that groove and play confident on both sides of the puck."
A new arrival can inject energy into the locker room. Dubnyk's play and attitude has rubbed off on his teammates.
"He's been playing the games with an air of confidence and I think that's filtered into the rest of the group," Yeo said. "And I believe that our whole team is playing with a different confidence right now. Thinking about confidence, I feel like we've earned it. We were working towards it. It was not easy for it to come to us. But now that we have a little more confidence, it can slip away from you just as fast. So we have to make sure we continue to work for it."
Little picture by little picture, Dubnyk and the Wild continue to work.
Follow Brian Hall on Twitter
---