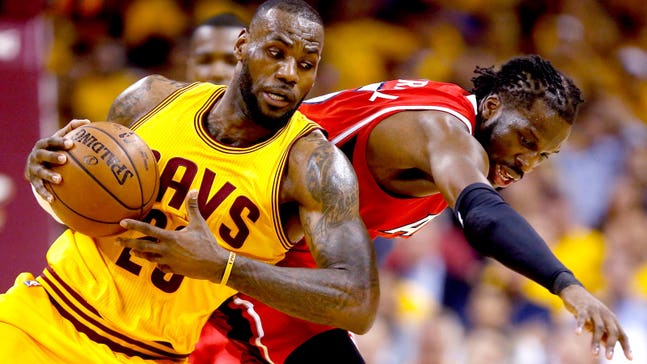 Dribbles: Despite the constant chatter, Cavs advance
Published
May. 27, 2015 3:06 a.m. ET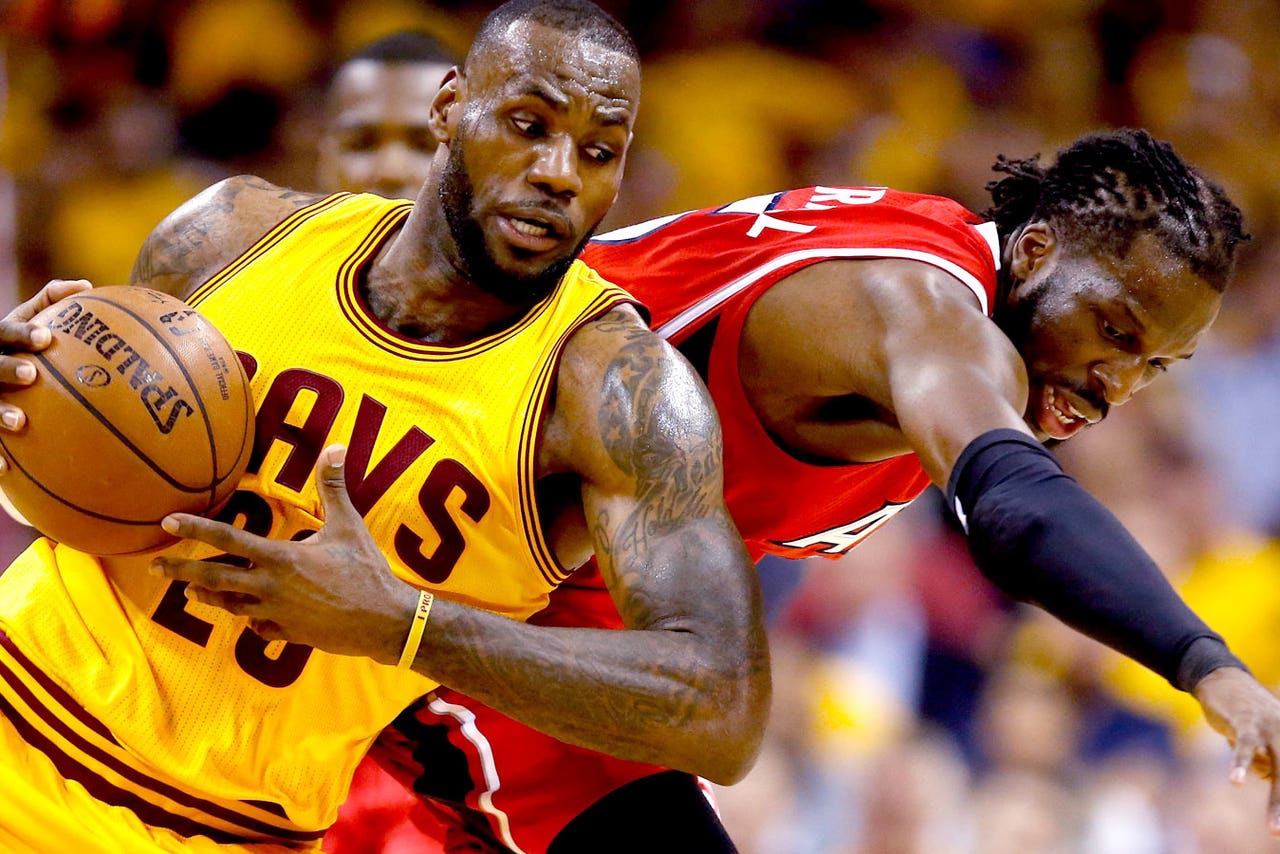 CLEVELAND -- Random dribbles from the Cavaliers' 118-88 victory over the visiting Atlanta Hawks in the Eastern Conference finals Tuesday:
1. Three series, two sweeps, and a 12-2 postseason record overall. How ya like that, Cavs fans?
2. This was the easiest of the bunch, as the Hawks led for a whopping 20 seconds. It was over at the end of the first quarter. It was 48 minutes of garbage time. It was Kyrie Irving returning after a two-game absence and the Cavs at their finest.
3. The Cavs are the first team to reach the Finals this season. For the Cavs and their fans, that has to feel good just to say. Think about all this team has been through. Think about all the rumors and allegations thrown the Cavs' way. Think about the 19-20 start, the constant chatter surrounding coach David Blatt, the talk of LeBron James losing a step.
4. Think about Anderson Varejao (remember him?) getting injured and being out for the season, then Kevin Love being out for the postseason. Think about how this team started the year with Dion Waiters, then Shawn Marion, then someone else, at shooting guard. Then about how this team had James -- yet nothing seemed to click.
5. Think about all that, then think about how good this must feel for the Cavs. They might not be the type to say, "I told you so," at least not until they win a championship. But I do remember LeBron begging fans to "relax" on Twitter. It really was that bad. The star of the team had to tell fans to calm down. That's how much noise (and nonsense) has surrounded this team.
6. LeBron broke it all down: "To see us at 19-20 and watching my team struggle and me sitting out two weeks (with injuries), they wanted Coach Blatt fired, said we needed another point guard ... So many storylines were happening. For us to be sitting here today, representing the Eastern Conference in the Finals, this is special. It's very special."
7. Then a lot of things went right after general manager David Griffin pulled two midseason trades. He shipped out Waiters and some draft picks, and brought in J.R. Smith, Iman Shumpert and Timofey Mozgov. And by "things went right," I mean the Cavs simply dominated. Credit the trades, the good health of James, and the likes of Irving and Tristan Thompson finding their way. Just when it seemed like everything would fall apart, the Cavs came together.
8. Blatt had a little something to do with that, too. People hate to admit that. Too many fans question his every move, his every motive, his every substitution and starting lineup. They really want to believe James doesn't want to play for him, or that Blatt will eventually be exposed for being something other than extraordinary coach. Why? Because he doesn't coach the team like they would. Instead, he coaches it like a winner.
9. So, can this Cavs team win a championship? They'll play either Houston or Golden State -- probably the latter, actually. The Warriors are the opposite of the Cavs in the eyes of the basketball-loving public. They have a really cool and exciting superstar Stephen Curry, a really cool and fun-loving coach in Steve Kerr, and if you ask me, some pretty cool uniforms and team colors, too.
10. The Warriors are also remarkably explosive. They play pretty, unselfish and electrifying basketball. They don't give up leads (they're 53-0 when up by at least 15 points) and they can come back in the swish of a 3-pointer (they recently beat New Orleans despite trailing by 20 points entering the fourth quarter).
11. LeBron on the Cavs' chances: "I cannot guarantee anything. I can't guarantee the championship. That's not what I'm here for. I'm here to lead. But I will guarantee we will play our asses off. We will from the first minute to minute 48, or if it's overtime, minute 53. We will do that. At the end of the day, that's all I can ask for. That's all we can give."
12. For the record, I'm not guaranteeing anything, either. I will say if the Cavs defend and rebound like they've done lately, they'll have a great shot. The Warriors are superior offensively to any team the Cavs have faced in the playoffs. So are the Rockets, for that matter.
13. But neither has seen a defense like the Cavs. Neither has seen a guy who chases down offensive rebounds like Thompson. Neither has faced anyone as annoying (in a good way) as Matthew Dellavedova. And neither has a superstar with the Finals experience of LeBron James.
14. Still, all that talk is for another day. All that talk will eventually turn into the real thing, and will only be proven on the floor, in a best-of-seven series. Other than that, it's all just talk. And guess what? When it comes to this Cavs team, talk and Twitter and fan reaction (and overreaction) do not matter. These Cavs are here, and being here is proof enough that they belong.


---