Dramatic finishes a trademark of both Arizona and Arizona State
BY foxsports • November 25, 2014
TUCSON, Ariz. -- A Hail Mary (or two). A missed kick as time expires -- and redemption a few weeks later. Comebacks. Overtime.
Close calls and thrilling wins have marked the Arizona and Arizona State seasons, as the rivals have mostly sidestepped the traps of the Pac-12 conference to arrive at the intersection of an epic Territorial Cup on Friday in Tucson.
Somebody's magical season has to end in disappointment.
The Wildcats are 9-2 overall, 6-2 in the Pac-12, having gone 5-1 in games decided by a touchdown or less. The Sun Devils are 9-2 overall, 6-2 in the Pac-12, including a Hail Mary victory over USC on Oct. 4 that nicely matched Arizona's Hail Mary win over Cal two weeks earlier.
In case you learned nothing from ASU punter Mike Schuh dropping the snap in the final seconds of the 1987 game against Arizona -- or, if you prefer, ASU blocking two late extra points in 2010 -- you'd be well advised to avoid turning off this game early.
"A little bit of it is luck -- you have to have things go your way -- but a lot of it is belief," said Arizona senior safety Jared Tevis, explaining his team's season on the edge. "Belief and hope, man. That's big. You can't win if you don't believe."
With the Arizona-Arizona State winner still alive in the Pac-12 South race -- pending the result of division-leading UCLA's home game against Stanford, which kicks off at the same time as the Territorial Cup (1:30 p.m. MT) -- each team can play both sides of the "what if" game.
What if Arizona's conference opener hadn't ended in a 47-yard pass to Austin Hill to cap a 36-point fourth quarter and a 49-45 win over Cal? On other hand, what if Casey Skowron had converted a late 36-yard field goal against USC in a 28-26 loss?
What if Arizona State hadn't scored 20 points in the final four minutes at USC, capped by a 46-yard pass to Jaelen Strong against a confused Trojans defense? On the other hand, what if Taylor Kelly hadn't thrown a pick-six in the final two minutes of a 35-27 loss at Oregon State?
"I stay away from 'what ifs,'" Tevis said.
"I just focus on the next play, the next series, on what we have to do. As a defense, I get our guys together and just say, 'We need this stop. Let's not think about anything except getting this stop right now.' That's what it's all about. If you stay focused on the next play, you can pull some great things out."
For the Wildcats, coach Rich Rodriguez's mantra has been "60 minutes of Arizona" -- a mindset of playing to the final play and wearing down the other team. For the Sun Devils, coach Todd Graham has touted his team's character since preseason camp, a carryover from the Pac-12 South-winning team of 2013, a season that included a miracle non-conference win over Wisconsin.
ASU is 6-1 in games decided by seven points or less since rallying to beat Arizona 41-34 to end the 2012 regular season. Before that, the Devils were 6-16 in such games since the 2007 season.
"These guys are winners," Graham said after Zane Gonzalez kicked a 36-yard field goal to beat Utah 19-16 in overtime on Nov. 1 -- a game-winner that came after Utah's normally automatic kicker Andy Phillips missed from 35 yards out.
"When you win close games, it makes you better," Graham said. "When we beat Wisconsin last year, that game really helped us. It builds characters and belief. It helps the team tremendously down the line because when you win an overtime game it helps you win the next overtime game. There is no substitute for experience, and there is no teaching experience in winning close football games. You cannot be a champion without winning the close games."
While Graham delivered a division championship ahead of schedule in his second season, Rodriguez has loosely followed the four-year rebuilding map espoused by one of his coaching mentors -- Bobby Bowden. Lose big, lose small, win small, win big.
Arizona often has won small in RichRod's third season.
"We've won a lot of close calls," Rodriguez said. "I'm not predicting about winning big next year, though, there are too many good players coming back (in the Pac-12). But it's played out that way, for sure."
Just as ASU matched Arizona's Hail Mary victory, the Wildcats "answered" Gonzalez's game-winning kick with Skowron's 47-yarder to beat Washington 27-26. Arizona should have never even had that chance, but the Huskies coughed up the football on a handoff in the final two minutes, when taking a knee could have nearly run out the clock.
It's been that kind of season, for both teams, really.
"They really believe in what we're doing, and that's why I've got such great confidence in them," Graham said Tuesday. "What these guys have accomplished this year is remarkable, and the growth they've had -- I don't think I've ever had a team that's grown as much as this team has in just about every area."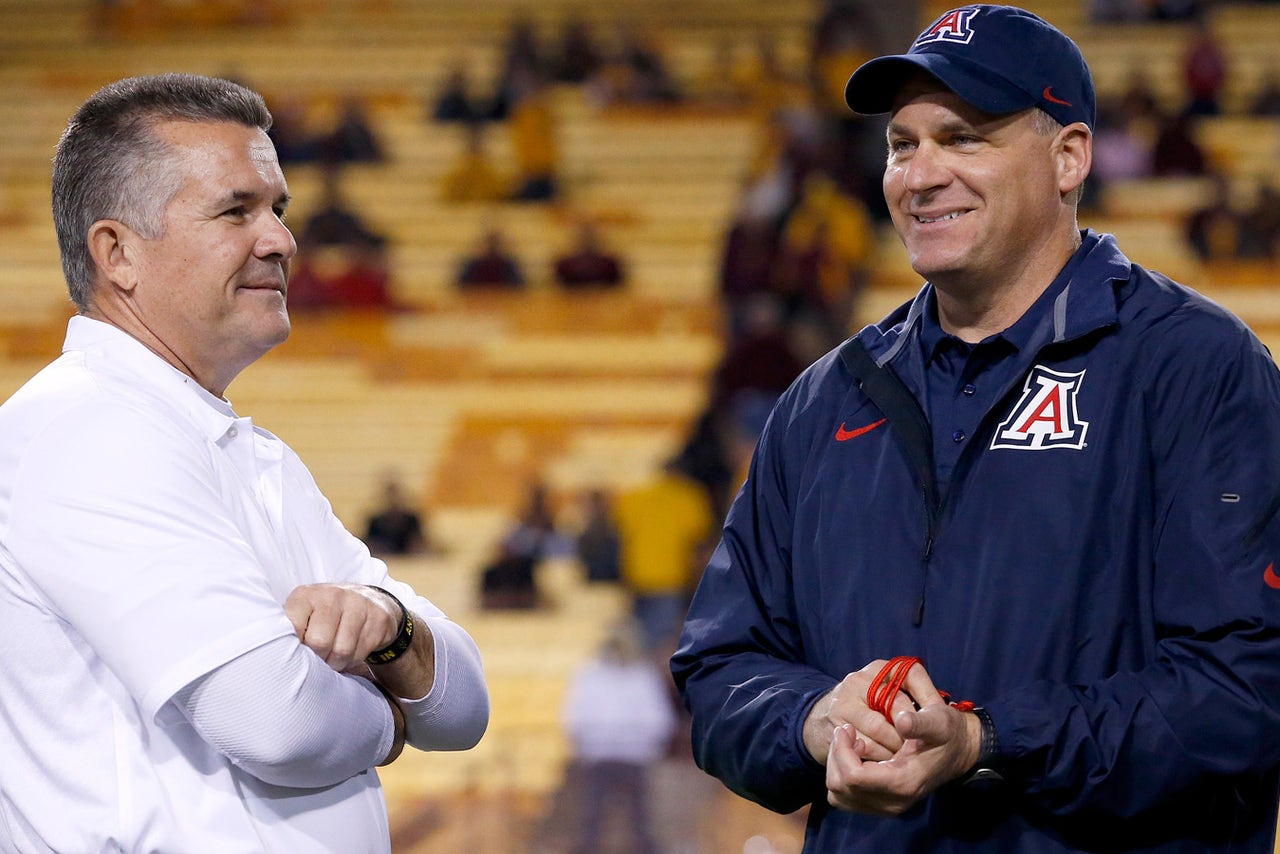 ASU (9-2) at ARIZONA (9-2)
When: 1:30 p.m. Friday
Where: Arizona Stadium, Tucson
TV: FOX (Tim Brando, Joel Klatt, Jenny Taft)
Related: Perspectives vary, until the uniform goes on
Which helps lead us, improbably and wonderfully, to this Territorial Cup.
The state rivals are meeting as ranked teams for the first time since 1986 and with at least nine victories each for the first time since 1975, back in their WAC football days.
Each of those games produced arguably -- well, inarguably, really -- the greatest plays in respective school history -- Chuck Cecil's 106-yard interception return for Arizona in 1986, and "The Catch" from ASU's John Jefferson in 1975.
A meeting of two, talented, strong-willed Arizona and Arizona State teams can produce only one winner.
The memories, though, can last a lifetime.
Follow Anthony Gimino on Twitter
---