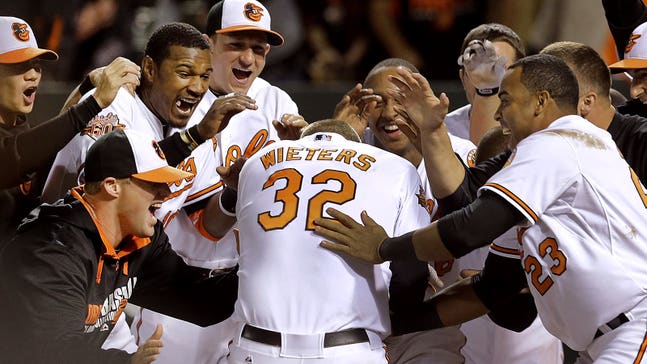 Dr. James Andrews clears Wieters
Published
May. 7, 2014 6:43 a.m. ET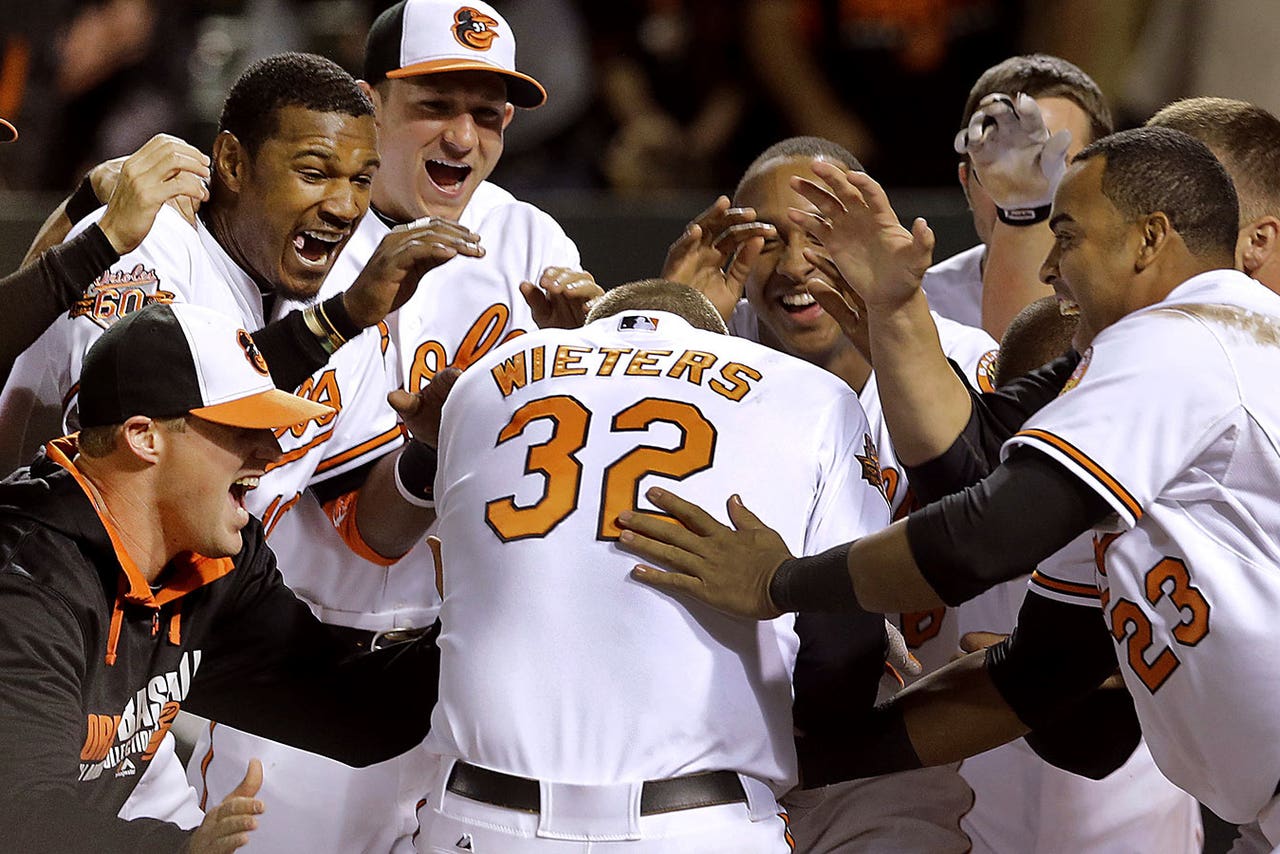 Update 2 PM EST: good news for Wieters from Dr. J!
Tommy John surgery for a catcher? Possibly. Orioles C Matt Wieters will see noted orthopedic surgeon Dr. James Andrews on Wednesday for an exam on his right elbow, which has experienced soreness (preceded by forearm soreness) for a couple of weeks.
The O's haven't offered many specifics about Wieters' injury, so we might have to wait another day or two for the results - Buck Showalter is apparently hoping that Wieters will be back to Tampa in time for tonight's game. Keep your fingers crossed if you own Wieters.
On to the rest of the news:
Reds OF Billy Hamilton (knuckles) made a pinch-hitting appearance on Tuesday, and is still day to day because he's having trouble swinging the bat. When asked Tuesday about a DL stint for Hamilton, Reds GM Walt Jocketty said, "Not yet. I don't know who we'd replace him with." Stay tuned.
Ernesto Frieri gave up a run in a tie game on Tuesday against the Yankees, and he might not have his closer job back just yet. Apparently, Joe Smith was preparing to close out Monday's win before throwing up, causing the Angels to switch to Frieri. Mike Scioscia still wants Frieri to get the job back, but Monday's circumstances probably weren't the sign that it's already happened.
Streaming starters: Robbie Erlin was pretty good on Tuesday, raising our record to 23-13 for the season. Today's pick is Colby Lewis (owned in 2.2 percent of FOXSports.com leagues) versus the Rockies, while Thursday's selection is Drew Smyly (20.9 percent owned) against the Astros.
Twins 1B Joe Mauer (back spasms) appears to be "at least a couple of days away" from returning to the lineup, according to the Minneapolis Star Tribune.
Reds' closer Aroldis Chapman gave up five runs in a Tuesday rehab appearance, but he came through it healthy, and is still hoping to return this weekend. If Chapman able to pitch today without incident, prepare to activate him.
Aaron Loup got Tuesday's save for the Blue Jays. I still think it's a committee until Casey Janssen returns.
Indians OF Michael Bourn (hamstring) hopes to return to the lineup in a couple of days.
Today, Yasiel Puig? Maybe.
Rays SP Alex Cobb (oblique) could return before the end of this month. A couple of my fantasy teams are very excited about this news.
Doubleheader alert: The Mariners and A's get their twinbill underway at 3:35 p.m. ET. There are six afternoon games today, so set your lineups early.
White Sox DH Adam Dunn is day to day with a bruised calf.
Braves SP Ervin Santana is expected to start Saturday after getting skipped on Tuesday due to a bruised thumb.
Phillies SS Jimmy Rollins (groin) is hoping to return to the lineup today, even if it's as a DH in Toronto.
Cubs RP Pedro Strop left Tuesday's game with a groin injury, and will have an MRI today. Hector Rondon should be in the driver's seat for Cubs' saves for as long as Strop is out.
Cameron Maybin's stomach ache kept him out of Tuesday's lineup for the Padres, and his status for today is TBD.
See you back here tomorrow morning.
---