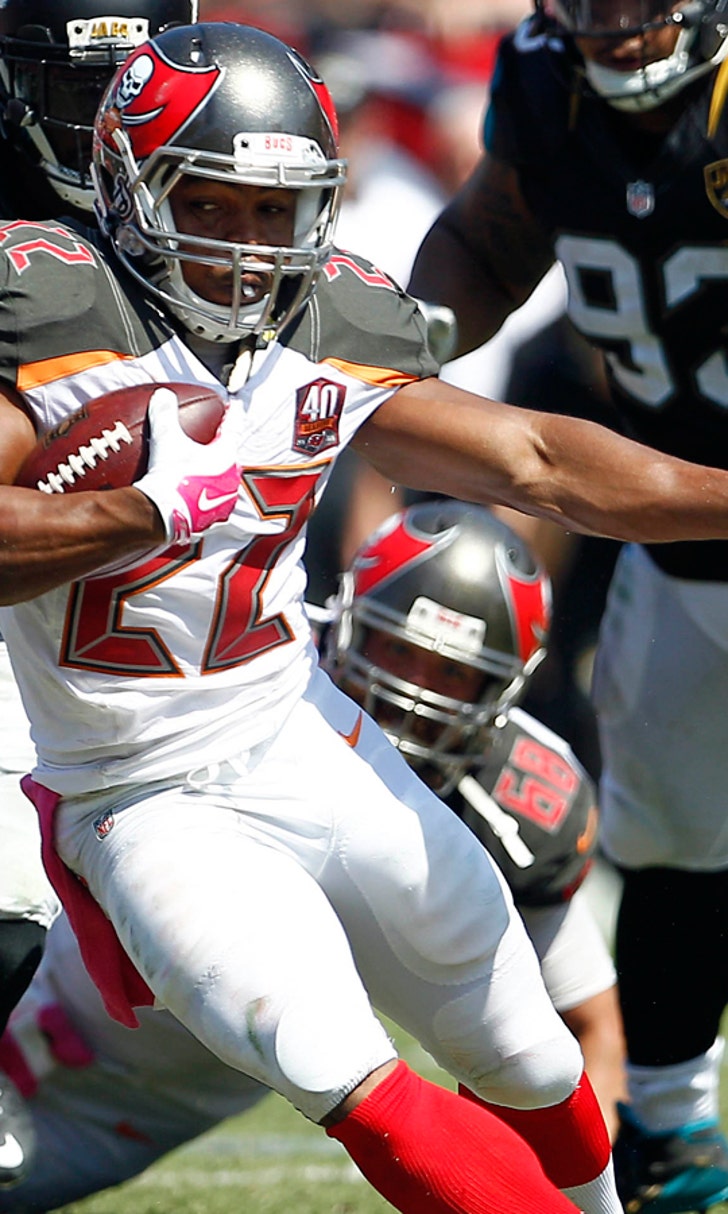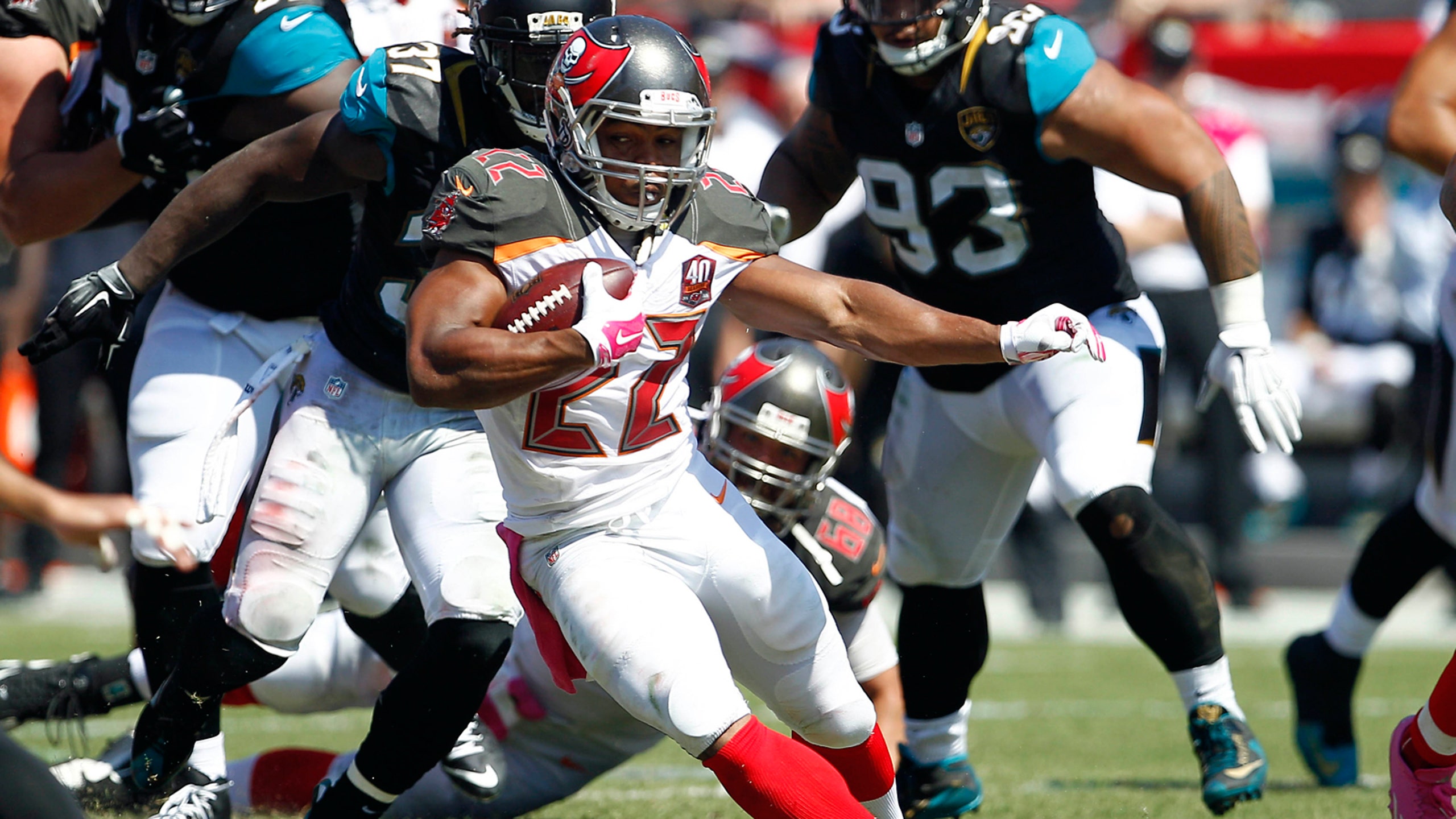 Doug Martin's 3 TDs help Buccaneers top Jaguars to snap home losing streak
BY foxsports • October 11, 2015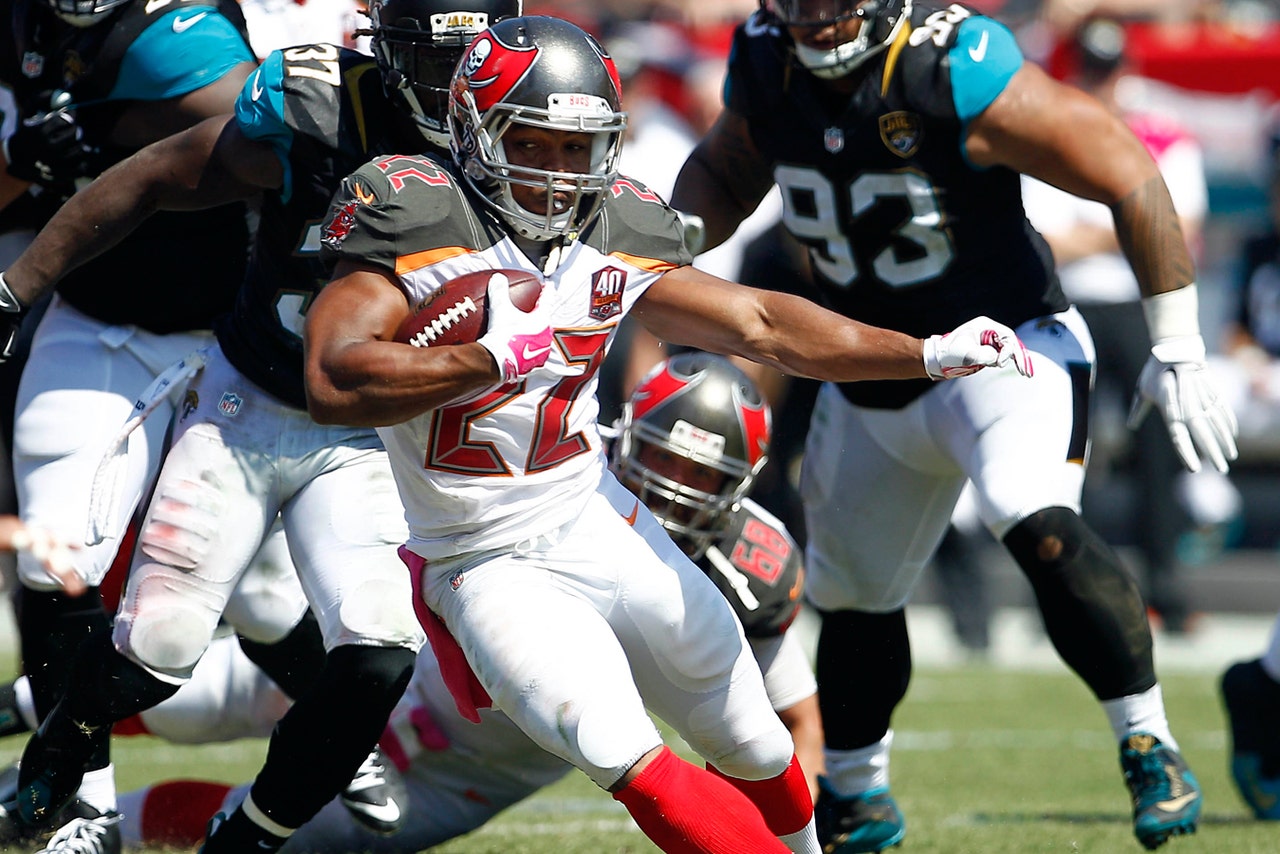 TAMPA, Fla. (AP) -- Lovie Smith's fingerprints were all over Tampa Bay's first home victory in nearly two years.
The Buccaneers ran the ball with authority, young quarterback Jameis Winston didn't make any costly mistakes, and an improving defense did its part, too, in Sunday's 38-31 victory over the Jacksonville Jaguars.
"This was just smash-mouth football. We lined up in two-tight end formations, two-running back formations and pounded that football," Winston said. "And when you are able to force your will upon somebody else, and you've got a running back that's just getting 4 and 5 yards and then popping one for 20, that's great football."
When Smith took on the challenge of turning around a struggling franchise, he promised the Bucs would win by running the ball, playing solid defense and getting smart play from their quarterback.
He's especially committed to the formula after going 2-14 in his first season in Tampa Bay and drafting Winston No. 1 overall this year.
Doug Martin ran for 123 yards and three touchdowns, helping the 21-year-old quarterback rebound from his worst performance. And it helped the team snap an 11-game home losing streak that dated to December 2013, the same month the Jaguars (1-4) began an equally agonizing road skid that now stands at 12.
Winston threw for 209 yards and one touchdown without an interception, redeeming himself after turning the ball over five times in a 14-point loss to Carolina the previous week.
"We realized this past week that you can't win football games unless you protect the ball," Smith said. "It's about ball security on the offensive side. Jameis and the rest of our crew did that."
Blake Bortles passed for 303 yards and four TDs, but was sacked six times and also threw an interception that set up a Bucs touchdown. The Jaguars gave up a 58-yard punt return that led to Martin's 10-yard TD reception, and rookie Corey Grant lost a third-quarter fumble that defensive end Jacquies Smith returned 3 yards for a score that put Tampa Bay ahead for good.
"This one is painful. It's on all of us, players, coaches, and we've got to take full responsibility for what went on out there. That wasn't our best, and it's not acceptable," Jaguars coach Gus Bradley said.
"I'm hoping this setback shocks us to get things right," Bradley added. "I believe in these guys. They're capable of better."
Martin, hindered by injuries the past two seasons, also scored on a pair of 1-yard runs. He averaged 5 yards per carry on 24 attempts and had three receptions for 35 yards.
Bortles threw TD passes of 13 and 15 yards to Allen Robinson, the latter trimming Tampa Bay's lead to 38-31 with 1:05 remaining. Bucs receiver Vincent Jackson recovered the ensuing onside kick, and Winston kneeled twice to run out the clock.
The Bucs won for the first time at home since beating Buffalo 27-6 on Dec. 8, 2013, one week after Jacksonville last won on the road, 32-28 at Cleveland.
The Jaguars rallied from 13 points down to take a 24-20 on Bortles' 4-yard TD pass to T.J. Yeldon, but couldn't finish the job for the second straight week.
Jacksonville lost 16-13 to Indianapolis in overtime after missing potential game-winning field goals in the fourth quarter and extra period.
Bortles also threw a 12-yard TD pass to Allen Hurns and finished 23 of 33 with one interception. Falling behind early forced the Jaguars to abandon the running game, which produced just 55 yards on 17 attempts.
Winston completed 13 of 19 passes and made it through a home game for the first time without throwing an interception that was returned for a touchdown. He was sacked twice.
"It's my job to take care of the ball," Winston said. "I made a lot of really simple decisions today, and the running game was amazing.
"When I'm making the right decision and not turning the ball over, you see how productive our offense can be."
NOTES: TE Julius Thomas made his debut for Jacksonville, playing for the first time since breaking his right hand in the Jaguars preseason opener. He had two catches for 20 yards. ... Since 2011, the Jaguars are 0-30 when losing the turnover battle. ... As part of the Bucs' breast cancer awareness initiative, U.S. Air Force captain Joshua Gunderson was flown home for a surprise visit with his mother, Bucs honoree Reina Campbell, who is battling cancer.
---
---