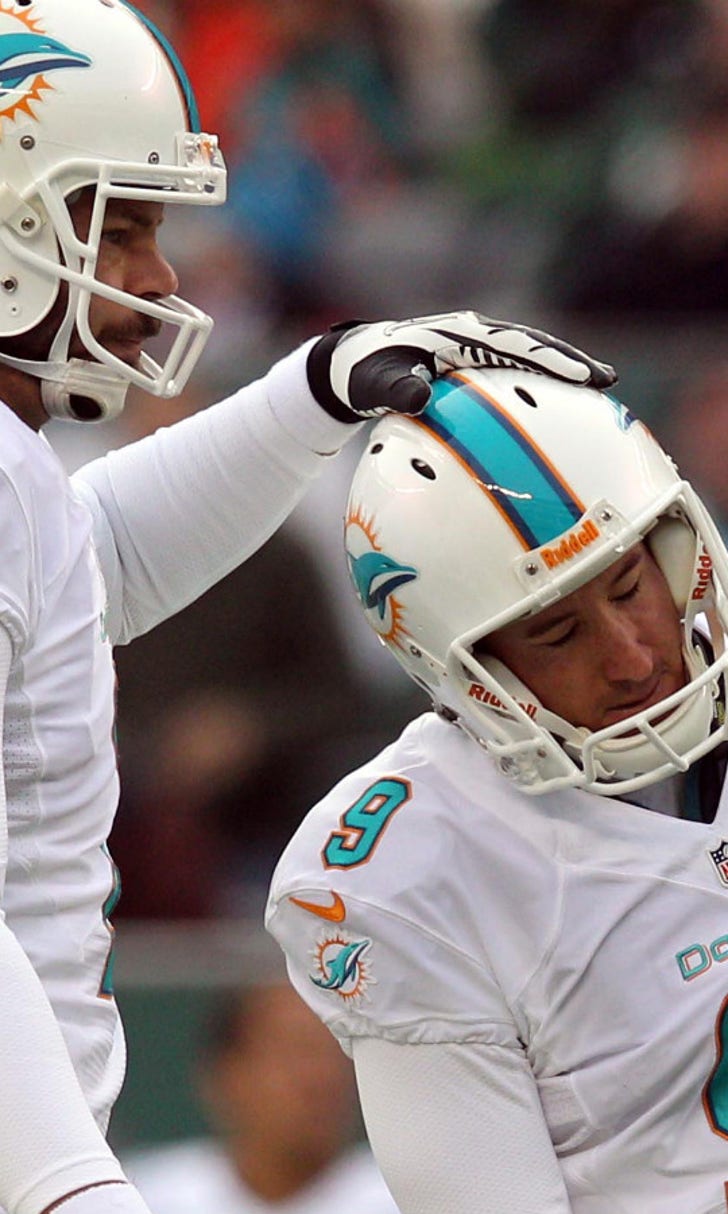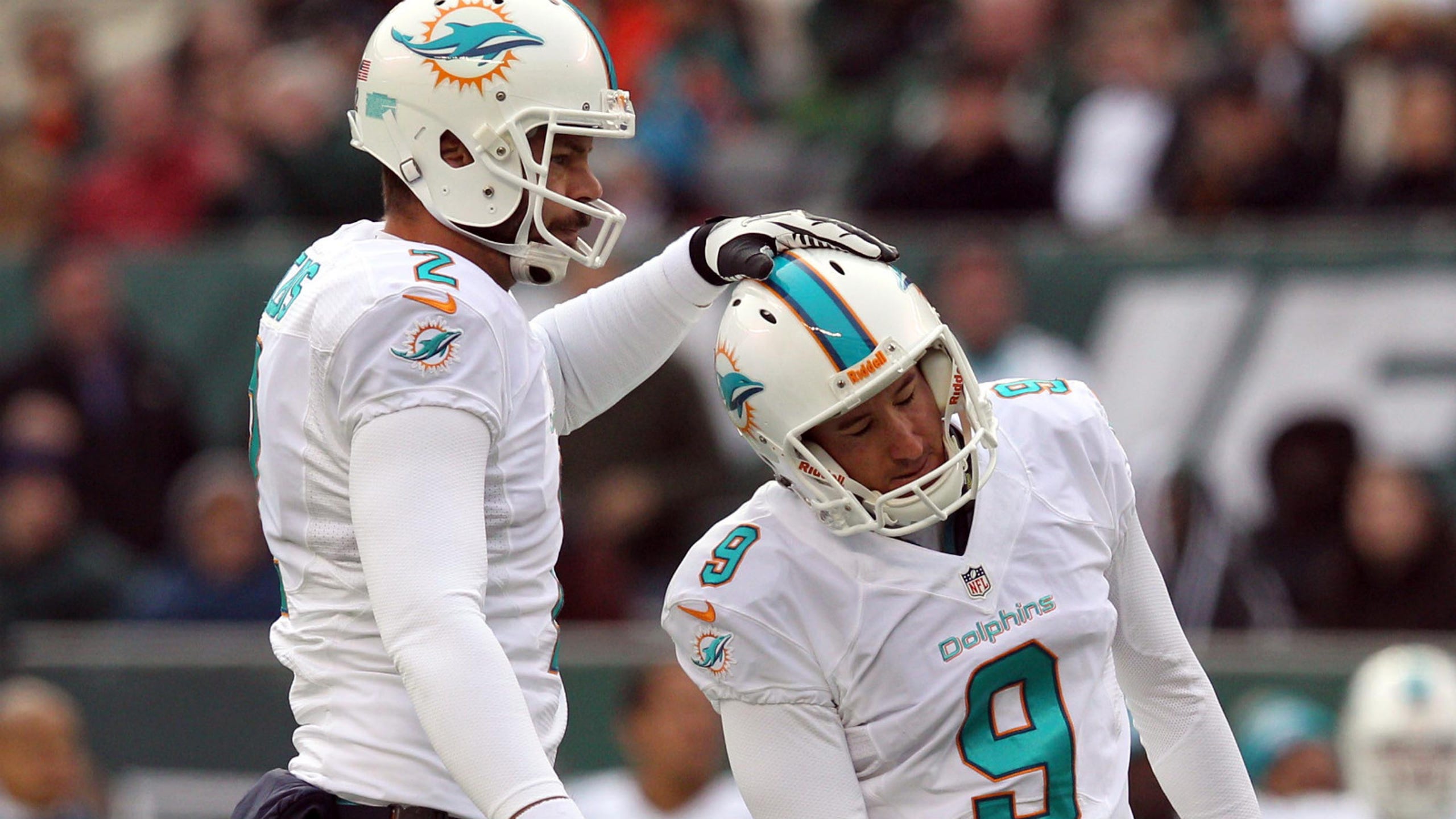 Dolphins special teams unit not so special in 2013
BY foxsports • February 19, 2014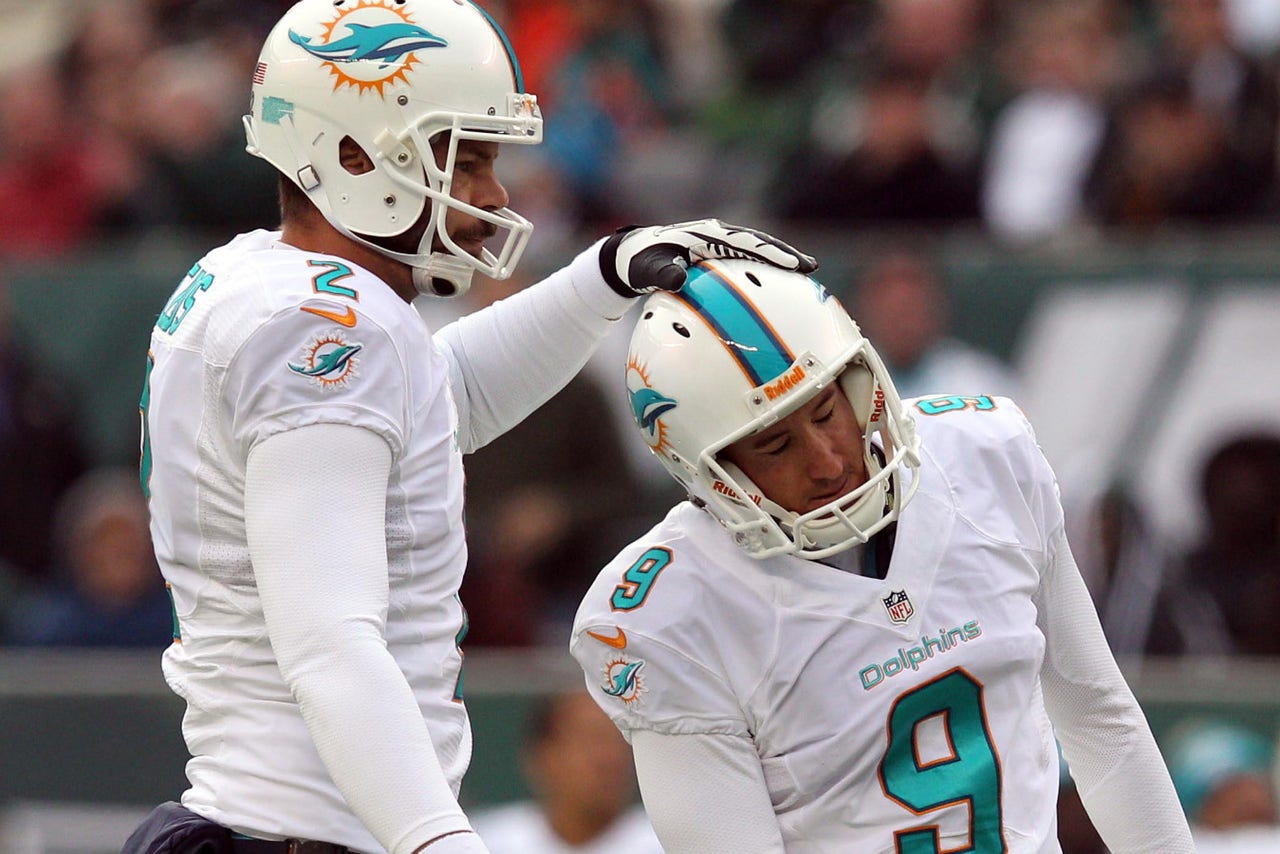 When a team finishes 8-8 and misses the playoffs, its offense and defense get scrutinized.
Special teams? Usually not so much, though any good coach or player knows how vital a kick, punt and return game can be to a team's overall success.
Miami's special teams unit in 2013 was just like the Dolphins overall -- mediocre. There were good things on which to build, and issues that need to be addressed.
Some aspects of the special teams were affected by the offense's or defense's deficiencies. Miami's struggles in the red zone, for example, helped contribute to the Dolphins being one of seven teams that attempted more field goals than extra points after touchdowns.
A veteran punter was exceptional. A rookie kicker struggled at times. The return game was nothing special.
Here's a closer look at the key special teams players in 2013.
PUNTER
Brandon Fields -- In his seventh year with Miami, Fields was second in both punting average (48.8 yards) behind Oakland's Marquette King (48.9) and in net punting average (42.4) behind St. Louis' Johnny Hekker (44.2).
His 85 punts -- seventh-most in the league -- included seven touchbacks, 33 inside the 20 and a long of 74 yards. Fields hasn't had a punt blocked since 2010. A combination of leg strength and accuracy helped earn Fields his first trip to the Pro Bowl.
Fields is due to earn more than $3 million in 2014 -- a high salary for a punter. Reworking the contract to avoid the cap hit might be a possibility.
KICKER
Caleb Sturgis -- The Dolphins made the unusual move of selecting a strong-legged kicker in the fifth round of April's draft. For that reason, plus Dan Carpenter's salary, Sturgis unseated the incumbent during training camp.
The rookie from Florida struggled, especially from outside 40 yards. He finished 26 of 34 overall (76.5 percent), good for 29th in the league.
Sturgis was perfect inside 30 yards, but went 10 of 12 from 30-39 yards, 8 of 10 from 40-49 yards and 3 of 7 from 50 yards and out. He had one kick blocked. His 74 kickoffs included 38 touchbacks and 35 returned for a 23.2 average.
PUNT AND KICK RETURNER
Marcus Thigpen -- Thigpen's return numbers in his second season with Miami were down from 2012, when he averaged 27.4 yards on kicks returns and 12.2 on punt returns. He had scored a touchdown in each.
This past season, Thigpen averaged 22.5 yards (18th) on 39 kickoff returns. His longest was a 50-yard return. He averaged 7.8 yards (19th) on 34 punts with 20 fair catches. His longest return was for 34 yards.
Opposing kickers and teammates' blocking obviously play a part in a returner's productivity, but Thigpen also needs to take some blame for his decreased numbers. The former Canadian Football League star certainly has explosive moves. The Dolphins need him to display them more often in 2014.
LONG SNAPPER
John Denney -- Denney, the team's longest-tenured member, has been Miami's long snapper since 2005. He has not missed a game in his nine seasons.
When a long snapper makes news, that's usually not good. Such was the case on a field-goal attempt in Miami's home game against New England on Dec. 15. Denney snapped the ball even though holder Fields was looking back at Sturgis. The ball hit Fields in the helmet and bounced away from the Dolphins. The Patriots recovered the fumble and eventually won the game 24-20.
Denney signed a contract extension through 2016 before this past season.
BEST DRAFT OPTIONS
The selection of Sturgis last season was unusual. As with most teams, the Dolphins hope players they select for other needs can also contribute on special teams.
FINAL THOUGHT
Fields and Denney are solid. Expect Sturgis to improve from long distance. Miami special teams coach Darren Rizzi needs to put together a return unit that can help Thigpen find seams and burst through.
You can follow Charlie McCarthy on Twitter @mccarthy_chas or email him at mac1763@bellsouth.net.
---