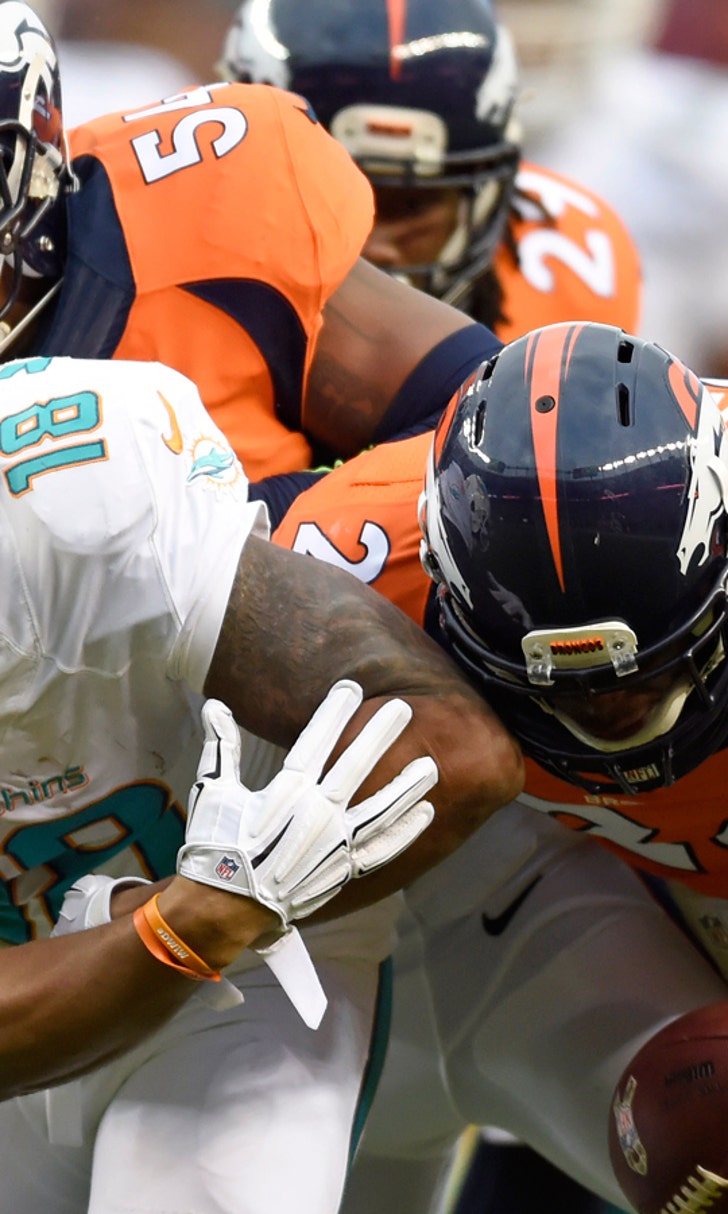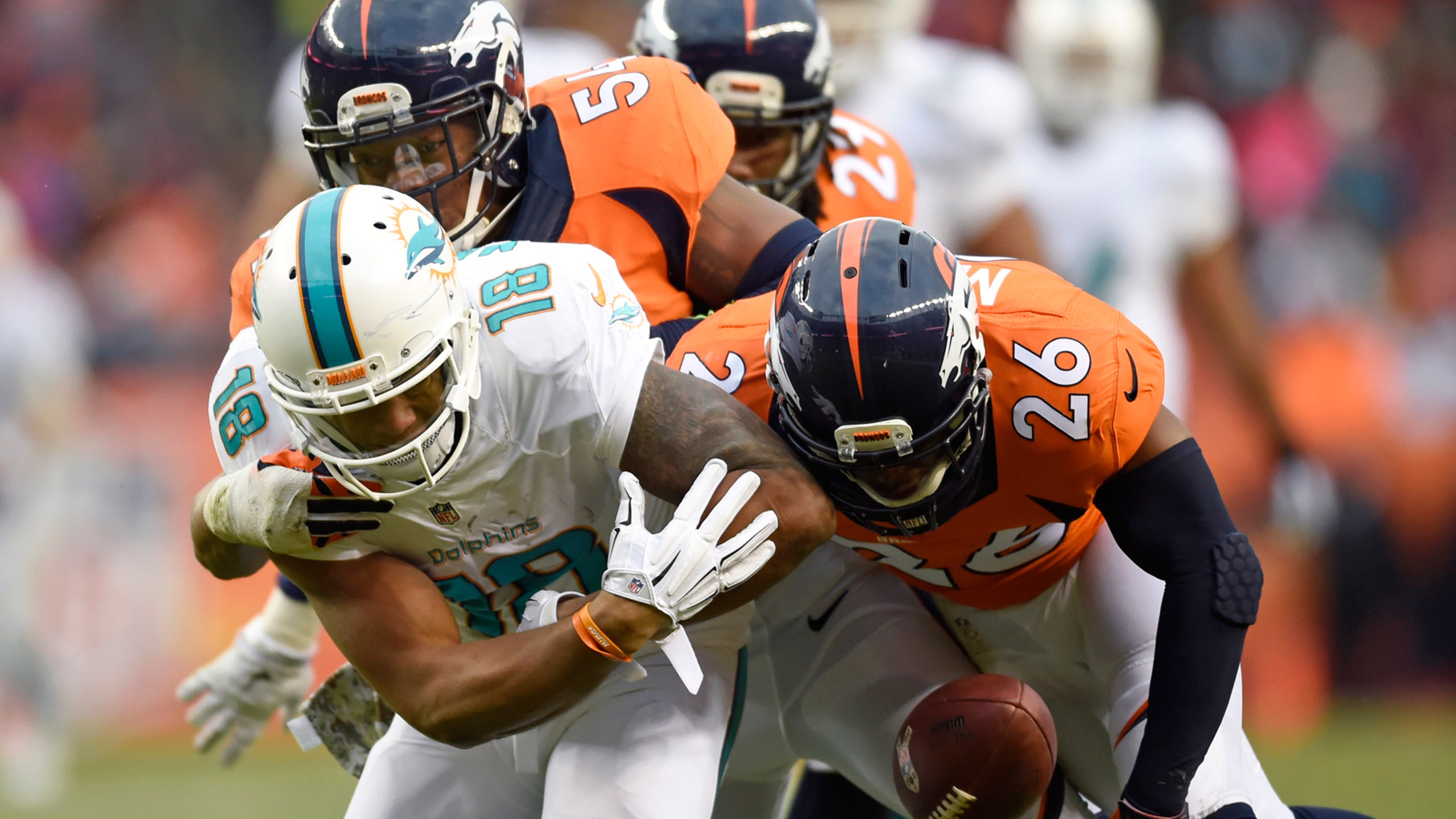 Dolphins observations: Miami watches as prime opportunity slips away
BY foxsports • November 23, 2014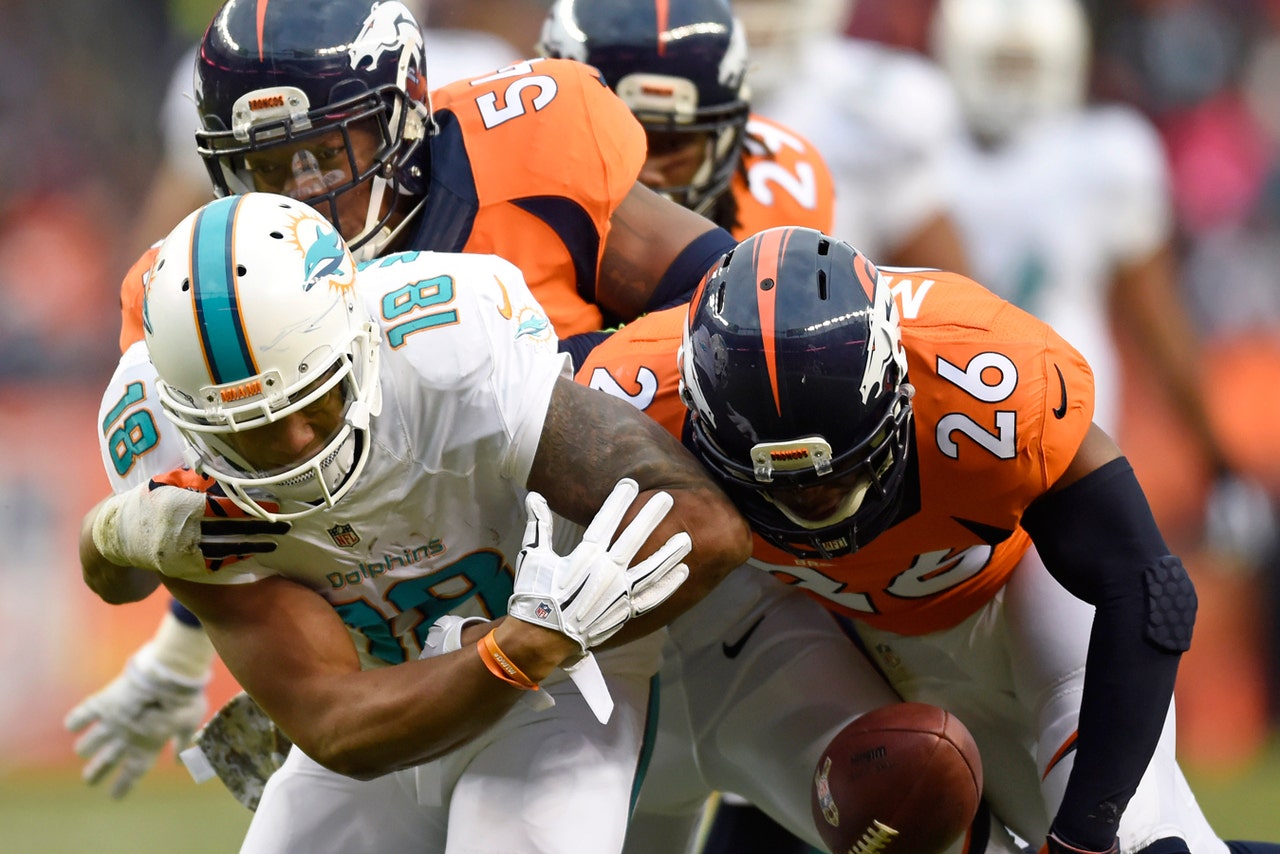 The Miami Dolphins let this one get away from them.
Building an early 21-10 as a light snow fell within the chilling confines of Sports Authority Field in Denver, the Dolphins went on to blow an 11-point lead in the fourth quarter in a 39-36 loss to the now AFC West-leading Broncos.
With Miami unable to get any key stops on defense down the stretch, the Broncos scored 21 straight points in the final quarter before the Dolphins scored a late touchdown.
The 39 points were the most allowed this season by Miami's normally stalwart defense.
With the loss, the Dolphins fall to 6-5 and a game behind in the AFC wild-card race. Most likely needing at least 10 victories to make the playoffs, the Dolphins will need to go 4-1 in their final five games.
Here are a few thoughts from the Dolphins' Week 12 loss to the Broncos ...
1. No pressure on Peyton.
For as good as Cameron Wake and Miami's front four have been this season, Broncos quarterback Peyton Manning remained untouched and upright for the majority of Sunday's game.
Entering their Week 12 matchup with 30 sacks on the season, the fourth-highest total in the league, the Dolphins sacked Manning just once while leaving the future Hall of Famer with plenty of time to work in the pocket and find his receivers.
Playing without injured tight end Julius Thomas, who has reeled in a team-leading 12 touchdown catches this season, the Broncos offense didn't skip a beat as Manning found wide receiver Demaryius Thomas for three scores.
Manning finished the game with 257 yards on 28-of-35 passing with four touchdowns and no interceptions. His record improved to 8-0 following a loss during his time with the Broncos.
2. Jimmy Wilson needs a short memory.
Though Manning did most of the damage to the Dolphins secondary, Wilson hurt his team's own cause quite a bit.
Guilty of three head-scratching and unnecessary penalties, the Dolphins safety was flagged for a horse collar tackle, unsportsmanlike conduct and illegal use of the hands during the game.
His horse collar tackle on Broncos wide receiver Emmanual Sanders on third down during the second quarter gave new life into what would become Denver's first touchdown of the day.
Gifting the Broncos offense 15 yards on the penalty, Manning eventually found Thomas for a 5-yard touchdown to cut Miami's lead to 14-10.
3. Dolphins secondary getting thinner.
Already without cornerback Cortland Finnegan, who has missed the past two weeks with an ankle injury, Dolphins cornerback Jamar Taylor left Sunday's game with a shoulder injury.
Taylor was replaced by defensive back Lowell Rose, who was later replaced by Walt Aikens.
Prior to his injury, Taylor had recorded six tackles on the afternoon.
With both Finnegan's and Taylor's health now in question, the Dolphins' top-10 pass defense may be in trouble.
4. Tannehill holds his own.
Nearly every time Manning marched the Broncos into the end zone for a score, Dolphins quarterback Ryan Tannehill answered with an impressive drive of his own.
Throwing for 228 yards, three touchdowns and one interception in a losing effort, Tannehill led Miami to five touchdowns in five red-zone trips. The Dolphins entered the game ranked No. 30 in red-zone efficiency.
It was Tannehill's seventh game this season with at least two touchdowns and the third time in his past four games that he has finished with a 100-plus quarterback rating.
He also recorded his first rushing touchdown of the season and finished the game with 15 yards on four rushing attempts.
5. Offensive line holds up after Ja'Wuan James' early exit.
Miami's already ailing offensive line took another big hit in Denver when 2014 first-round pick Ja'Wuan James left the first half of Sunday's game with a stinger.
Left tackle Jason Fox, who has played in only three games this season, filled in for James and, along with the rest of the offensive line, allowed Tannehill to be sacked just once in the game.
Dallas Thomas, who earned a more important role with the team after the Dolphins lost Pro Bowl left tackle Brandon Albert to a season-ending knee injury, also held his own while facing down Pro Bowl defensive end Vonn Miller.
Likely to be shuffled again if James is out for an extended period of time, the Dolphins offensive line continues to prove to be very resilient in the face of adversity.
You can follow Jameson Olive on Twitter @JamesonCoop or email him at JamesonOlive@gmail.com.
---