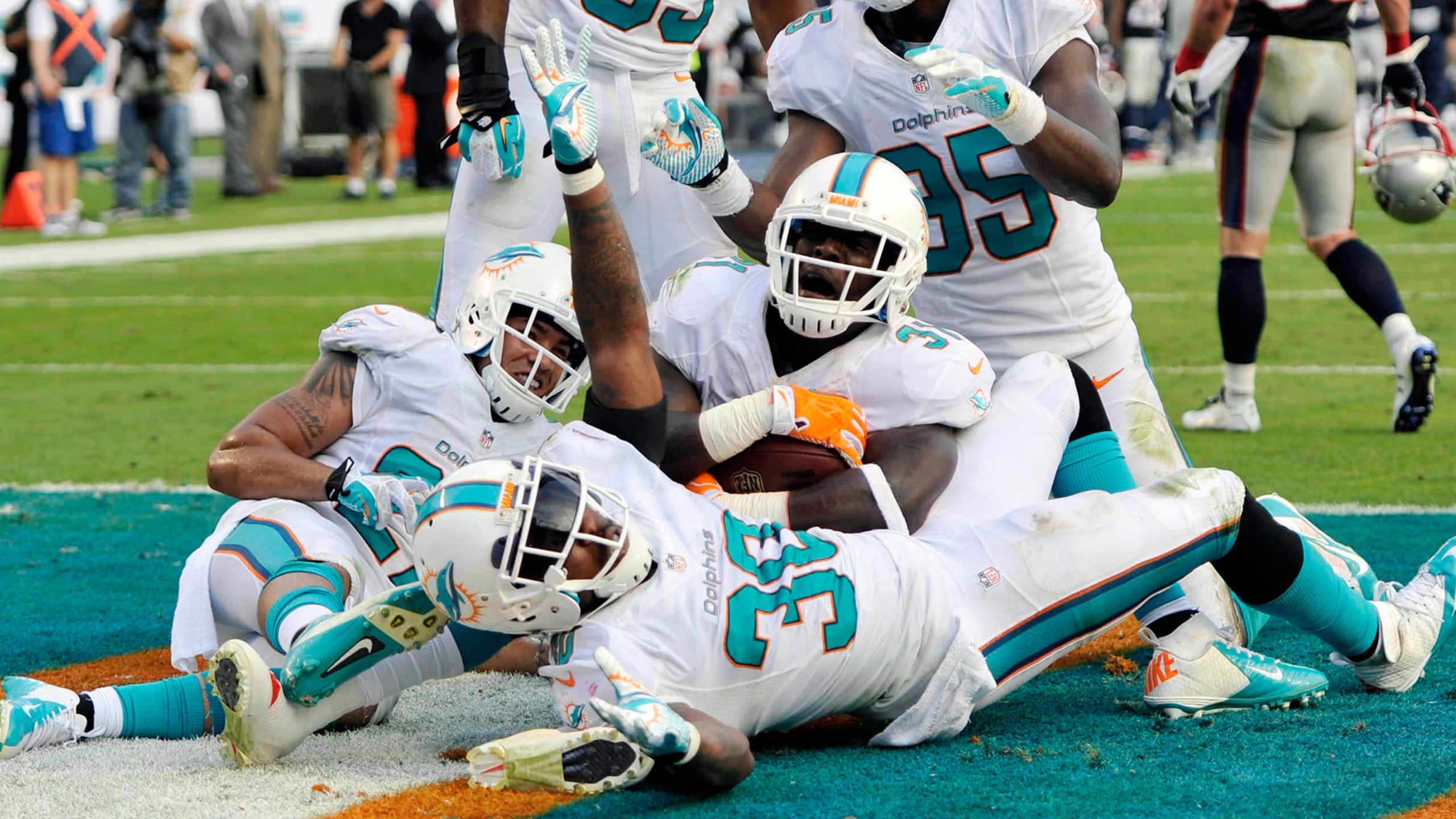 Dolphins climbing into playoff picture at right time
BY foxsports • December 16, 2013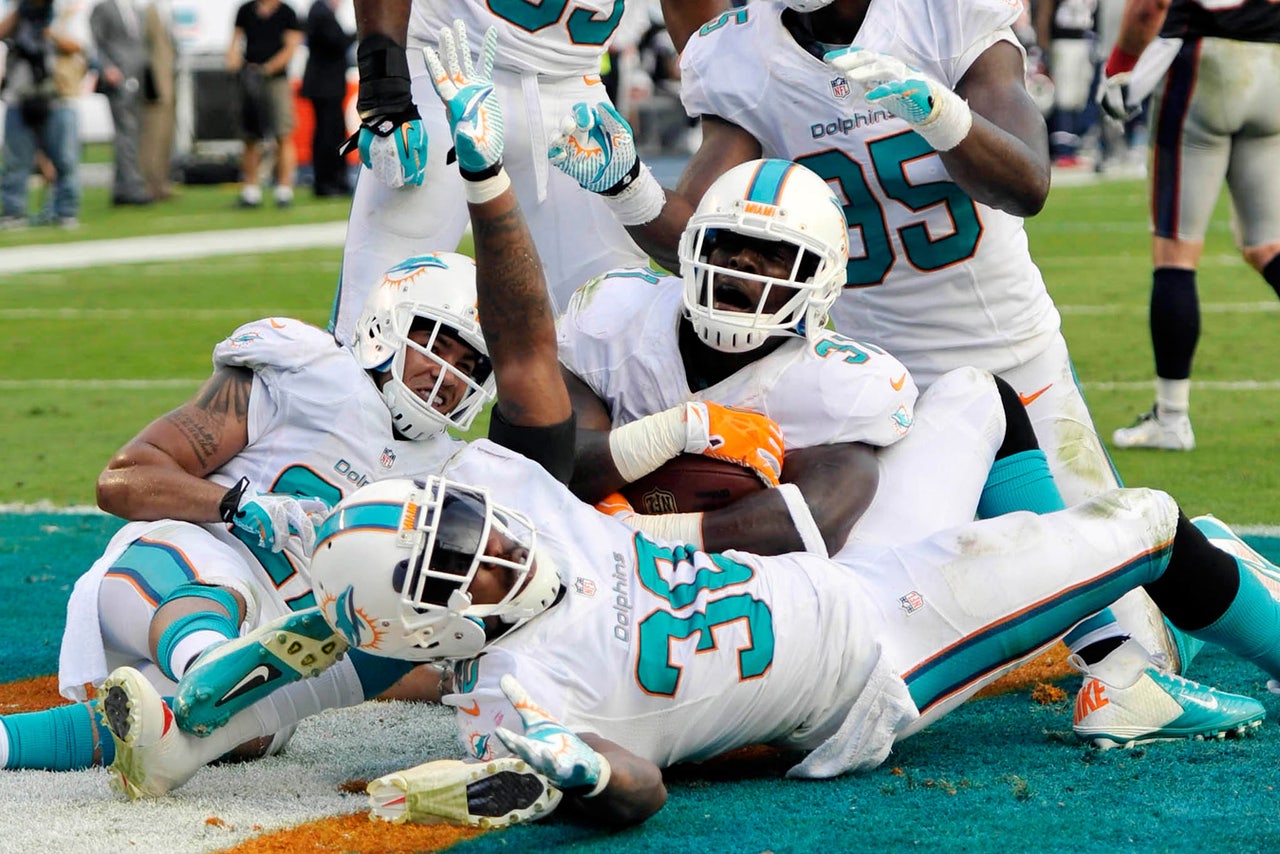 MIAMI GARDENS, Fla. -- The Miami Dolphins continue to fight for the AFC's final playoff spot with two games remaining.
But the scenario certainly looks promising for a team that has won three straight, four of five and will finish the season with games at last-place Buffalo and against the struggling New York Jets.
Ryan Tannehill's third touchdown pass, a 14-yarder to Marcus Thigpen with 1:15 left in the fourth quarter, lifted Miami to a 24-20 victory against division-leading New England on Sunday at Sun Life Stadium.
"This is just another step in the process," said Tannehill, whose 23 touchdown passes are the most in a season by a Dolphins QB other than Dan Marino. "Obviously, it feels good. It feel good to beat a division team. But we have big things ahead of us."
Baltimore (7-6) began the weekend owning the tiebreaker with the Dolphins (8-6). But the Ravens play at Detroit on Monday night before hosting New England and visiting AFC North leader Cincinnati -- a much tougher road than the one facing Miami.
All of a sudden, a Dolphins season that took a detour with a four-game losing streak and appeared to nose dive with a bullying scandal has turned around.
"They were ready to bury us a few weeks ago, so we don't want anyone on our side," receiver Mike Wallace said. "It's us against the world."
"We're fighters, we've been through a lot," Tannehill said. "The guys are tough in there, and can handle anything on the field."
Sunday's victory provided a huge confident boost as the Dolphins beat the Patriots for the first time in the last eight meetings.
Not only that, Miami is threatening to be a very hot team entering the playoffs -- and you know the possibilities then. Heck, the Dolphins already had beaten AFC division leaders Indianapolis and Cincinnati before defeating New England.
"This is coming together at a good time," tackle Bryant McKinnie said, "because you know December is when you want to be playing your best ball."
December also can produce unlikely heroes from among players filling in for injured teammates or rookies expected to perform as veterans.
Dolphins defensive back Michael Thomas is a prime example. A member of the San Francisco practice squad since last season, Thomas was claimed during the week by Miami.
The former Stanford safety took the field with Miami's defense -- due to injuries to Brent Grimes and Nolan Carroll -- for New England's final drive and made two key plays. The guy most Dolphins knew as No. 31 broke up a sure TD catch by Danny Amendola and intercepted Tom Brady's pass in the end zone with two seconds remaining.
"After everything I've been through, I just feel really blest to have the opportunity to come out here today and the way it ended today, it was overwhelming," said Thomas, who admitted he cried on the sideline and in the tunnel heading to the locker room.
Thomas' effort helped a Miami team seeking its second playoff berth in 12 seasons, and the first since losing to Baltimore in a 2008 wild-card game.
"We can't rely on the Ravens. We have to just do what we have to do to try and control our own destiny the best we can," said McKinnie, acquired from the Ravens in late-October. "We can't sit around waiting for someone to lose, we have to win."
Charlie McCarthy can be reached at mac1763@bellsouth.net.
---