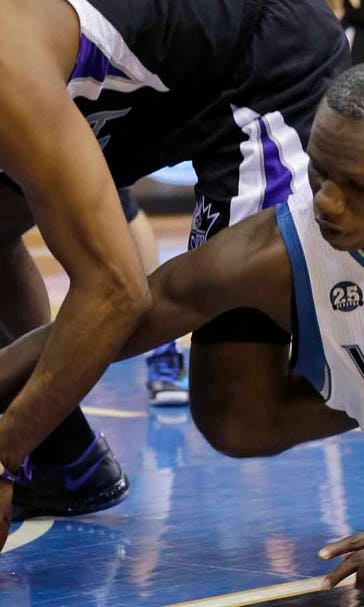 Dieng turns in career performance in win over Kings
March 16, 2014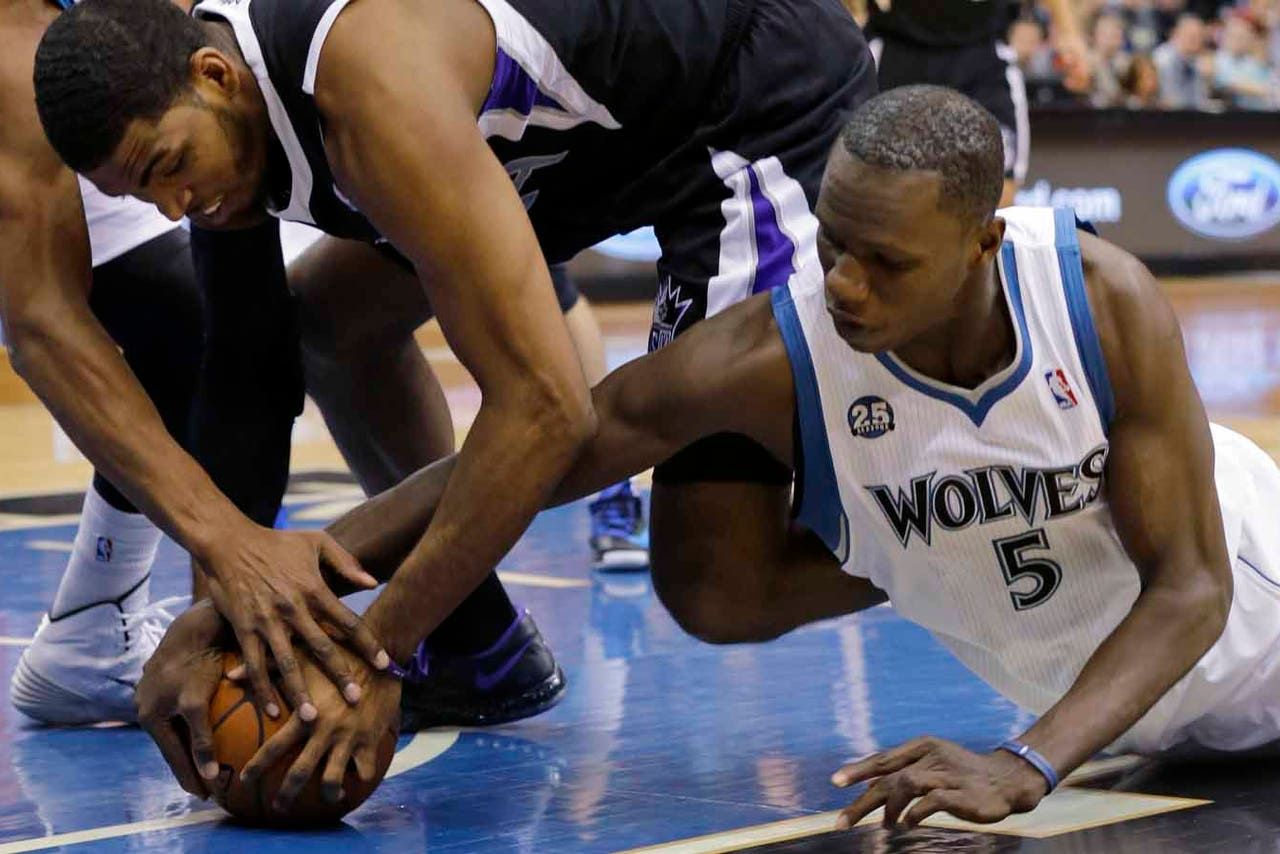 MINNEAPOLIS -- Blatant, visible affection from Rick Adelman can be hard to come by.
So when the grizzly Timberwolves coach offered his rookie center a rare low-five following Sunday night's 104-102 victory over Sacramento, it brought a boyish grin to 24-year-old Gorgui Dieng's face.
Even if it commended a miss.
Making his first career start, Dieng played by far the best game of his fledgling NBA career, notching a double-double with 12 points, 10 rebounds and five blocks in 37 minutes, 9 seconds of action -- about 15 more minutes than he'd played previously. But the Louisville product from Senegal was just as integral when it came to the unquantifiable -- sacrificing his body, clearing out and tapping out misses for second chances, staying out of foul trouble and fulfilling Adelman's directives.
"He's worked really hard," Adelman said. "He played 37 minutes and handled it."
Since being drafted 21st overall last summer and joining the Timberwolves in Las Vegas for summer league play, Dieng's sold himself and developed a reputation as a nose-to-the-grindstone, diligent worker who voices nary a qualm despite playing a significantly smaller role than he did on Rick Pitino's national championship team a year ago. It benefited him Sunday, Dieng said, when he and the Timberwolves learned Nikola Pekovic would miss the game with a sore right ankle.
"I think you should work more when you don't play a lot," Dieng said. "I didn't get minutes. I never got frustrated -- just keep working and hoped my time will come one day."
Sunday night, however, he allegedly -- and, presumably, mockingly -- griped at Adelman when the coach called timeout and told him to miss a last-second free throw and ensure the Kings couldn't fire a last-second, full-court heave, according to veteran shooting guard Kevin Martin. Dieng had snagged a potentially game-sealing rebound off Isaiah Thomas' free-throw miss with 3 seconds left in the fourth quarter, was fouled immediately and stepped to the line with 1 tick remaining.
Dieng's first freebie attempt was off the mark, so Adelman directed him to intentionally brick the second. Either a make or an air-ball would've given Sacramento possession out of bounds with a chance to set something up.
Purposefully futile mission accomplished. And a low hand slap followed by an awkward shoulder bump as a reward.
"G came through and did what he was supposed to do," Adelman said. "Once he missed the first one, I said 'Just be sure and hit the rim.'"
Said Martin, tongue firmly in cheek: "I think he has ya'll fooled if you don't think he complains -- naw, he's a great kid and puts in a lot of hard work and is very professional.
"He was complaining about coach messing up his free-throw percentage at the end of the game, because he had to miss the second one on purpose."
Adelman slated Dieng to start once it was learned that Pekovic, who's already missed 13 games this season with right-ankle bursitis, wouldn't be able to go. Shortly after, the Kings announced star center DeMarcus Cousins (right-knee tendinitis) would also be unavailable.
Rather than start off small against Sacramento backup big Aaron Gray -- who's 7 feet tall and a hefty 270 pounds -- Adelman opted to stick with Dieng.
"We didn't have our big guy, either, so maybe they were trying to be fair," Adelman joked of the late Cousins announcement. "(Dieng's) gonna have to play if Pek's out for any length of time, so when I heard that Cousins was out and they were gonna start Gray, why not start (Dieng) and get him in the game?"
The only healthy center on Minnesota's roster at the moment -- Ronny Turiaf (right-knee bone bruise) missed his 11th straight game -- Dieng afforded Kevin Love (26 points, 10 rebounds, five assists) a breather to begin the fourth quarter. The All-Star power forward entered for Dieng about 4 minutes into the final frame and knocked down a crucial 3-pointer that gave the Timberwolves the lead for good with 1:07 to go.
Thomas (27 points, seven assists, six rebounds) hit two contested 3s inside the final 13 seconds to keep things interesting -- and conjured memories of a similar victory March 3 at Denver in which the Nuggets made four 3s in the final 24 seconds -- but Martin connected on 6 of 6 late free throws to keep his former team at bay.
It was a night Dieng said he won't soon forget. The 6-11, 238-pounder came in averaging 1.7 points and 2.3 rebounds in 10.1 minutes per game.
"I was just ready," Dieng said. "We have a lot of guys who are down on this basketball team, and when you've got a chance, you need to step up."
Said fellow rookie Robbie Hummel: "You see a guy that comes in with you in the same draft class, it's exciting to see him perform well. He's been playing really well in practice; I think that can't be overlooked. He's been doing it in practice, and it hasn't completely translated to the games yet."
But Dieng wasn't the only first-year player to shine Sunday. Hummel entered at the fourth quarter's 10:01 mark and immediately hit back-to-back jumpers to keep Minnesota (33-32) in a closing period that saw six lead changes and four ties.
"I think everybody talks about how the league is a league of opportunity," said Hummel, a frequent deactivation who hadn't played more than 5 minutes, 3 since Feb. 23, "and when your name is called, you just have to be ready to go, whether that's in the first quarter or if you've been sitting on the bench for 2 1/2 hours."
The Timberwolves moved to 5 1/2 games back of the Western Conference's final playoff spot with 17 games remaining and mathematically eliminated the Kings (23-44) from postseason contention.
All thanks to a couple of rookies, Martin said.
"Without (Dieng), we wouldn't have won the game," Martin said. "Without Robbie, we wouldn't have won the game."
Follow Phil Ervin on Twitter
---