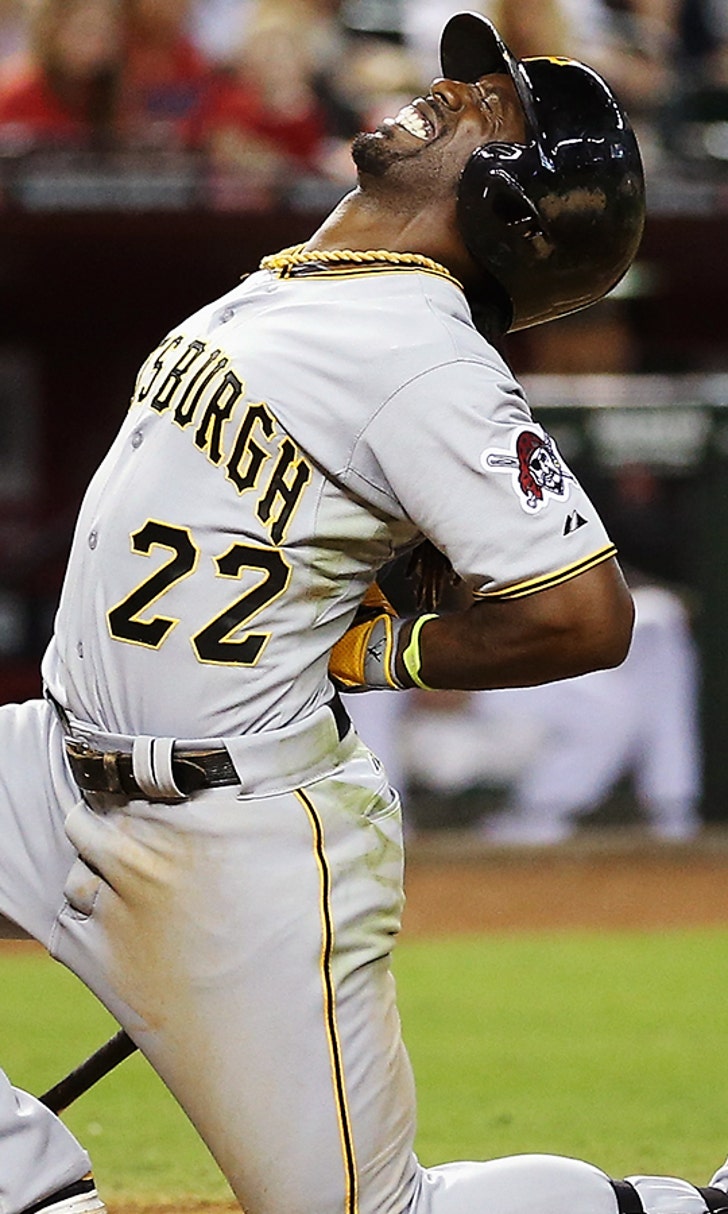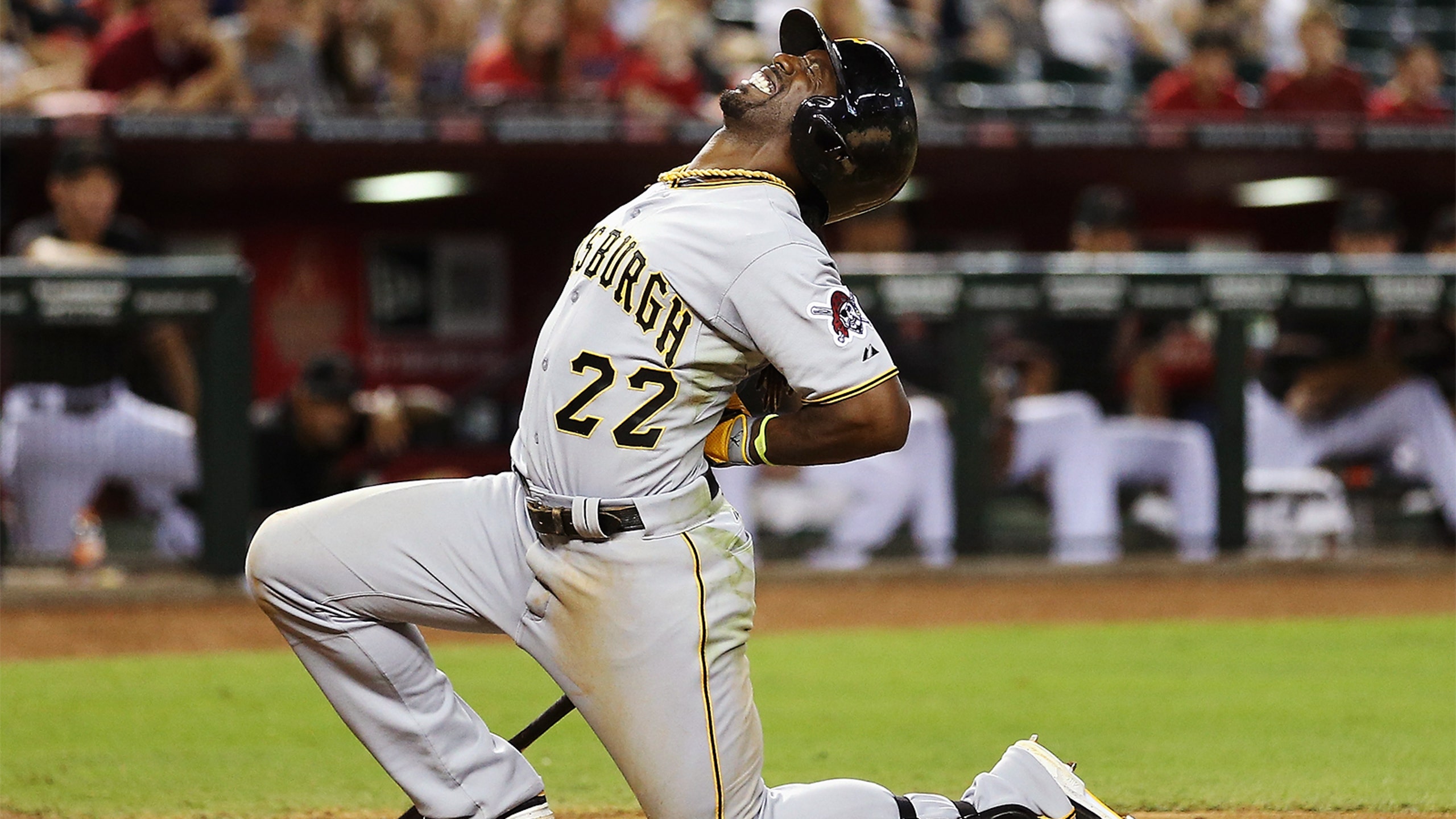 Diamondbacks take exception to 'dirty' label
BY foxsports • August 5, 2014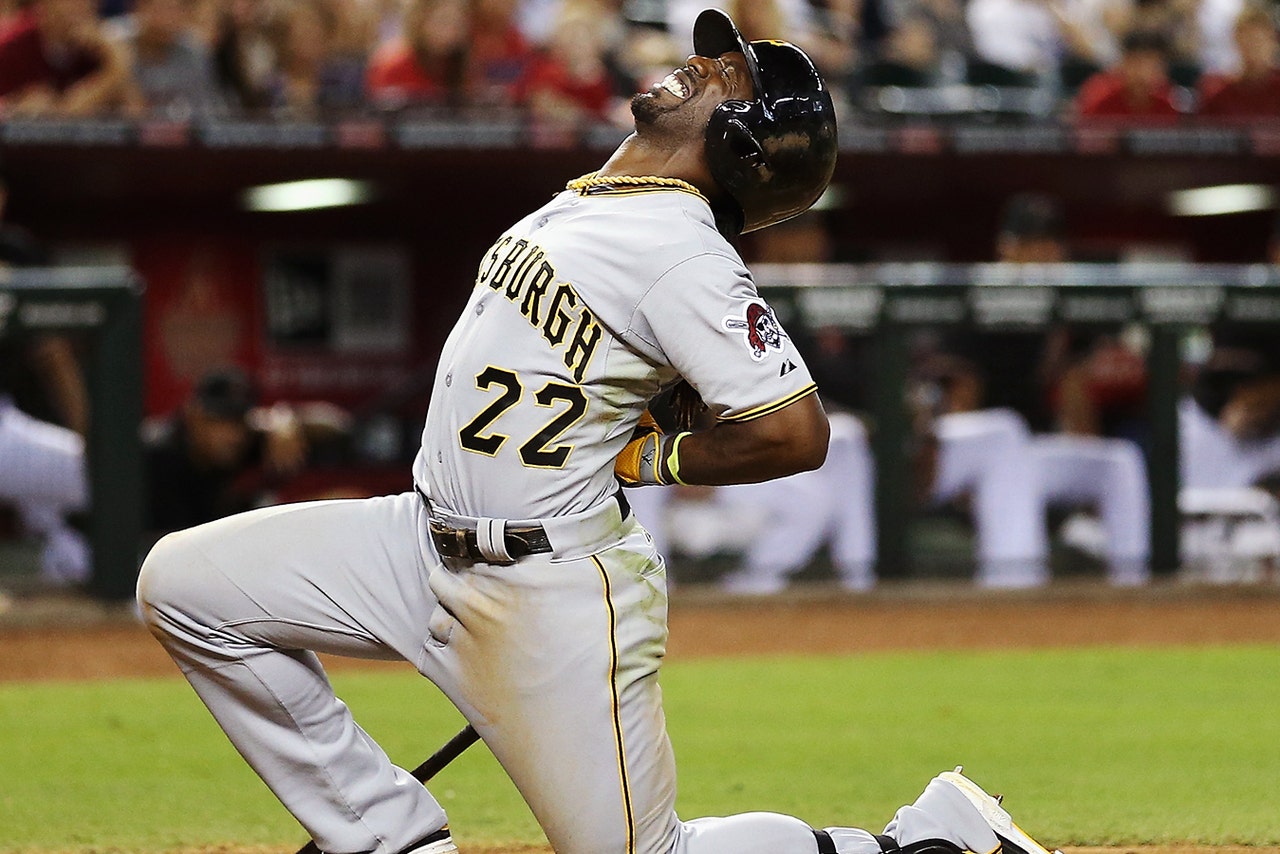 PHOENIX -- The Diamondbacks are considered the "dirtiest team in baseball," according to Business Insider's Sports Page.
They are the major leagues' most "ludicrous tough guys," said NBC Sports. 
From CBS Sports, manager Kirk Gibson is a "meathead."
And from Grantland.com: "The Diamondbacks' Disgrace."
Randall Delgado's plunking of Pittsburgh center fielder Andrew McCutchen on Saturday has some around the country forming an angry posse, and it might only get worse.
The criticism might only intensify as the amount of time McCutchen misses with a cartilage injury in his left rib cage grows, especially if the Pirates lose ground in their bid for a second consecutive playoff spot after a 21-year absence. McCutchen left Sunday's game with discomfort in his left side, and it was announced today that he has an avulsion fracture of the cartilage around the 11th rib on the left side. McCutchen said he did not know if the pitch he took in the middle of the back Saturday provoked the injury. Pittsburgh manager Clint Hurdle said there was no reason to believe the two are related.
"It's my understanding it's a completely separate instance. He was hit in the spine, the back, and this is a fracture of the rib, the 11th rib," Hurdle said.
Still, the D-backs were left to defend themselves again after 2013 MVP McCutchen followed 2013 MVP runner-up Paul Goldschmidt into the training room. Goldschmidt is expected to miss the rest of the season after suffering a non-displaced fracture of the fourth metacarpal of his left hand when he was struck by a pitch from Pirates' right-hander Ernesto Frieri on Friday. 
The D-backs are a little tired of being singled out.
"How about our guy getting hit and nobody saying anything?" Arizona catcher Miguel Montero said. "There is not criticism of that one because we are not in first place or we're not in the race? I don't see the point, to be honest."
Of McCutchen's injury, Montero added: "It's too bad. He's the name of the game, I guess. We have a guy with a broken hand who is going to miss the rest of the year. That being said, I'm not trying to say we hit him or not hit him. It's part of the game."
Montero seemed to point toward McCutchen while giving a series of signs to Delgado before the pitch on which McCutchen was hit.
"Honestly, we never called to hit him," Montero said. "We don't want to hurt anybody. Period. You can end the career of somebody, and we are not looking for that. My point of view, I hate when somebody gets hit. I hate that. On our team. The other team. I don't like it, period."
It doesn't seem to matter that other teams play the same way. Check out what Boston does when David Ortiz is hit. 
The D-backs have had a similar experience with the Pirates -- second baseman Aaron Hill missed 10 weeks in the first half of 2013 with a fractured bone in his left hand when he was hit by an inside pitch by James McDonald.
"If our hitters are getting hit, whether it is on purpose or not, that is not for us to decide," D-backs right-hander Brad Ziegler said. "It doesn't change the fact that it happens, and guys feel a need to protect their hitters. There is not a whole lot we can do from the mound, but when we have an opportunity, we are going to do it. That is not just our mentality, it's the mentality of pitchers all over baseball. It's a very old school form of thinking. It has been in the game for a long time, and that's just the way it is."
Still, an Arizona Republic columnist called the D-backs "thugs."
With all that, you would have thought the Pirates would have joined the chorus. Nothing yet.
Pittsburgh's response when McCutchen was hit in the ninth inning Saturday might have been the most instructive commentary on the entire sequence of events. After McCutchen went down, no one in the Pirates dugout reacted. While McCutchen flashed his displeasure, there was no outward outrage. No threatening words. No spilling onto the field.
Hurdle said this Sunday: "I understand baseball. (George) Brett got hit when I played in Kansas City. Frank Robinson got hit a lot. Don Baylor got hit a lot. They were always premier players on clubs they played on.
"Everybody has a different lens at looking at this. There is nothing written down in a book. There are no rules to follow, if A happens you follow through with B. We look at it through one lens. They look at it through another lens. They lose a player for the rest of the season. Now we are supposed to draw up roles on how they react to it?
"You play the game. The game takes care of itself. And those that take care of the game get taken care of by the game as well. The thing we do know about our club, we don't back down. We play hard. That manager (Kirk Gibson) over there played as hard as anybody who has ever played the game. I'm sure he has encouraged his team to play the same way. And they do play hard."
So do the Pirates. Affter McCutchen was hit by a pitch by the Dodgers' Jamey Wright in the sixth inning of a 12-7 victory July 22, Pirates left-hander Justin Wilson hit Justin Turner, the first Dodgers' batter in the top of the seventh, in the elbow.
Gibson is an inviting national target. He is rough. He is gruff. He has been particularly vilified for using the word "grit," as if it is a four-letter word. As if every major league team does not identify and seek similar players. Marco Scutaro, come on down. He cares little what others think, which also seems to rankle.
"I've been in the game since 1978, and I know a lot of people have a lot of opinions about a lot of people. I don't really get involved in that," Gibson said.
No need. The field is crowded enough already.
Follow Jack Magruder on Twitter
---