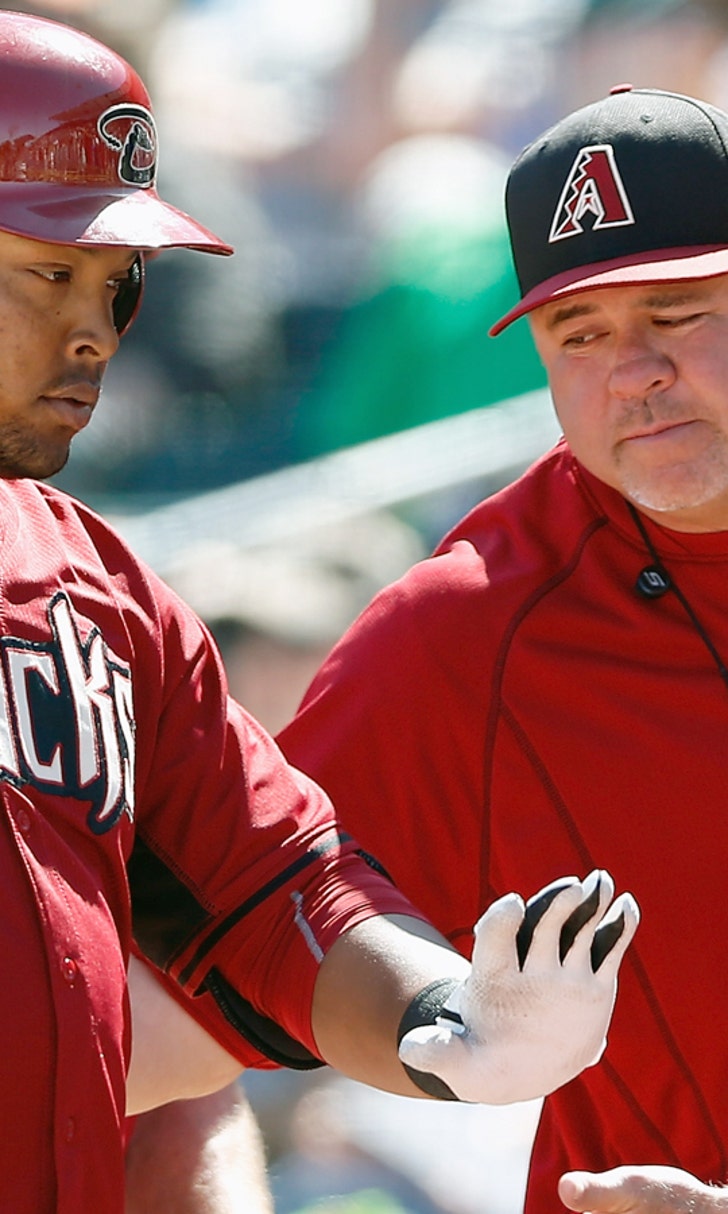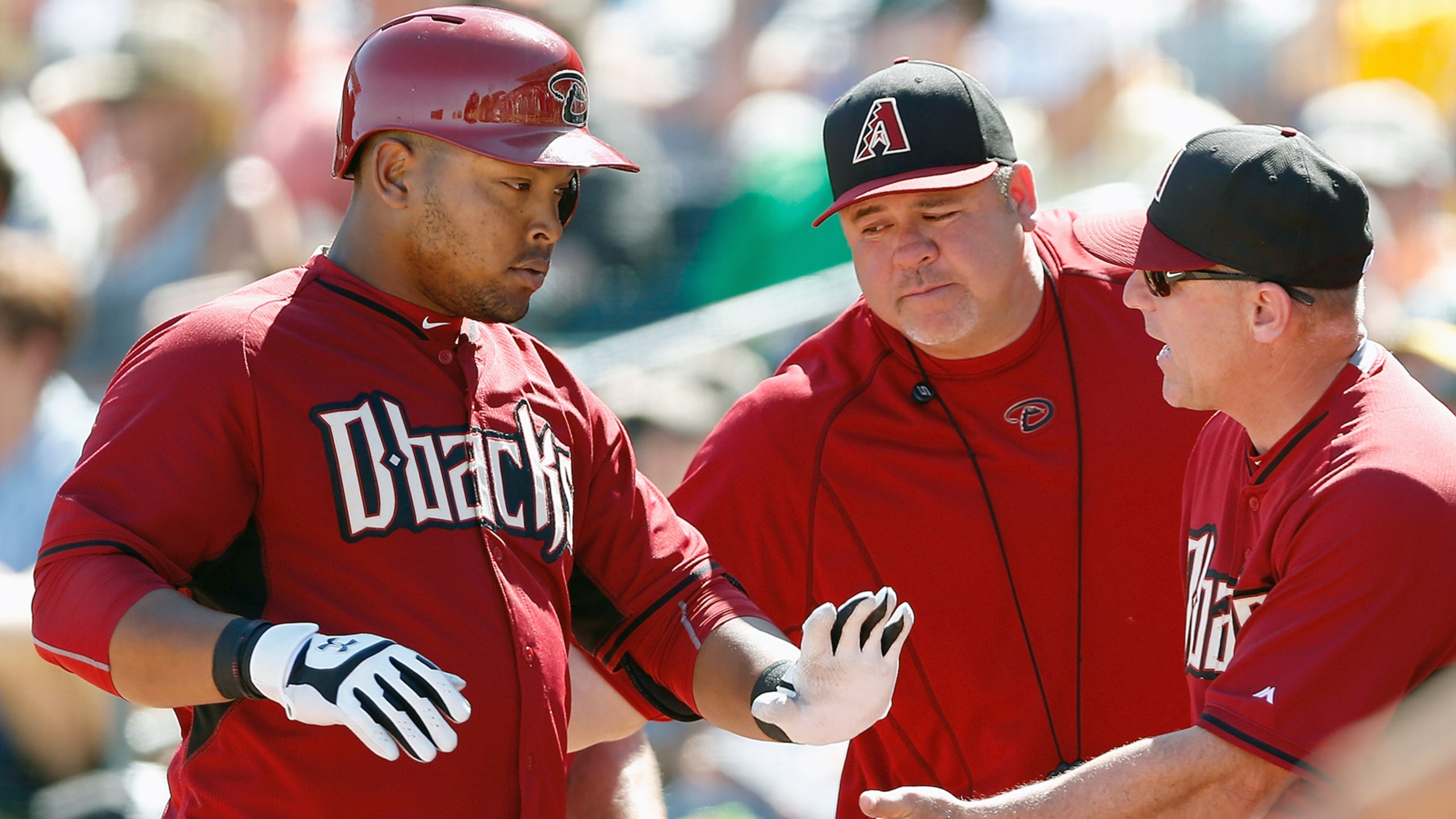 Diamondbacks 6, Rockies 2
BY foxsports • March 19, 2015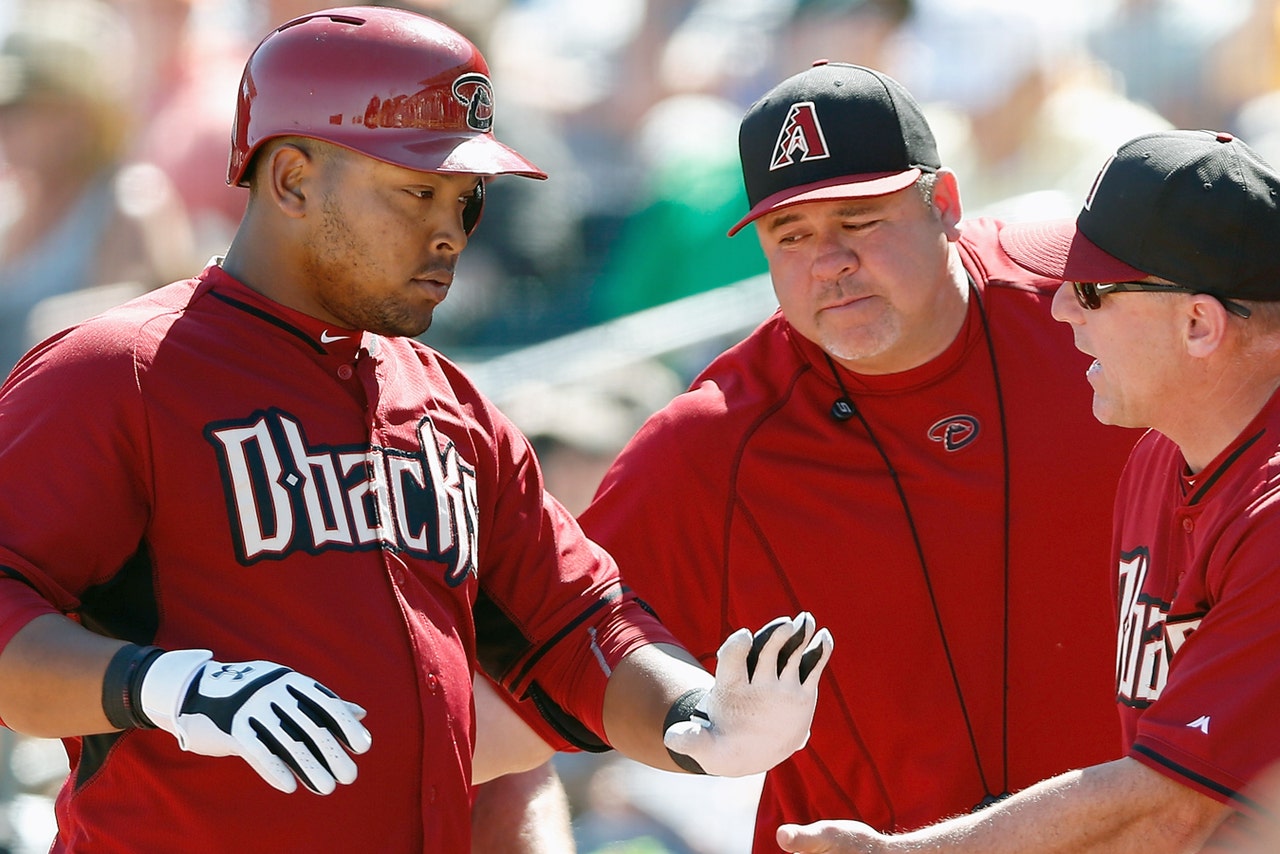 SCOTTSDALE, Ariz. -- Yasmany Tomas was back at third base following a stint in the more familiar outfield, and the flames of competition with Jake Lamb for the third base job continued to burn in a 6-2 win over the Colorado Rockies on Wednesday night.
The Diamondbacks will be making tough decisions soon with another roster cut set for Sunday, and it's hard to imagine Lamb being part of it. He had two doubles while seeing time at first base against the Rockies.
All the action went to Tomas at the hot corner. 
Jump to the fourth inning, when Rockies outfielder Matt McBride's hit to left field saw David Peralta grab the ball and gun it to Tomas. The Cuban not only made the leaning catch on the outside corner of the base but was able to tag a sliding McBride out on the opposite side of the bag.
Soon after, Brandon Barnes zipped a liner past a diving Tomas. One fan behind home plate surmised Tomas had a hole in his glove -- the hit went just over his glove -- but Arizona manager Chip Hale had no issue with Tomas failing to make the out.
"You might need to issue catcher's gear for that one," he said.
The next batter, Nick Hundley, knocked one just left of second base, and a hard-closing Tomas fumbled the ball while attempting to make the throw. He was given an error. 
"He went a long way (to get to the ball) and it came in-and-out of his glove," Hale said.
Once again, Hale liked the effort from Tomas. The busy fourth inning, which tagged Jeremy Hellickson with two earned runs, was a sign of progress despite the obvious hiccups -- at the least, Tomas put himself in positions to make plays. He also added two hits and a run scored.
Lamb, meanwhile, made himself tougher to cut.
"That's always a nice thing, if he were on the team and Goldy needed a day" Lamb could play first, Hale said. "He swung the bat well tonight, got a couple doubles. Defensively, he's as good as you're going to get at that age."
Jeremy Hellickson
The right-hander did not allow a hit through three innings but found trouble in the fourth. Colorado's Troy Tulowitzki led off with a single, and a double to right by Carlos Gonzalez moved Tulowitzki to third. A sac fly scored a Rockies run with no outs, and a few solid hits that went Tomas' way led to another run scored.
Hellickson allowed four hits, two earned runs and had four strikeouts in four innings.
"He tired a little bit in the fourth inning, but (faced) good hitters," Hale said of Hellickson, who struggled his last outing against the Indians. "He's so good with guys on base, shutting down the running game, quick to the plate. He's getting better each time out."
Yoan Lopez
Lopez's third appearance this spring looked like his second, which, in short, went better than his anxious first. He calmly maneuvered through three innings, allowing one hit while striking out two and walking one. His fastball consistently hit 92 mph and 93 mph, but he succeeded with his pitch selection.
"His velocity looked a little harder, and he just keeps mixing those pitches and keeping guys off-balance," Hale said.
Infielder Brandon Drury might be the biggest surprise in spring camp so far. The infielder is facing long odds at making the roster because of the depth ahead of him, but Hale said he never wants to stop talent from developing. "He's a young kid, he's not playing like it at all. Is he in the mix? It's hard to say right now. This next cut, it's going to be hard. We have to decide what's best for him. He needs innings. He's making things very difficult. I can't say he's not at the race at either position right now."
Reliever Brad Ziegler threw in a game for the first time since September, when he underwent microfracture surgery on his left knee ... Daniel Hudson, in the same minor league game against the Giants, went through his third appearance on the mound and also had positive results ... It's worth mention that reliever Matt Reynolds made an appearance in the eighth inning, striking out two. He is eight days removed from his first game since undergoing Tommy John surgery.
Probable pitchers: Arizona -- RHP Rubby De La Rosa, RHP Enrique Burgos, RHP J.C. Ramirez, LHP Oliver Perez, LHP Dan Runzler, RHP A.J. Schugel. Cubs -- RHP Edwin Jackson, LHP Felix Doubront, RHP Jorge DeLeon, LHP Drake Britton, LHP Francisley Bueno.
Follow Kevin Zimmerman on Twitter
---