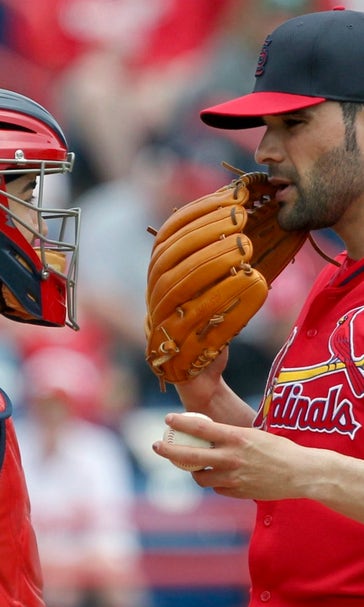 Despite shaky outing, Cardinals see plenty of positives in Garcia's spring training debut
March 7, 2015

VIERA, Fla. -- Jaime Garcia threw more balls than strikes and didn't last two innings in his spring training debut Saturday afternoon but, really, who cares?
More significant was that he was able to pitch at all.
When Garcia underwent season-ending surgery last summer after another season gone wrong, his future as a big-league pitcher was less than certain. It marked the third straight year that the 28-year-old lefty endured a lengthy stay on the disabled list. Plus, the success rate for returning from the thoracic-outlet surgery he underwent is considerably less than that of, say, Tommy John surgery. Garcia would know, since he had that, too, in 2008.
So giving up three hits and a walk in 1 1/3 innings in an early-spring exhibition could take a backseat to the mere fact that Garcia was back on a big-league mound. He hadn't pitched since going five innings and losing to the Phillies 5-1 last June 20.
"I'm not going to lie. There's a lot of emotions after everything I've gone through," Garcia said in the visitors' clubhouse at Space Coast Stadium, where the Cardinals lost 6-5 to the Washington Nationals. "But you know what? It's a game, it's my job. I'm excited to do that."
Perhaps he was too excited against the Nationals. Garcia's command was off from the start. His first three pitches to leadoff hitter Anthony Rendon were balls, setting a trend for his outing. Garcia threw first-pitch strikes to only one of the eight batters he faced and he went to a three-ball count six times. 
"Fastball command obviously wasn't there. We gotta tighten that up," said manager Mike Matheny, who saw plenty that he liked. "Stuff looks right. Velocity looks right. Movement looked good. I'm watching the swing. When there were swings and the ball was on the plate, they weren't real comfortable swings."
In the first, Garcia came back and retired Rendon and then Danny Espinosa on groundouts before he gave up a line-drive single to Bryce Harper and a ground single between short and third to Ryan Zimmerman. Garcia got out of the inning when Wilson Ramos hit into a force at third, but what impressed his manager was a strike that Garcia threw to Harper.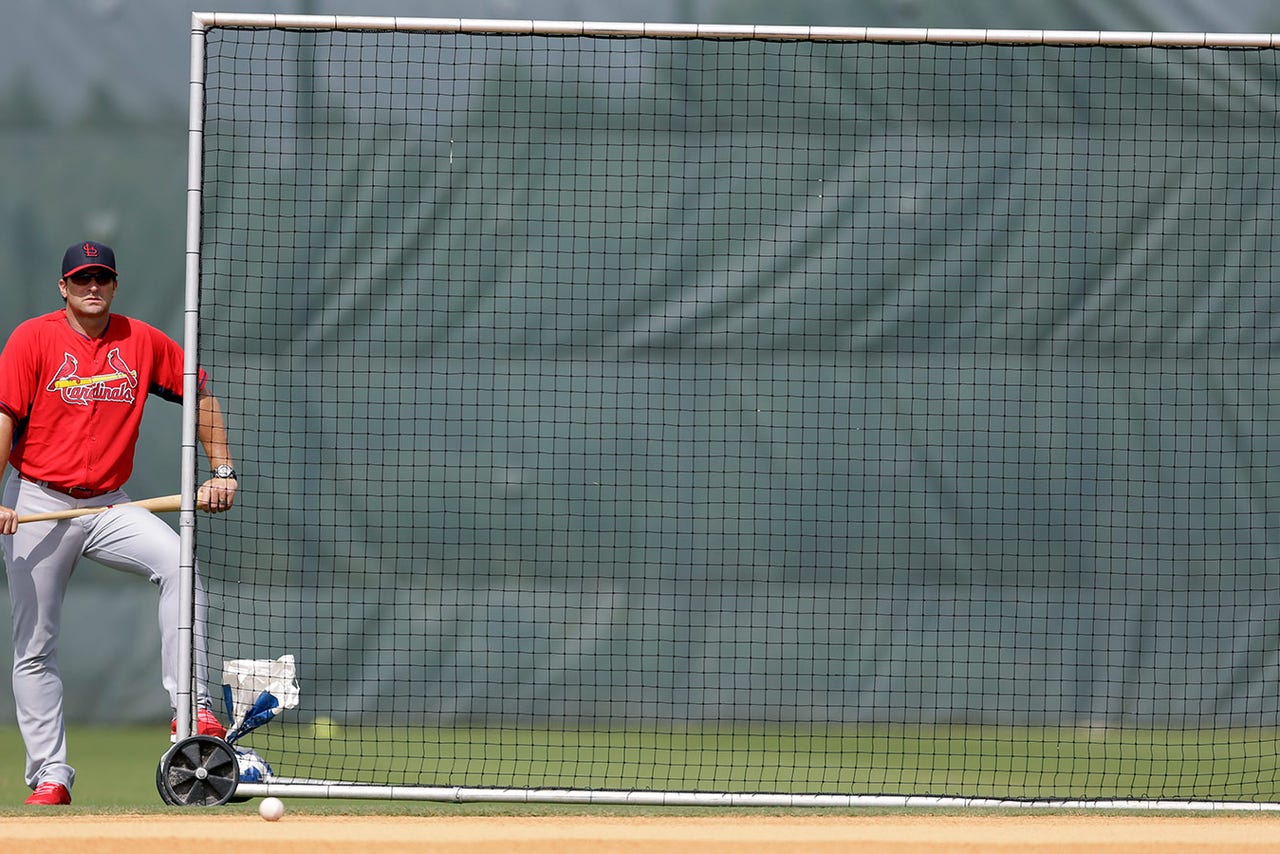 SNAPSHOTS FROM JUPITER: Cardinals 2015 spring training gallery
"It's just amazing when he's on the plate. We saw a swing and miss by Bryce Harper on a sinker that the hitter didn't touch and neither did (catcher Tony) Cruz," Matheny said. "You don't see that very often."
Garcia's control was off even more in the second when he walked the first batter, Dan Uggla, on four pitches. He went to a full count on Emmanuel Burris but was bailed out when Burris waved at a pitch well outside. Tony Gwynn Jr. then singled sharply to right to put runners on first and third, and Garcia's outing was over. 
"Got the first one out of the way," Garcia said. "I went out there and did my best. I walked a guy and gave up a couple hits here and there but it's good.  Now I'm going to get ready for next time I pitch."
Garcia's pitches were darting all over, a positive sign for a pitcher who relies on movement. That he couldn't locate the pitches as well as he would like was understandable considering the situation. Pitching for the first time in nine months -- even if it was spring training -- had to have his adrenaline pumping more than usual, even for someone such as Garcia who likes to appear cool on the outside.
"After going through the thing I went through, it's a big deal," Garcia said. "I felt good out there. I was able to control my emotions and got the first one out of the way. Now get ready for the next one."
From behind the plate, Cruz gave Garcia a thumbs-up.
"Maybe he was a little amped up (being his) first outing back but to me, it looked good," Cruz said. "The ball was coming out good and his stuff looked good. He had good movement on his ball. A little rusty, but he got through it."
Garcia could have as many as four more starts to improve his command -- and prove he's healthy. If he is all right in three weeks, the Cardinals will face an interesting dilemma. They could put Garcia in the rotation ahead of Carlos Martinez (don't count on it), they could try him in the bullpen (though GM John Mozeliak has said that's unlikely), they could begin him on a rehab assignment (but if he's healthy, what would be the point?), they could trade him (though finding someone to take on his $9.25 million salary could be difficult) or who knows? No matter what, a healthy Garcia is an asset to the Cardinals.
A big enough asset that nobody should care about any first-outing command issues . 
You can follow Stan McNeal on Twitter at @StanMcNeal and email him at stanmcneal@gmail.com.
---