Descalso's late HR not enough to overcome Kershaw, Dodgers
July 5, 2017
LOS ANGELES -- Dodgers manager Dave Roberts breathed a sigh of relief when Clayton Kershaw gave up his first hit in the seventh inning.

Not that Roberts didn't want to see his ace throw a second career no-hitter. It was just that Kershaw's pitch count was climbing.

"Reality is setting in, what's best for Kersh," Roberts said. "Him getting to 130 pitches doesn't make sense for anyone."

Kershaw struck out 11 on 117 pitches to become the first 13-game winner in the majors this season, helping the first-place Los Angeles Dodgers beat the Arizona Diamondbacks 4-3 in a matchup of the National League's top two teams Tuesday night.

"This is the team right behind us, so for us to get the first win is big," Kershaw said.




Kershaw (13-2) ended up allowing two hits in seven shutout innings. He lost his no-hit bid on an infield single by Chris Owings with one out in the seventh.

"He had some of his best stuff I have seen so far," Owings said. "Got lucky and was able to beat one out. I just put it in play and hoped for the best."

Owings fisted a soft grounder to second baseman Logan Forsythe, but rookie first baseman Cody Bellinger broke for the ball when it was hit. Kershaw was too late getting over to cover the bag, and Owings beat the play at first as Kershaw had to reach back for Forsythe's throw.

"It was kind of in no-man's land," Roberts said. "It was one of those tough plays."

The sellout crowd of 53,159 gave Kershaw a standing ovation after the play. He got Daniel Descalso on a grounder to end the inning.

"The biggest key there is just not to exhale," Kershaw said. "You've got to really focus back in."

https://twitter.com/FOXSPORTSAZ/status/882405881094078464

The left-hander allowed one other hit, a single by Chris Iannetta.

"He just left the curveball in the strike zone," Iannetta said. "I was able to get the barrel to it. I didn't hit it hard, but enough to get it over the shortstop's head."

Kershaw, a three-time Cy Young Award winner, issued two walks -- both to Iannetta.

"Great win against a good team," said Justin Turner, who homered and drove in two of the Dodgers' runs. "Kersh was unbelievable. He had all his stuff going."

All-Star closer Kenley Jansen entered with two on in the ninth and gave up a three-run homer to Descalso, leaving Arizona down 4-3. Jansen finished for his 18th save in as many chances.

Kershaw hasn't lost in 12 starts since May 6, going 9-0 with a 1.98 ERA while holding batters to a .188 average. He hasn't allowed a run in his last three outings, giving him 76 career starts without allowing an earned run, the most among active pitchers.

https://twitter.com/FOXSPORTSAZ/status/882401710395633664

Arizona lefty Patrick Corbin (6-8) gave up three runs and seven hits in 4 2/3 innings. He struck out eight and walked two as the Diamondbacks dropped 3 1/2 games behind the Dodgers in the NL West.

Like Turner, Yasmani Grandal drove in two runs. Turner had an RBI single in the first and a leadoff home run in the third, when Grandal's two-out RBI single made it 3-0.

Grandal added an RBI single in the eighth for a 4-0 lead.

RUN-SAVING PLAY

Dodgers reliever Pedro Baez got two quick outs to start the eighth before giving up a ground-rule double to A.J. Pollock, who advanced to third on a balk by Baez. On his next pitch, Baez deftly fielded a liner by David Peralta to end the inning.

TRAINER'S ROOM

Diamondbacks OF Yasmany Tomas sustained another groin injury during his rookie-level rehab game last weekend. He was rehabbing his original groin injury when the new one occurred. An MRI showed the latest injury is a mild groin strain in a different area than the original. ... Pollock was activated after being on the disabled list since May 14 with groin and quad injuries.

https://twitter.com/FOXSPORTSAZ/status/882398481209360385

UP NEXT

Diamondbacks: RHP Zack Godley (3-2, 2.67 ERA) has yet to give up more than three runs in a start this season.

Dodgers: LHP Alex Wood (9-0, 1.83) is the first Dodgers pitcher to open a season 9-0 since Rick Rhoden in 1976.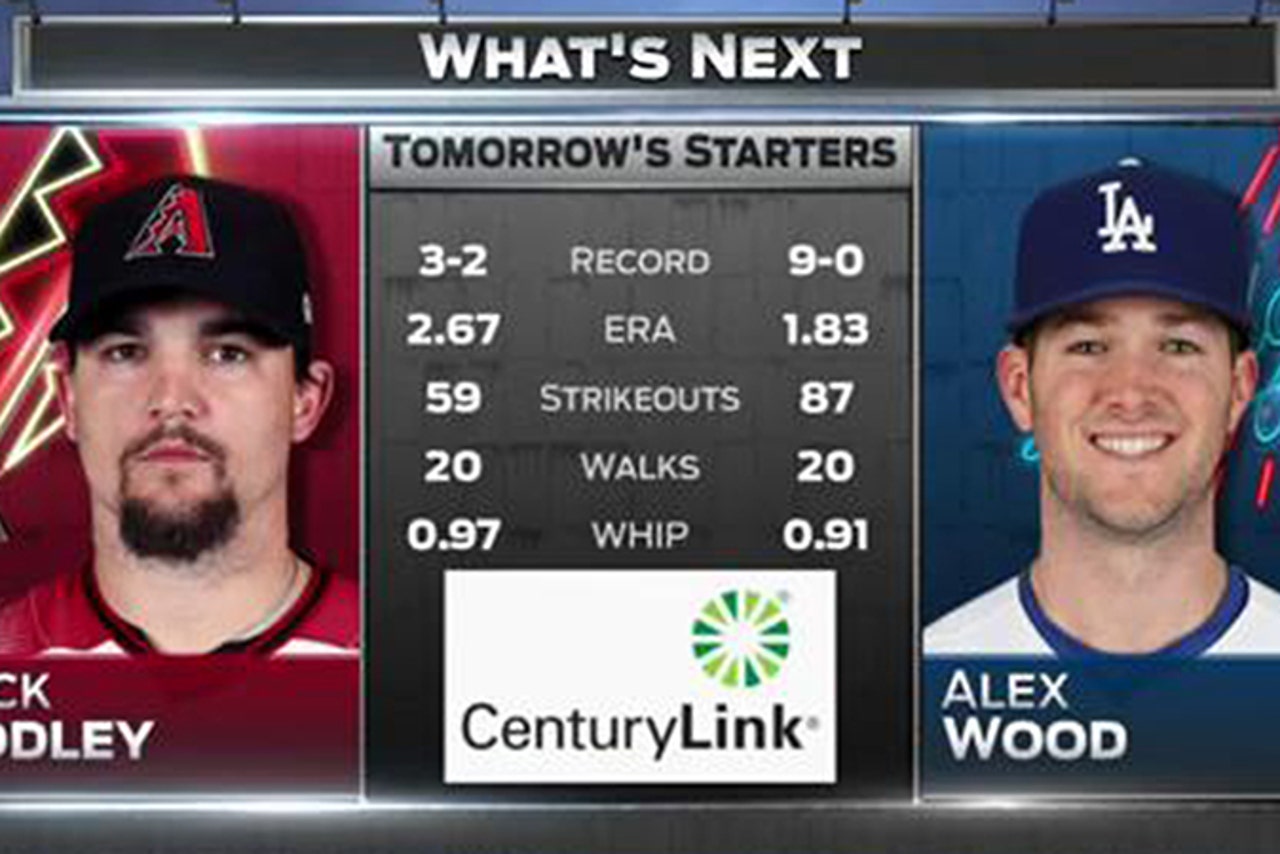 ---
---