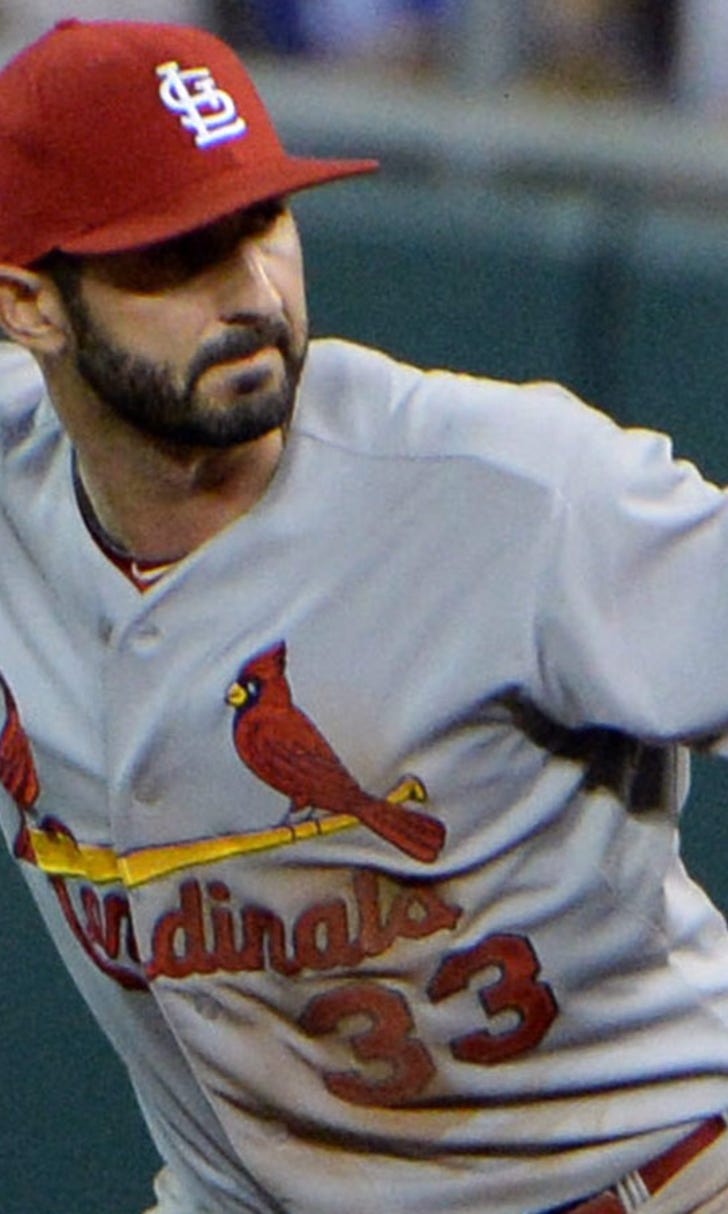 Descalso gets two-year, $3.6M deal with Rockies
BY foxsports • December 16, 2014
DENVER -- The first big league signing of Jeff Bridich's tenure as general manager of the Colorado Rockies was far more sensible than splashy.
The Rockies needed a versatile infielder, and so they added Daniel Descalso with a $3.6 million, two-year contract Tuesday.
It appears to be a sound investment for a team that's trying to rebound from a 96-loss season, especially after Colorado dealt infielder Josh Rutledge to the Los Angeles Angels last week.
Bridich has taken a methodical approach so far, cautiously listening to sales pitches from other teams and carefully weighing the benefits of adding big names.
He's resisted the temptation to shake up this roster, willing to believe that a healthy Troy Tulowitzki and Carlos Gonzalez can do more for getting this team back on track than a blockbuster deal.
"It would be easy for somebody in my shoes, a brand new GM, a young GM, to want to come in and make a splash, do something sexy," Bridich said in a teleconference call. "I fought that urge, but I'm not going to say it wasn't there.
"We've been close-ish to a few things. But it hasn't happened, hasn't worked out. We're not going to panic. ... We have to remember the type of talent that we have here."
Talent that's struggled to stay on the field. The Rockies lost Tulowitzki (hip) and Carlos Gonzalez (knee) to season-ending injuries and watched three different starting pitchers sidelined by broken hands.
"Granted, it was 90-plus losses, but there was a lot to that," said Bridich, who took over when the Rockies made changes to the front office. "We're still trying to address and strengthen some of the weaker areas."
Bridich said the signing of the 28-year-old Descalso wasn't so much a direct response to sending Rutledge to the Angels for righty Jairo Diaz. The Rockies actually had their eye on Descalso since he became a free agent when St. Louis failed to offer a contract by the Dec. 2 deadline.
They like his versatility -- he started 11 games at second base, nine at short, seven at the hot corner and three more at first base last season. He even recorded an out on the mound in a lopsided loss to the Chicago Cubs on May 12.
Bridich kidded that Descalso might even be asked to play some outfield or possibly catch.
He's game for whatever.
"I'm anticipating filling a variety of different roles, bouncing around the infield and doing whatever I can to help the team win on a given night, if that's playing third, second, short, first, wherever they ask me to play," said Descalso, who will make $1.5 million next year and $2.1 million in 2016. "That's kind of the outlook I have going into this thing."
There was a time not too long ago when Descalso's name was bantered around in trade rumors involving Tulowitzki and the Cardinals. He' didn't pay attention.
"I was not aware if my name was in those rumors at all," said Descalso, who was a member of the Cardinals' 2011 World Series championship team. "I always thought Denver would be a great place to play. Looking at the roster in the brief time I've looked it over, these guys over here have a lot of talent. If we keep everybody on the field, I like our chances of competing and winning ball games."
Descalso can earn up to $500,000 annually in performance bonuses based on plate appearances: $50,000 for 250, $100,000 for 300, $150,000 for 350 and $200,000 for 400. He hit .242 with 10 RBIs in 104 games last season.
"He's built a reputation in this game as a tough, smart player," manager Walt Weiss said. "We talk about those things all the time. We're striving to get better and better in those areas, and he's going to add to that."
Next on the docket for Bridich is finding more bullpen help after losing reliever Matt Belisle to the Cardinals through free agency. That and another starter or two.
"The process we're trying to build here, that takes time," Bridich said. "That doesn't happen overnight. If you don't take that time, you're going to end up making bad decisions."
---