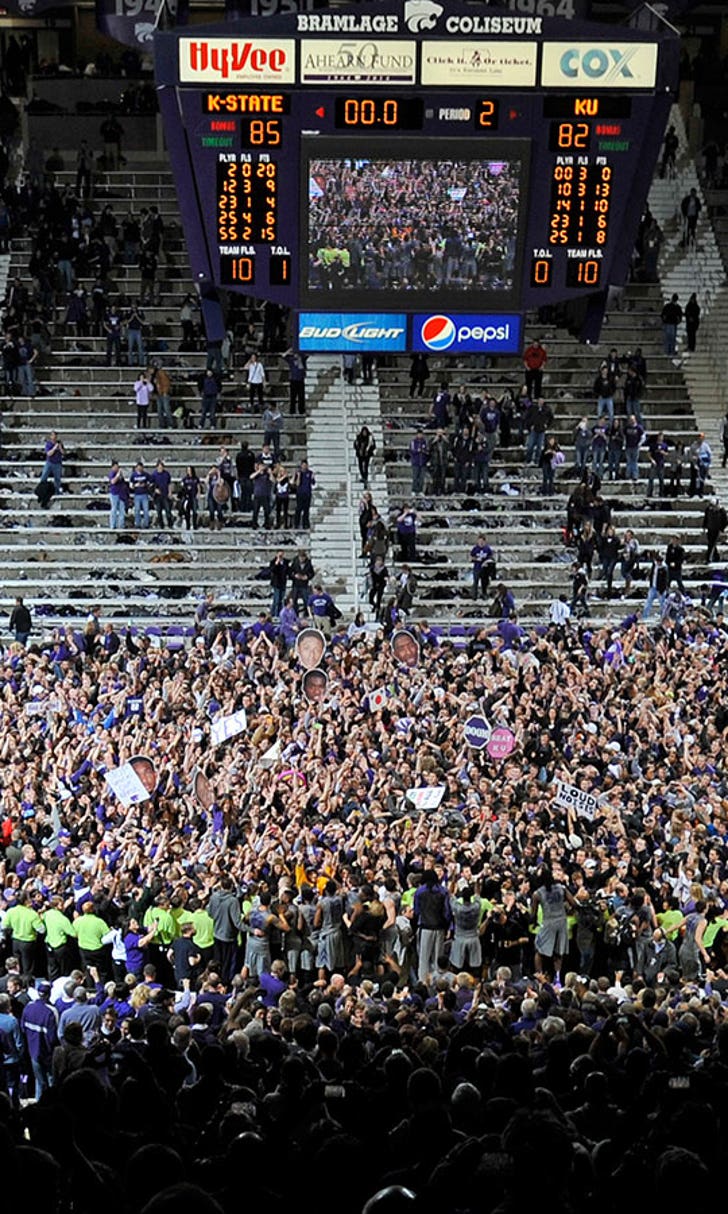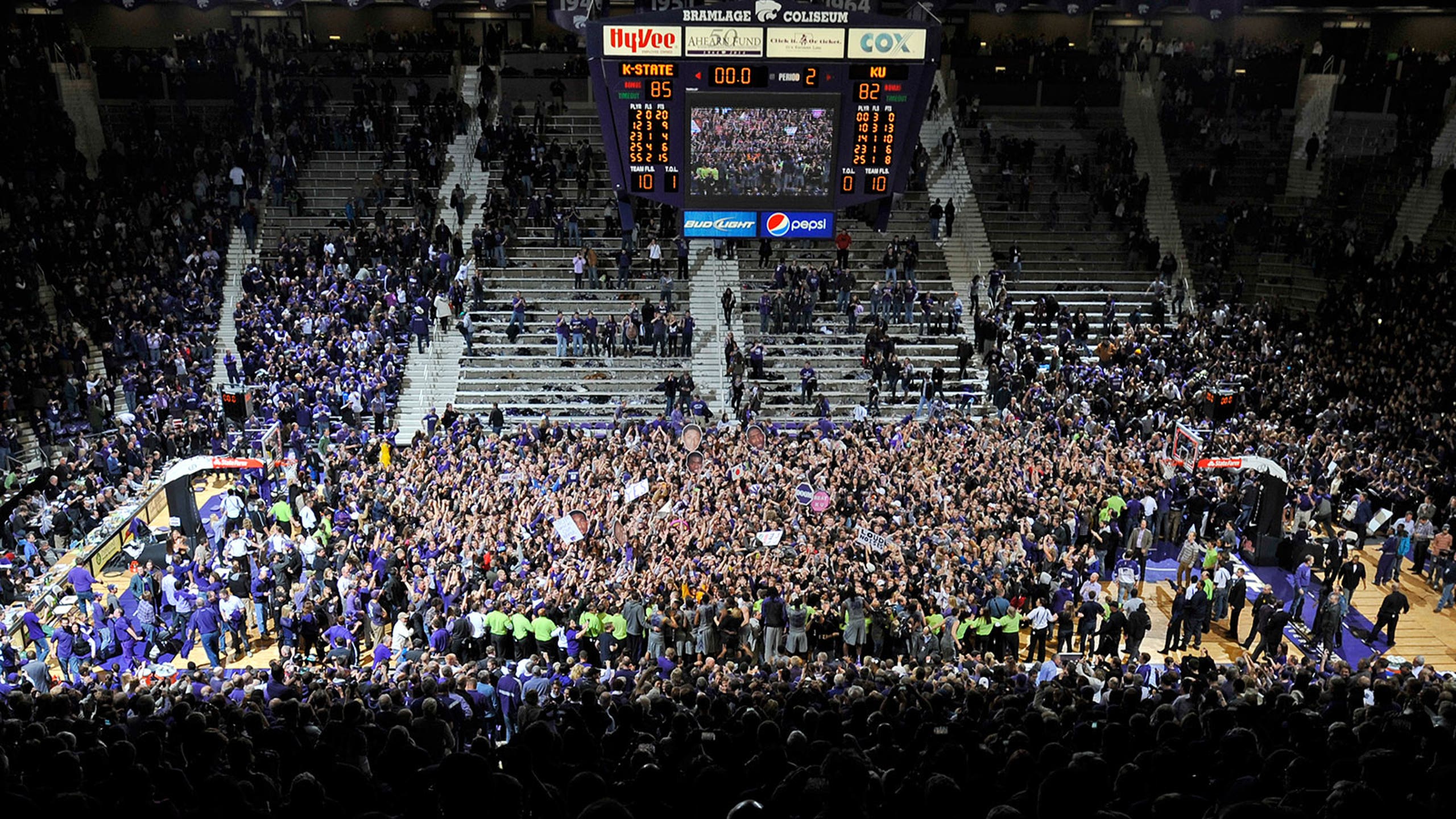 Daily Buzz: The euphoria and disarray of court storming
BY foxsports • February 18, 2014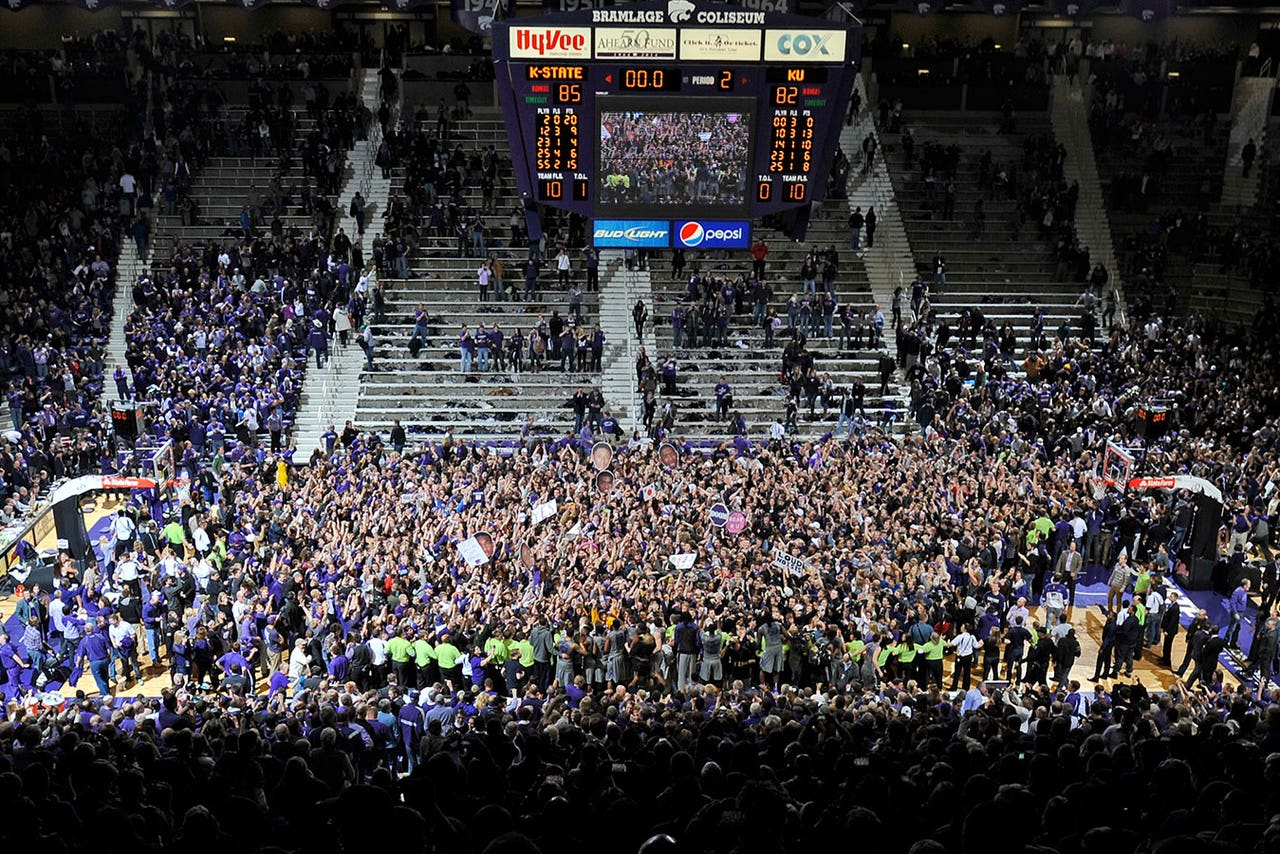 Viewed from above and afar, court-storming – the practice of basketball fans running onto the court after a big win – looks like a fad, same as streaking or planking or flash mobs. There is no end-game; it is just a thing people do, which makes other people want to do it.
The reason the fad has not faded is obvious: Your opportunity to participate in it is dependent on a rare and specific circumstance. You need to be in the building when your college basketball team pulls off a wholly unexpected win on its home floor (and it's somewhat important you be a student when it happens).
So if, to use some recent real-life examples, you are a Kansas State student who has witnessed your team beating Kansas, or you are an Arizona State student watching your Sun Devils beat Arizona in Tempe, this may be your only chance.
Opinions vary about what, exactly, it says about your program when your students turn delirious because you won a conference game at home, but beyond some stepped-on toes and spilled drinks, there usually isn't much harm done.
Nonetheless, you can pick up some court-rushing fatigue from college basketball coaches, in particular the Pac-12 coaches quoted in the Los Angeles Times, who seem to be interested in the conference doing something to calm the stormings.
"It's longstanding tradition in college basketball for students to storm the court after the home team has big wins," Arizona State coach Herb Sendek said. "You can certainly foresee possible danger in that."
Then there's Arizona coach Sean Miller, who seems generally annoyed by the practice. In both Arizona's losses this year, fans stormed prematurely, had to be pushed off the floor, then stormed again because mobs don't think, dammit.
"We obviously lost two games this year and the court was rushed four times in those two games," Miller said. "That's all part of it. Everyone gets really excited."
Miller was careful to congratulate Arizona State and Cal for outplaying his team, but I wouldn't have blamed him if he rolled his eyes when he said it.
It deserves mentioning that in most arenas, when the upset appears imminent and the fervor appears to be bubbling over, the public address guy will take to the speakers to tell everybody to stay off the floor at the conclusion of the game, and some security guards will post up on the perimeter of the floor, but they always come off like grape juice distributors during Prohibition, adding labels warning customers not to add sugar and place the juice in a warm jug for 20 days.
From an ideological perspective, the topic is trenchant. At its core, it is a debate about the values of freedom and security, which seem so often to be in competition with each other. Nobody wants to tell college kids not to have their fun. The student sections are what make college basketball games unique, and organically festive. It would be a shame to throw water on that. On the other hand, there does seem to be a certain risk for injury involved. Eventually, we may have to decide whether trading in some safety for the sake of freedom is acceptable, and there will be no clear answer.
It does seem clear, though, that storming the court is a thing people are going to keep on doing as long as they're allowed.
Time for some links:
Here are some expressive portraits of high school girls wrestlers.
Things got way out of hand in this Cuban basebrawl.
The student paper at UMass has a story on the 20th anniversary of the famed John Chaney-John Calipari confrontation.
George Karl is "reporting" that this season "could" be Tim Duncan's last, for whatever that's worth.
Christian Okoye runs off an entire quarter of Tecmo Bowl without being tackled.
An Arkansas recruit shatters the backboard.
Marcus Smart has had it up to here with the negativity from an Oklahoma State blog.
Here's a column arguing Johnny Manziel "is magic."
Departing Northwestern quarterback Kain Colter testifies before the National Labor Relations Board in an effort to form a labor union for college athletes.
Kerry Rhodes says he doesn't think rumors about his sexuality blacklisted him from the NFL in 2013-14.
In 1961, Life magazine gave a Yankees player a camera and told him to photograph his teammates at spring training. These are the results.
Kansas coach Bill Self reportedly has an interesting idea for NBA draft eligibility.
---