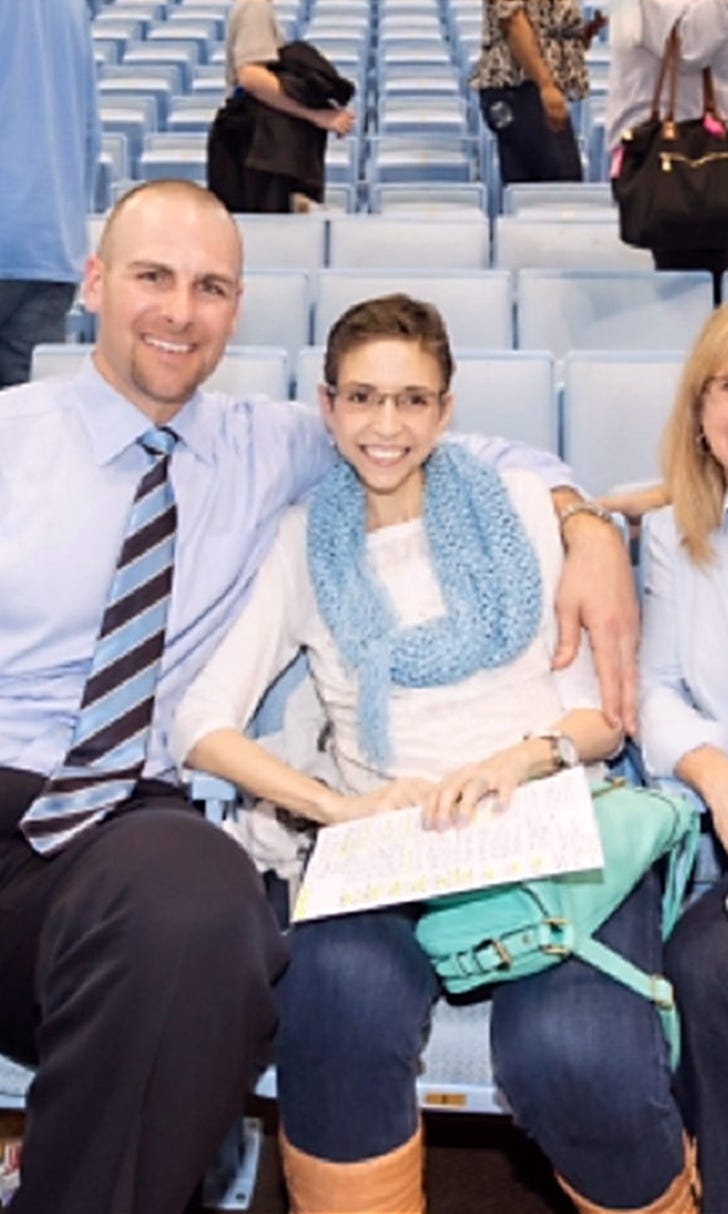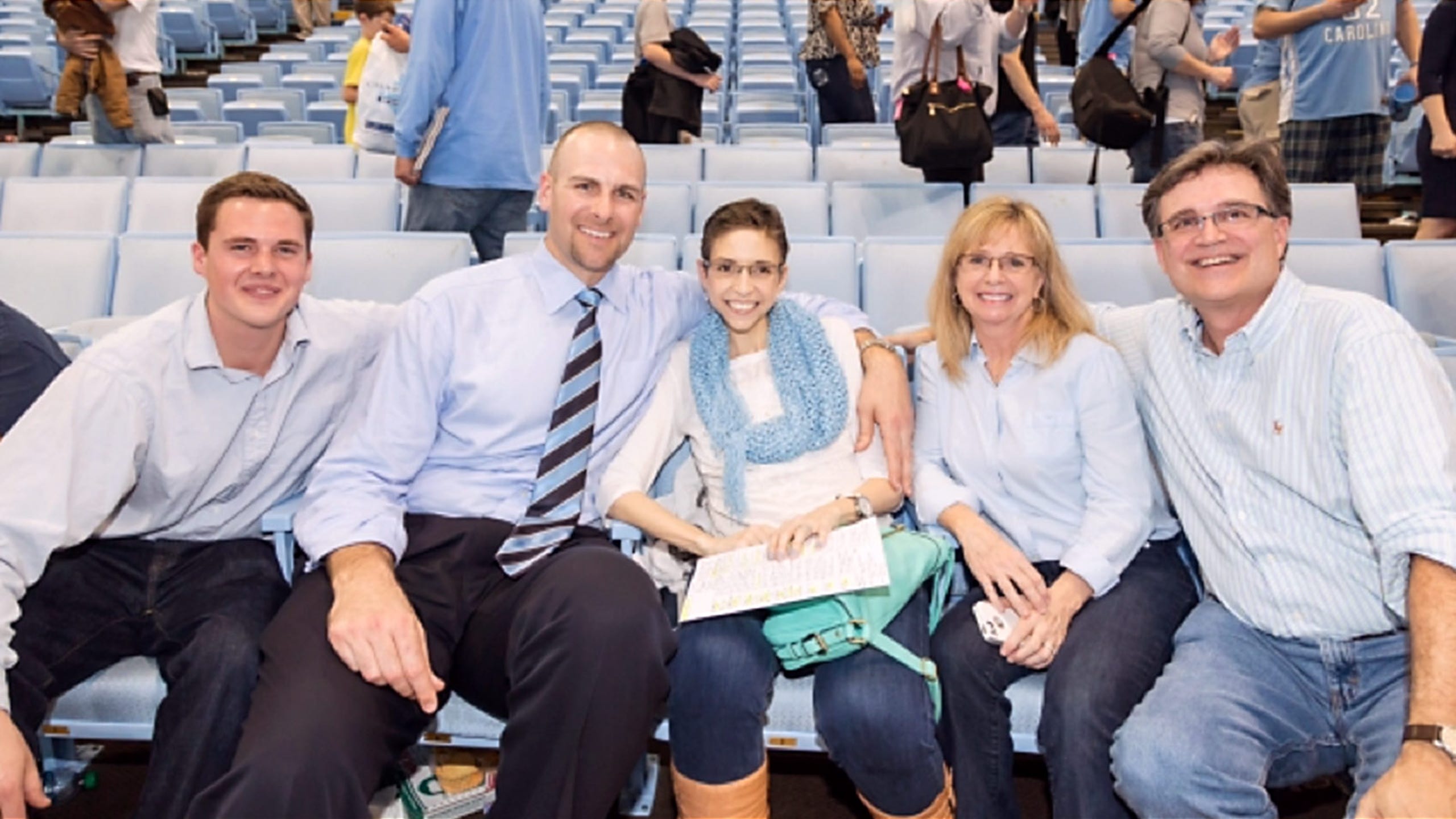 Daily Buzz: A dying Tar Heels fan gets her last wish
BY Sam Gardner • February 25, 2014
When Meredith Legg Stapleton learned in late January that she had one month to live, the 26-year-old Huntersville, N.C., resident prayed for two things: She wanted to see enough snow to build a snowman and she wanted to see her beloved North Carolina Tar Heels play Duke in person one last time.
Stapleton died Monday night after a nearly four-year bout with a rare case of ocular melanoma, but not before she was able to see both of those prayers answered. 
GoHeels.com has Stapleton'€™s touching story, which actually started on Dec. 21, when she received tickets to go see UNC host Duke on Feb. 12 in Chapel Hill.
When Stapleton was referred to hospice on Jan. 23, her family returned the tickets so someone else could use them, but Stapleton demanded to get them back once she found out. "She was going to the Carolina-Duke game," GoHeels.com'€™s Adam Lucas wrote, "no matter what anybody with a stethoscope said."
"When the doctors had the talk with me, I wasn't scared or nervous," Stapleton told the site. "I just wanted to make sure I lived it out and lived it up."
Feb. 12 finally came, but with it came more than six inches of snow, an uncommon accumulation for her area. That was more than enough to build the snowman she prayed for — his name was Olaf —€" but it was also enough to prevent Stapleton and her family from making the two-hour drive from Huntersville to Chapel Hill for the game.
Fortunately for Stapleton, that same snowstorm impacted Chapel Hill and the game between the two rivals, located just 8 miles apart, had to be rescheduled for Feb. 20 — an act of divine intervention if there ever was one. And on Feb. 20, after a medical procedure earlier in the day, Stapleton was there, in the front row of Section 125, for UNC's 74-66 win over the then-No. 5 Blue Devils.
"The players were running up and down the court, and I just watched her for about two minutes straight," Stapleton's husband, Christopher, told GoHeels.com.
"I was so amazed by how beautiful she was, and how elegant and at peace she looked. People were screaming and jumping and I would clap because everyone else was clapping, but then I would go back to her. It was two of the most beautiful minutes I have ever had. I'm going to keep those moments in my head forever."
Things took a turn for the worst shortly after Stapleton and her family headed back home after the game. But when she died Monday, father Basil Legg said she did so at peace — a calm that can surely be attributed (at least in part) to Stapleton's final prayer being answered.
"I'm that person you watch the game with who is always yelling at the screen," she told GoHeels.com on Friday. "To me, it's a lifestyle. It's like I was born with it. I have loved Carolina basketball ever since I can remember."
Now, for some links:
• A couple Jets trainers may have saved a life on the way to the NFL Combine. 
• Eighteen-year-old Kevin Grow, the high school senior with Down syndrome who got an honorary contract from the 76ers, has now been signed by the Harlem Globetrotters and will play in the fourth quarter of a game in Philadelphia on March 9. 
• After losing a bet with a team executive, a Leyton Orient fan had to clean every seat in the team's stadium: 
• Rajon Rondo could be in trouble for reportedly not accompanying the Celtics to their game in Sacramento over the weekend. 
• A lost Troy State national championship ring was returned to its owner after 25 years.
• A female media member almost became a human trafficking victim at the Winter Olympics in Sochi.
• This, courtesy of the New Orleans Pelicans, is a king cake baby. Don't look into its eyes: 
• Former TCU quarterback Casey Pachall slammed the TCU program for its lack of leadership.
• A Washington lobbyist wants to pass a bill banning gay players from the NFL.
• For just under $800K, you can buy Dwyane Wade's custom McLaren MP4-12C.
• If you're looking to refinance your home, Conan O'Brien knows just the guy to help: 
• Marc-Andre Fleury will wear a Steelers-themed goalie mask for Saturday'€™s Penguins game at Soldier Field in Chicago.
• Arianny Celeste threw some shade at Ronda Rousey in a recent radio interview.
• Kyle Singler ought to just quit after getting clowned by Klay Thompson:
• Cardinals manager Mike Matheny had to meet with pitcher Carlos Martinez after it came to light that Martinez's Twitter favorites contain mostly porn. 
• Johan Santana reportedly struggled to reach 80 miles per hour in a throwing session Tuesday.
• There's a WhiteHouse.gov petition to make opening day a national holiday.
• J.R. Smith is still a pest: 
• An Orioles prospect was unfamiliar with Frank Robinson, so Buck Showalter made him write a paper about the Hall of Famer.
• The Miami Dolphins' union rep seems skeptical about the contents of the Ted Wells report on the team's alleged bullying problem.
• The Winnepeg Jets practiced on a frozen river: 
• Hernia surgery will sideline the Mariners'€™ third base coach for 4-6 weeks.
• Chris Peterson is the latest college football coach to speak out against the proposed "Saban Rule."
• Damian Lillard and Corey Brewer apparently tried to put each other in a figure-four leg lock on Sunday: 
---