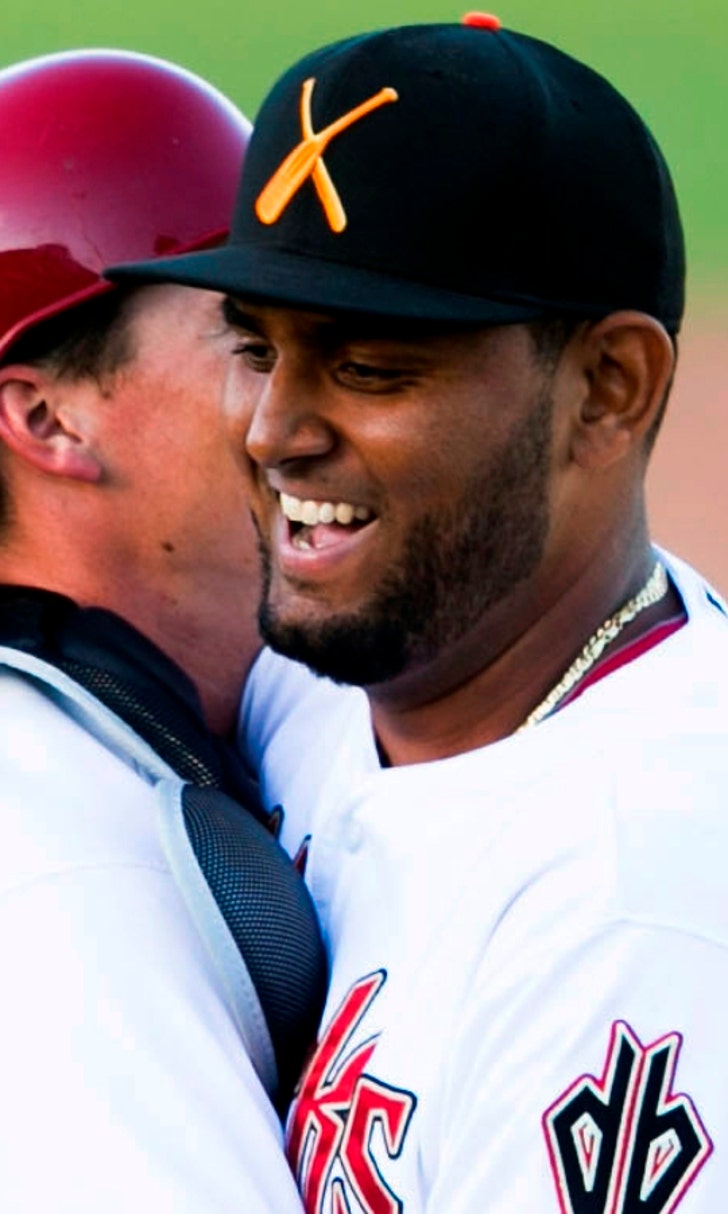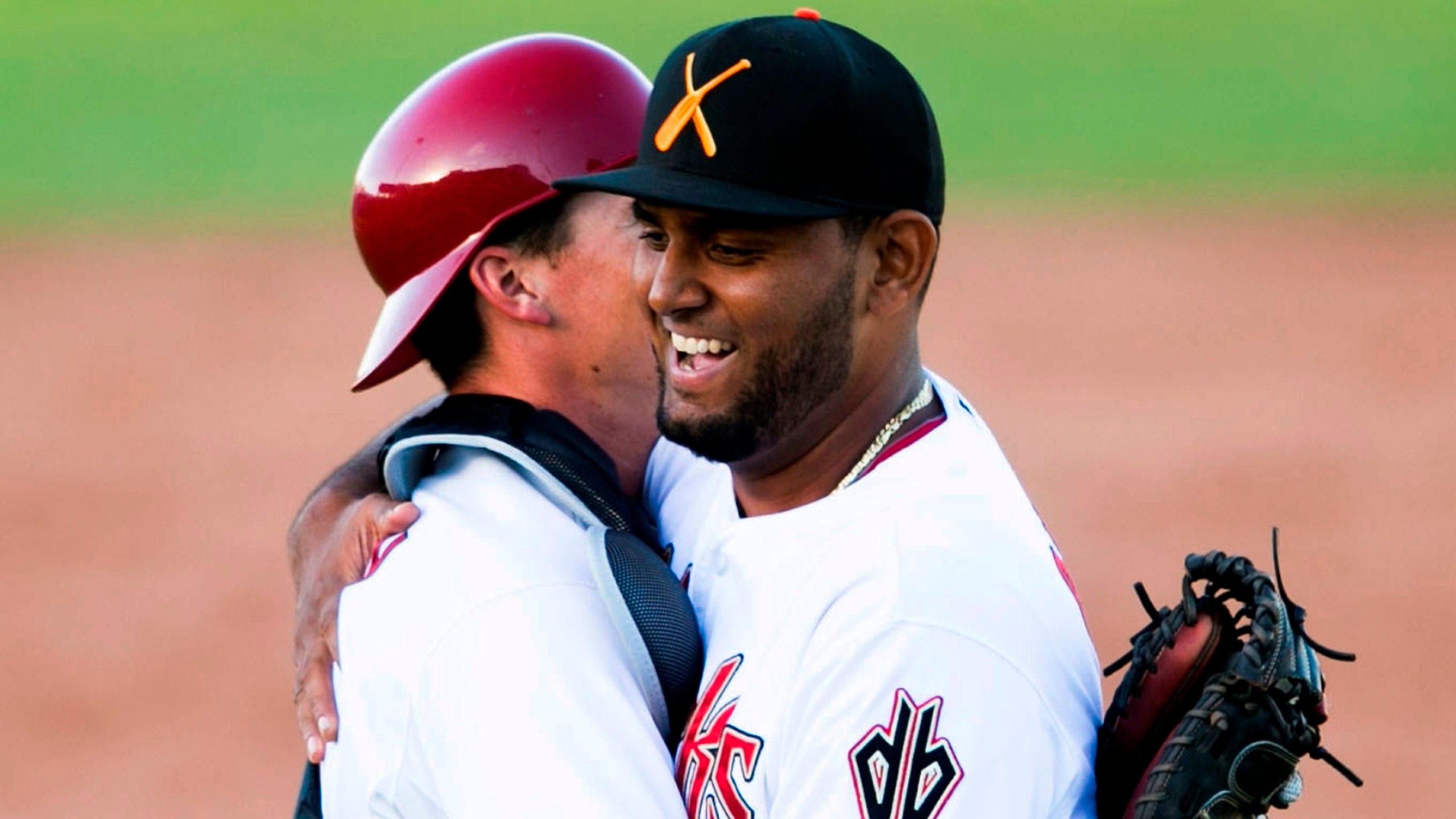 D-backs youngsters impress during Fall League play
BY foxsports • November 20, 2014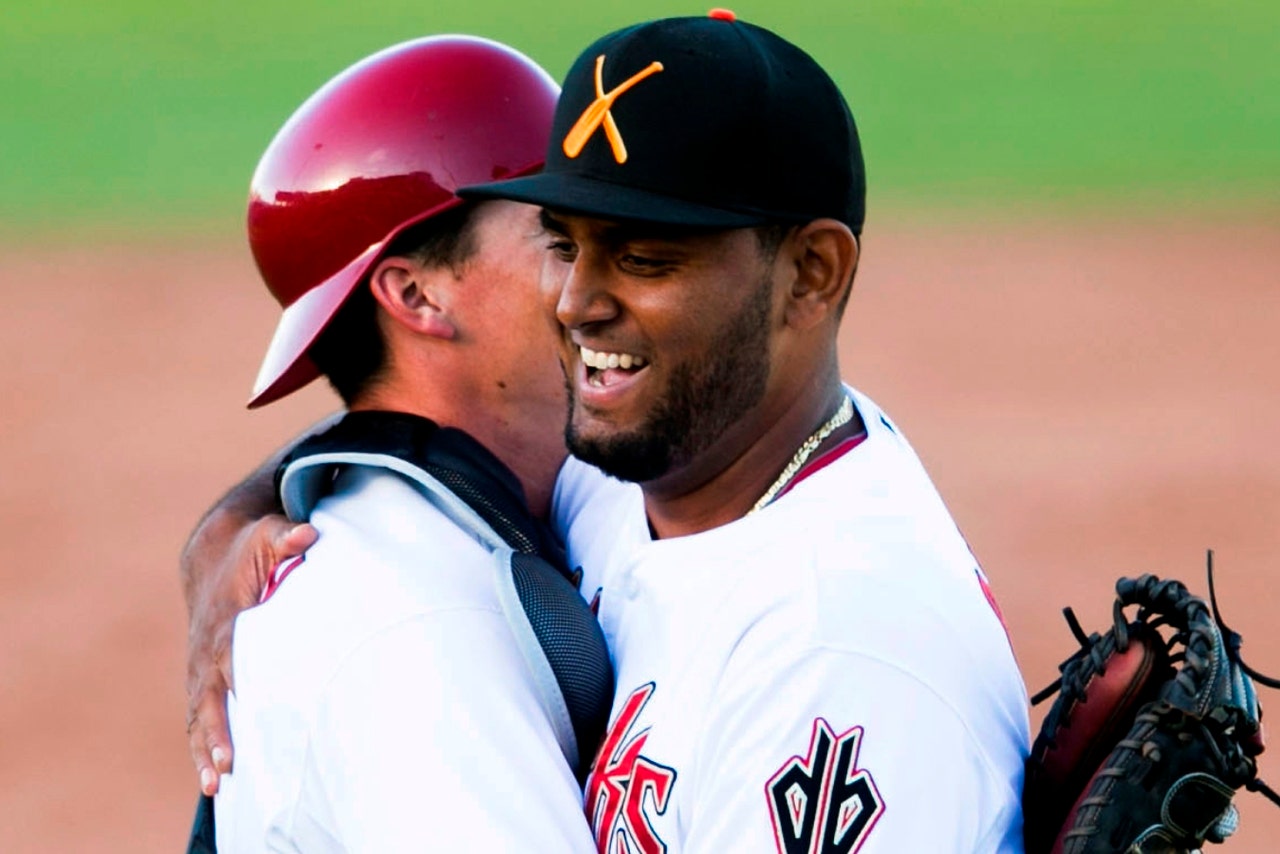 PHOENIX -- The Arizona Fall League bills itself as a finishing school for top major league prospects, and a number of the seven Arizona Diamondbacks prospects assigned to the Salt River Rafters finished with a flourish.
Peter O'Brien tied for third in the league with five home runs, one short of the league co-leaders, as the Salt River Rafters -- the D-backs' prospects used the same clubhouse as the parent team does during spring training -- rolled to the best record in the league and on Saturday won the championship game.
Right-hander Enrique Burgos was second in the league with four saves, and right-hander Kaleb Fleck tied for fifth with two saves. Right-hander Jimmy Sherfy hit 100 mph with his fastball. He did it just once, but as scouts like to say, if you see it once, you know it is in there.
The flashes were fewer for right-hander Archie Bradley, who entered the summer as the D-backs' top prospect and Baseball America's No. 9 overall prospect. Bradley was 0-2 with a 7.13 ERA in seven starts and allowed 39 base runners in 17 2/3 innings.
At the same time, Bradley still pitched in the mid-90 mph range as the season wound down, and the right elbow flexor mass strain that caused him to miss two months seemed a thing of the past.  More than anything, the D-backs wanted Bradley healthy, and he was.
A look at the group:
-- O'Brien is being groomed as a catcher, and he did all of his extra work this fall behind the plate, with an emphasis on the transfer from glove to throwing hand against potential base stealers. He had some good days, throwing out three base stealers in an Oct. 24 game against Glendale. Because each Fall League team has four catchers, O'Brien also spent a lot of time at first base and was used as a DH. O'Brien does not figure to get much time at first behind Paul Goldschmidt, but versatility is always a selling point. If the jury is out on O'Brien's defensive skills, it has reached a unanimous verdict on his bat. He can hit, and his approach is sound. One major league talent evaluator likened O'Brien to Colorado catcher Wilin Rosario, whose bat earned him a place in the lineup as his defensive skills improved. O'Brien had 38 home runs in 133 games at four stops this season even though he missed about a month with a shin injury just after he was obtained from the Yankees. He showed good strike zone knowledge and drew 17 walks in 25 games for a .393 on-base percentage in the Fall League.
-- Burgos, who also has hit 100 mph, harnessed his fastball in the summer and maintained it in the fall, where he was used as a closer. He was 1-1 with a 3.65 ERA; a couple of poorly placed sliders late in the season accounted for his ERA after he made seven scoreless appearances and struck out 11 in 12 1/3 innings while walking four. He is likely to open the season as the Double-A Mobile closer but showed the kind of power arm that can play at the highest level.
-- Fleck is proof that Tommy John surgery can be just a setback. He suffered an elbow injury at just the wrong time, months before the 2010 June draft, and fell off everyone's draft board because of it. He has made steady improvement since and has the kind of arm that could challenge for a bullpen spot as early as 2015. Fleck throws in the high-90s and has a sharp slider. He does not have to be protected in the Rule 5 draft because he did not pitch for the D-backs until 2012, but appears certain to be invited to major-league spring training.
-- Sherfy was known for his high-90s fastball while racking up strikeouts at the University of Oregon, but he relied more on getting batters to chase his his slider when they were behind in the count. The more advanced the hitter, the less the amount of chasing, and the D-backs convinced Sherfy to lead with his fastball and pitch more to contact in the Fall League. It took: Sherfy was 1-0 with a 0.93 ERA in nine appearances, giving up only five hits. He still had 10 strikeouts in 9 2/3 innings and walked only three. Like Burgos and Fleck, the Fall League hitters were the most accomplished he has faced in his young career, and he did not have an issue with it.
-- Bradley had his best two outings in midseason, throwing four shutout innings against Glendale on Oct. 24 and followed with two scoreless innings in the showcase Fall Stars Game on Nov. 1. He was credited with the victory in that game, and the only hit he gave up was an infield single. Bradley worked on adding a slider to his repertoire that includes his fastball and big curve. He struggled for the first time in his career this season, and the D-backs are certain the season was an aberration. Houston prospect Mark Appel put his early-2014 command issues behind him in the Fall League, and the D-backs see Bradley taking the same path.
-- Third baseman Brandon Drury, who followed his 51-double season odf 2013 with 44 doubles this year, continued to show pop to all fields with four doubles, a triple, three homers and 11 RBI in 23 games. He also saw a decent amount of time at second base as the D-backs looked to increase his versatility, in the event one of the major league middle infielders goes away in a trade. Drury showed aptitude at the position, and if that is where he ends up, he would be a plus offensive player. 
-- Center fielder Evan Marzilli continued to play plus-plus defense in center field while more than holding his own against Fall League pitching, hitting .303 with nine RBI and seven stolen bases in 25 games. He finished strong, with 10 hits and his only homer in his last 29 at-bats. A 2012 draft pick out of South Carolina, he also does not need to be protected this season but is almost certain to receive a second straight invitation to major-league spring training.
Follow Jack Magruder on Twitter
---