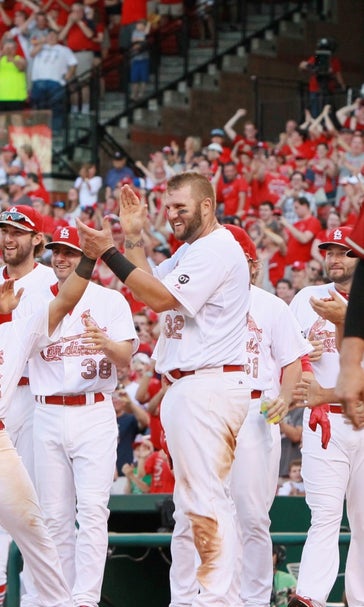 D-backs rally late but fall in 10th
May 25, 2015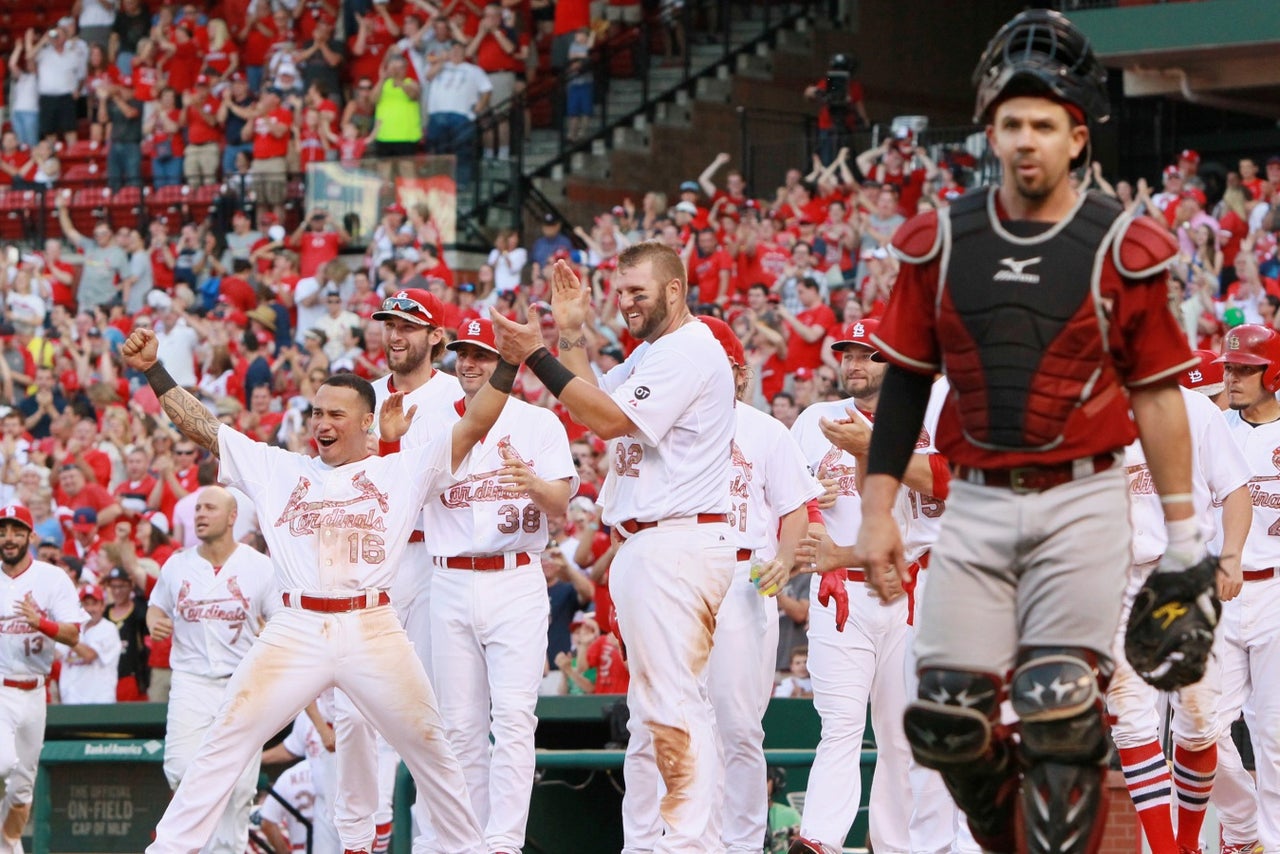 ST. LOUIS -- Mark Trumbo connected for a big homer for Arizona. Jhonny Peralta landed the knockout blow for St. Louis.
Trumbo hit a tying two-run drive in the eighth, but Peralta's leadoff drive in the 10th inning handed the Diamondbacks a 3-2 loss on Monday.
"I'm kind of in one of those stretches where I'm not killing the ball, but trying to remain as tough as I can," Trumbo said. "I have to, in order to get some of these guys behind me pitches."
It was the first time that Trumbo had driven in a run since he homered twice and had four RBIs in a 14-6 victory over Washington on May 12. He hit his seventh homer on a 1-2 pitch from Kevin Siegrist with shadows beginning to affect play in early evening.
"I got a fastball I could handle," Trumbo said. "But it wasn't one of those situations where you feel like you're really in the driver's seat, I guess."
The Diamondbacks totaled nine hits, stranded 11 and were 1 for 10 with runners in scoring position. The bottom four in the order, including two pinch hitters, combined for a single and a walk.
"When they do perform like they did the last series, we score a lot of runs," manager Chip Hale said. "So it's important, and it's a work in progress."
The Diamondbacks scored four or more runs in each of the previous six games. But they have dropped six of their last seven against the NL Central-leading Cardinals while getting held to two or fewer runs five times.
Peralta's drive to left on a 1-2 pitch from J.C. Ramirez (1-1) was his fourth career game-winning homer. The Cardinals improved to 4-1 in five extra-inning home games in May, including a sweep against the Pirates at the beginning of the month.
Arizona stranded five the last two innings. The Cardinals wasted two hits to open the ninth when Ramirez struck out Matt Carpenter, Matt Holliday and Matt Adams.
Carlos Martinez matched his career high with eight strikeouts in seven innings for St. Louis, which got an RBI apiece from Matt Adams and Jason Heyward. Trevor Rosenthal (1-0) retired Chris Owings and Tuffy Gosewisch with the bases loaded to end the 10th.
Arizona starter Chase Anderson allowed two runs in six innings. Yasmany Tomas had three singles, giving him 18 hits in a nine-game hitting streak.
Martinez has four eight-strikeout games and has totaled 13 1/3 scoreless innings his last two outings. He gave up five hits and walked two.
Diamondbacks: Reliever David Hernandez (elbow) was set to make his fourth rehab appearance, and second straight with Double-A Mobile. ... Reliever Oliver Perez stayed in after Holliday lined a single off his right ankle in the seventh, but left after walking Adams on four pitches. ... Enrique Burgos got a visit from Hale and trainers after warmups in the ninth, complaining of undisclosed soreness, and then lasted just two hitters. Hale said Burgos will be re-evaluated and that the team would make a decision on the pitcher Tuesday.
Cardinals: Leadoff man Jon Jay (left wrist) begins a short rehab stint Tuesday with Class A Peoria. General manager John Mozeliak said Jay could be in the lineup as soon as Friday. ... LHP Marco Gonzales might skip a start due to recurring shoulder issues.
Diamondbacks: Archie Bradley (2-1, 4.00 ERA) is 0-1 with a 10.29 ERA in his last two starts since sustaining a right sinus fracture after being struck in the face by a line drive by Carlos Gonzalez on April 28.
Cardinals: Jaime Garcia (0-1, 2.57 ERA) makes his second start of the season after allowing two runs in seven innings against the Mets.
---