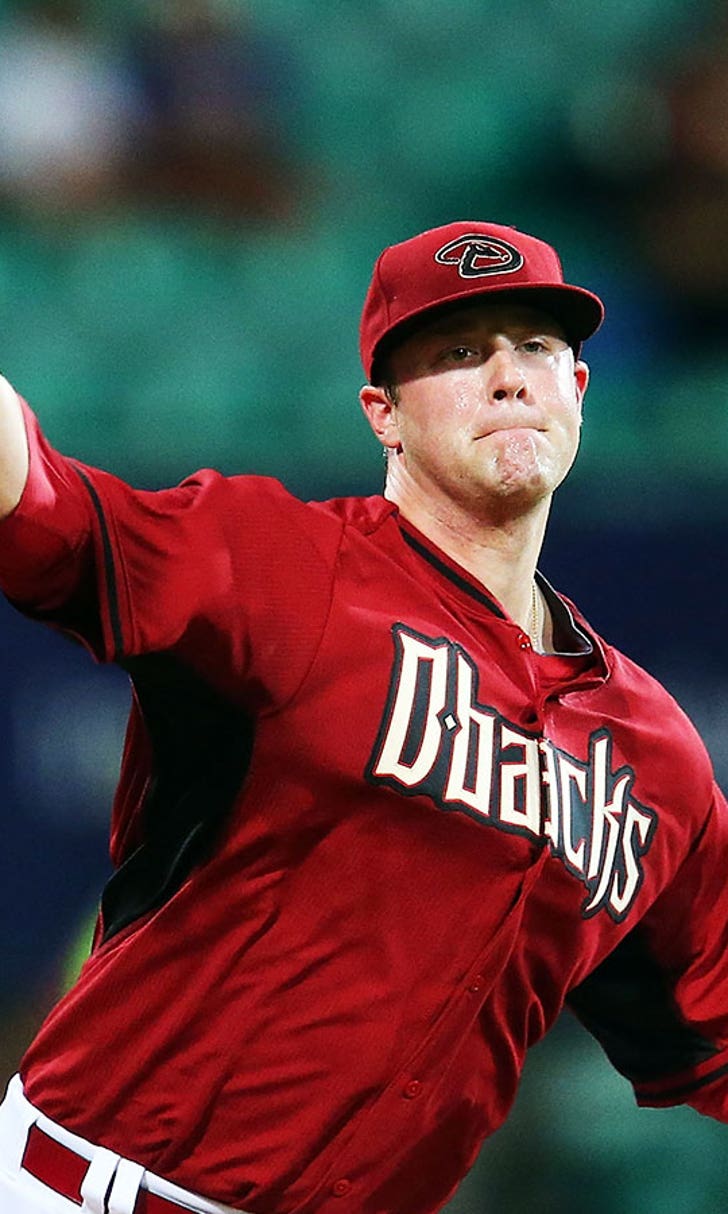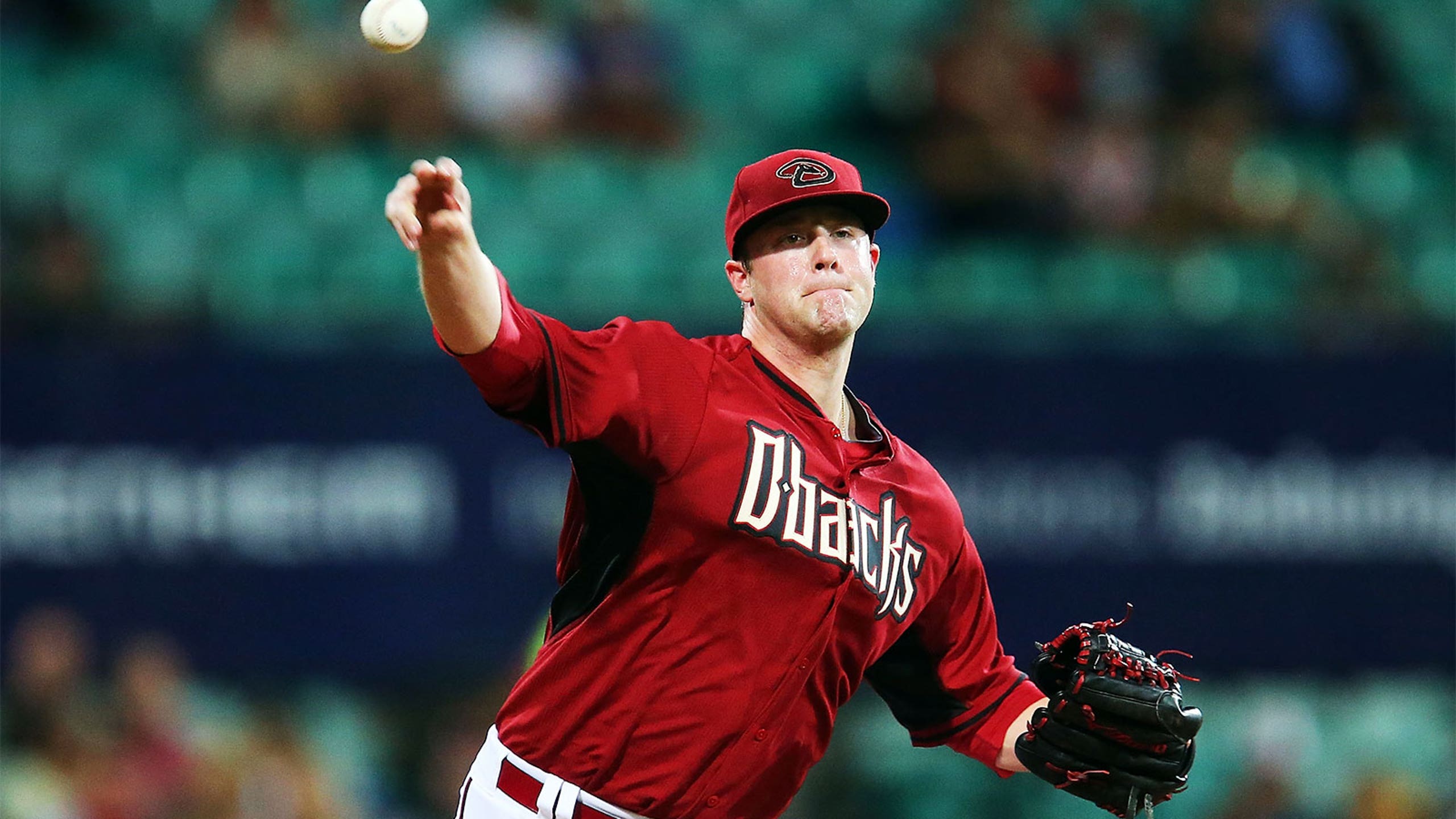 D-backs' Bradley eager to prove he's worthy of top-prospect pedigree
BY foxsports • October 21, 2014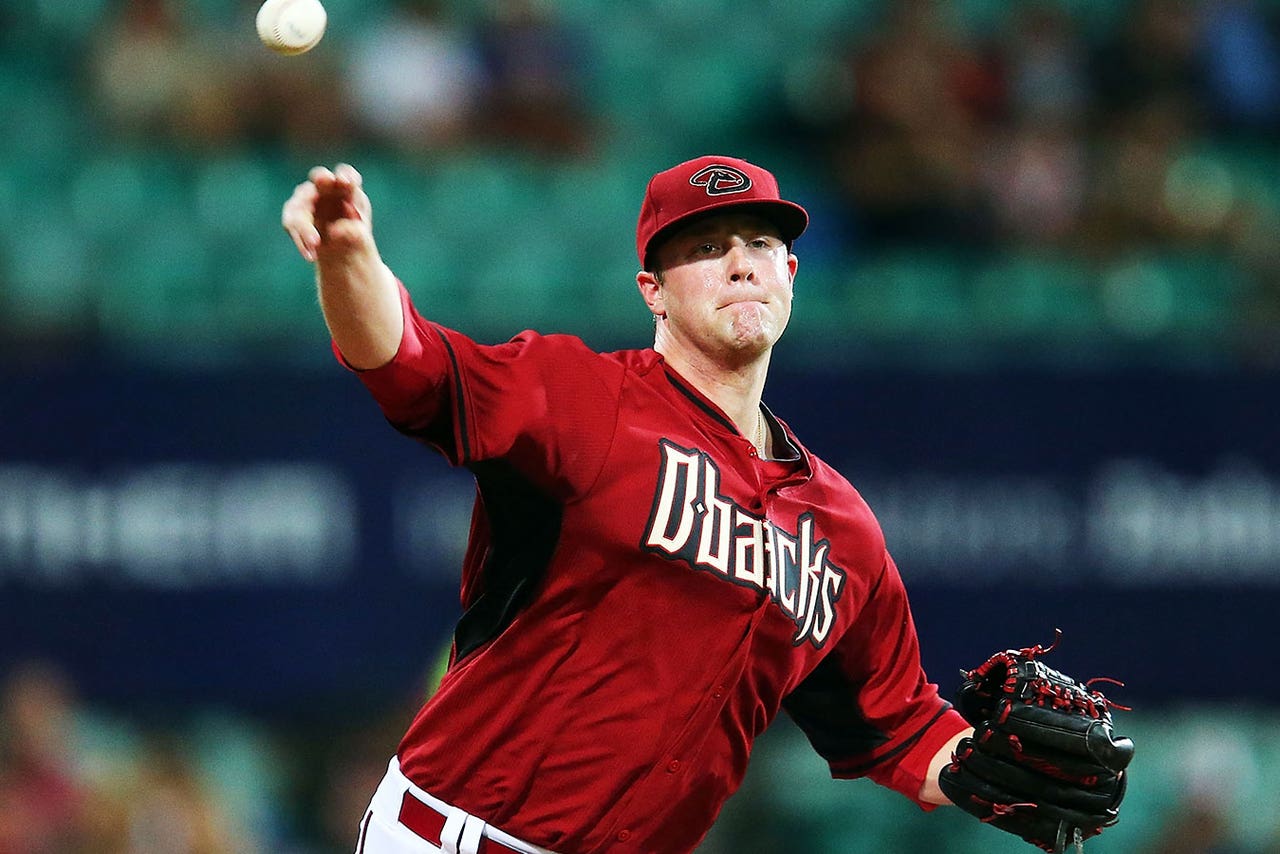 PHOENIX -- You are 21, you have a chance to make a major-league rotation and your arm is just starting to bark. What do you do?
 Diamondbacks right-hander Archie Bradley took the full-tilt-boogie approach -- he pitched through a bit of pain in his right elbow last spring until it finally became apparent something was not right. Rehab cost him two months of the season and affected the rest of it, but if anything, the up-and-down year made him more determined entering 2015.
 "I think I have something to prove, as far as to show them why they picked me. Why they invested in me. I feel like I owe that to them," said Bradley, playing with the Salt River Rafters in the Arizona Fall League season.
 His goal is a spot in a D-backs' starting rotation, where only Wade Miley and Josh Collmenter appear set, according to new general manager Dave Stewart's assessment the day after the regular season ended.
 "My sights are set on making that team out of camp," said Bradley, now 22. "I'm not going to put that pressure on myself like I think I did (last) spring training. I'm just going to compete. It's cliche, but just control what I can control. Worry about my outing that day. Worry about the next pitch. I have full confidence that I can help that team win, and it is just about proving that to them and proving it in my way. Not trying to do too much. Just pitching my ball game."
 Bradley's ball game was enough to earn him a $5 million signing bonus as the seventh player selected in the 2011 draft out of Broken Arrow (Okla.) High, and it was enough to prompt an invitation to major-league spring training with the not-so-remote possibility of making the D-backs rotation. He blew though stops at Class A Visalia and Double-A Mobile in 2013, going a combined 14-5 with a 1.84 ERA and an average of 9.6 strikeouts per nine innings.
 He entered the season ranked by Baseball America as baseball's ninth-best minor-league prospect, and his rotation chances seemed to grow when left-hander Patrick Corbin was lost for the season to Tommy John surgery in March. But shortly after giving up three runs and six hits in 3 2/3 innings against the Australian national team in a final spring start March 21, Bradley was reassigned to the minor-league camp. His first two starts in Reno were effective, his next three not as much. Even as several members of the major-league rotation struggled, Bradley figured he was not helping his case by pitching with pain, and the morning after giving up seven hits and five runs in an 8-5 loss to Salt Lake City on April 26, he spoke up. It was not easy.
 "Should I say something? Should I not?" Bradley said. "At the end I thought if I can't throw the ball the way I want, I'm not doing anyone any good. Even if I get called up, I wouldn't be helping the Diamondbacks.
 "I'm glad I said something, because sometimes you are scared. You never want to be hurt, especially in the situation I was in. I didn't want to stop competing. I wanted to give myself a chance, but it's not worth the longevity of what's hopefully a long career for me."
 A doctor's visit confirmed a flexor mass strain, an injury can be a precursor to a more serious injury such as the ones suffered by Corbin and Bradley's Oklahoma high school friend Dylan Bundy, who underwent Tommy John surgery in 2013. Baltimore took Bundy three picks ahead of Bradley in the 2011 draft. Early diagnosis helped, but it left Bradley on the outside looking in while minor-league teammates Mike Bolsinger and Chase Anderson were promoted to the majors. There were the natural pangs of what could have been.
 "Of course I"m happy for them," Bradley said. "That's awesome. No one deserves it more than those guys, all the guys that went up. But at the same time it's frustrating because I know maybe that could be me ... thinking maybe I could do something to help and instead I'm sitting on the training room table in Arizona." 
 Bradley returned in July and made one appearance in the rookie Arizona League before finishing the season in Double-A Mobile, where he was 2-3 with a 4.12 ERA in 12 starts. He struck out 10 in seven innings of a no-decision at Chattanooga in his second start back, but command issues surfaced later, the same issues major league scouts and D-backs pitching adviser Dave Duncan noted earlier in the season. 
 His final two starts typified the swings. Bradley gave up one hit and walked five while getting only one out in his final regular-season start against Jacksonville on Aug. 29. Six days later, he struck out eight with while giving up a walk and three runs in six innings of a no-decision against Jacksonville in the first round of the playoffs.
 "This is the first time I've ever struggled like that, that I've ever had trouble getting guys out and going deeper into games," Bradley said. "Command has always been an issue for me as far as not honing it in and controlling it the way I want, but there were a couple of times where I had no feel of where the ball was going. I hold myself to very high expectations. When I wasn't able to meet those it was very tough, more mentally than anything else, because physically I was fine. My elbow felt good. I was healthy.
 "It's just mentally, which is the hardest part about this game, I was in a bad place. I've learned how to control that. I learned to understand that. I learned how to separate baseball and life and not combine them where controls everything I am doing."
 The D-backs sent Bradley to the Fall League to help make up the innings he missed during the regular season, and the early numbers have not been good -- 12 hits, eight earned runs, six walks, six strikeouts in seven innings. Some scouts believe Bradley is overthrowing, but both Bradley and the D-backs see progress.
 "In Mobile, you could see flashes of where he wanted to be," said Mike Bell, the D-backs director of player development. "In the Fall League, despite the numbers, it's a different atmosphere. He is working on things. He looks free and easy."
 Bradley sees the Fall League as another opportunity to refine his craft.
 "Obviously is it still a work in progress, but I threw the ball where I wanted to, changed eye levels, off-speed was good," he said after is first start. "I'm feeling really good about that.
 "The biggest thing for me is, and this is something every pitcher is going to struggle with in his whole career, is being able to make adjustments quicker. Feel what you did wrong and make the adjustment. I feel like I am getting pretty good at that."
 Meanwhile, he will use the past season as a learning tool.
 "I had expectations to make the club," he said. "I honestly thought I was going to make the team, and then to not make it was very tough for me. I understood why. I can't say I was happy about it or I agreed with it, but that's not my call. It's not my place to say anything.
 "I wanted to make the team. I felt I could help that team win. I still think I can. That's my goal here, to show them that I've matured, I've grown as a pitcher and I have a better understanding of what to do on the mound."
 Bell and the D-backs have not doubt that Bradley will be a factor at the top end of the D-backs' rotation, whether that is 2015 or later.
 "Archie is highly competitive. He is confident in a good way," Bell said. "We know who he is. In my mind, he's ahead of schedule. He's a talented young pitcher. I know he is going to do good things when the time is right."
 Follow Jack Magruder on Twitter
---