Coyotes send Yandle to Rangers for Duclair, picks
March 1, 2015

GLENDALE, Ariz. -- Trade rumors swirled around Coyotes defenseman Keith Yandle for years. Every time, general manager Don Maloney either dismissed them or noted he'd need at least an established top-six forward (preferably a center) in return for his offensive quarterback.
That didn't happen in the end.
The Coyotes traded Yandle, defenseman Chris Summers and a 2016 fourth-round pick to the New York Rangers on Sunday for talented prospect Anthony Duclair, a 2016 first-round pick, a 2015 second-round pick and defenseman John Moore.
So what changed?
"I'm really happy with what the return is," Maloney said. "Anthony Duclair is a terrific, elite, young scoring winger. When he became a part of this deal we got excited."
Duclair, 19, was Coyotes prospect Max Domi's linemate at the World Junior Championship this year and he had four goals and eight points in seven games for Canada. In 59 games with Quebec of the QMJHL last season, he had 50 goals and 99 points. In 18 games with New York this season -- his first NHL games -- he had one goal and seven points before returning to the Remparts where he has nine goals and 25 points in 19 games.
Duclair (5-feet-11 and 185 pounds) has two years left on an entry-level deal. His acquistion embodies the direction the team is taking under the majority ownership of Andrew Barroway. With this deal, the optics have changed. The Coyotes are in full rebuilding mode with Maloney now targeting a "three-to-five year" time frame to become a Stanley Cup contender.
"You don't find this type of ability on this young a player very often," Maloney said. "This is an organization that needed to introduce that type of talent -- and now. He'll have every opportunity to make this team next season."
Yandle, 28, was the team's fourth-round pick in 2005 (105th overall) and became a four-time All-Star. He led the team in scoring the past two seasons and with four goals and 41 points was doing so again this season through 63 games. Entering Sunday's games, only Claude Giroux and Nicklas Backstrom had more power-play points than Yandle (26).
"I think Keith could be the final piece of a Stanley Cup-winning team," Maloney said.
Yandle was one of the Coyotes' assistant captains. In 558 career games he has 65 goals and 311 points. He and Antoine Vermette, who was traded to Chicago on Saturday, were two of the NHL's current top three ironmen for consecutive games behind only Anaheim's Andrew Cogliano.
If the Coyotes do succeed in trading defenseman Zbynek Michalek before the deadline, a move Maloney believes is likely, they will have precious little experience on their blue line with Oliver Ekman-Larsson (23), Michael Stone (24), Connor Murphy (21), Brandon Gormley (23), Andrew Campbell (27), Moore (24) and Klas Dahlbeck (23), who was acquired from Chicago in the Vermette deal on Saturday and is expected to join the team on Monday.
The Coyotes hope Moore (6-3, 202) can realize the potential that made him Columbus' first-round pick (21st overall) in 2009.
Just like the first-round pick acquired from Chicago on Saturday, the first-rounder the Coyotes acquired from New York is lottery protected. If New York misses the playoffs next season, it could slide the pick to 2017.
Perhaps the most interesting dynamic of this deal, however, is that the Coyotes will retain 50 percent of Yandle's remaining salary, a concession Maloney called the cost of doing business with a team as close to the salary cap ceiling as New York.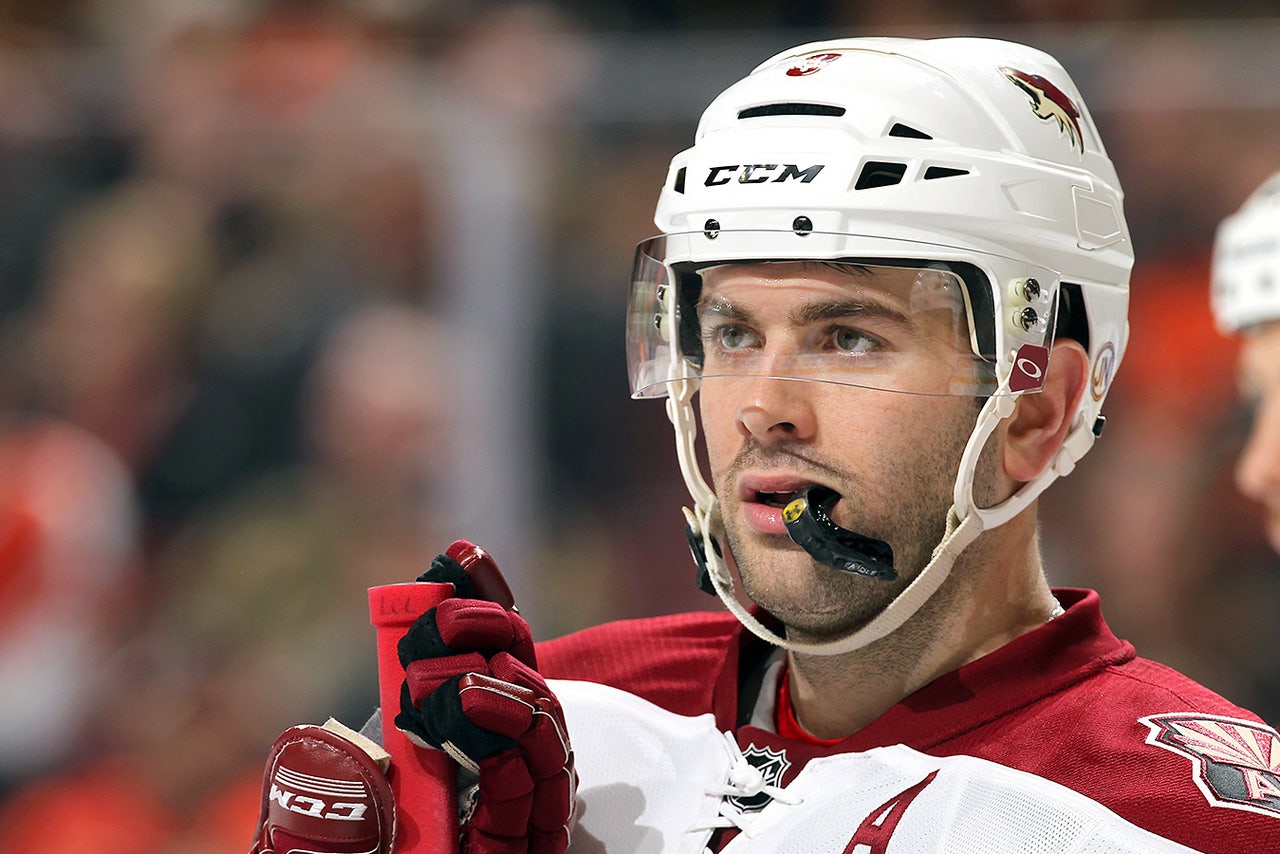 Keith Yandle had a team-best 41 points for the Coyotes this season before he was traded on Sunday.

That means the Coyotes will pay the prorated, 50-percent portion of his $5.5 million salary this season and half of his $5.75 million salary next season before he can become an unrestricted free agent.
With the Coyotes already on the hook for an average of $1.94 million over the next five seasons for buying out center Mike Ribeiro, Maloney wondered how ownership would feel about that fact. 
"I was concerned about the amount of money we were spending but there was absolutely zero hesitation," he said. "In fact, they were pushing me -- not letting money be the determining factor.
"That's why having ownership is so important. They understand that sometimes you have to spend to move ahead."
The Coyotes also embrace the idea they'll have to take a step backward on the ice for the opportunity to move ahead. Maloney expects more deals before Monday's 1 p.m. NHL trade deadline, and he admitted the team is not seeking established NHL players in return, although that could change with a new offer and the team will have to fill out the roster this offseason through trades, free agency and perhaps the draft.
The team that takes the ice Tuesday against Anaheim likely will be without more veterans, making the task of winning even more difficult on the players and the coaches. Maloney said he will meet with the team and coaches on Monday.
"We've got a job to do," he said. "We all put ourselves in this position. We didn't come into this season with this game plan at all but then it became crystal clear that this is not working.
"We barely missed (the playoffs in 2013), barely missed (in 2014) and then missed by a country mile (this season) so we just have to change the way we operate here. This isn't good enough for the people who support this franchise.
"The one benefit of having such a miserable season is that there's a pretty big reward for being a bad team."
The Coyotes lead Edmonton by one point for 29th in the NHL standings, and lead Buffalo by four for 30th. The 30th team is guaranteed to have the opportunity to draft either center Connor McDavid or center Jack Eichel.
Follow Craig Morgan on Twitter
---