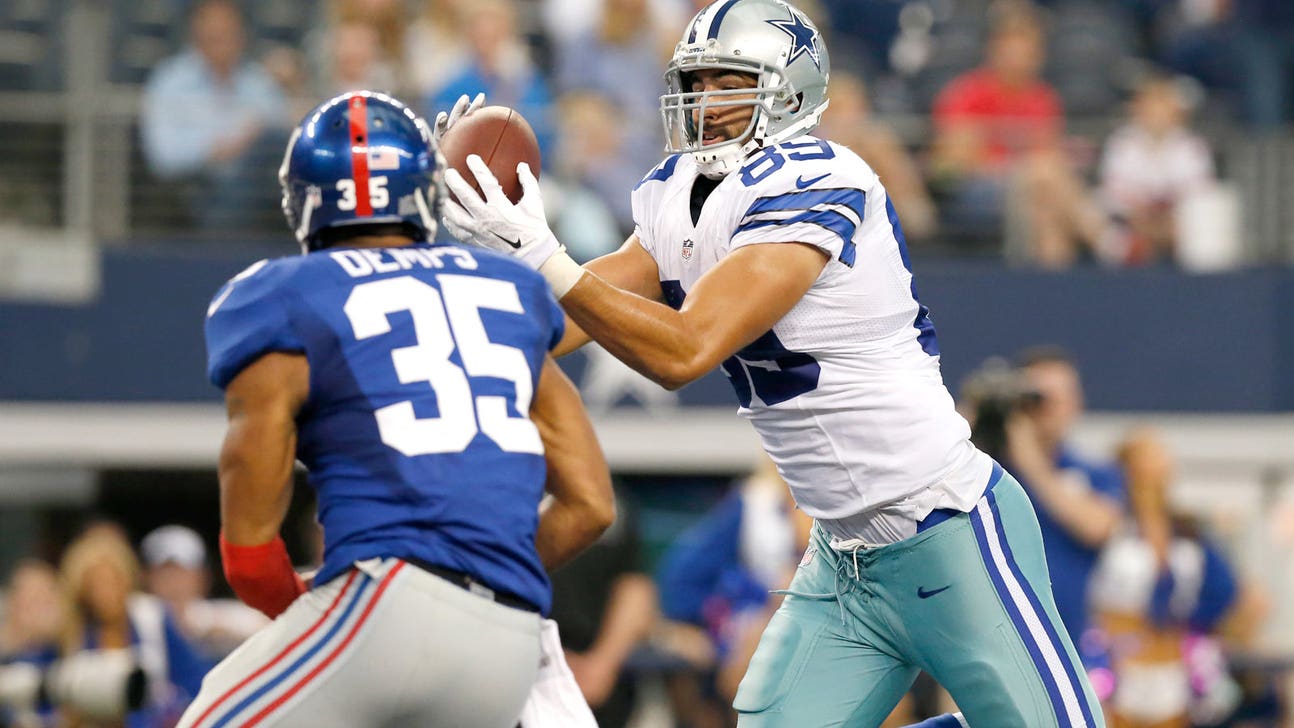 Cowobys TE Escobar pleased to have career day against childhood team
Published
Oct. 22, 2014 7:13 p.m. ET

Gavin Escobar might have had his coming out party for Cowboys fans on Sunday, but there were plenty of people back on the east coast who knew who he was.
It's easy to miss the connection, because Escobar played high school and college football in California, but the second-year tight end is a native New Yorker -- and he grew up a Giants fan. Fresh off a 65-yard, two-touchdown performance against New York on Sunday, Escobar said he got plenty of feedback from friends and acquaintances. 
"I got some texts saying, you know 'Man, I hate seeing the G-Men lose, but it's awesome to see you play like that,'" Escobar said. "It's kind of like people are happy to see me doing well over there, but they hate to see the Giants lose."
That doesn't apply to his family, however. Although he was raised to be a Giants fan, Escobar said he didn't hear any mixed feedback from his family after the biggest game of his career to date.
"They're Cowboys all the way," he said. "But I think when we're not playing the Giants they might be rooting for them, too."
Sunday wasn't the first time Escobar has found the end zone in his two seasons. Drafted No. 47 overall in 2013, he scored touchdowns against the Rams and Eagles as a rookie. He also opened the scoring for Dallas against Seattle with a two-yard touchdown grab two weeks ago.
All of that pales in comparison to his contributions last weekend, though. Escobar set career highs in catches, yards and touchdowns for a single game – and there clearly couldn't have been a better game to do it.
"I guess, looking back on it, it's a little bit nicer," he said. "All my buddies back in New York and Jersey were watching, I know -- I know they were specifically watching this game, so I guess it was nice that it was against the Giants."
In keeping with the Cowboys' mantra under coach Jason Garrett, Escobar added that he needs to keep his head down and continue to work. Prior to Sunday, he had just 20 receiving yards on the season – a pattern he'd probably like to avoid.
"I think people know my name now after the game on Sunday, which is a good feeling," he said. "But you've got to stay humble and remember that two weeks ago they didn't know my name. Just keep working and get better and just keep doing my thing."
---