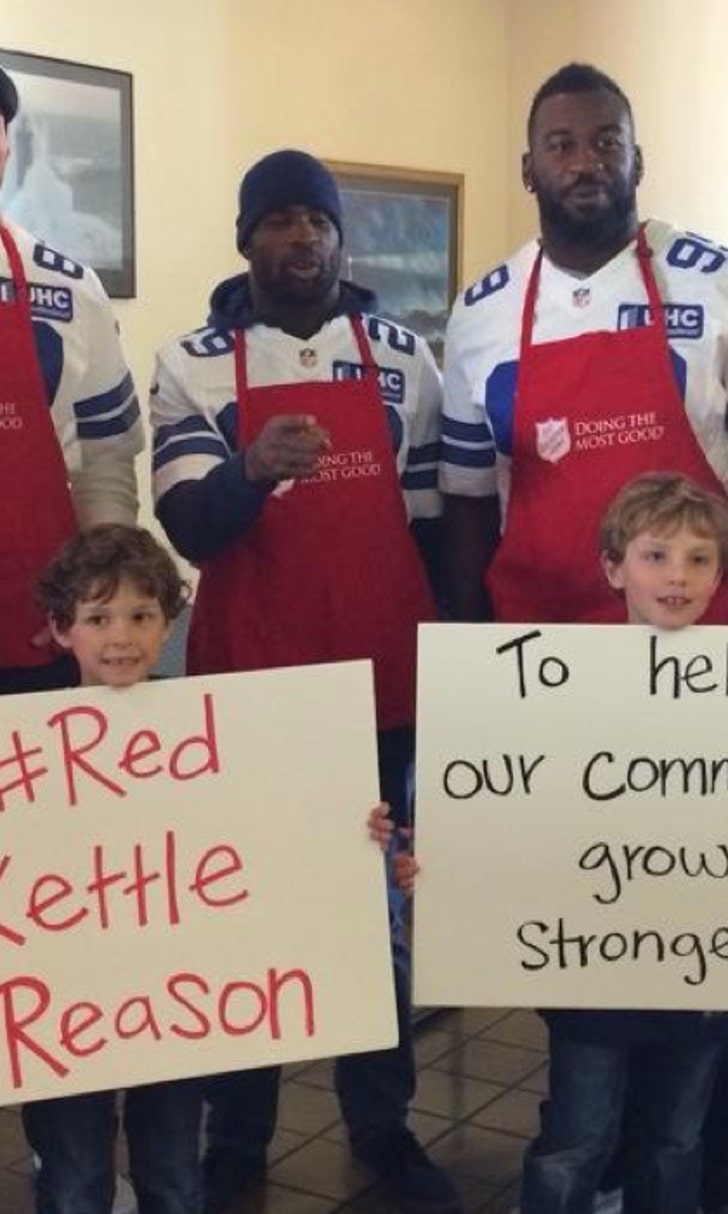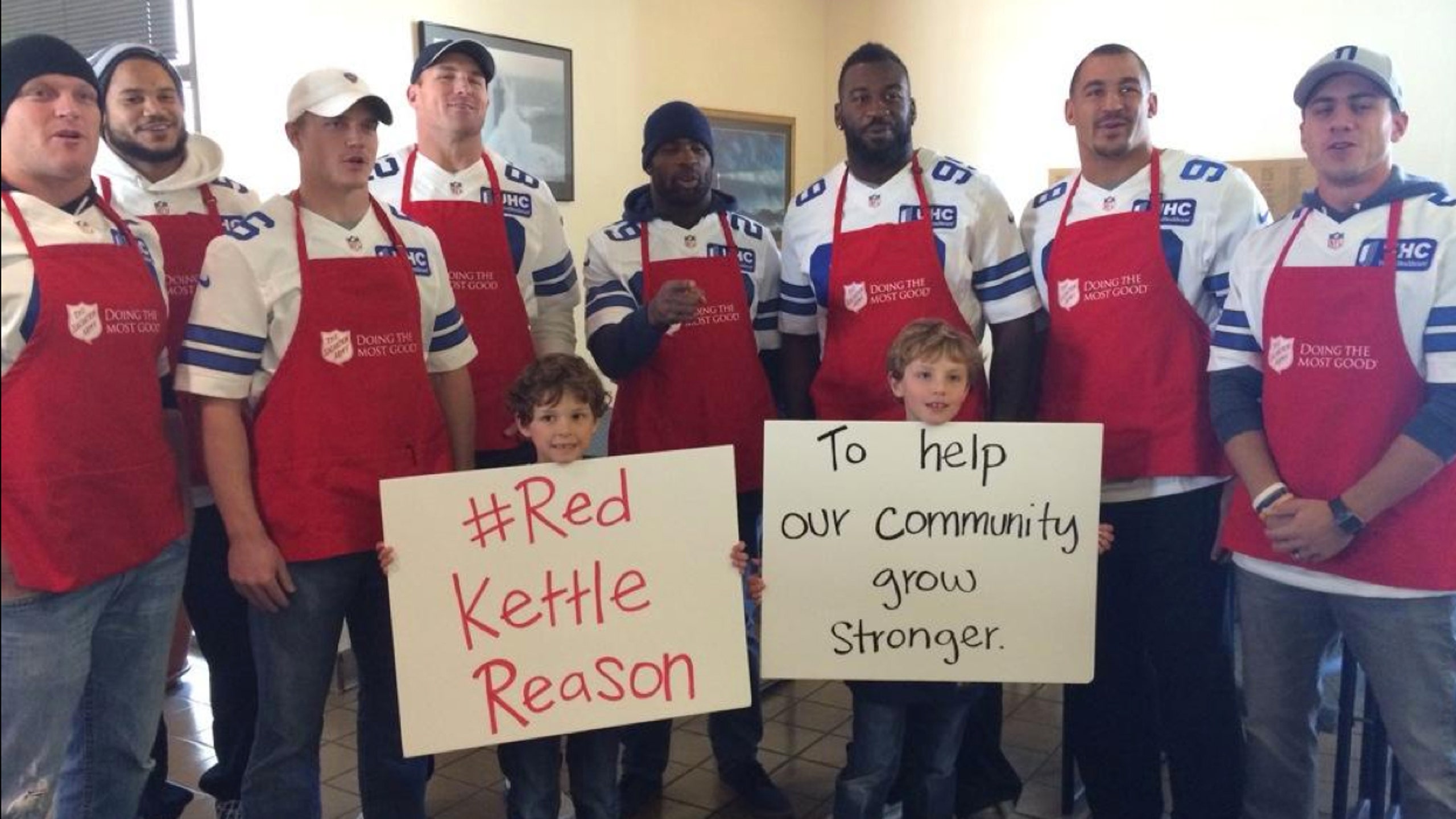 Cowboys serve early Thanksgiving for a cause
BY foxsports • November 17, 2014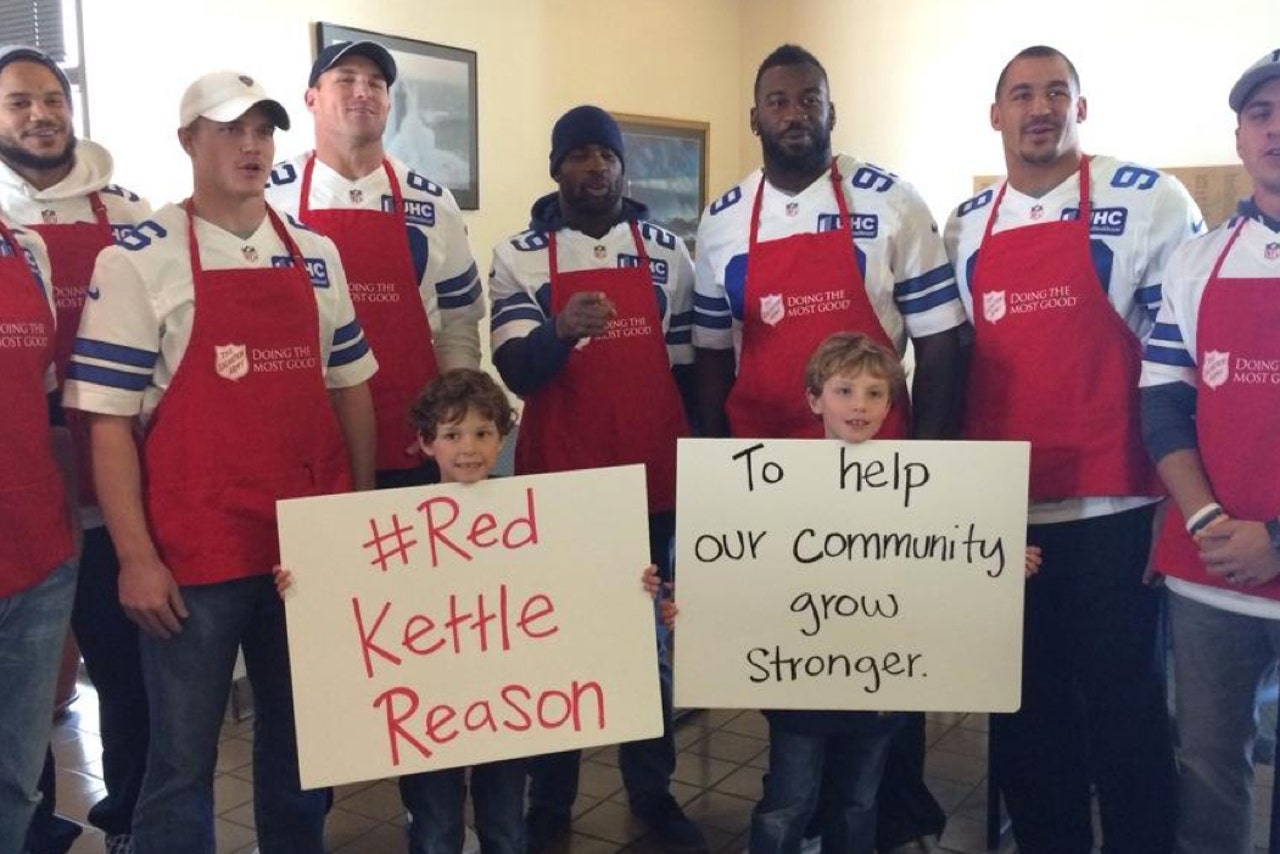 DALLAS -- Who knows whether the Dallas Cowboys will be thankful for a win over Philadelphia on Thanksgiving Day? But certainly the Salvation Army and their clients are thankful for the team serving early Thanksgiving meals Monday at the Carr P. Collins Social Service Center downtown.
"This is one of the most special days that some of our clients will ever have," Major Michelle Matthews of the Salvation Army said.
Tight end Jason Witten, whose 39 catches for 431 yards and three touchdowns have helped Dallas reach a 7-3 mark, is just as spectacular serving trays of turkey and gravy in the dining hall.
"We have a huge platform to give back and partner with the Cowboys and feed some of these families that, you know, really don't know where their next meal's coming," said Witten, who feels "fortunate" to be a part of the annual outreach event.
"I think it's great for our team and for our players that we are really grateful for the gifts that we have and the talent that we have," said Charlotte Jones Anderson, the team's Chief Brand Officer who also served as Chairwoman of The Salvation Army's National Advisory Board from 2010-14.
"It's nice to put things into perspective and be able to share a little with others who aren't quite as fortunate."
FOX SPORTS DAILY
COWBOYS EDITION
Cowboys News To Your Inbox!
*By clicking "SUBSCRIBE", you have read and agreed to the Fox Sports Privacy Policy and Terms of Use.
Kicker Dan Bailey, the most accurate kicker in the league, appreciates where Anderson is coming from.
Said Bailey: "The more we can do, the better off the community will be. So, definitely a great opportunity for us, and I'm always happy to do it."
The defensive side of football gets a reputation for being brutal and mean, what with hard hits across the middle and blindside sacks. However, defensive end George Selvie is always glad to be a nice guy in the community.
"It's a great feeling to come out here with the Cowboys and just give back to the community, you know, especially during the holidays," said Selvie.
Linebacker Kyle Wilber, who has been a part of the early Thanksgiving meal servings since his rookie year in 2012, concurs.
"We get to see people happy, smiling, and we serve them food. It's a great day to see people's joy," Wilber added.
Helping out the Cowboys players present were the wives of some of the players and coaches. But the do-gooders who stole the hearts of those in need were Witten's sons, C.J. and Cooper, whose presence made the today's "Mr. Cowboy" proud.
"This is what I want them to understand: the opportunity to give back as a parent, not just to talk about it, but bring them along and let them be a part of it too," Witten said of the experience.
"It's good for them to see that and be a part of it. I want them to have a giving spirit too; let them know how fortunate we are."
The Witten family participation didn't go unnoticed. Major Matthews appreciates the values the Wittens are teaching their children.
Said Matthews: "They're teaching their children early what it means to give back, what it means to volunteer, to help people out."
Anderson added that having C.J. and Cooper help makes an impact on everybody to see the Wittens serve as a family.
"You know, at the Cowboys, we think we are family, so that trickles all the way down to the last Witten," Anderson said.
For more information on the Salvation Army, visit www.salvationarmyusa.org.
MORE FROM FOX SPORTS SOUTHWEST: 
- Ranking NFL quarterback salaries
- Wake up! Athletes caught sleeping
- Best college football traditions
- Greatest NBA players without a championship ring
---