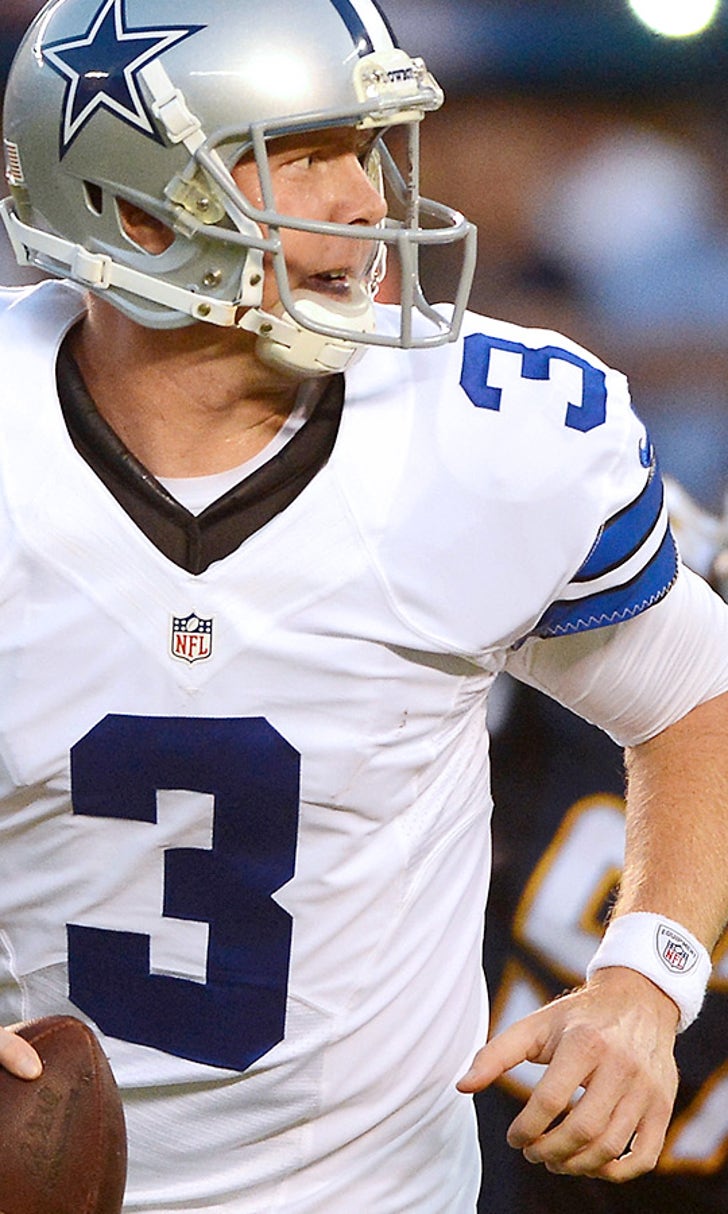 Cowboys Notebook from San Diego
BY foxsports • August 8, 2014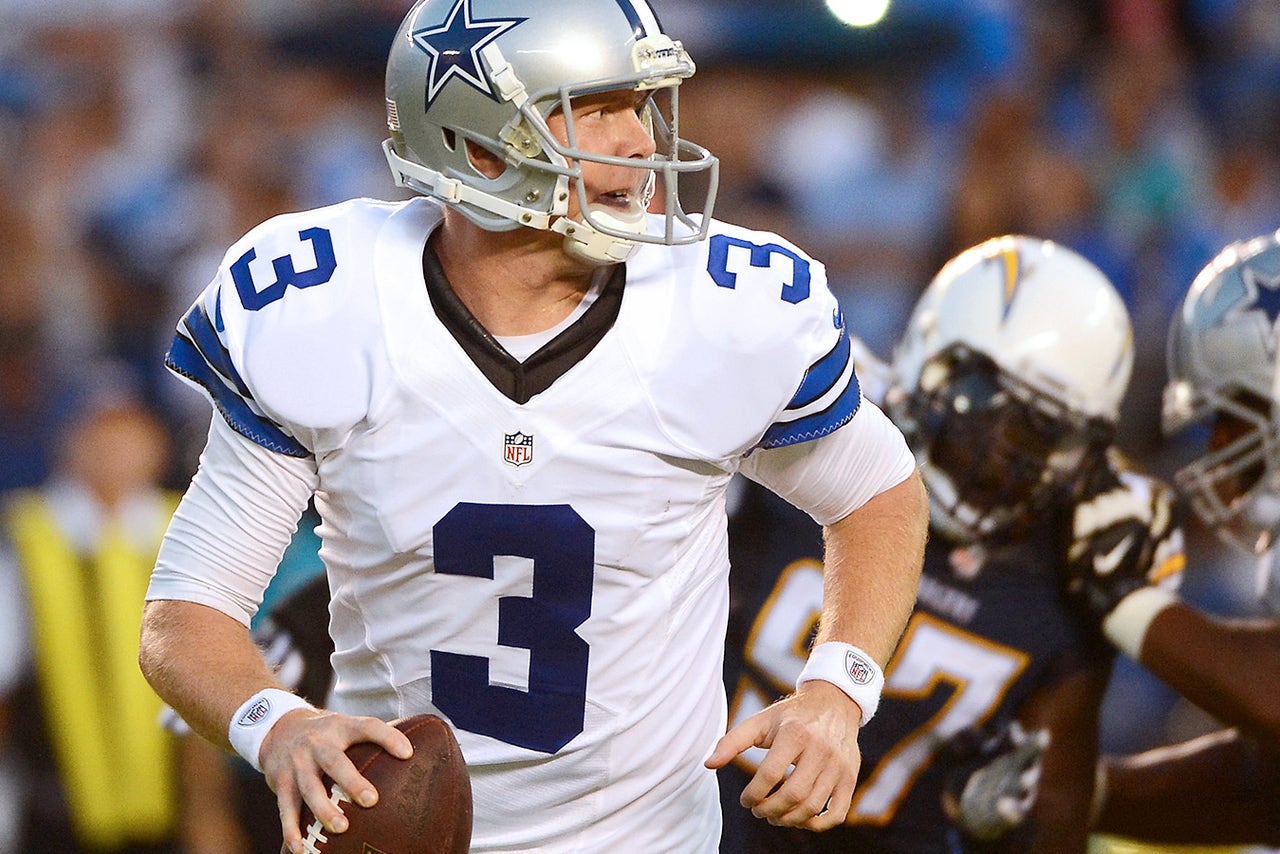 SAN DIEGO -- The Cowboys kept their 'name' offensive players in Bubblewrap for Week 1 of the preseason. But Joseph Randle and Ryan Williams? They can't afford to be guarded as they battle for what might end up being a singular job. Our First Impressions:
Most of the optimism for the 2014 Dallas Cowboys sits on the offensive side of the ball ... and most of the individual's responsible for that optimism sat, too. Tony Romo, Dez Bryant, DeMarco Murray, Lance Dunbar, Jason Witten ... They all stayed dressed in their sharp new team-issued blue warmup suits, leaving their first-team offensive line buddies to partner up with backups during the 27-7 preseason-opening loss to the Chargers at Qualcomm Stadium on Thursday night. 
Aside from the impressive play from backup quarterback Brandon Weeden was the positive output from reserve running backs Joseph Randle and Ryan Williams. ... Both of whom are behind not only DeMarco but Lance, too. 
And how many third-string running backs is a team supposed to keep? 
Williams rushed eight times for 29 yards while getting the snaps behind game starter Randle, who carried the ball 13 times for 50 yards. 
Randle came away feeling good about his performance. 
"I do think I'm different than last year because I'm so much more comfortable,'' Randle said. "You know, I'm just trying to do my thing,'' Randle said. "That's what got me here. 
Added coach Jason Garrett: "I thought he had a real good night. I think you're seeing him grow and mature right before our eyes." 
Randle has a better track record of staying healthy than Williams. In his rookie season, not only did fifth-rounder Randle play in 13 games, but he was the starter during DeMarco Murray's two-game absence. In 2013, Randle rushed 54 times for 164 yards and two touchdowns, and is looking to build upon that rookie success to lock down the third-string running back spot. On Thursday he also contributed as a special-teamer, the sort of thing that can be the tiebreaker in these sorts of competitions. 
"This was very important because I'm supposed to be pushing my way for more playing time and trying to find a role on this team,'' Randle said. "This is the time you're supposed to be grinding and trying to move up the depth chart. ... I'm trying to work as hard as I can to do that.'' 
Williams, the former 38th pick in the 2011 NFL Draft for Arizona, may have had the edge when it came to getting to the edge, and he also contributed five catches here. (We wonder if in preseason Game 1 he might flip-flop with Randle on the depth chart simply so he gets the benefit of running behind Dallas' potentially dominant O-line.) 
Williams has had an injury-plagued career, only seeing the field for five games in his three seasons with the Cardinals. But he got through this game OK; in fact, Dallas gets relatively good injury news as running back Ben Malena (quadriceps strain) and defensive tackle Dartwan Bush and safety Ahmad Dixon (possible concussions) are the only injuries reported. 
That's not counting the wounded pride of the Dallas defense, however. 
In fairness, coordinator Rod Marinelli's bunch was also without a host of front-line players, including the top three cornerbacks Morris Claiborne, Orlando Scandrick and Brandon Carr, along with defensive tackles Terrell McClain and Henry Melton, linebacker Rolando McClain and defensive end George Selvie. 
"Once we get everyone in, with all the pieces, it will all come together, and we will be a little more solid," linebacker Bruce Carter said. 
Nevertheless, Dallas got gashed in the front seven for most of the night, with big tackle totals from linebacker Anthony Hitchens and Dixon the rare statistical bright spots. 
Just-signed defensive lineman Ken Boatwright flashed on back-to-back snaps. Cornerback Terrence Mitchell seemed unfazed by the spotlight. And again ... we're reaching here, because there isn't much to go on to boost the notion that Dallas is yet vastly improved over last year's 32nd-ranked squad. 
"I'm excited,'' Marinelli said late Thursday night. "I can't wait to get up, watch this tape and see who made some progress for us. We'll make some corrections and start again." 
---