Cowboys need more plays from defense
Published
Oct. 17, 2012 9:31 a.m. ET

When we look at splash plays every week, we are looking for 2 in particular that are extra special.  We are not here to thumb our noses at pressures or run stuffs, but it sure seems that the name of the game is really sacks and takeaways. We especially love DeMarcus Ware's strip-sack the best, as it accomplishes both.

But with a 2-3 record and another game with no takeaways, we are left to wonder how this defense can truly be considered strong if it cannot A) get to the QB and B) get turnovers (which are a direct result of A).

They have just 10 sacks, which is below the league average and 25th in the league, and only 4 takeaways which ranks 31st in the NFL. Their annual ranking in the NFL in takeaways has never been anything special over the last several seasons with their only top 10 finish actually in the disastrous 2010 in which nothing else went right for the entire organization (and the only year with 2 defensive coordinators, as Phillips was replaced in midseason).

There was plenty of discussion in the offseason about the idea of spending a top pick on a pass rusher who could make things happen opposite Ware or, heaven forbid, from the defensive line - but, of course, the team addressed corner.  Not a bad strategy, but as we said when they did it, this premise that the team would suddenly find coverage sacks because of great coverage down the field was a faulty premise at best and ridiculous at worst.

Now that we have played 5 games, we have yet to see a performance where the opposing QB was under duress.  There have been isolated plays where big sacks have happened, but there just hasn't been situations where the opposition was under siege.

Of course, Jay Ratliff has played 1 game and Anthony Spencer has played 3.  They have yet to put them both on the field at the same time, so we might reserve judgement until then.  But, this idea - one that is repeated by announcers each week - that the Cowboys have a strong defensive front seems misleading when it comes to getting to the passer.  I agree it is tough to run on the Cowboys, but in a passing league, you need to hit the QB.  And Jay Cutler, Joe Flacco, and Russell Wilson each survived their days with the Cowboys with almost no aches or bruises.

One player that did touch Flacco on Sunday was Sean Lee.  He hit the QB 3 times, but each time Flacco was able to get rid of the ball before being hit.  This is the 3rd and final time that Sean Lee touched him, below.  And this demonstrates the Cowboys issues defensively a bit.  If they want to get to the opposition, they must bring more men.  In this case, a middle linebacker, is brought to bring pressure.

Well, as you will see below, a veteran team with weapons can back off a blitzing LB by burning his hands.

This is the play that resulted in a pivotal moment in the game. The Cowboys are up 10-3, and the Ravens face 3rd Down and 7 here. A stop could mean the Cowboys could build on their lead and take this game over, because the Ravens defense is not showing much resistance.

The Cowboys are in 2-Man, or "2 Deep, Man Under". Each corner and middle LB will have a specific assignment and will stick to their man like glue while the two safeties will play deep and clean up any messes over the top or to the 1st down sticks at the 42 yard line.  Nothing fancy here.  4 rush, 7 in coverage in a numbers game.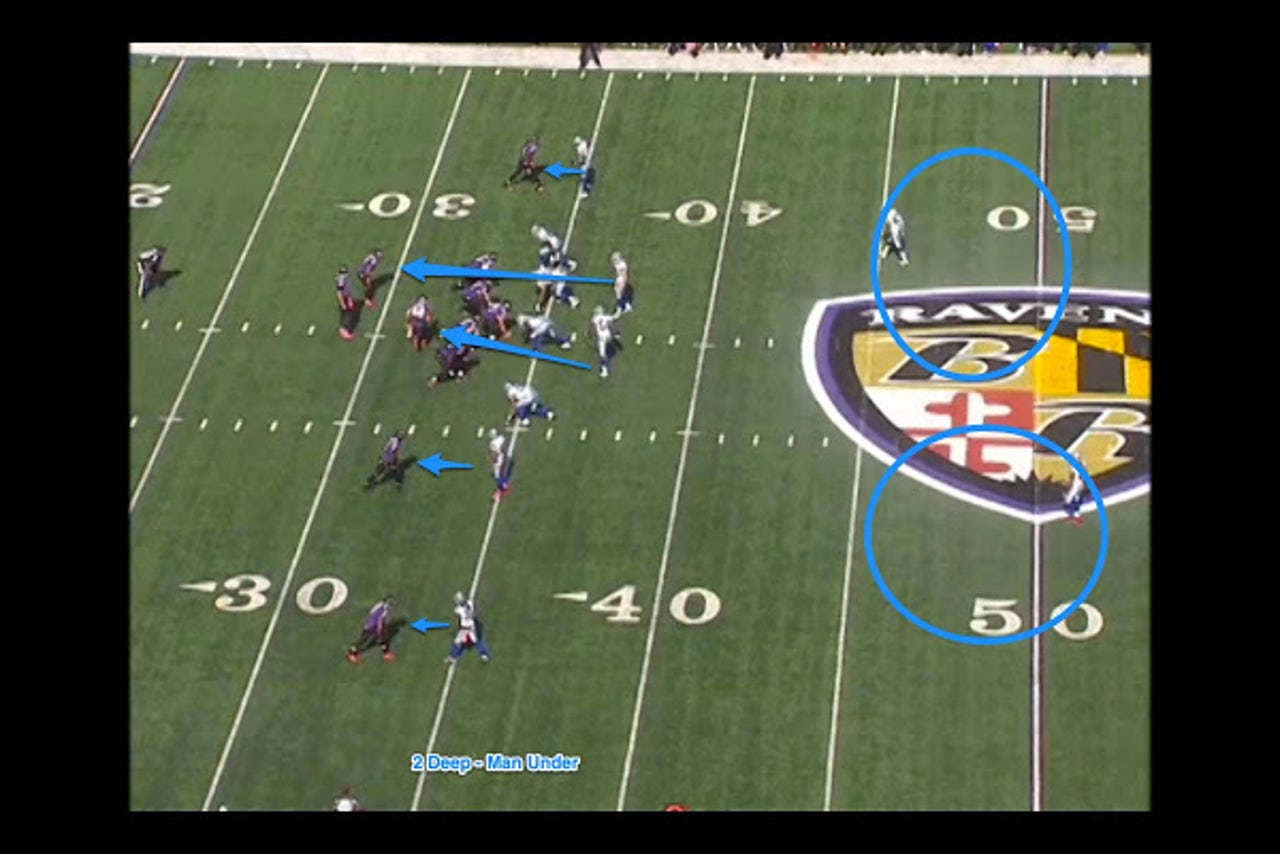 Below, see how Bruce Carter takes Tight End Dennis Pitta, whereas Sean Lee is hanging around to see what Ray Rice has planned in the A-gap.  
Lee is running a "Key Blitz" which means that his key is Rice.  If Rice goes on a route, he must have him, but if Rice stays in to protect, Lee is going to get after the QB.  We see this dozens of times every game and while this is not some advanced concept, it is something that has evolved over the years.  A generation ago, if a LB had man-coverage on a RB, he might just wait in his spot until the RB makes a move.  Now, LBs are not going to be spectators.  They are going to rush if you are staying in to protect to basically cancel out your help to the OL.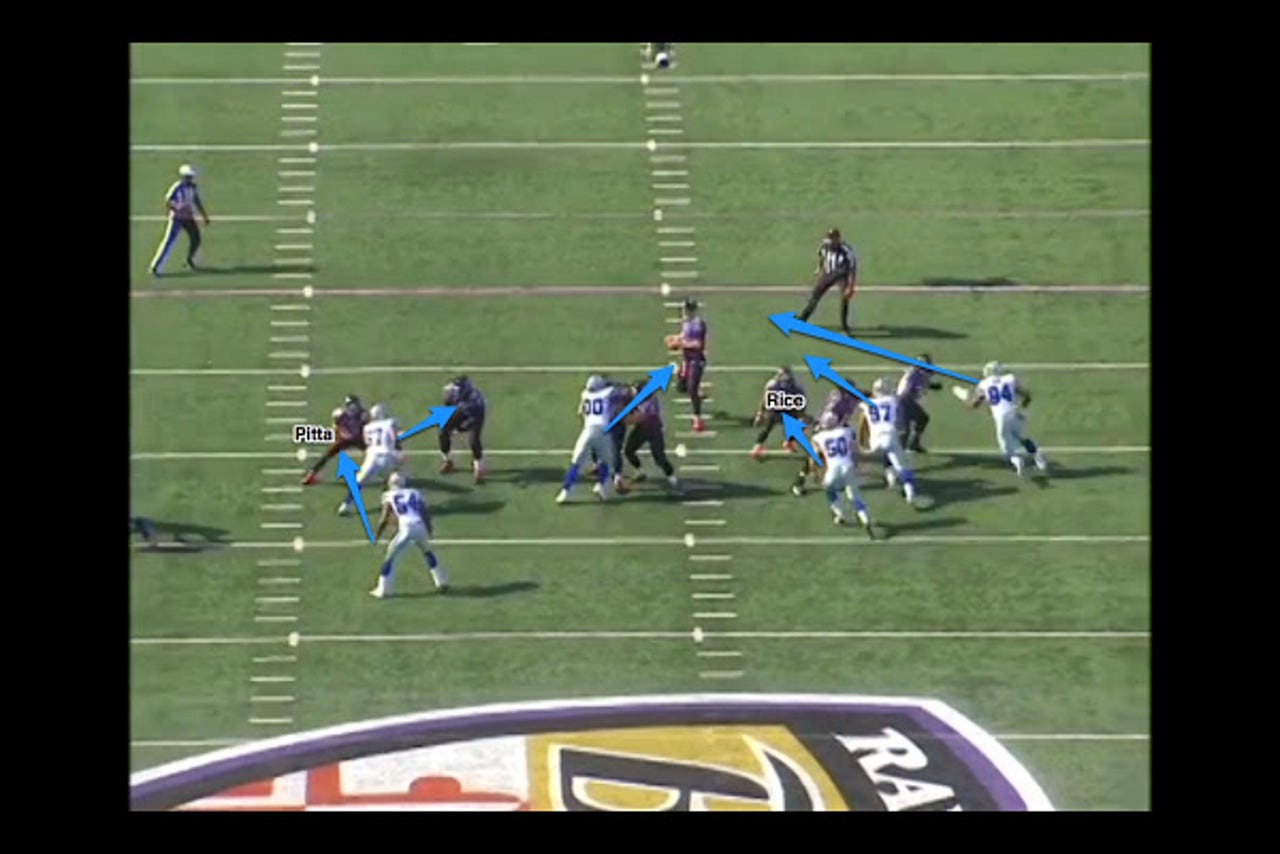 Ware, below, is getting around Michael Oher and has flushed Flacco up in the pocket.  Meanwhile, look at Sean Lee.  He sees that Rice has bluffed and now released, but Flacco is right in front of him and there are no blockers left to navigate around.  Lee sees Flacco is being flushed right to his waiting arms.

You can almost see as you watch the play the decision going through Lee's head.  He knows leaving Rice could be costly, but he also sees a sack.  He is making a calculated guess and following his football instincts to abort an assignment if a play is coming right to you.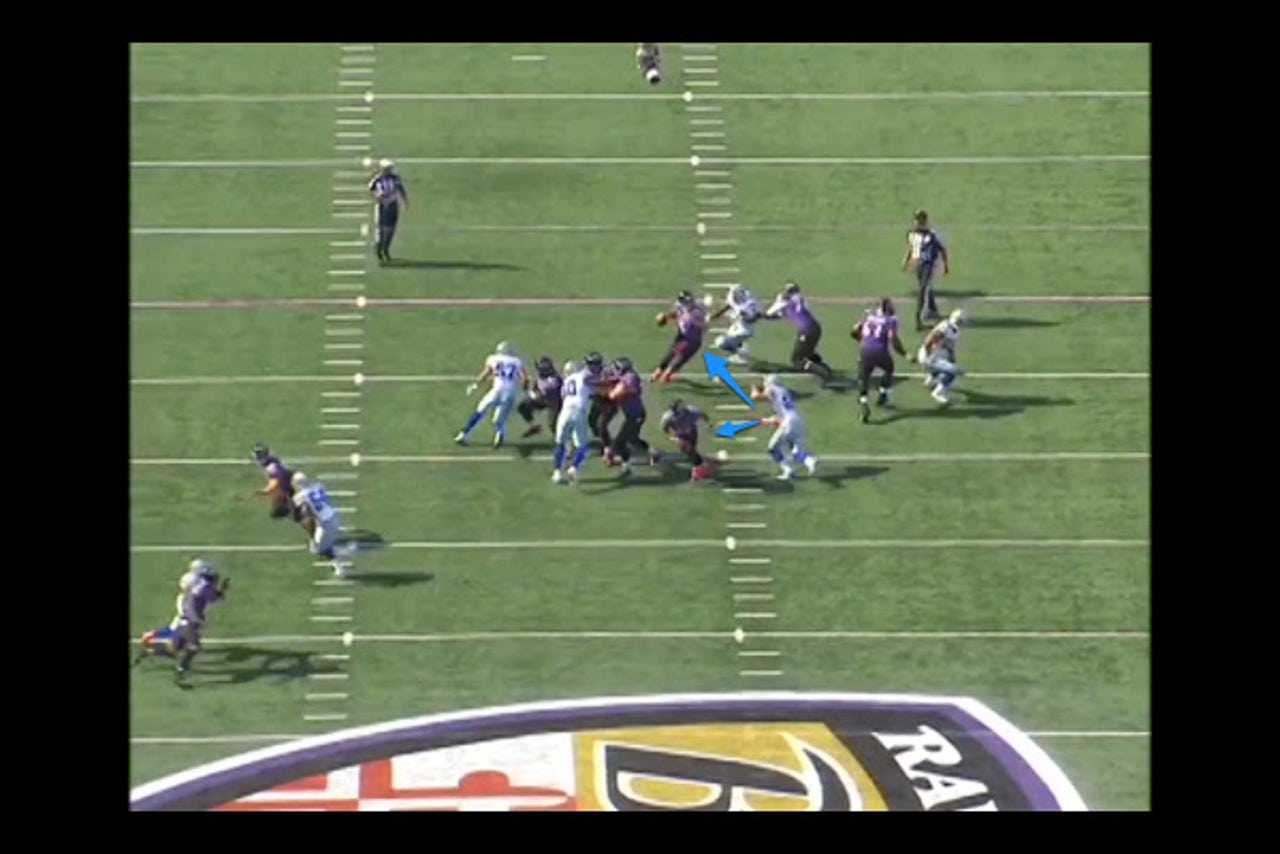 And just at the very moment of truth, as he makes contact with Flacco, the QB spots his diminutive safety valve running out from behind the traffic to receive a feathered pass in the flat.

And now, as Lee has left his man, and as everyone else is running in man coverage down the field (which means, they are running with their backs to the QB), if this pass is completed, the Cowboys are in big trouble.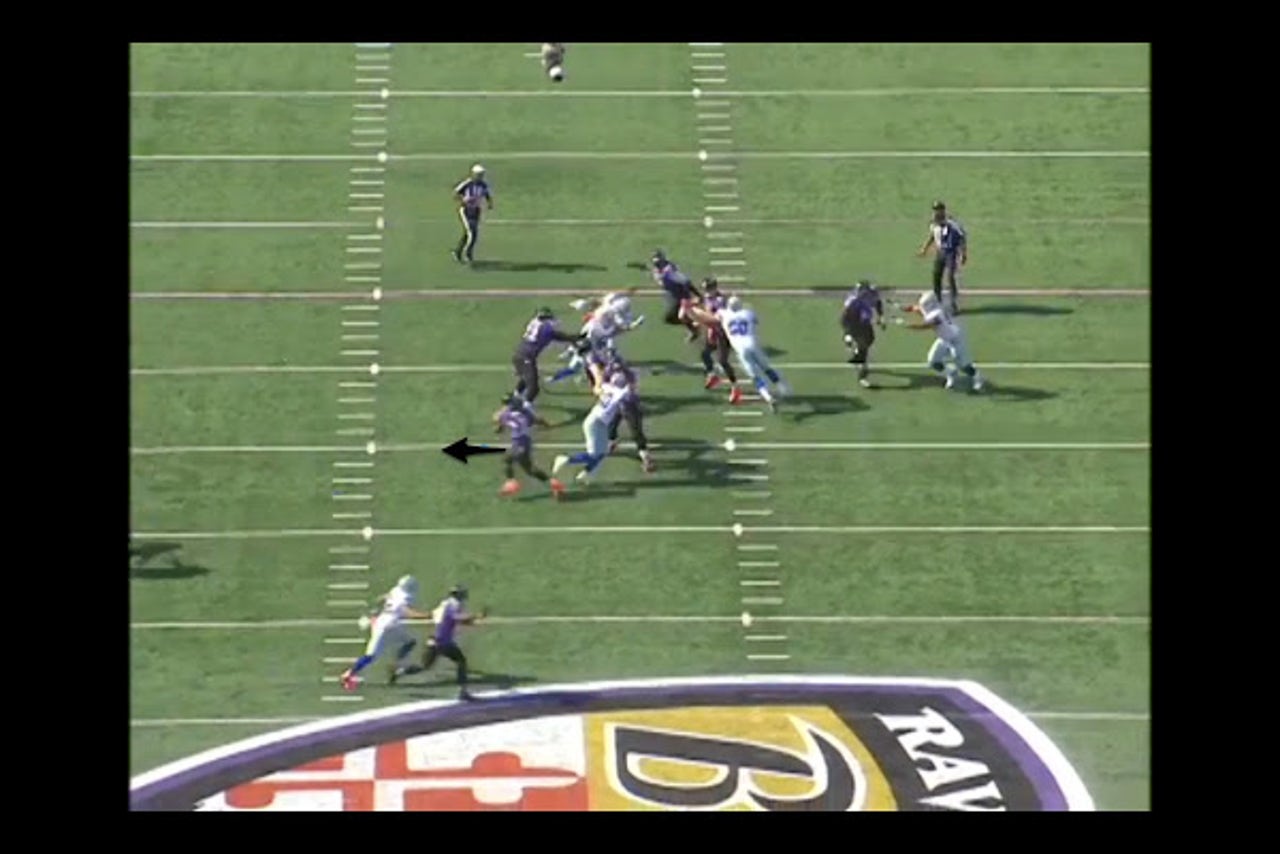 And below, you can see how much trouble.  Lee is barely on the screen, as Rice has nothing but open field.  He runs for 43 yards untouched, swings field position, sets up a tying score, and changes the complexion of the game.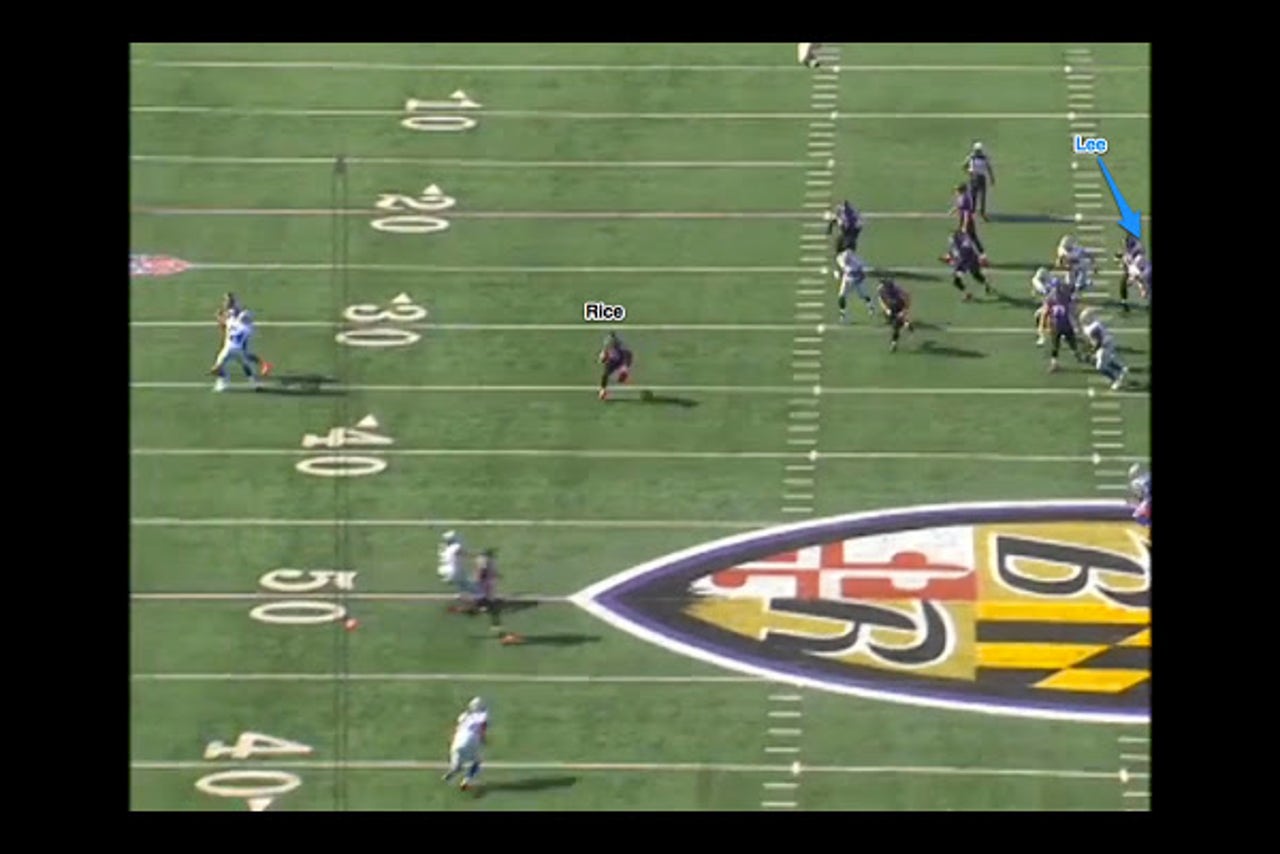 Lee realizes how sticky a situation this is, and aside from Ware, he is the only guy to touch Flacco all day.  But, after this play, Lee wasn't going to leave Rice for any reason the rest of the day.  And, the Cowboys pressure dried up altogether.

Sean Lee doesn't bust very often, but this time, he was burned by a QB-RB tandem that are pretty good at executing their antidote for blitzing LBs.

====

SPLASH PLAYS

Let's take a look at the "Splash Plays" from Week 5 at Baltimore:

Splash Plays are key impact plays from the defense.  Usually, they are obvious, but there are some that blur the line.  I have listed time and play of each one for those who want to double check my work.

For more, read a detailed explanation of this study here:  What is a Splash Play?

This game featured a season-low 7 splash plays.  They just weren't on the field much, and when they were out there, there weren't many occasions where defenders made big plays.  Feel free to mention if I missed anything, but this all I could find.

WEEK 5



| | | | |
| --- | --- | --- | --- |
| Q-Time | D/D/Yd | Player | Play |
| 1-8:34 | 3/1/D19 | Albright | Tackle For Loss |
| 1-2:45 | 3/2/B28 | Lee | QB Pressure |
| 2-10:12 | 2/8/B35 | Jenkins  | Pass Defended |
| 2-2:13 | 1/10/B20 | Lee | QB Pressure |
| 3-3:06 | 2/10/B8 | Ratliff | Run Stuff |
| 3-2:35 | 3/9/B9 | Butler | Pass Batted Down |
| 4-14:07 | 3/4/B14 | Ware  | Sack |
HTML Tables

Here are the team standings kept on a week-by-week basis with the numbers below -  I might find it a bit disconcerting that Spencer can miss 2 games and nobody passes him.  Further, I am having a hard time finding big moments to this point where Brandon Carr is winning his battles, and it has been a real tough few weeks against Brandon Marshall and Anquan Boldin.

Up to date standings:




| | |
| --- | --- |
| Player | Splashes |
| Ware | 13 |
| Spencer | 8 |
| Lee | 8 |
| Carter | 6 |
| Hatcher | 6 |
| Brent | 4 |
| Spears | 3 |
| VButler | 3 |
| Carr | 2 |
| Crawford | 2 |
| Claiborne | 2 |
| Jenkins | 2 |
| Sensabaugh | 1 |
| Lissemore | 1 |
| Lewis | 1 |
| Church | 1 |
| Scandrick | 1 |
| McCray | 1 |
| Ratliff | 1 |
| Albright | 1 |
| Team Total | 67 |
HTML Tables

===========

BLITZING REPORT

The Cowboys brought pressure on 37% of situations and were really never burned on the blitz aside from the play we showed above.


| | | | |
| --- | --- | --- | --- |
| Q-Time | D/D/Yd | Play | Rushers |
| 2-10:12 | 3/7/B35 | Flacco to Rice, +43 | 5 |
| 2-2:00 | 3/14/B16 | Flacco to Boldin, +20 | 4 |
| 2-1:48 | 1/10/B50 | Flacco to Boldin, +20 | 4 |
| 4-6:01 | 1/10/D35 | Flacco to Boldin, +31 | 4 |

HTML Tables




The Cowboys were able to find just 1 sack, which oddly enough came with minimal pressure of just 3 players.  Sometimes, when you only rush 3, the OL relaxes for just a moment and concedes a sack.  Very frustrating for the offense and Ware continues to be the only Cowboy who can get home.

Only 7 teams in the NFL have fewer sacks than the Cowboys (10).  The NFL average is 13.



| | | | |
| --- | --- | --- | --- |
| Q-Time | D/D/Yd | Play | Rushers |
| 4-14:07 | 3/4/B14 | Flacco Sack by Ware | 3 |
HTML Tables

Here is how Rob Ryan deployed pass rushers, separated by down.

Pass Rushers Against Baltimore - 27 pass rush/blitz situations:


| | | | | | |
| --- | --- | --- | --- | --- | --- |
| Pass Rushers | 1st D | 2nd D | 3rd D | 4th D | Total |
| 3 Rush | 0 | 2 | 1 | 0 | 3 |
| 4 Rush | 8 | 3 | 3 | 0 | 14 |
| 5 Rush | 3 | 3 | 2 | 0 | 8 |
| 6 Rush | 1 | 1 | 0 | 0 | 2 |
| 7 Rush | 0 | 0 | 0 | 0 | 0 |

The Cowboys do have an overall profile emerging that suggests they are reluctant to expose their secondary too much to get pressure.  Sending 5 or more rushers just 37% all season seems low for a Rob Ryan defense, but their numbers are relatively consistent to this point.   
The game by game pressure numbers:
Wk 1 - NYG: 11/37 - 30%Wk 2 - SEA: 10/26 - 38%Wk 3 - TB:  12/32 - 37%Wk 4 - CHI: 12/27 - 44%Wk 5 - BAL: 10/27 - 37%
Totals:  55/159 - 37%
Heading into Carolina, the Cowboys continue to need better from the defense.  They seem to have more talent than 2011 in the crew and many promising players, but until they get more QB sacks/hits and more takeaways, it will have a hard time amounting to what they hope they can be.

---