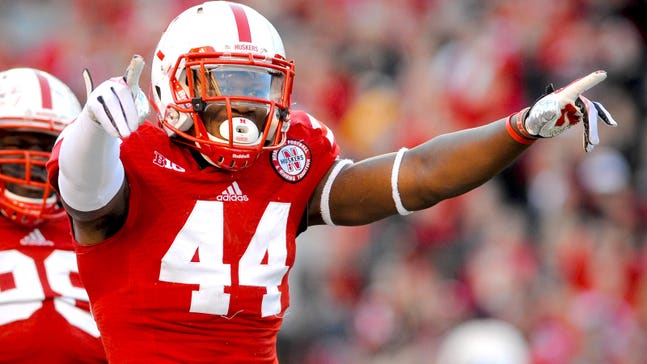 Cowboys grab sliding pass rusher Randy Gregory in 2nd round
Updated
Mar. 4, 2020 11:40 p.m. ET

IRVING, Texas (AP) -- The Dallas Cowboys drafted Nebraska pass rusher Randy Gregory with the 60th overall pick in the draft Friday night, adding another player with off-the-field issues to their defensive line.
Gregory was considered a first-round talent but dropped to late in the second round after testing positive for marijuana at the NFL combine in February.
"Like I said, it is in the past," Gregory said of the failed drug test shortly after getting drafted. "Me and the Cowboys, we are going to take over this league."
The Cowboys also had the 91st overall pick in the third round later Friday.
Dallas added free agent pass rusher Greg Hardy in free agency. He's been suspended for the first 10 games over a domestic violence case from his time with the Carolina Panthers, although there's a chance to ban could be reduced.
Pass rushing was among the needs along with running back after the Cowboys picked Connecticut cornerback Byron Jones late in the first round Thursday.
Gregory and Hardy are joining a defensive front that includes interior lineman Josh Brent, who was suspended 10 games last year after his conviction for intoxication manslaughter in a crash that killed teammate Jerry Brown.
The 6-foot-6, 240-pound Gregory had a team-high seven sacks last season despite missing two games with injuries. He was first-team All- Big Ten his last two years with the Cornhuskers.
Gregory acknowledged his failed drug test in the days before the draft, saying he was confident he had assured NFL teams that he was a good citizen who is maturing.
Hardy was convicted on domestic violence charges in North Carolina last year, but the case was dismissed when his accuser, former girlfriend Nicole Holder, couldn't be located to testify in an appeal.
In suspending Hardy after he missed all but one game while on the commissioner's exempt list in 2014, the NFL said there was "sufficient credible evidence that Hardy engaged in conduct that violated NFL policies in multiple respects and with aggravating circumstances."
Hardy was accused of choking and grabbing Holder and throwing her on a futon that had at least four semi-automatic rifles on it. He will be allowed to participate in the offseason program and training camp. His suspension starts the first week of the regular season.
The Cowboys took a cornerback first and defensive end second for the second time in the past four drafts. They moved up to get Morris Claiborne at No. 6 in 2012, but he's been a disappointment. Tyrone Crawford, a second-round pick that year, has blossomed into a likely starter at defensive tackle.
It's also the second straight draft Dallas took an undersized defensive end in the second round, after releasing all-time franchise sacks leader DeMarcus Ware in a salary cap move last year. DeMarcus Lawrence came in from Boise State and missed the first half of his rookie season after breaking a foot in training camp.
---